Queer Eye has returned to Netflix for its first post-pandemic season, and it's better than ever. The hit makeover series' seven-season run is full of memorable moments, but the new batch's third episode is, in a word, unforgettable. "Speedy for Life" has everything fans of the show could want: bold fashion choices from Tan, a heartfelt cooking lesson from Antony, a levity-filled hairstyling session with JVN, some of Karamo and Bobby's best work to date, and, most importantly, a lovable subject who deserves of every bit of it.
That alone would be enough to earn the episode a spot among the cream of the crop, but it also serves an important purpose by showing how inaccessible housing is for wheelchair users and, in a broader sense, those with limited mobility in general. Although awareness is just the first step, the episode shows us that we all should be mindful of differing needs, and that first step just might inspire some viewers to become advocates for accessibility. This episode really goes above and beyond, so, as JVN would say, let's get into it, henny.
Speedy Is a 'Queer Eye' Hero Worth Rooting For
In this episode, the Fab Five set out to help Ray "Speedy" Walker, who was paralyzed from the chest down during a car accident that claimed the lives of his mother Eunique and his aunt Shanique in the spring of 2020. Speedy was only 18 years old when the accident occurred. Prior to the crash, he was full of excitement for adulthood following a high school experience marked by success. Speedy earned his nickname by impressing his basketball coach with his quickness during practice, and he aspired to become a professional player one day. He was also ranked sixth in his class for academics. After becoming paralyzed, he had to reimagine what his adult life would look like, including his career choice, housing needs, and personal passions. That's where the Fab Five come in. Although Speedy had managed to adjust as best he could to his situation, he still needed a layup from the team to rebound into the best version of himself, so he put the ball in their court.
Upon meeting the Fab Five, Speedy seems a bit reserved, but it's clear that the charismatic kid he used to be is still there under the surface, just waiting to feel secure enough to come out in full force. With each one-on-one interaction, Speedy shows more of that side of himself, which is a joy to witness. His charming personality, winning smile, and blossoming confidence make him one of the most endearing heroes in the show's run. Speedy is enjoyable to watch because he already has an idea of what he wants. In his wardrobe fitting with Tan, he isn't afraid to try out bold colors and patterns, or anything Tan throws at him for that matter. Speedy's always had a unique sense of style, but he tells Tan that people tend to stare at him because of his wheelchair, and puts a positive spin on it by deciding he might as well give them something to stare at with his fashion choices.
Before his cooking lesson with Antony, Speedy asks if he can teach him to make hibachi fried rice. During their time together, he shares that the dish is special to him because he and his mother would order it on special occasions, and knowing how to make it will bring back good memories. He also says that since the accident he's lost a lot of weight and is working on bulking up again, which shows he has a practical side to him as well. With Jonathan, viewers get to see him have fun and crack jokes, and at this point in the episode, his happiness is truly infectious.
This 'Queer Eye' Episode Spotlights Disability and Accessibility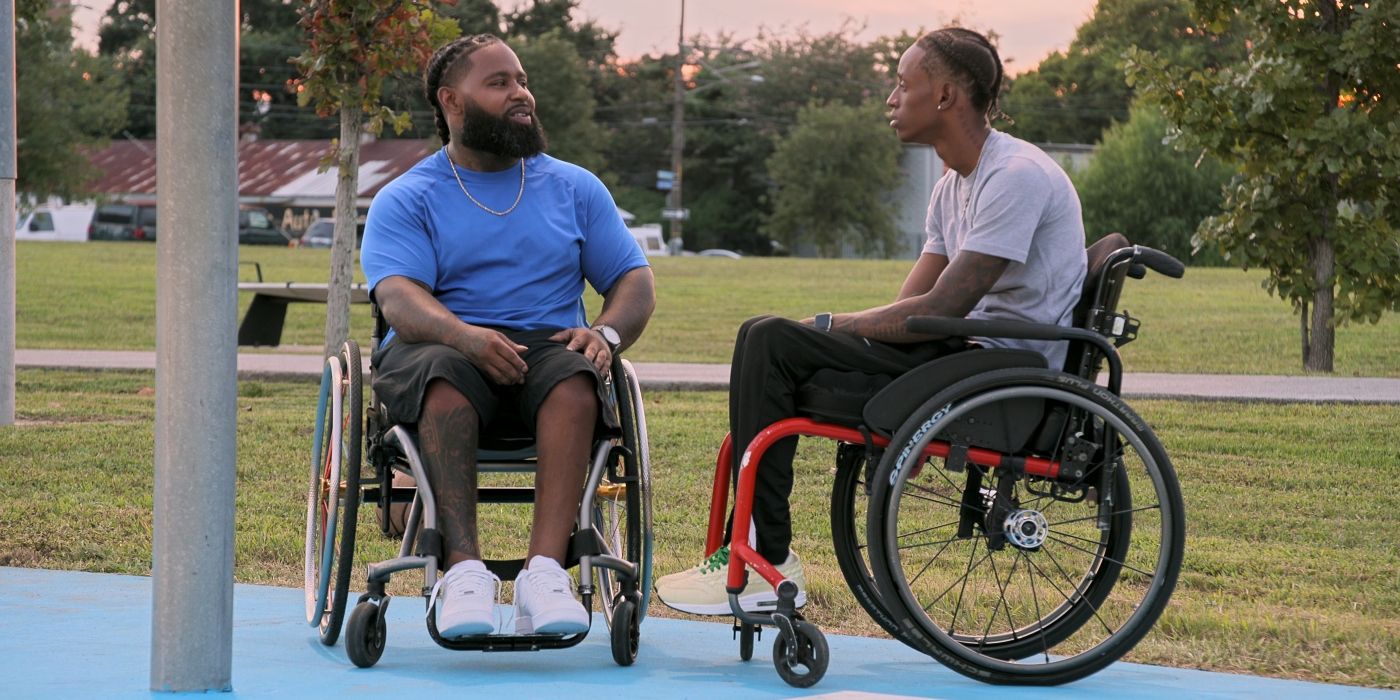 A lesser show may have only showcased this part of Speedy. Everybody loves an inspirational story about an impossibly positive person overcoming tragedy and being nothing but better for it, and Speedy understandably thinks that's what people want to hear. He shares with Karamo that he's tried not to burden anyone with his inner turmoil, especially because he felt that his family had already suffered enough with the deaths of his mother and aunt. Although he puts on a glass-half-full front, he admits that sometimes he's angry with God for letting it happen to him. Speedy was never the type of kid to get into trouble. In fact, he was a model student and community member by all accounts, so why him?
Karamo validates that he's allowed to be angry and mourn the life he envisioned for himself, and that the grieving process isn't going to be easy or linear, but it's healthy and necessary, and it isn't selfish to ask for support. To help support him, Karamo recruits Season 4 hero Wesley Hamilton. Wesley had been a wheelchair user for ten years at the time of recording, and is the founder of Disabled But Not Really, a nonprofit that provides resources and community for people with disabilities. Together, the two share their struggles and triumphs alike, showing that it's okay to be sad about what they've lost and be proud of the strength they've gained through it. Speedy's vulnerability is admirable, and, perhaps to his surprise, only makes him more likable.
This emotional journey shows the nuances and complexities of Speedy's inner world, and the fact that this is pulled off in under an hour of television is cause for everyone involved to celebrate a job well done. Speedy deserves to be portrayed honestly, instead of as a feel-good prop used to convince viewers that the right attitude is all it takes. Very few reality TV shows in recent memory have put this level of care in, and the care doesn't stop there.
Resident design expert Bobby Berk normally gives the show's heroes a home makeover, but Speedy is a young adult seeking independence, so the pair goes hunting for his first apartment. During their search, they find that several apartment buildings aren't wheelchair-friendly. At some locations, they struggle to even get in the door due to a lack of accessible parking spots, ramps to get over the curb on sidewalks, and narrow hallways. Inside the units, they come across issues like peepholes and clothing wracks being too high for a seated person, washers and dryers being top-loaded instead of usable from the front, and showers that wheelchairs can't roll into.
These are features that many able-bodied people don't consider, but we all should. On a moral level, should consider everyone's needs, and on a logistical one, it's more likely than not that we'll have a wheelchair user in our lives at some point. It could be an elderly parent, or an unexpected injury, whether it be temporary or permanent. Considering disabilities are so common, it's shocking how little they're taken into consideration. Bobby takes Speedy's needs into consideration by finding a layout that can accommodate him, and he installs the apartment with smart home features that let him control the things he can't reach with his voice. The Fab Five also pays his rent in full for a year so he can start his adult life with a solid foundation. Those behind Queer Eye will really have to outdo themselves to top this fantastic Season 7 episode.
All seven seasons of Queer Eye are now available to stream on Netflix.
Source: https://dominioncinemas.net
Category: REALITY TV