Jen Shah is officially serving time for her financial crimes in a women's prison located in Bryan, TX. Her presence was an important and very loud one on The Real Housewives of Salt Lake City, and now that she is serving out a 6.5-year sentence, the series needs a new chaotic focal point. There is no one in the cast that can provide that much-needed chaos other than Mary Cosby. Mary is a figure that is surrounded by controversies in her professional life, as well as unique scenarios in her personal life. Mary's return as a friend of the show has fans excited after her absence last season. Will Mary coming in only as a Friend on the show be enough to fill the void left by Jen Shah's absence?
you are watching: 'RHOSLC' Needs Mary Cosby to Survive Sans Jen Shah
'RHOSLC's Mary Cosby Is Surrounded By Controversy
Mary was initially a housewife when the series first premiered, but was noticeably absent in the third season. Fans were ecstatic when news was announced that she'd be returning to the series, even if it is only in a Friend role. Why? Because Mary is an enigmatic source of chaos. Mary has quite the interesting backstory. When her maternal grandmother passed away she allegedly made a request of Mary. That alleged request that her grandmother made was that she wanted Mary to marry her husband upon her death in order to pass the church that she ran down to her. And she did. Mary married her now husband, Robert Cosby. Sr. She shared that she didn't want to, but that she quickly grew to love him when discussing their relationship on the show. And while the couple is not related by blood, it certainly does come off as odd by today's societal standards. She remains, for the most part, unmoved by societal thinking, and seems very happy with her life.
The church she runs with her husband, Faith Temple Pentecostal Church, has come under fire in recent years because of cult allegations made by former church members. RHOSLC housewife, Lisa Barlow, first brought the "c" word up, sharing that her friend Cameron left the church after having given over $300,000 to it. Not only that, he was also pressured to mortgage his home in order to turn over funds to the church, allegedly because Mary told him to. Another ex-congregation member of Faith Temple, Ralph Arnold Jr., had this to say about Mary,
The idea of Mary preaching and telling her congregation that she is Jesus incarnate is certainly something fans of the series want explored more. These allegations and stories continue to come out, and Mary denies all of them.
RELATED: 'RHOSLC': Everything We Know About Jen Shah's Life in Prison Thus Far
'RHOSLC' Mary Cosby's Light-Heartedly Dubious Nature Is Needed Full Time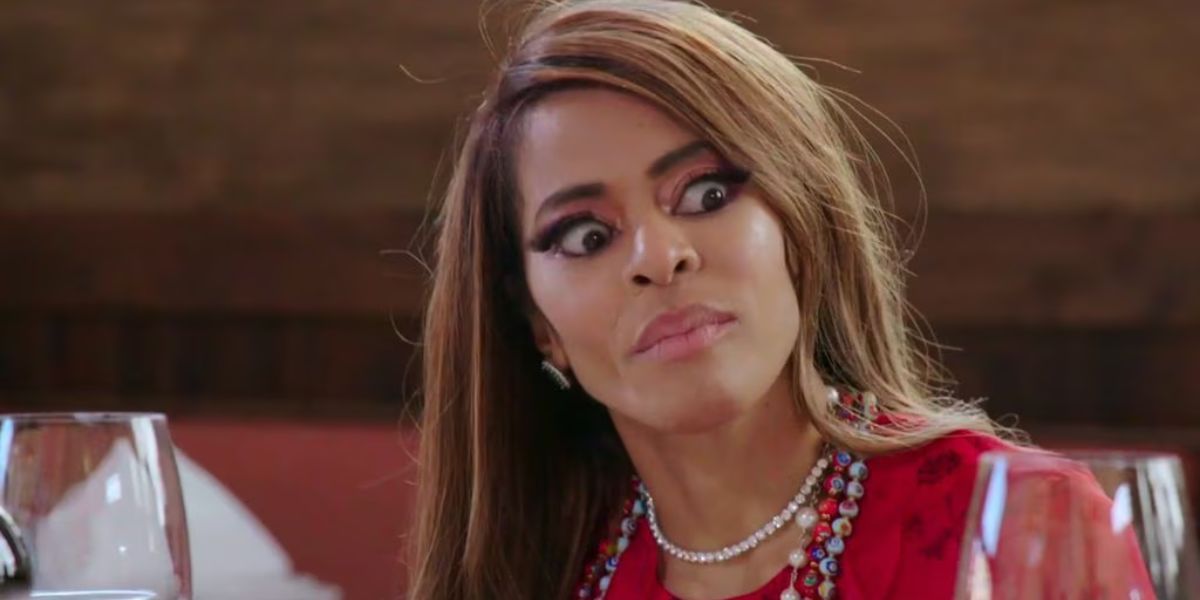 Mary Cosby has an ethereal energy about her that also makes her compelling to watch, especially when she is being messy. Her ability to seem above the drama, while simultaneously starting it, is peak television. Her eyes are often opened widely when she has her confessionals, as if they are pulling you in to convince you that every word coming out of her mouth is the absolute truth. She is a Black woman that was raised in a predominantly White state that has said she prefers lighter skinned people because she feels more comfortable with them. It's another fun example of colorism seen on a Real Housewives show, but Mary's loud and proud references take it up a notch. Fellow castmate Meredith Marks recently shared with People Magazine that she's also excited to have Mary back on the series. She shared,
All of these fun eccentricities left a gaping hole in season three of RHOSLC. The lack of Mary was felt deeply by fans, who have been chomping at the bit since news was announced that she'd be back as a Friend. Here's hoping that she gets enough screen time to appease the viewers, especially now that Jen is serving out her federal fraud sentence. The show needs her kooky energy and off-the-wall commentary.
Source: https://dominioncinemas.net
Category: REALITY TV