The final two episodes of The Ultimatum: Queer Love were released on June 7 and didn't hold back on the drama and shocking moments. The original five couples on Season 2 of the reality dating experiment series were forced to decide if they accept the ultimatum given and get engaged by their partner, or if they should part ways for good. The second of the final two episodes followed the couples a year after their decisions and revealed who stayed together, who broke up, and where everyone is now. So what went down?
Who Got Engaged and Who Didn't on 'The Ultimatum: Queer Love?'
In episode 9, the show starts with answering the cliffhanger viewers were given at the end of episode 8. Yoly accepted Mal's proposal and the two agreed to work through life and navigate everything together, despite Yoly admitting she was in love with Xander as well as Mal.
Xander and Vanessa met up and, despite Vanessa wanting her future to be with Xander, Xander chose to walk away from their relationship. This led to Xander and Yoly meeting in an incredibly emotional conversation. Yoly told Xander she accepted Mal's proposal, but that she still loves Xander and didn't seem to be entirely solidified in her decision to make Mal the one. Cameras followed a heartbreaking goodbye between Xander and Yoly and, just like Yoly, viewers are left to wonder if she made the right choice.
Lexi and Rae shared a very nervous and excited meet-up where Rae proposed to Lexi. Lexi accepted and followed suit by also getting on her knee to propose.
see more : 'The Voice': Meet Season 25's Newest Coaching Duo
Sam and Aussie meet in a garden where Aussie shared a story about penguins and how they mate for life before giving Sam a heart-shaped rock. The silence is deafening for a few moments before Aussie continues and proposes with a real ring and Sam accepts.
Tiff and Mildred meet cliff-side near the water and get engaged as Tiff pulls a ring out of her back pocket and says they want to do life with Mildred.
RELATED: Best Dating Shows On Netflix
The Reunion Special Exposes More Drama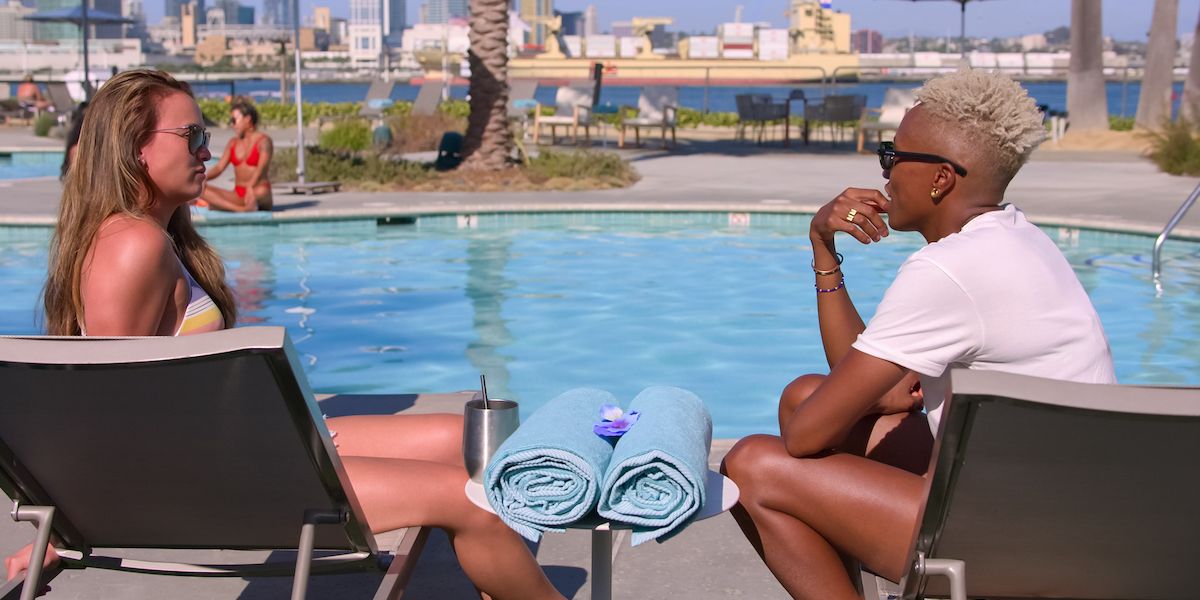 Episode 9 didn't entirely have as much drama as expected, but the reunion made up for it. The first couple in the hot seat were Lexi and Rae. The two of them revealed that the last year has been incredibly full of love for the two of them. They were still engaged and planning to split their time between the East and West Coast to appropriately see both of their families. However, things went downhill after the reunion. At the end of the episode, an update was shown on-screen to let viewers know Lexi and Rae broke up shortly after the taping and called off the wedding.
Next up for discussion was the tumultuous relationship between Xander and Vanessa. The two told everyone that since the initial breakup, the two of them have had very little to no contact. Vanessa expressed a lot of remorse and sadness for the lack of a relationship with Xander and mentioned that she missed her best friend. She knew the romance was gone, but that the two were destined to be best friends. Xander agreed and expressed their happiness for Vanessa accepting Xander as they are.
Mal and Yoly's awkwardness was palpable during the episode, and they revealed they broke up shortly after the final episode. Even though they couldn't agree on a timeline, it was within a couple of weeks of episode nine. Yoly's perspective was that there was lacking a forward trajectory — and Mal felt wronged for Yoly's consistent omission of the truth. Mal expressed she felt wronged and that Yoly's actions were disrespectful on the show. Mal told the host she is happily broken up with Yoly. This leads to Xander and Yoly confronting the burning question of it they tried a relationship after the show or not. The two admitted to seeing each other at Coachella, but that nothing happened further and they didn't pursue a relationship.
Tiff and Mildred went out with a bang and turned up the drama during the reunion. The two exchanged a lot of yelling and talking over each other. Mildred told everyone she got arrested for breaking a frame and throwing a dog gate at Tiff and that Tiff was not providing emotional or financial support to Mildred and her son. Tiff was unable to get a word in but exclaimed that she felt consistently gaslit by Mildred and ended up walking off the show. The only couple still standing after the show is Aussie and Sam. The two of them shared that they have found a happy medium by learning to communicate with each other while honoring the other's needs. They haven't told their families yet, but plan to soon which would be a big step forward for Aussie.
The Ultimatum: Queer Love could be the first of many more seasons of the LGBTQ+-friendly show. All the episodes are available now and streaming on Netflix.
Source: https://dominioncinemas.net
Category: REALITY TV