When it comes to reality TV competitions, so many of us picture intense survival shows with death-defying obstacles or the glitzy musical escapades of aspiring stars. But none have been more whimsically charming than those involving TV's guiltiest pleasure — baked goods! Between The Great British Bake-Off and Nailed It, baking competitions have become as relaxing as a warm water bath for a moist, delicate chiffon cake. Yet as the genre can often fall into redundancy, Fox's Crime Scene Kitchen continues to spice things up by serving a culinary guessing game that will whet one's appetite with its absorbing mystery, mouthwatering bakes, and sharp hilarity care of host, Joel McHale. With the reality baking competition returning for its anticipated sophomore season on June 5, the summer series continues to prove it's one of the best, most creative baking shows out there yet, and it's only getting started.
First premiering on Fox in 2021, the part-guessing game, part-culinary competition bases its premise on a marriage of chemistry and coordination as contestants work to figure out what has been baked in a kitchen of crumbs and flour trails. Using the mess of morsels alone to decode the secret dessert, contestants must recreate the recipe for celebrity judges, chef Curtis Stone and cake artist, Yolanda Gampp, who will decide how closely the baked treats match the missing item. With Crime Scene Kitchen being one of the first of its kind on network television, the hour-long series has grown into one of the most inventive baking shows thanks to its bizarre, outlandish blend mixed with our fascination for the crime genre. But while, of course, nothing heinous takes place in the kitchen, it still creates room for mystery often missing in the "procedural" competition shows. In all its uniqueness, Crime Scene Kitchen puts the ordinary viewer in the shoes of its contestants for an experience that is more immersive than others.
What Is 'Crime Scene Kitchen' About?
Have you ever eaten something so delectably delicious that you begin to think you too can make it? While the pandemic was the pinnacle of our "We can do that!" attitude bringing out the best loaves of banana bread and TikTok coffees we never knew we had in us, Crime Scene Kitchen works on that very belief with its contestants. With the six teams of two featuring self-trained bakers and classically trained ones, each episode begins with a safety round, where the teams comb through the kitchen for clues. Using their expertise to crack what the mystery item is, the teams must piece together the clues by looking through food scraps, discarded baking tools, and anything else that was possibly used in the recipe. The baking duo that comes the closest to unraveling the mystery is then granted immunity from the second bake, moving on to the next week of competition. As their baking peers must carry on and head back to another crime scene kitchen for the elimination round, the team with the lowest performance is eliminated from the competition each week, making the challenges even tougher.
see more : First 'The Randall Scandal' Trailer Brings the Fall of 'Vanderpump Rules' Star Lala Kent's Ex
In a Crime Scene Kitchen Season 2 twist shared by the network, the contestants will be thrown a curve ball this time around when it's revealed that the mystery baked goods aren't just narrowed down to sweet treats. Instead, the reality competition will be opening the recipe book to savory dishes as well, which means these bakers need to think outside the proverbial dessert box if they want to advance to the next round and get closer to the $100,000 prize.
How 'Crime Scene Kitchen' Is Different From Other Baking Shows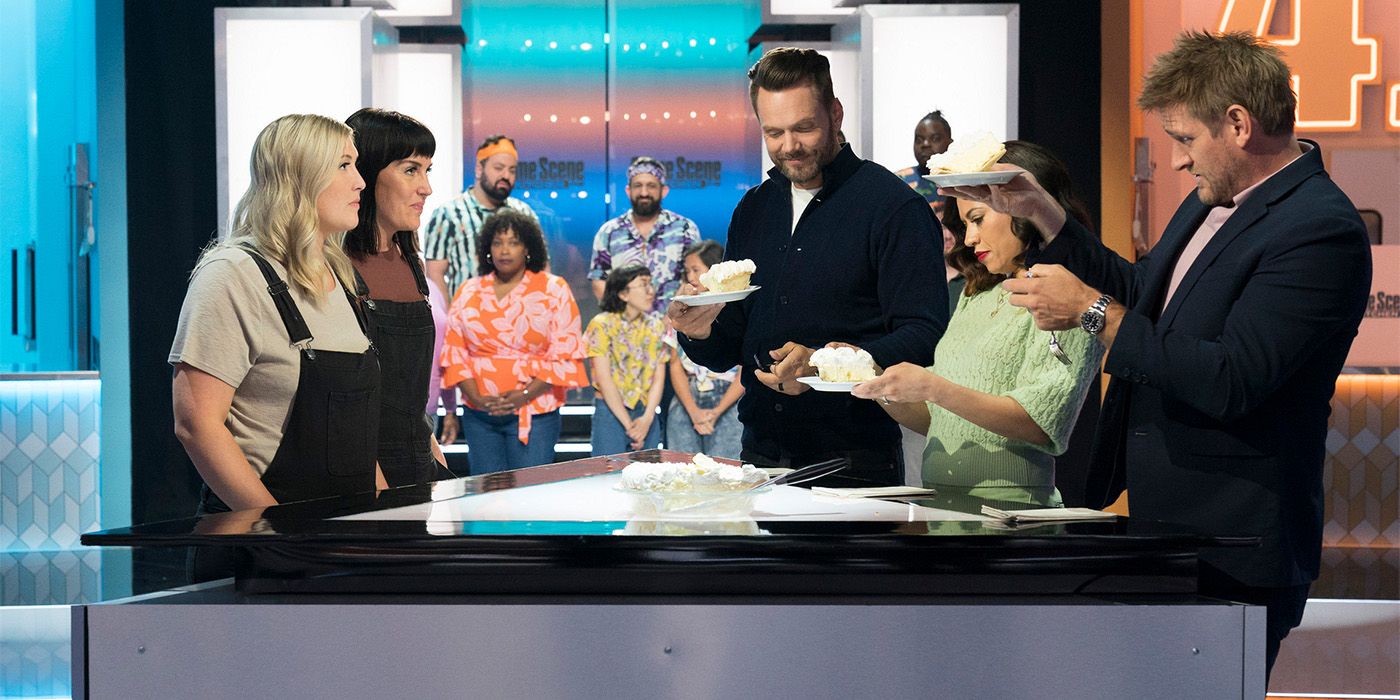 One of the purest joys about Crime Scene Kitchen is how it's nothing like its subgenre predecessors in that it's highly unpredictable, which makes competitive baking all the more delicious and captivating. Immersing the audience into the episodes each week with its sharp, critical thinking lens, the series injects highly unconventional methods of solving mysteries thanks to its eclectic bunch using their own strategies. As the show also separates contestants from classically trained bakers for one week to self-taught for another until the pool gets small enough to combine the personalities until the finals, the dynamics seen each week are unlike anything in the genre. Though it might rival The Great British Bake-Off in some aspects through its backward way of recreating a baked good and has the cheeriness of a Nailed It, it is still very much its own series thanks to its medley of mystery and comedy that will blindside you with twists you wouldn't have expected.
The show does a great job of blending warmth into these high-stakes situations that leave us captivated by the contestants who each have their own aspirations. But while it might appear that there are also rivalries in the mix with duos consistently commenting on their peers' baked items, the show does a great job of showcasing realism through each duo's confessionals. Getting to understand the contestants through an emotional pull to their respective backstories fuels the series forward, putting us right in the passenger seat with these individuals. Knowing who they are and what it took to get here is inspiring, especially when considering the types of competitors walking through the door. Whether some just want to bake for fun following hardships or start a business with their best friend after culinary school, this charm keeps the spirit of the series light and airy for everyone to celebrate the joys of baking — with a lot of that icing on the cake coming from host, McHale and his shenanigans.
Joel McHale Is the Funniest Host, Period.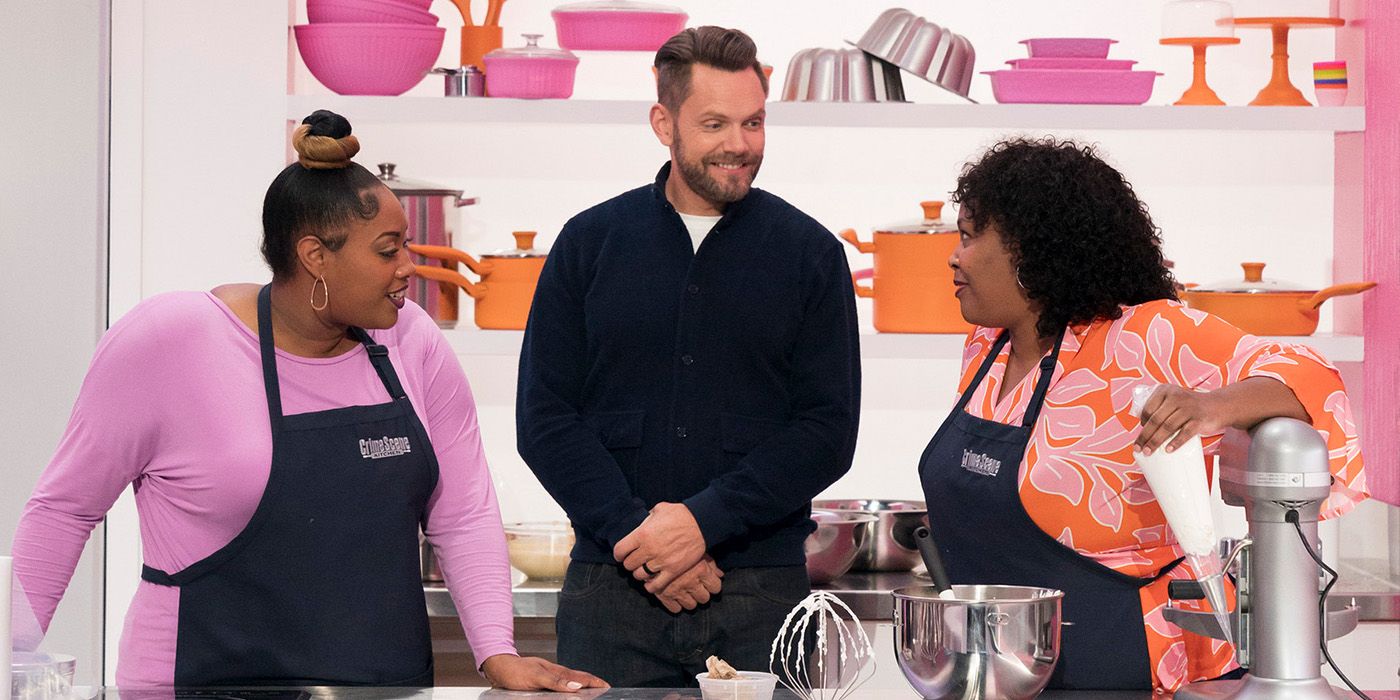 As these contestants are under constant pressure in their kitchenettes to prove their technical know-how and problem-solving skills for the recreation of some incredibly scrumptious baked goods, Joel McHale is the best host to keep these competitors in check. Though it's no secret he is one of our generation's funniest comedians with inimitable humor, McHale who is best known for mercilessly eviscerating popular culture with scathing commentary on E!'s The Soup, brings another level of hilarity to the series. Constantly asking questions, providing support to the pairs, and making everyone laugh is not an easy thing to do in an environment that is tense amid a designated baking window ensuring everything is timed correctly. But he manages to set the right tone without overdoing it like some hosts might be caught on the Food Network constantly oversaturating their contestants with an obnoxiousness that leaves little room for the gravity aligned to the stakes.
McHale, who is evidently a self-proclaimed food fan that enjoys eating both sweet and savory, manages to mix it up with the contestants thanks to his sharp wit. But it's his addition as host and a neutral party between Gampp and Stone that really amplifies the series. With the pair of chefs being experts in the culinary arts, McHale is the sole figure bringing fresh eyes to the judge's table as he isn't much of a baker. Sure the Community star can grill a mean steak as his Instagram posts and stories prove, but he's similar to the audience members in that he doesn't quite know the difference between things only bakers would, including something as "po-ta-to/po-ta-toe" as the Italian, French, or American cream found on cakes. It's from that bridging of baking etiquette and understanding through McHale's wry self-deprecation that we find comfort, even if we're slightly jealous he also serves as the show's stomach audiences have to live vicariously through.
Crime Scene Kitchen Season 2 premieres Monday, June 5 at 9 p.m. EST with new episodes weekly.
Source: https://dominioncinemas.net
Category: REALITY TV