Food television has long been a staple of the TV diet of many viewers, from recent additions like Pressure Cooker, all the way back to Julia Child's The French Chef. Yet, as interesting as it is watching someone cook food, or learning how to cook it oneself, there is only one show that really gets to the bottom of what food really means, beyond just keeping a viewer alive. Anthony Bourdain's Parts Unknown takes food TV beyond aesthetic and competition, and studies the intersection between food and the world at large while discussing politics, economics, and even site-specific issues — such as tech gentrification in an episode centered in San Francisco. Ultimately the show does so much to illustrate why people spend so much time and energy on researching, cooking, and eating food, rather than just eating for taste and sustenance. Bourdain and his team made a piece of TV that will last forever.
Who Was Anthony Bourdain?
Bourdain was the engine of the program. Originally a chef who had worked his way up in the NYC culinary scene, Bourdain published his book, Kitchen Confidential, in 2000. The book detailed restaurant life in a way never before seen. What had been normally seen as a pretentious, ultra-rich, highly controlled space was exposed to be an incredibly intense, drug-fueled, dirty place, often staffed by people who you would never expect to be cooking at a 5-star restaurant. In an article for The New Yorker, Bourdain explained such, writing: "Gastronomy is the science of pain. Professional cooks belong to a secret society whose ancient rituals derive from the principles of stoicism in the face of humiliation, injury, fatigue, and the threat of illness. The members of a tight, well-greased kitchen staff are a lot like a submarine crew. Confined for most of their waking hours in hot, airless spaces, and ruled by despotic leaders, they often acquire the characteristics of the poor saps who were press-ganged into the royal navies of Napoleonic times—superstition, a contempt for outsiders, and a loyalty to no flag but their own."
A radical departure from the clean image of fine dining, the book propelled Bourdain into fame, and multiple television shows via appearances. He was the counterpart of clean TV chefs like Emeril Lagasse, Barefoot Contessa, and others, presenting food in a manner much more like a documentarian or a journalist than a TV chef.
Anthony Bourdain Introduces Food in an Unprecedented Way via 'Parts Unknown'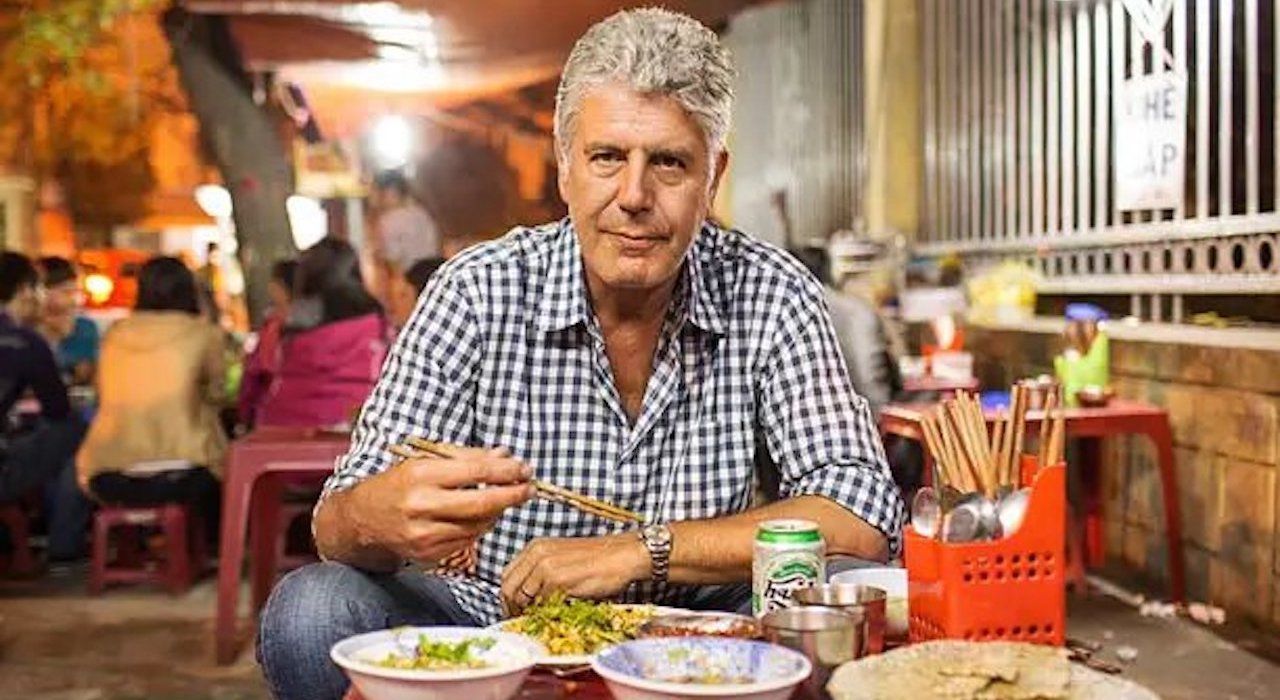 What makes Parts Unknown so unique, and still relevant years after the program ended, is the diversity of content. The majority of food content you see on TV primarily falls into two categories: It's either accessible food you could cook at home, or get at a majority of restaurants, either through an instructional program from a professional chef, featuring home cooks in a competition setting, like The Great British Bake Off — or a more travel based show like Diners, Drive Ins, and Dives. The other option is incredibly professional, featuring ingredients, cooking techniques, and devices that a home cook could never replicate. Once again, this could be a competition show, like the much beloved Iron Chef series, featuring the best chefs from all around the world battling for supremacy, or it could be more educational, like Netflix's Chef's Table, showcasing prominent chefs, and their unique takes on cuisine. The two ends tend to never overlap much on either type of show. Parts Unknown, and Bourdain's body of work in general, revels in bringing the two together.
Bourdain would spend just as much time in a diner, or a hole-in-the-wall restaurant, as he would in some of the most famous restaurants in the world. He adored street food, making it a frequent stop in the many episodes he made in Asia, always paired with a cheap local beer. He famously stated that Waffle House was "Better than the French Laundry", the restaurant run by Thomas Keller, the chef behind the spot in Ratatouille. This is not to say the show never featured fine dining. It featured plenty. But you never felt like it was any better than the other food featured on the show. The show also made a clear effort to never use food for shock value, or feature "gross-out" moments. When discussing the frequently bashed on Scottish food Haggis, Bourdain states "Its ingredients are, in fact, no more unusual or bizarre or unappetizing than any hot dog you ever ate. How many anal glands are in a chicken nugget? I don't know, and I'm not suggesting there are anal glands in a chicken nugget, but would you be surprised if there were?" Food was always democratized on Parts Unknown, and it made the show stand out from its peers.
Bourdain Merges Food With Important Discussions in 'Parts Unknown'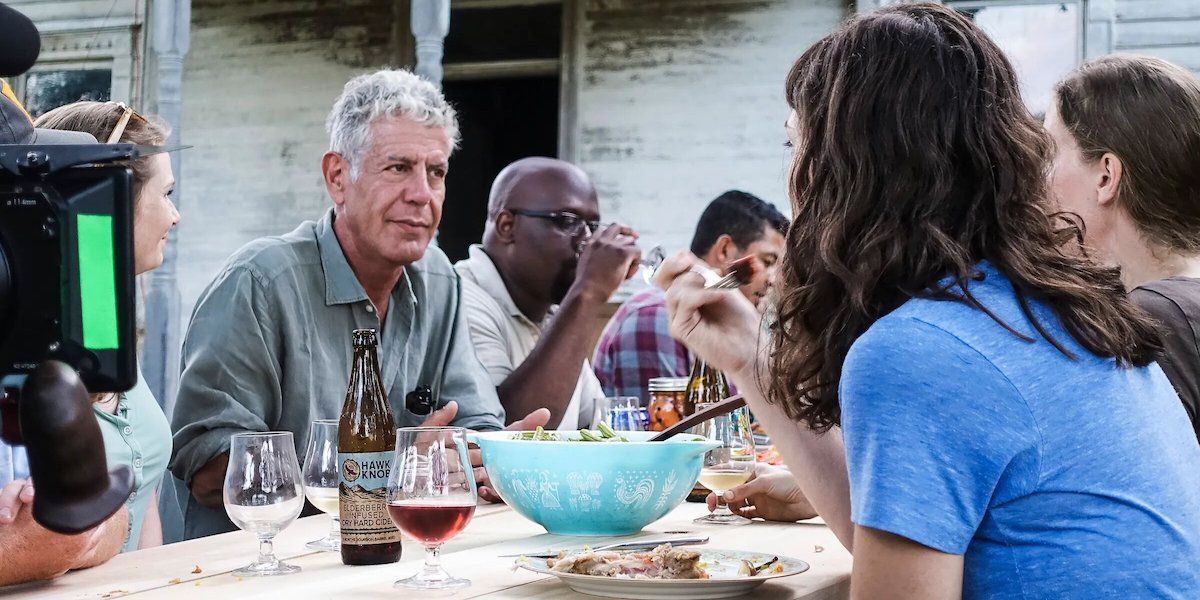 Bourdain also went beyond food in every episode he covered. He would frequently interview local chefs, artists, musicians, whoever, and get their thoughts on both the food scene of the city. While doing so, the conversations went beyond tasty treats. He delved into major topics such as gun violence, or major historical events — such as his profile of chef Sean Brock, linking the foods of the American South to its history. Topics such as Brexit, Scottish Independence, the Vietnam War, and the Sri Lankan Civil War, were all covered on the show.
Bourdain was excellent in his ability as an interviewer, allowing his subjects to speak their thoughts clearly, but also making his own thoughts known. He was always consistent, and allowed the sights and sounds of the show to bounce off him. Through him, viewers could experience exotic and cool places, and learn something deeper than just exactly how sushi is assembled, but also about what sushi represents in Japan as a whole, how the chefs get the fish, where the fishermen get the fish, and what that says about what's put on your plate. The many people doing thankless jobs around the world, so someone can eat a sandwich or drink a beer were always present in Parts Unknown, equal to the chef who plates up the food. Bourdain took his experience in the world of fine dining, and flipped it on its head. The messy process was now revealed in all its glory, unlike anything else seen on TV before.
Bourdain ultimately took his own life, while filming an episode of Parts Unknown covering Strasbourg, France. His death impacted millions, yet his legacy will live on forever through the many books, interviews, and episodes of television he left behind. For many people, he was the way they learned about food, travel, even the world at large. What makes Bourdain's work special is how much he focused on people, it almost felt like food came second for him in a way. Food was a vehicle to learn about the wild, sad, strange world we live in. Anthony Bourdain will be missed forever, but his mark on television will be impossible to forget.
Source: https://dominioncinemas.net
Category: REALITY TV