Editor's note: The below interview contains spoilers for the first three episodes of The Wheel of Time Season 2.
When we last left off with The Wheel of Time, the culminating battle at the Eye of the World fractured our leading group of characters in more ways than one. Not only is this tight-knit band now scattered in vastly different directions, but they've been forever impacted by the fight against the Dark One's right hand (Fares Fares) — chief among them the Aes Sedai Moiraine (Rosamund Pike), who was viciously cut off from the One Power and thereby unable to reach for the source of her abilities. Rand (Josha Stradowski), who has now learned his true destiny as the Dragon Reborn, found himself touching the madness that men who can channel the One Power often experience — and as a result, decided to flee instead of reuniting with his friends, asking Moiraine to let everyone else believe he has died.
In the wake of last season's finale, Season 2 picks up with Rand living in the Foregate in relative anonymity. At the same time, Moiraine has adopted a different, more personal mission while reckoning with the break in her bond to her Warder, Lan (Daniel Henney). After demonstrating an impressive level of power at the Battle of Fal Dara, Egwene (Madeleine Madden) and Nynaeve (Zoë Robins) are now in Tar Valon training to be Aes Sedai, and Perrin (Marcus Rutherford) has undertaken the search for the missing Horn of Valere, currently in the custody of the Darkfriend Padan Fain (Johann Myers). Mat (Dónal Finn), however, may be in the last place anyone would expect to find him — locked in the White Tower under the watchful eye of Liandrin (Kate Fleetwood).
Ahead of the Season 2 premiere and the ongoing WGA/SAG-AFTRA strike, Collider had the opportunity to sit down with The Wheel of Time's cast, including Finn, Rutherford, and Ceara Coveney, who plays the new White Tower novice Elayne Trakand, to discuss the biggest moments of the opening episodes. Over the course of the interview, which you can read below, the trio discusses their respective character arcs at the beginning of Season 2, while Coveney and Finn talk about what it's been like to join the cast, and Rutherford explains what it was like to work with real wolves on-set.
RELATED: 'The Wheel of Time' Season 2: Release Date, Trailer, Returning Cast, and Everything We Know So Far
COLLIDER: I have to start by saying Dónal and Ceara, welcome to the world of Wheel of Time. What's it been like to join the cast this season?
DÓNAL FINN: It's a blessing. It's a phenomenal cast to join and to step into, and we had the privilege of working on the show and then getting to watch Season 1 and learning just how colossal and exciting what we were stepping into was whilst filming it. Also, it's just a gift for an actor to be coming into something so expansive, so imaginative, and far-reaching that I think it requires exercising your imaginative muscles to get into the stakes of their day-to-day lives and the scope of the rules of this universe. It's loads of fun to play, and I'm really grateful to be stepping into such a phenomenally supportive and talented cast.
see more : 'I Am Groot' Creator on Baby Groot's Mischievous Season 2 Adventures
CEARA COVENEY: Absolutely. It's so exciting. I definitely, when I was first cast, felt this huge weight of responsibility of bringing Elayne, who is such a loved character, off the page and to life. It was incredible stepping onto these huge, amazing sets that are completely 360 and so detailed that you really don't have much work to do as an actor because it's all there for you, and all you have to do is focus on the character. It was incredible. And working with the characters that people already know and love from Season 1, it was a really exciting journey.
Marcus, for you, what has been the biggest difference between filming Season 1 and Season 2?
MARCUS RUTHERFORD: In terms of where the characters are, there's a little bit of a time jump. In Season 1, there's a lot of world-building to do. We had to explain these expansive books and then set the parameters that Robert Jordan had set in those books. As we come into Season 2, the characters are a bit older, a bit wiser, and that naivety of, "We just want to go back home," is gone. They've kind of accepted their place in this prophecy. Perrin, for one, is meeting so many new characters who are leading to him questioning himself, questioning his own kind of ethos around violence, around warfare, and I think they're just older and wiser. The show in itself, Sharon [Gilham], who does costume; Davina [Lamont], hair and makeup; Thomas [Napper], who came in to direct the first block, set a new standard and set a precedent that the show needed to be bigger, a bit darker and a bit more mature in its time as well.
It is a darker season, but Ceara, Elayne is a character who brings this lightness and sweetness. When we're first introduced to her as a novice, she comes to the White Tower, she has all this knowledge about the Aes Sedai and how things work, she knows what she wants to do, and she strikes up this friendship with Egwene. What was it like to explore that with Madeleine [Madden]?
COVENEY: It was so much fun. As you say, Elayne brings this lightness when she first arrives in the Tower. Contrary to the other characters that we already know in the season, she is someone who knows what her fate is, she knows who she's going to be one day, and I think that's very different to all these characters that are still trying to figure that out. So there's a certain lightness. There's also a certain amount of comedy that comes with a princess, someone who's being raised to be a queen and has lived in a castle, who comes to the Tower and is, for the first time in her life, the same as everyone else — she's on the same level, she's scrubbing and mopping the same floors. She is in this position where she's trying to navigate this new environment, and she's also trying to make new friends, which isn't something she really is very well versed in. She's stumbling, and she's tripping up, and it was so much fun playing that with Madeleine. She was so supportive, as well, and we had a real laugh those days in the Tower.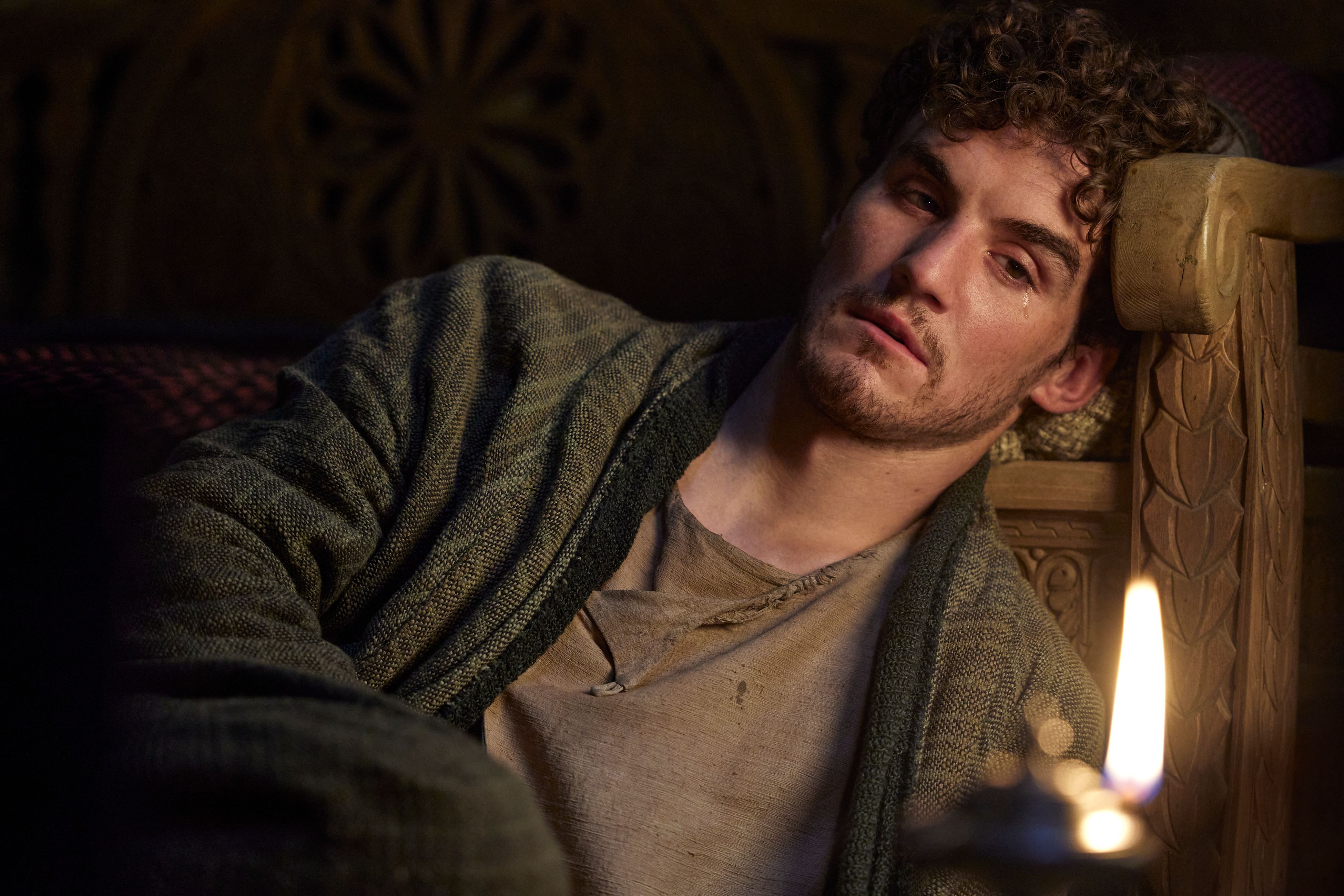 Dónal, I want to ask you about Mat's arc this season because when we pick up with him, he's not in an ideal place. He's been separated from his friends, but more than that, it feels like he doesn't think he deserves to be reunited with them in a way. Why do you feel like he has that reluctance to reconnect?
FINN: That's a great question. When we meet him at the top of this season, he's in isolation, and he's being held against his will as he's being looked after by the Red Ajah. I think all of that isolation is something that just leads people to be reflective, to turn introspective, and to examine the behaviors of things that they've done in the past. That is, as well as being held captive, that's kind of what's stirring around in Mat's brain — the decisions he made in Season 1, ultimately making those choices to leave his friends. He feels that if he reconnects with his friends, that is going to have to be acknowledged and explained. It's not a behavior that he feels proud of. So, I think that that's maybe part of the avoidance of reconnecting, but ultimately, this journey through Season 2 is about Mat having to accept the parts of himself that are dark as well as light and recognizing that no one's an island and that we're all full of shade, and that's how you learn to accept yourself. It was a really interesting journey to go on. It was a great arc to explore.
Marcus, I wanted to ask you about where we pick up with Perrin because, at the end of Season 1, we learn Padan Fain has escaped, Perrin is joining the group that is going to hunt him down, but this feels very uniquely personal for him in a way that it may not for some of the other characters. Why do you think that is?
RUTHERFORD: For Perrin, Padan Fain represents that disruption that we had at the start of Season 1 – obviously, a very traumatic experience for Perrin when we first meet him. Padan Fain is the epitome of this thing that kind of disrupted his world. He was very happy being this humble blacksmith from the town. He wasn't really seeking to go on a quest. I think some of the other characters had that within them, but Perrin's someone who's always been longing to go back home. Padan Fain embodies this change and this disruption in all of their lives, so chasing it down, there's obviously a purpose for the Horn, but Padan Fain represents some sort of vengeance for Perrin at a personal level as well.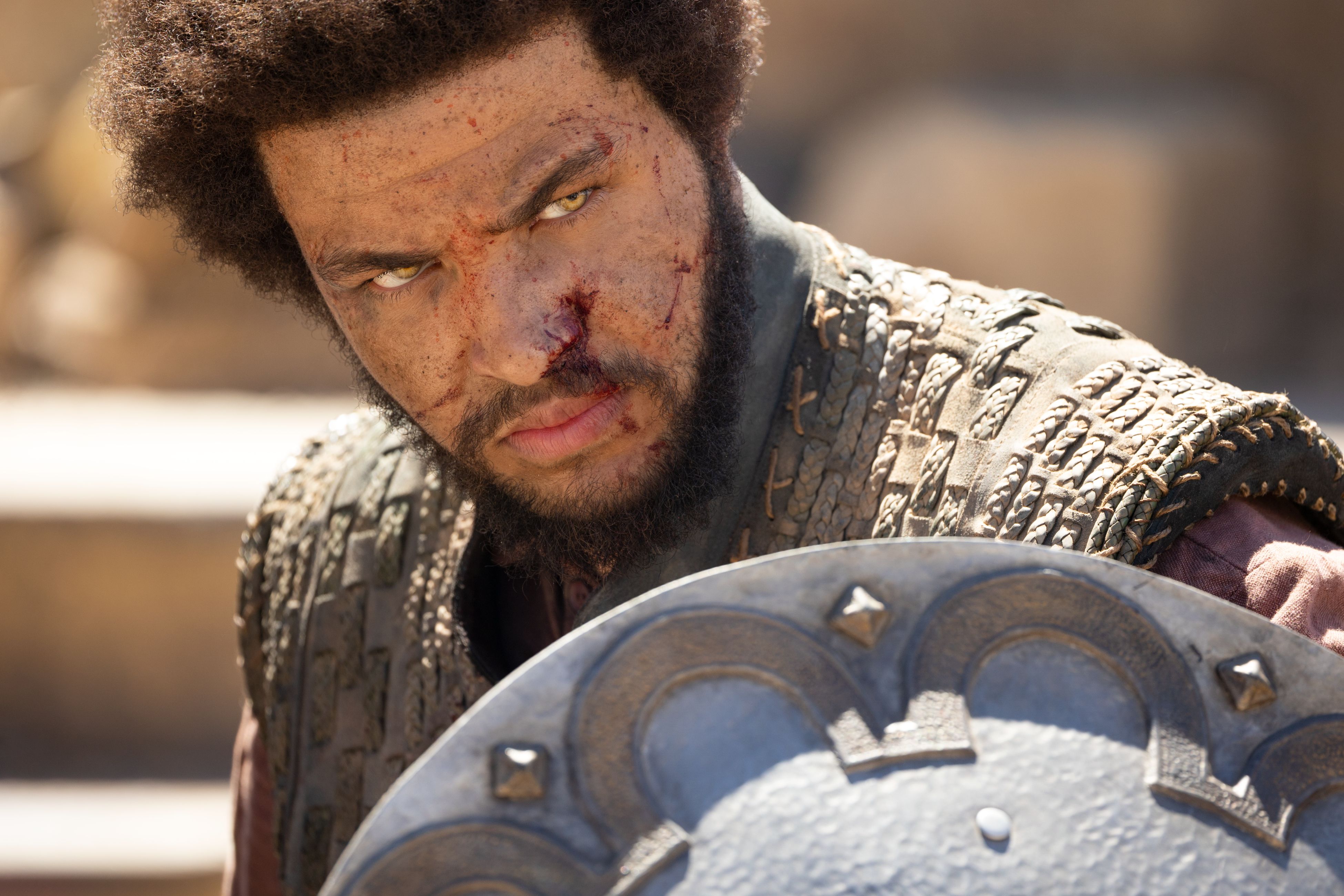 Perrin is also starting to acknowledge a side of himself that we've seen hints of in Season 1. This is a storyline that I know fans of the books are very familiar with, and I would love to know about working with the wolves. In the first couple of episodes, it just seemed like you got to be really up close and personal with these gorgeous animals, so what was that like?
RUTHERFORD: Yeah, it was amazing, man. In Season 1, we kind of hinted at it a little bit, but it warranted a proper introduction, and Season 2 felt like the right time for that. Working with real animals can also be a bit scary at times, but it meant I had to establish a bond with an animal and work outside in different locations, different countries, and it was amazing. I feel like there was a real connection there rather than having to act against some sort of CGI thing. There was a real animal that I had to learn and trust and get the respect of. It meant that I was going on my own journey alongside Perrin's, as well.
New episodes of The Wheel of Time Season 2 premiere Friday on Prime Video.
Source: https://dominioncinemas.net
Category: INTERVIEWS