The Autobots versus Decepticons' war continues in Steven Caple Jr.'s Transformers: Rise of the Beasts. Continuing the live-action legacy of Michael Bay's metal-morphing vision, Rise of the Beasts finally brings the Maximals and Terrorcons to life, and Collider's Steve Weintraub had the opportunity to sit down with Peter Dinklage, the voice of one of these malevolent bots, to discuss joining the Transformers Universe.
Rise of the Beasts takes place in the mid-nineties, a time before Optimus Prime (voiced by Peter Cullen) was the confident leader we know him to be. At this point, Autobots and Maximals have been hiding out on Earth for centuries, but something treacherous is coming, and Optimus finds himself joining forces with Optimus Primal (voiced by Ron Perlman) and humans like Noah Diaz (Anthony Ramos) and Elena Wallace (Dominique Fishback) to prepare for the oncoming battle ahead. In particular, audiences will meet the Terrorcons, led by Dinklage's Scourge, who critics are calling "a terrifying and powerful villain." Rise of the Beasts also features Michelle Yeoh, Pete Davidson, Luna Lauren Velez, and John DiMaggio.
Best known for his unforgettable portrayal of Tyrion Lannister in Game of Thrones, Dinklage discusses what it was about lending his voice to "a robot from a different galaxy," who he admits "has a bit of an evil streak," that appealed to him, as well as why he finds voice acting "liberating." He also talks about working with Caple Jr., the new merch he doesn't claim ownership of, and upcoming projects like Brothers with Josh Brolin and joining another big fandom in The Hunger Games: The Ballad of Songbirds and Snakes. You can check out all of this and more in the video or transcript below.
COLLIDER: If someone has never seen your work before, what is the first thing you'd like them watching and why?
PETER DINKLAGE: Oh my God. Well, Paramount Studios' Transformers: Rise of the Beasts [laughs]. No, I don't know, they're all such a blur. I think I got lucky with my first film that I ever did, Living in Oblivion. It was a comedy about moviemaking, we made it in the mid-nineties. Steve Buscemi and Catherine Keener and James Leg and Dermot Mulroney, and there I was with this gang of great actors, my first film in New York City, and I just thought, "I just got really lucky," and I was pinching myself every day being there. I shot for like, five days probably, but it was a great film.
Jumping into why I get to talk to you, when you were offered this, pitched it, however you got involved, was it like an immediate yes? Because this is something your whole family can watch?
DINKLAGE: Yeah, I mean, I just like to mix it up and not repeat myself, and I've never played a robot from a different galaxy who has a bit of an evil streak running through him. I've done some other voice work for other things and I find it to be really fun, very unique from being on sets – isolating at times, but Steven, our director, was there on Zoom with me. Every session he guided me through, and he was so accessible. I find not relying on other things as an actor, and just solely your voice, it really can be very liberating, and it calls into focus how important it is even when you're on camera, like what great actors like Daniel Day-Lewis will do with their voices every time, how it's just like a costume or an accent, or something. It's just how you transform the voice – transform – is just as important as anything else, and my favorite actors have always done that.
Did you enjoy recording the efforts or do you find that to be tedious?
DINKLAGE: [Laughs] It's very weird if taken out of context, if you're in the room going, [makes an assortment of grunting noises]. If somebody's in the next apartment, they will have questions. But no, it's all fun. I mean, you get to wear your own clothes and your comfortable shoes and not have hair and makeup, you're in an air-conditioned sound booth, and it's great. And the people over at Soundtrack [Studios], a place in Flatiron that I work at a lot, I'm very familiar with all of them, and they're super sweet over there.
One of the things that's cool about Transformers is that there are a lot of toys made, a lot of merch.
DINKLAGE: Oh yeah, I got some in the mail the other day.
I was going to ask you, what are you looking forward to actually owning, and do you have a sense of ownership?
DINKLAGE: I don't know, my son owns it all now. I was saying earlier, I didn't wanna wait for his birthday because I would be re-gifting from Paramount. I would feel cheap about wrapping up a present from Paramount, so I just gave it to him right away. He came home from school, and it was like, [sings] "Aaahh, what Transformer bot is this?" It was pretty fun. A lot of the stuff I can't give my kids because it's like, I don't know, dangerous. It's spiky things from weird movies that I've done that just aren't kid-friendly, you know? You can hurt yourself with them, but the toys? Yeah.
[Laughs] That's great. I'm really looking forward to Brothers because I'm a fan of Max [Barbakow] and what I did with Palm Springs. I don't know anything about this movie, so I'm curious, is it a Palm Springs situation where there's like some big twists that I won't see coming, or is it one of these that you're just trying to keep everything under wraps?
DINKLAGE: I like keeping everything under wraps because it's just fun. Nobody knew what a C-3PO was when I was a kid until you saw him in the theaters, and it's like, "Whoa!" Now, you know, everybody knows so much about a movie before we see it – not that this movie is Star Wars [laughs]. Me and Josh Brolin play brothers, and the origin of this, of how we made this movie, is we pitched it to studios because a friend of his said, "You and Dinklage both have really big heads, you guys should play brothers." And he called me up, and he was like, "My friend said this, you wanna play?" And I was like, "Yeah, movies have been made for less ideas than that, this is perfect," and I was a huge fan of Josh's work. So, we play brothers.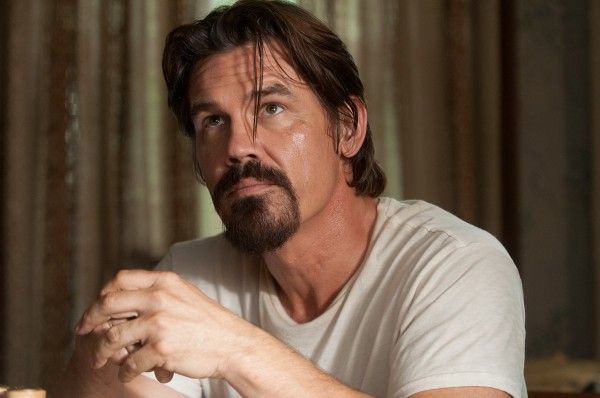 Okay, I won't push you any more than that, but that's awesome.
DINKLAGE: It's a comedy.
Oh, there we go.
DINKLAGE: It's very funny.
Sir, the second you want to show it to me, I will be in the screening room watching.
DINKLAGE: And there's a talking robot in the end too.
Is it named C-3PO?
DINKLAGE: No, it's the Scourge! Don't tell Paramount.
Great, my last thing for you; I'm a big fan of Francis Lawrence. I know you're in the new Hunger Games movie…
DINKLAGE: I'm a big fan of Francis as well, having just worked with him.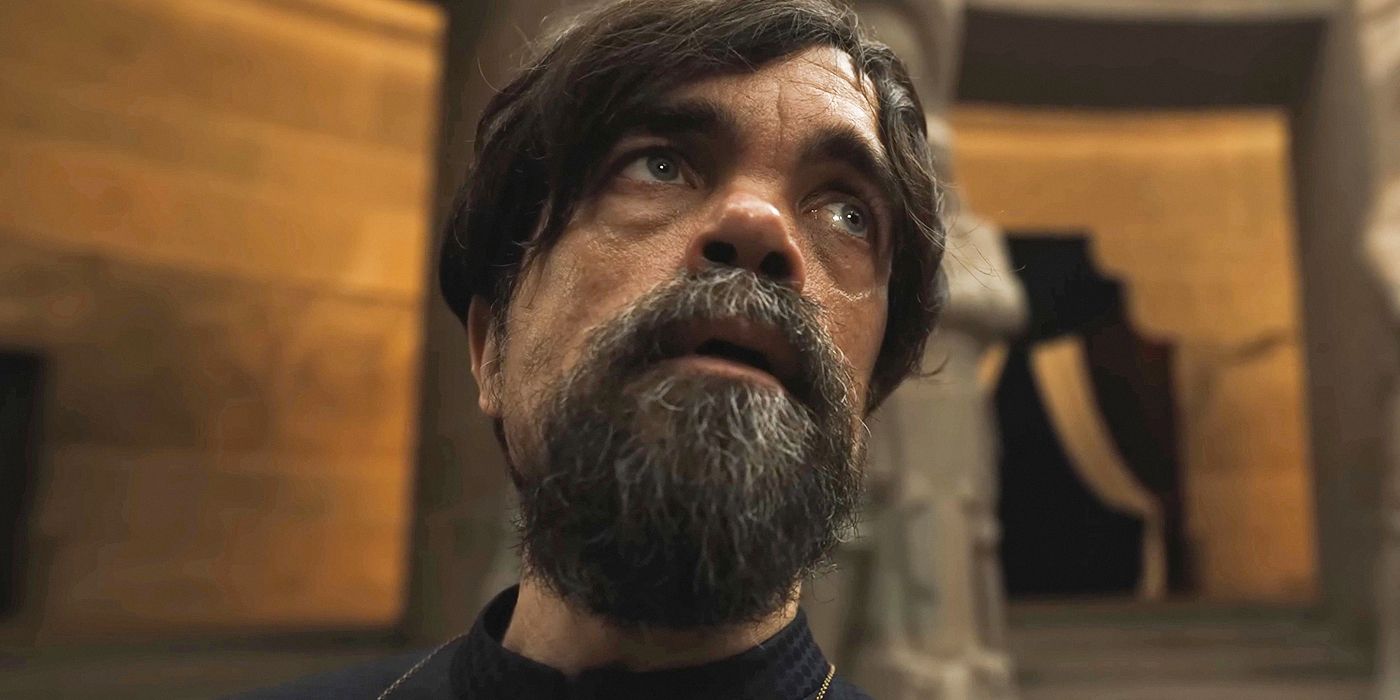 Can you talk a little bit about your character? Do you get to wear cool costumes? What it was like working with Francis?
DINKLAGE: Yeah, it was great. We were in Berlin last fall, Berlin is such a beautiful city. Francis is so great, he's so kind and patient and great with actors and knows exactly how he sees the film, which you always want in a director. He sort of sees it so clearly, and he relays that to you as an actor so, so well. I think the preview's online, so you can kind of see that maybe I'm not the happiest camper in the film. Viola [Davis] announces me as the creator of the Hunger Games, which is what I am, which is sort of like, "Careful what you create," because in the later films that [censors himself] gets out of hand. When you try to create something that's helpful, you know, watch out because it can [go] topsy-turvy.
Transformers: Rise of the Beasts is in theaters and IMAX. Check out Collider's interview with producer Lorenzo di Bonaventura for an update on the upcoming animated feature, Transformers One below.
Source: https://dominioncinemas.net
Category: INTERVIEWS