Christa Miller is no stranger to hugely successful TV shows. She appeared on The Fresh Prince of Bel-Air and Seinfeld, did over 180 episodes on The Drew Carey Show, over 80 on Scrubs, over 100 on Cougar Town, and now she's a standout on an Apple TV+ gem, a series gearing up for what will hopefully be quite the awards season run, Shrinking.
The series was co-created by Bill Lawrence, Brett Goldstein, and Jason Segel with Segel also starring as Jimmy Laird, a therapist struggling with the death of his wife. That means Jimmy hasn't been the responsible, attentive parent he needs to be for his daughter, Alice (Lucite Maxwell). But, that's where Miller's Liz comes in. She's the Lairds' neighbor and the person who winds up taking responsibility for Alice when she needs support and an active guardian. Liz has a massive heart and many assets, but stepping back isn't one of them, so Jimmy finally starts to make moves to put his life back together and reconnect with Alice, Liz isn't quite ready to hand the reins over.
In celebration of Shrinking's acclaimed first season, Miller joined me for a Collider Ladies Night chat to recap the path she took in the industry, including when and how she identified her knack for comedy.
While Miller always knew she had the itch to act, in high school, her focus was on sports.
"I did four varsity sports. In those days, you didn't have to pick one sport, so I would just go through and do them, and I never did plays, but I always wanted to be an actor. In 10th grade I started going to the American Academy of Dramatic Arts at night after a game, and I would go study there. The second I started there, I fell in love with it and wanted to do it. But, I was kind of private about it."
What inspired Miller to make her passion for acting public? She gives that credit to Susan Saint James who showed her that the dream was achievable:
"Part of it was my biological father who I didn't meet till I was 16. His sister is Susan Saint James. Do you know who that is? She was on McMillan & Wife and Kate & Allie, and she hosted Saturday Night Live, and I knew she was an actress. I hadn't met him or met her, but I knew she was an actress. And, you know, I grew up in the city. I wasn't in show business. And I thought, 'Well, there's someone in my family that's actually doing this.' So it felt like it could be something I could do. It didn't feel so far away."
From there it became about honing her craft and figuring out where she could thrive as an actor. At the start, Miller had plans to lean into more dramatic pieces, but the industry nudged her in a different direction. Soon enough, Miller would recognize she could soar in comedy. Here's how she put it:
"In terms of early jobs, I always was very dramatic and the Sturm and Drang of it all, and thought I was going to be this very dramatic actress, but I was always kind of somebody that was making my friends laugh all the time. I got a part on the Fresh Prince of Bel-Air that was supposed to be one little scene and then they kept adding me to scenes, and it was so much fun doing the show. There was music playing and they were doing speed throughs before everything and everyone was really nice. It was the most fun and I thought, 'What am I doing? This is the most fun and also I think I can do this. I think I could do comedy.' And then once I got that I kind of changed my head what I was focusing on with auditions."
From that point on, Miller would almost always actively be working on a successful long-running show. The Drew Carey Show overlapped with Scrubs, and then Scrubs overlapped with Courage Town. That's 20 straight years of winning comedy series.
While consistent opportunity is wonderful, a rather challenging part of charting a course in film and television can be figuring out when it's best to say no. Here's what Miller said when asked about her approach to taking or passing on projects in the earlier stages of her career:
see more : Lena Headey on 'White House Plumbers' and Dorothy Hunt's Shocking Fate

"I think after I got Drew is when I would say, 'No, I don't want to do that.' And then after I had my first child, you know, you're really battling — my husband also works, so it wasn't a matter of having to make living, and that's tricky. It's just tricky. And also, a lot of things that you think — I mean, not a lot — but there's some things that I didn't want to do and then turned out to be okay and should have done."
Miller took a moment to further explain what she meant by things she didn't want to do; "I'm sure there are a few jobs and movies that I was like, 'I don't get it. I don't like it.' Or, 'I can't do it. That would be scary for me,' or something, and then it turns out that I could have been scared and done it."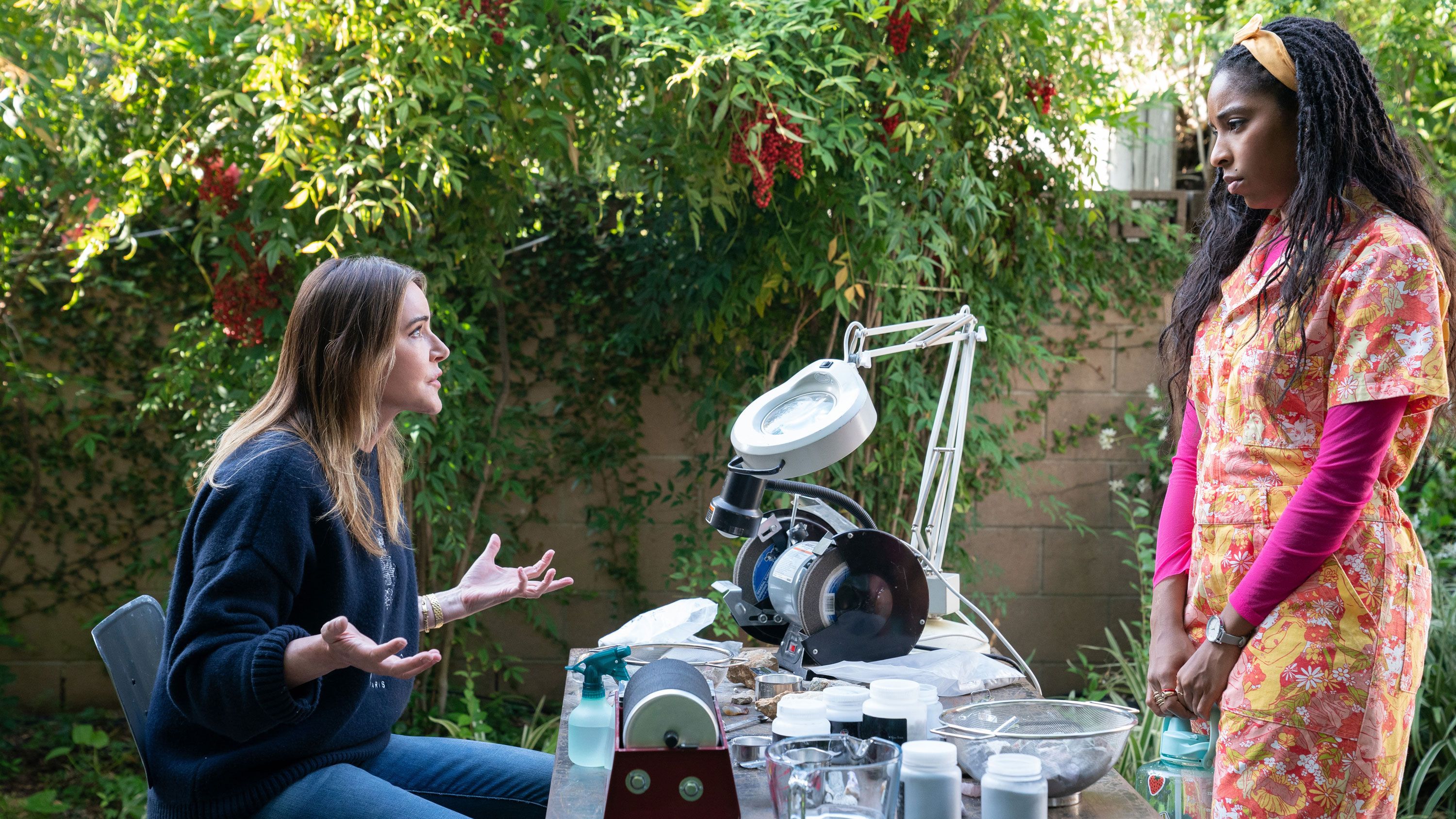 One particular thing that can be mighty scary for an actor? Feeling embarrassed on set. However, that's something Miller's come to embrace more and more over the years, and it's also something she finds enhancing her work on Shrinking. Here's how she put it:
"One time when we were doing Scrubs, Bill said, 'You know, when they're doing the other person's coverage, you're doing all this crazy shit, but I want to see it when you're on camera, and be embarrassed.' Because, you know, a lot of times you're trying something and it's crickets and you're like, 'Oh.' And then, when I did Shrinking, Jason, he likes being embarrassed. He's like, 'Unless I'm embarrassed 10 times during the day'— because he likes if there's crickets because he put it out there. And I thought, 'I'm gonna do that. I'm gonna do that all the time. If it doesn't work, It doesn't work.' And it's so good for me. At the end of the day you go, 'Yeah, I failed. I failed five different times today, but I put it out there, and because I failed, I was able to do something else or feel vulnerable for a scene.' It works."
Hopefully team Shrinking continues to embrace this mentality going forward because it worked wonders for them in Season 1. Not only is the show packed with laugh-out-loud moments, but each and every single one of them is brimming with authenticity and heart.
Looking for more from Miller on her journey in the industry and her approach to playing Liz on Shrinking? Check out her episode of Collider Ladies Night at the top of this article or listen to the full interview uncut in podcast form below:
Source: https://dominioncinemas.net
Category: INTERVIEWS