Editor's note: The below contains spoilers for Episode 2 of One Piece.Now that Luffy (Iñaki Godoy), Zoro (Makenyu), and Nami (Emily Rudd) have officially set sail, map to the Grand Line in hand with Shells Town in a shambles, nothing can stop them all from achieving their dreams. Or so they think, because really, how long can optimism like that last? Though it was supposed to be all smooth sailing from there on out, One Piece Episode 1 ended with the reveal that pirate captain Buggy the Clown (Jeff Ward) wants the map they carry, and will stop at nothing to get it. So how do things go for the intrepid crew?
We don't actually find out right away, as Episode 2, "The Man in the Straw Hat," opens instead on Young Luffy (Colton Osorio), still determined to make it as a pirate, and practicing his "Gum Gum Pistol" in Windmill Village. Makino the bar owner cautions him that people might start to fear him now that he's different, and warns him that Devil Fruit powers don't come without a price, each coming with the deal-with-the-devil consequence of losing the ability to swim, and losing all strength when in seawater. Kind of a problem for someone who wants to make a life at sea.
Not that he lets that deter him for a second once Shanks (Peter Gadiot) arrives at Makino's bar and Luffy asks, once again, if he can join the crew. Shanks puts him off with non-answers until his crew accidentally lets slip that they're about to depart the village and head out in search of the One Piece, with no intention of returning to the village.
In the present day, Nami is still trying to crack the safe containing the map to the Grand Line while Luffy pesters her to the point where she tries to throw his signature straw hat overboard, finally producing a crack in Luffy's perpetual sunshine optimism. The chit-chat grates on Zoro, who is trying to take a nap, and it seems like the not-a-crew is starting to really bond, despite protests to the contrary. No sooner do they have the map out of the safe than it becomes clear Luffy doesn't actually know where the Grand Line is on a map. Nami supplies Luffy and Zoro — and the audience by extension — with a succinct explanation of the geography of the world. Nami remains skeptical about the existence of the treasure, but Luffy doesn't have much of a chance to convince her when bright red smoke bombs hit the deck of the ship, knocking them all unconscious.
RELATED: Why the 'One Piece' Live-Action Series Looks Different From the Manga and Anime
The three wake up in a small crate without any of their belongings — except for the map, which Luffy ate — with Zoro and Nami suspecting that the Marines are behind their captivity. Luffy corrects them and says a band of pirates took them hostage, which Zoro admits is an improvement, since pirates lack training and are easier to kill. Luffy argues that they can reason with their captors pirate-to-pirate, and no amount of Nami telling him he's not really a pirate is going to give Luffy impostor syndrome. Fortunately, they don't have to wait much longer to see what they're dealing with as the crate busts open to reveal they're sitting in the middle of literal circus, surrounded by a terrified, tearful audience.
They aren't left wondering for long, as Buggy himself joins them momentarily, furious that their presentation didn't meet his standards of performance, and then immediately irritated that Luffy is the only one who recognizes him — despite getting his name wrong. A slight misunderstanding about Buggy's nose has him flying into a rage, and it's safe to say of all the villains they've met so far and will meet this season, he is probably the least emotionally stable. Ward's performance throughout is a highlight. He veers between hilarious and terrifying at lightning speed, and never leaves the audience or the characters sure of what to make of Buggy.
Buggy's real problem isn't so much that they stole the map before he did, but rather that they're in his mind "three little nobodies." Luffy takes issue with this and tells Buggy he's not nobody, he's the future king of the pirates, a refrain he will come to repeat a lot. As overblown as this confidence might seem, Buggy counters with the claim that he is the fiercest pirate captain in the East Blue, with the fiercest crew as well, a claim Alvida (Ilia Isorelýs Paulino) made as well, and we all saw how that turned out. It looks like ego, or at the very least a lot of self-confidence, is the real trick to being a pirate on the East Blue.
Sick of Luffy and Buggy's little back and forth, Zoro announces his identity to the crowd and threatens to kill any who don't surrender. Just as Buggy turns his attention to the famed pirate hunter instead, Nami panics and offers to give him a new circus act instead of the map. She tricks Luffy into revealing his powers and takes off out of the big top and into the village, which has been completely leveled by Buggy and his crew. Her escape attempt doesn't last long, and she's almost immediately dragged back in with the realization that the audience is made up entirely of captive townspeople. Buggy has Zoro and Nami hauled off to the green room while he keeps Luffy in the ring to determine the whereabouts of the map.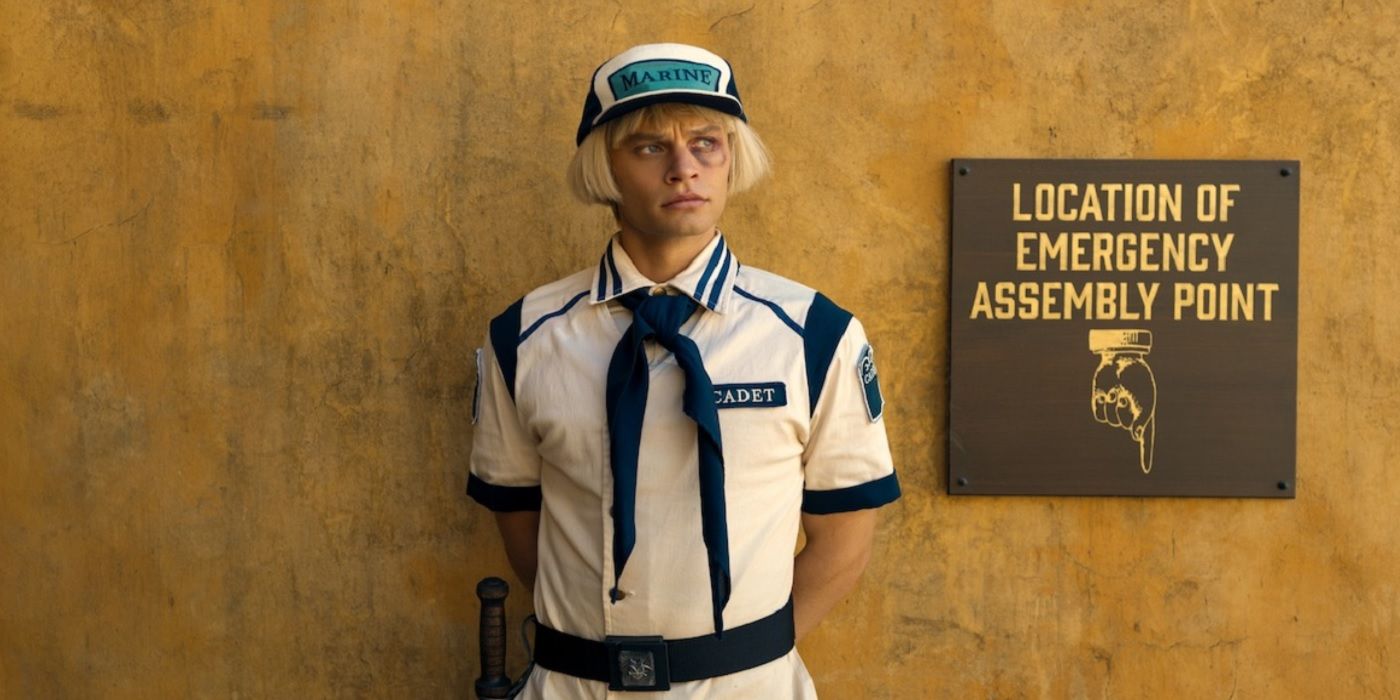 Back in Shells Town, Koby (Morgan Davies) and Helmeppo (Aidan Scott) have been recruited into service, and are present for the arrival of Vice-Admiral Garp (Vincent Regan) and his right-hand man Bogard (Armand Aucamp). It's another indication that the showrunners are at least somewhat looking to the future of the series by making Koby, Helmeppo, and Garp so prominent this early when they don't really enter or reenter the narrative proper until much later in the Manga. The benefit of adapting something so long-running is in knowing what's going to come up later and working it in early, plus as far as a television series goes, it helps keep the scope of the world big.
Captain Morgan (Langley Kirkwood) catches Vice-Admiral Garp up on the chaos caused by the Straw Hats, with his fair share of embellishments the Vice-Admiral doesn't believe for a second. Morgan casts the blame for the escape on Helmeppo, saying Koby is the only reason his son survived at all. This little tidbit puts the cadet right in the sights of Vice-Admiral Garp. Koby is called in to see Garp, who noticed the new recruit acting oddly nervous in the yard. He and Bogard tell Koby that they know he's friends with the pirates and accuse him of being in league with the pirates, forcing Koby to come clean about how he met Luffy, admitting to Garp that he was afraid telling the truth would prevent him from enlisting. Though Garp's entire demeanor changes once he hears Luffy's name, instead, he just cheerfully suggests to Koby that they track Luffy down together.
In the back room of Buggy's circus, Zoro and Nami find themselves in a bind, and for the first time don't have Luffy acting as a mediator. Nami is still horrified at the destruction she saw out in the town, but Zoro doesn't dwell on it for long, fixating instead on how she ran out on them in the first place. The two are at an impasse, Zoro unable to trust someone he sees as too out for herself, and Nami thinking he's both reckless and a hypocrite. With no better way out, the two strike a reluctant truce, and she produces a hidden lockpick to get them out. Not a moment too soon, either, as they're interrupted by the sounds of Luffy's screams.
The screams aren't screams of pain, though, since Luffy is enjoying having his limbs stretched out all at once. His continued cheerfulness in the face of what is supposed to be torture infuriates Buggy, who decides psychoanalysis is the way to go, questioning Luffy's motives for even wanting to be a pirate. He suspects Luffy is trying to impress a mentor, and correctly guessing the origin of Luffy's straw hat, reveals that he knew Shanks once when they were younger, serving on the same crew. His reasons for hating Shanks are that he kept him out of the spotlight, and wonders if the same happened to Luffy, which is a bit of a departure from the Manga, where Buggy holds Shanks responsible for causing him to accidentally eat a Devil Fruit, reasoning Shanks did it to hold him back.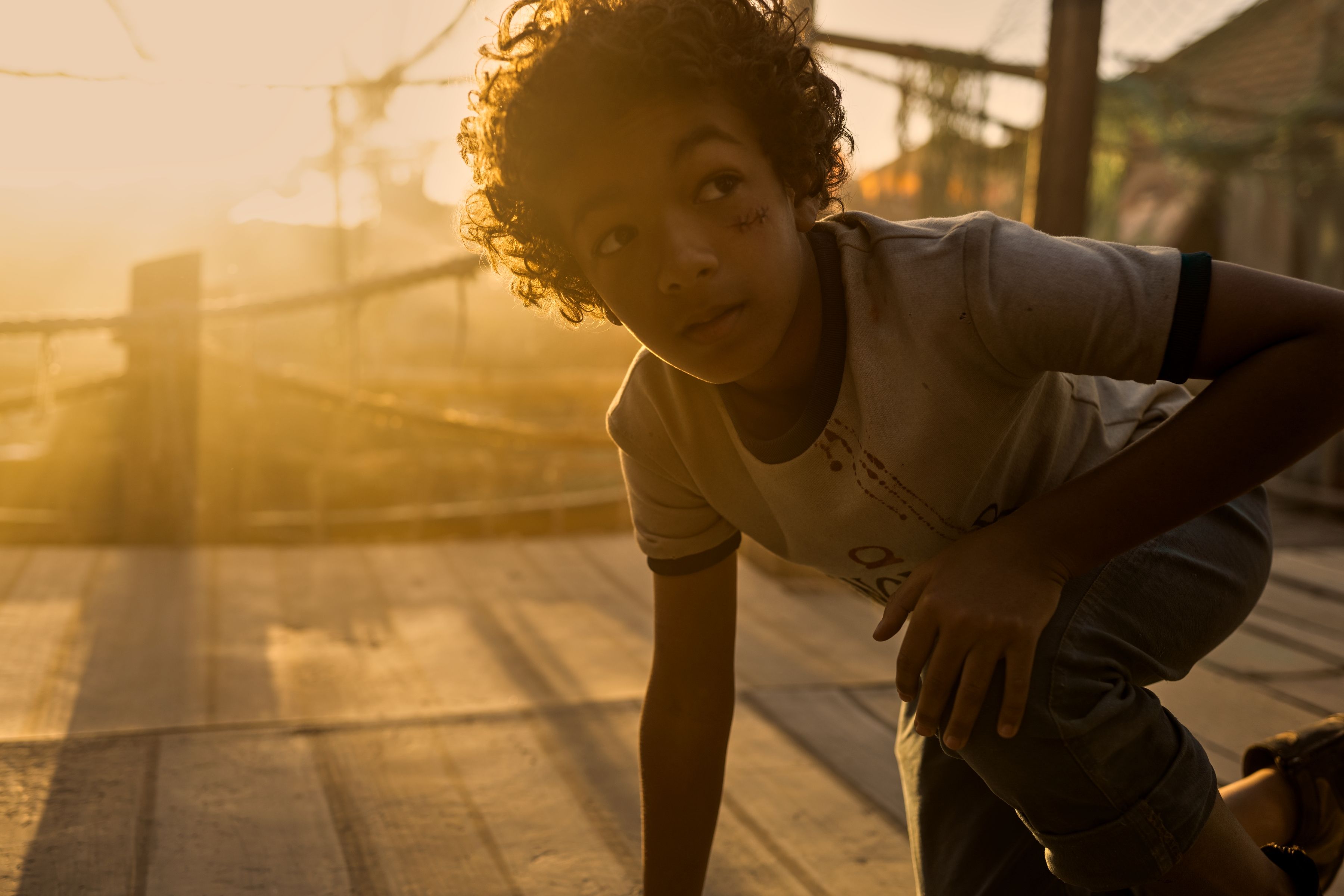 But with this more vague fury, the cracks in Luffy's armor eventually begin to crack. Luffy stays determined to hold up under torture until Buggy threatens to torture one of the children from the town instead. Luffy breaks free of his bonds and delivers a punch right to Buggy's face… which sends his head flying off his body and into the audience. While One Piece is violent, it isn't that violent. Buggy's head is just fine, as is the rest of his body, which can separate into chunks at will thanks to the Chop Chop Fruit. Buggy finds a new solution to deal with Luffy, locking him in a tank slowly filling with seawater. Realizing force isn't working, and reverse psychology isn't working, Buggy tries to get Luffy to join up with his crew instead, which naturally he refuses. Angry that Luffy refuses to believe Shanks and his friends abandoned him, and more importantly because Luffy implied Buggy isn't funny, the pirate tries to drown Luffy faster.
So what exactly did happen with Luffy and Shanks? In another flashback, we see little Luffy upset at the departure of Shanks' crew, and feeling more than a little reckless when Higuma (Tamer Burjaq) comes by Makino's bar. He picks a fight with the bandits, just in time for Shanks and his crew to arrive and fight back, the situation finally calling for some violence. While they manage to stop the bandits, Luffy himself has gone missing. While the crew is distracted, Higuma takes Luffy out to the middle of the water and tells him no one is coming to save him, something that winds up being wildly untrue when Shanks eventually shows up. But not before Luffy is thrown into the water by a sea beast, losing all strength and the ability to swim. Shanks banishes the beast, but not before the creature bites off his left arm. The two patch things up before Shanks leaves town. Luffy at last admits that he isn't ready just yet, but will eventually assemble a loyal crew to sail with, and the Shanks leaves him with his treasured straw hat.
In their attempt to escape, Nami and Zoro aren't alone for long. Cabaji (Sven Ruygrok) joins them, and Nami tasks Zoro with distracting him while she finishes picking the lock on her cage. Since Zoro isn't much of a talker, he settles instead for antagonizing Cabaji over the death of his brother by feigning disinterest. Since Zoro is already strapped to a wheel of death, Cabaji sends him spinning and begins throwing daggers at him, forcing Nami to work quickly. The distraction works, as Nami frees herself, and Zoro uses one of Cabaji's knives to cut his wrist free before the pair knocks him out, working together at last. When her master plan involves beating up any clown they can find, it finally gets a smile out of Zoro and the two are off to rescue their captain.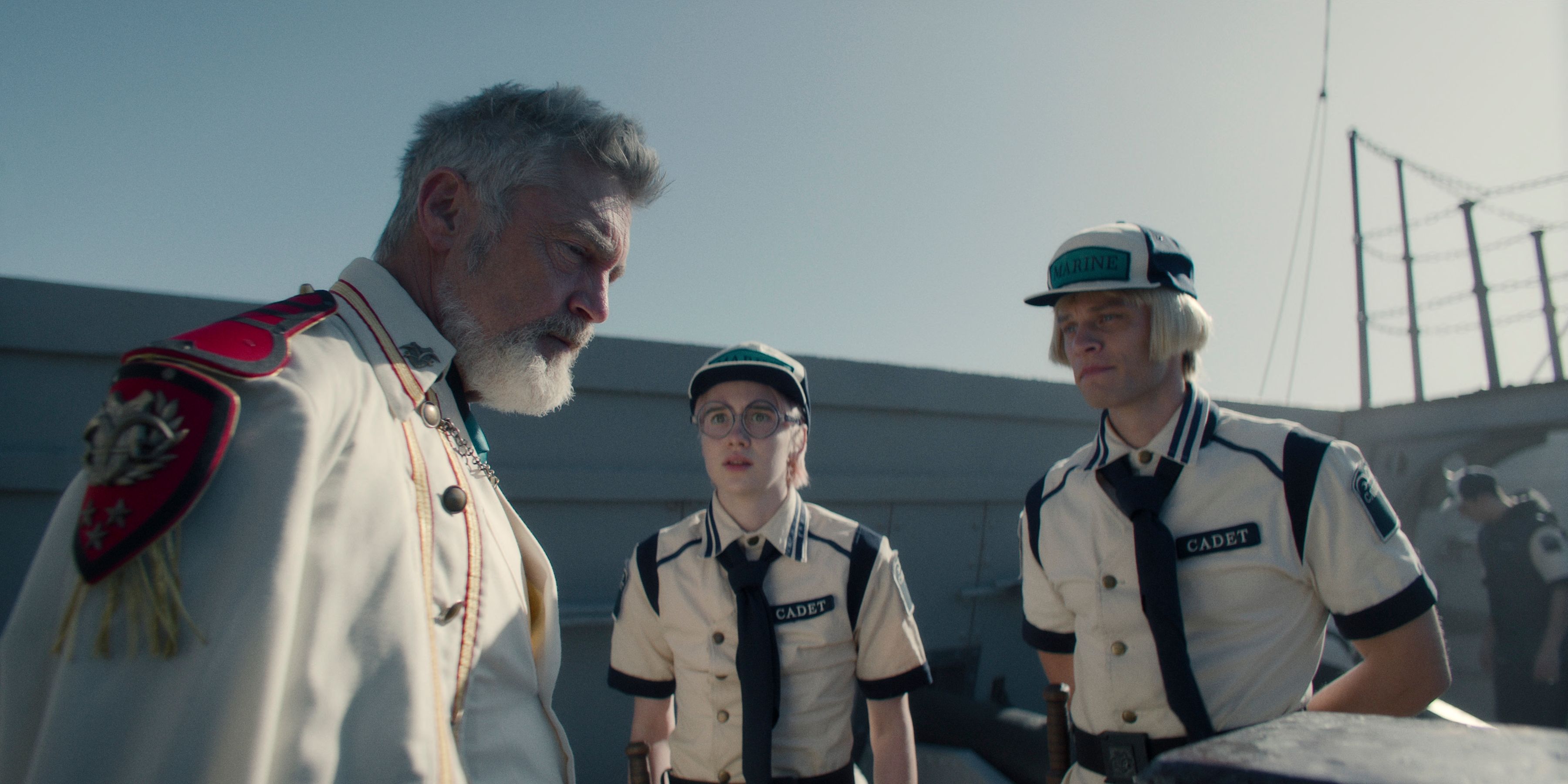 They free Luffy from his tank, and he finally coughs up the map, which Buggy grabs before he can. While Luffy recovers on the floor, Zoro and Nami are left to take on the whirlwind of sliced-up Buggy body parts on their own, something neither of them accounted for, having missed Luffy's little decapitation show. Showing he is Shanks' protogé through and through, Luffy tells Buggy that he can take on any personal insult but draws the line at threatening his friends, something that proves to be his guiding principle throughout the series. They eventually manage to stop Buggy by boxing up most of his body parts in individual crates, and free the captive townsfolk. While Zoro might have struggled with trusting Nami, it was never a question for Luffy, who hands the map over with zero hesitation, something that takes the navigator by surprise.
In Shells Town, Garp spearheads a new campaign in pursuit of the pirates, with Koby and Helmeppo's squadron in tow, and Morgan stripped of his power. His approach, he says, is not to target anything material, but instead to take away the pirates' dreams. Helmeppo looks ready to serve, but Koby seems hesitant about his part in all this. Back out at sea, Nami fixes the damage caused to Luffy's hat, and with him and Zoro hanging out on deck it seems like everything is finally settling into place. That is, until Nami slips into the ship's cabin and places a mysterious call with her very adorable snail phone, to tell a mystery "him" that she has the map. Looks like Zoro was right to be skeptical after all.
All eight episodes of One Piece are streaming on Netflix now.
Source: https://dominioncinemas.net
Category: TV