It didn't take LaKeith Stanfield long to climb the ranks of Hollywood, transforming from a consistent and recognizable key player in projects such as Knives Out and Get Out, to an in-demand actor capable of turning out endearing, nuanced performances in no time. Having taken on the notoriously tricky task of portraying several real-life historical figures — Jimmie Lee Jackson in Selma and William O'Neal in Judas and the Black Messiah — as well as nailing minor-but-crucial roles in such beloved films as Uncut Gems and Short Term 12, Stanfield has quickly become one of Hollywood's most impressive talents.
Sorry to Bother You and Disney's Haunted Mansion proved that he can absolutely handle being a leading man. The Book of Clarence is set to reunite Stanfield with his The Harder They Fall collaborator Jeymes Samuel and is also set to star James McAvoy and Benedict Cumberbatch. Stanfield stars as the titular Clarence, a hustler in ancient Jerusalem who capitalizes on the arrival of the Christian messiah. Other recent work from Stanfield includes the lead role in the fantasy horror Apple TV+ series The Changeling, which is promising to be another solid offering from the platform. Of course, there's also the lead voice role in the underrated Netflix anime Yasuke, and a star-making turn in FX's Atlanta. After becoming the show's weirdest, most lovable character in the first few seasons, Stanfield helped the show end on an untouchable high note. There's no shortage of LaKeith Stanfield roles to enjoy, but we've selected some of the best for you to dig into!
Andre King, 'Get Out'
In a horror film filled with unforgettable twists, Get Out, Stanfield's disappearance—and reappearance—remains one of the most striking. When we first see him in the film's cold open, he's understandably freaked out by walking alone in the eerily quiet suburbs. And like all good horror film openings, things quickly go wrong, with Andre getting stuffed into a car by a masked assailant. At first, it feels like a moment of throwaway scares, but when Stanfield shows up later under an entirely different identity, it quickly becomes clear that all things are connected.
Stanfield's two-pronged role as Andre and Logan helps weave thematic complexity into Jordan Peele's ingenious script, and even though his dual appearances are brief, they serve as indisputable proof of the actor's ability to demand attention. Much of the power of Get Out depends on the intricacies that work together to build up a brilliant, chilling whole, and that includes Stanfield's startling performance. All things considered, it helped make the movie one of the greatest horror films of the 2010s.
Darius Epps, 'Atlanta'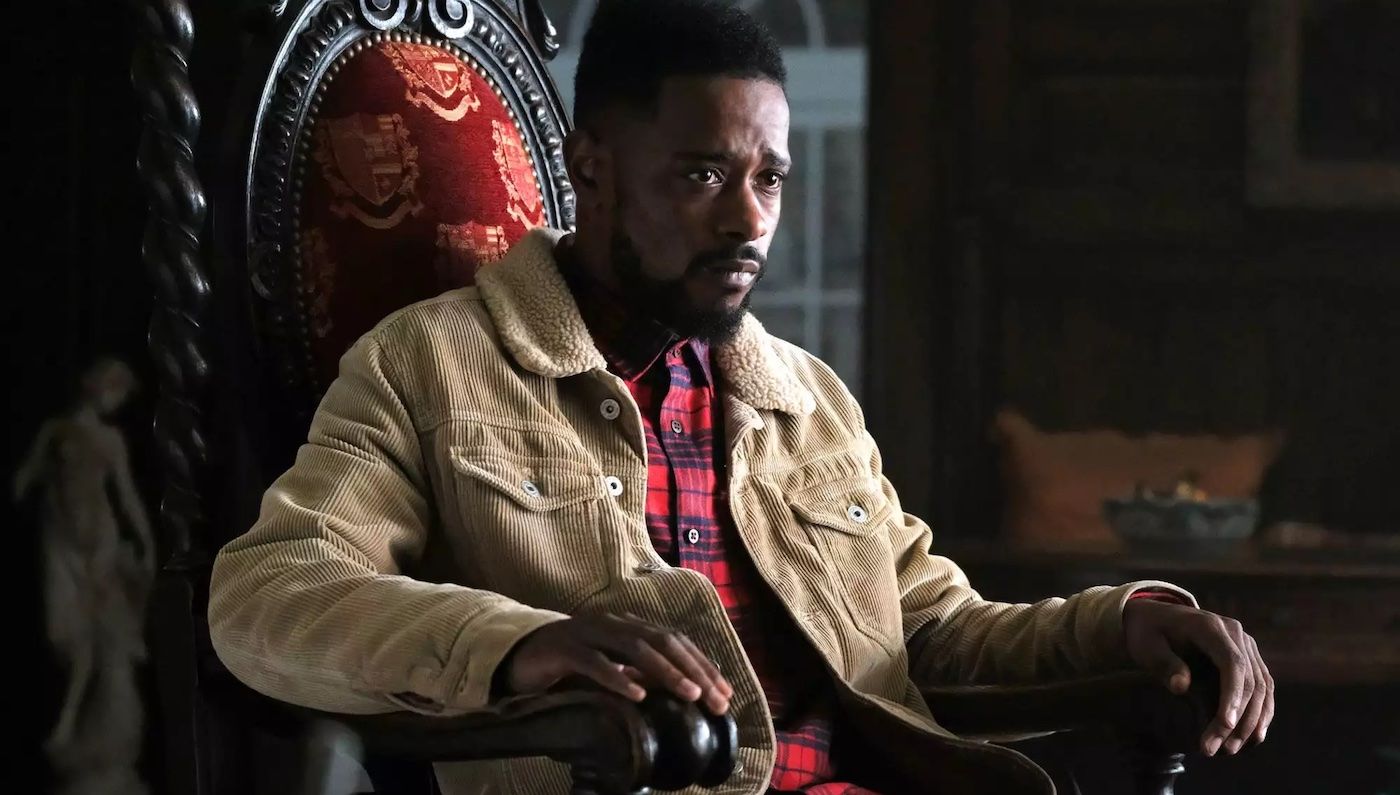 Atlanta is a series full of impressive talent, and LaKeith Stanfield's role as Darius Epps is no exception. A close friend to Earn (Donald Glover) and Paper Boi (Brian Tyree Henry), Darius is the oddball of the group, a frequently-high and always-philosophical comedic foil. He's quick to indulge in the mind-altering capabilities of psychedelic drugs and float sessions, but he's also a good friend, one usually content just to tag along for the ride.
Sure, he spends a lot of his time gabbing about obscure philosophies and offering insight on preposterous conspiracy theories, but this character isn't all meme-able moments and quotable one-liners — he's also a complicated, fascinating man who operates on his own set of rules. In series highlights "Teddy Perkins" and "It Was All a Dream," Stanfield is allowed to go full-throttle, crafting a psychologically layered character whose eccentricities come from a place of pain. It's in entries like "Teddy Perkins" that really show the actor's range, shifting from effortless comedy to peak horror in Season 2 with admirable agility.
Cassius Green, 'Sorry to Bother You'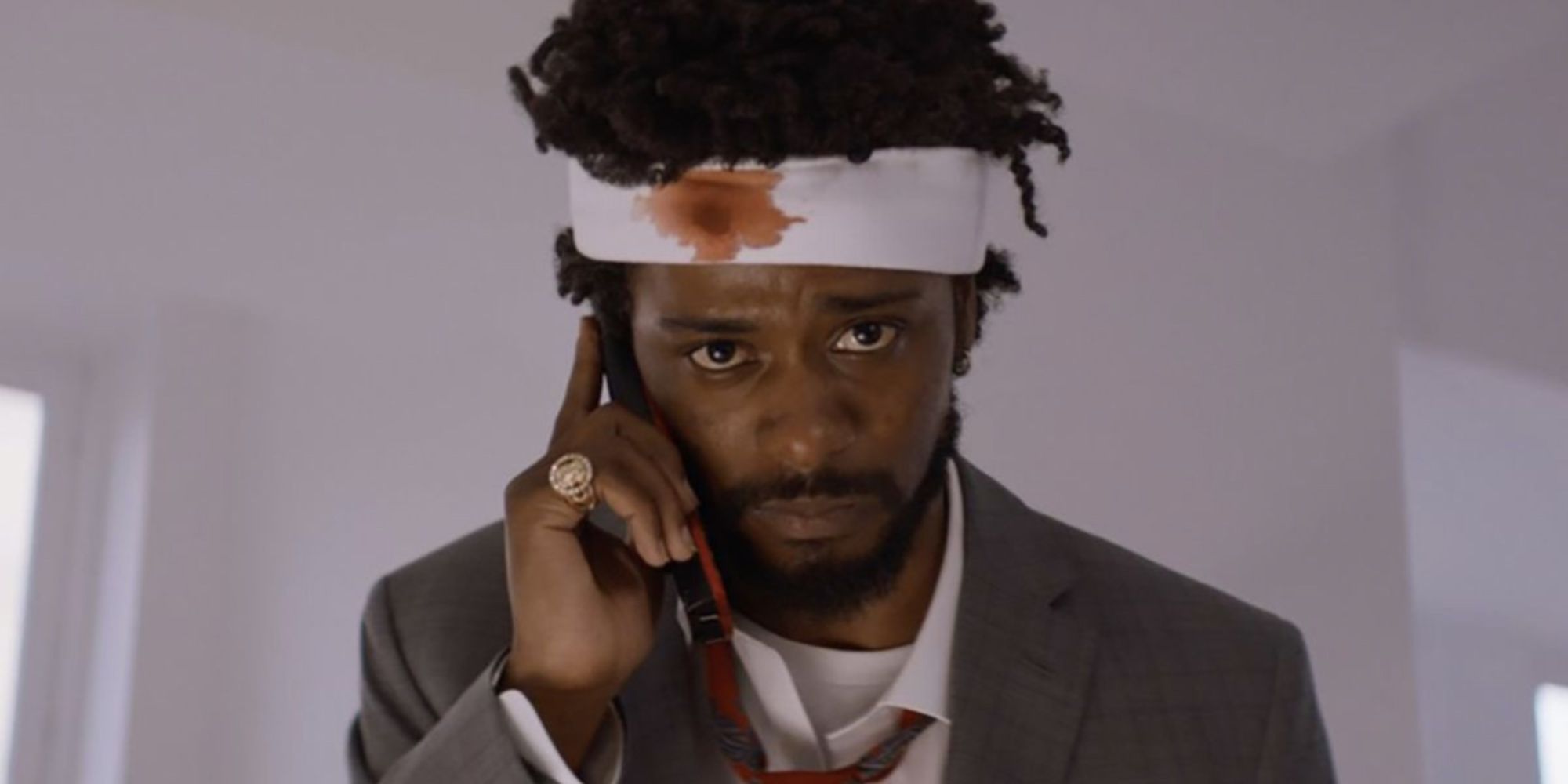 Boots Riley's feature is a dizzying, absurd satire that stares deep into the heart of race and class relations in a late-stage capitalist system. Set in a bizarro-world version of Oakland, Sorry to Bother You casts Stanfield in the role of Cassius Green (get it?), a telemarketer who uncovers an insidious secret hidden beneath one of the world's biggest tech companies. Stanfield juggles the absurdist tone of the film with the somber nature of the message at its core, surely aided by his previous work doing the same on Atlanta.
Here he knows his comedic timing, yet he breathes empathy into his character. It isn't enough to pry some laughs— it's also important to care about the protagonist, and Cassius Green oozes the sort of hustler's charisma that makes him impossible not to love. Sorry to Bother You lends credibility to the argument that the best way to manifest change is through art (and humor). It's why it's one of the best satires of the past decade or so. At the forefront, LaKeith Stanfield is the strange comedic hero of some very deranged times.
Demany, 'Uncut Gems'
Uncut Gems is more than one of the best crime films ever made: it's a high-anxiety thrill ride that starts at a breakneck speed and maintains it throughout. A dramatic foil to Adam Sandler's Howard Ratner, Stanfield's Demany is a slippery business acquaintance whose New York connections are an invaluable asset to Ratner's hustle. The young actor plays off Sandler (as well as NBA MVP Kevin Garnett, played by himself) spectacularly, aiding the film's unstoppable sense of urgency. A sort of thorn in Ratner's side, Demany moves about with a causal sense of hustling, and even though his reluctance to comply with Ratner's needy demands serves as a dramatic shift in the film, Stanfield's performance allows us to see that the two aren't so different. Demany, like the film's morally questionable antihero, is just trying his best to make a buck.
William O'Neal, 'Judas and the Black Messiah'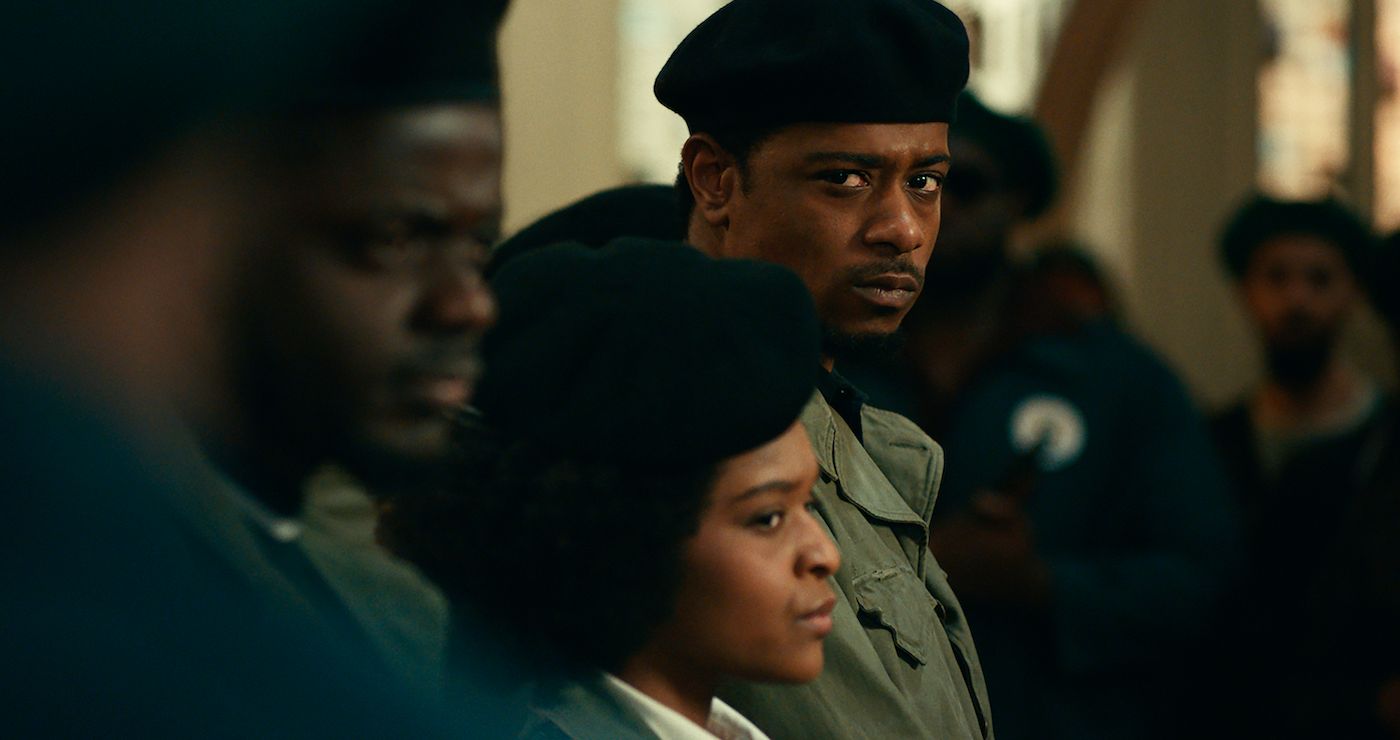 Stanfield nabbed an Oscar nomination for his performance as William O'Neal, the real-life FBI informant who played a role in the assassination of civil rights activist Fred Hampton. The film follows O'Neal's transition from a petty criminal in Chicago into an infiltrator in the Black Panther Party, and Stanfield creates a complicated portrait of the man, one who toes the line between morality and immorality. Judas and the Black Messiah, one of the best pictures of 2021, is the kind of flick that's so depressing you might not want to ever watch it again, but so damn gripping that it's likely you will. In this staggering biopic, Stanfield masters the art of portraying inner conflict, with O'Neal being at once terrified of being discovered and guilt-ridden about betraying his closest friends. The inevitable psychological breakdowns are captured in stark believability, with Stanfield transforming into a crucial figure in one of history's great tragedies.
Cherokee Bill, 'The Harder They Fall'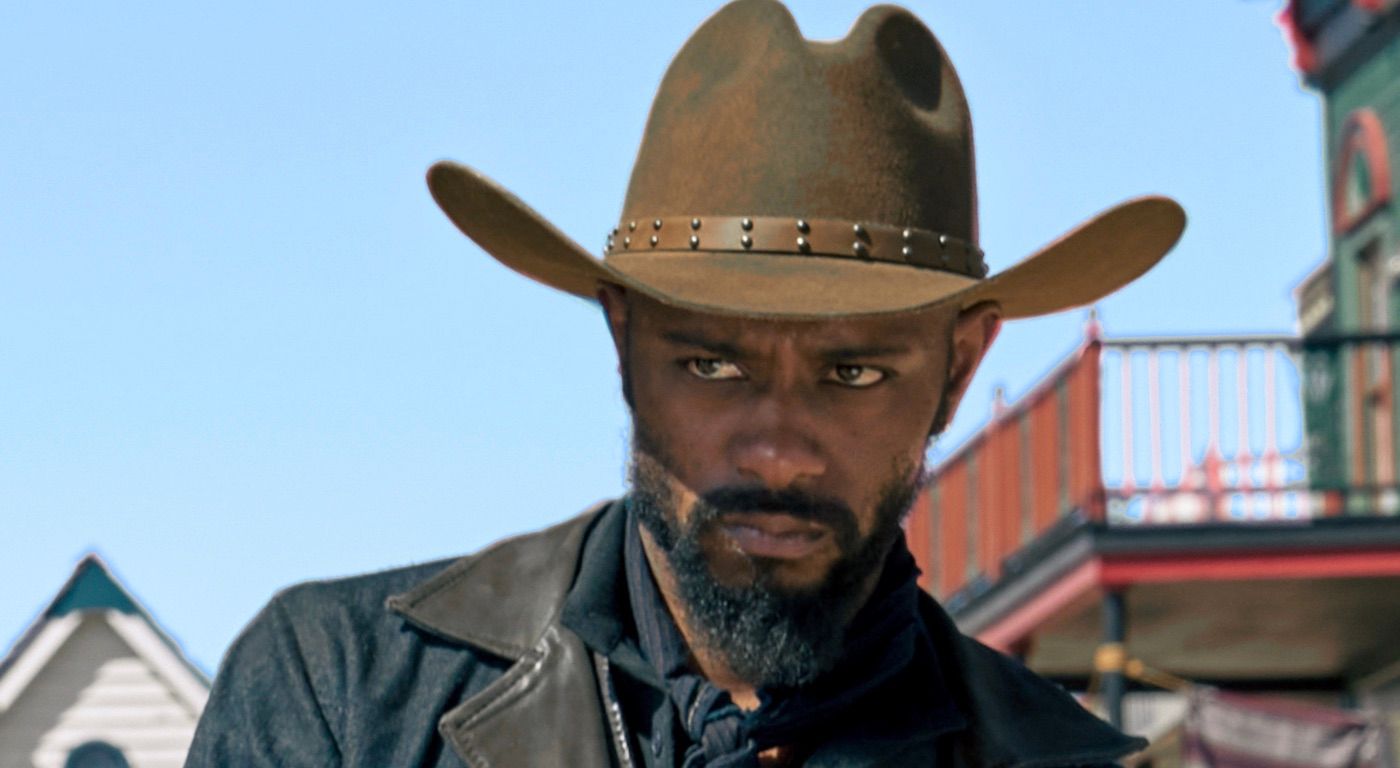 see more : 'Star Wars': What Is the Old Republic Era?
The excellent revisionist Western The Harder They Fall boasts an impressive ensemble cast including Idris Elba, Regina King, and Jonathan Majors. A hyper-stylish reimagining of stories about real-life outlaws in the American Wild West, the film breaks ground by employing an all-Black cast of principal actors. LaKeith Stanfield is chilling as the murderous outlaw Cherokee Bill, a man whose philosophy can essentially be boiled down to "it's all about who's alive…and who's dead." In one of his best performances to date, the actor exudes a calm menace, knowing perfectly well that explosive line delivery isn't always necessary to make an intimidating impression. Dressed to the nines in stylish threads, Stanfield's interpretation of Cherokee Bill gives an impressive lesson in sketching a cool, calm member of a gang of thieves and villains.
Ben Matthias, 'Haunted Mansion'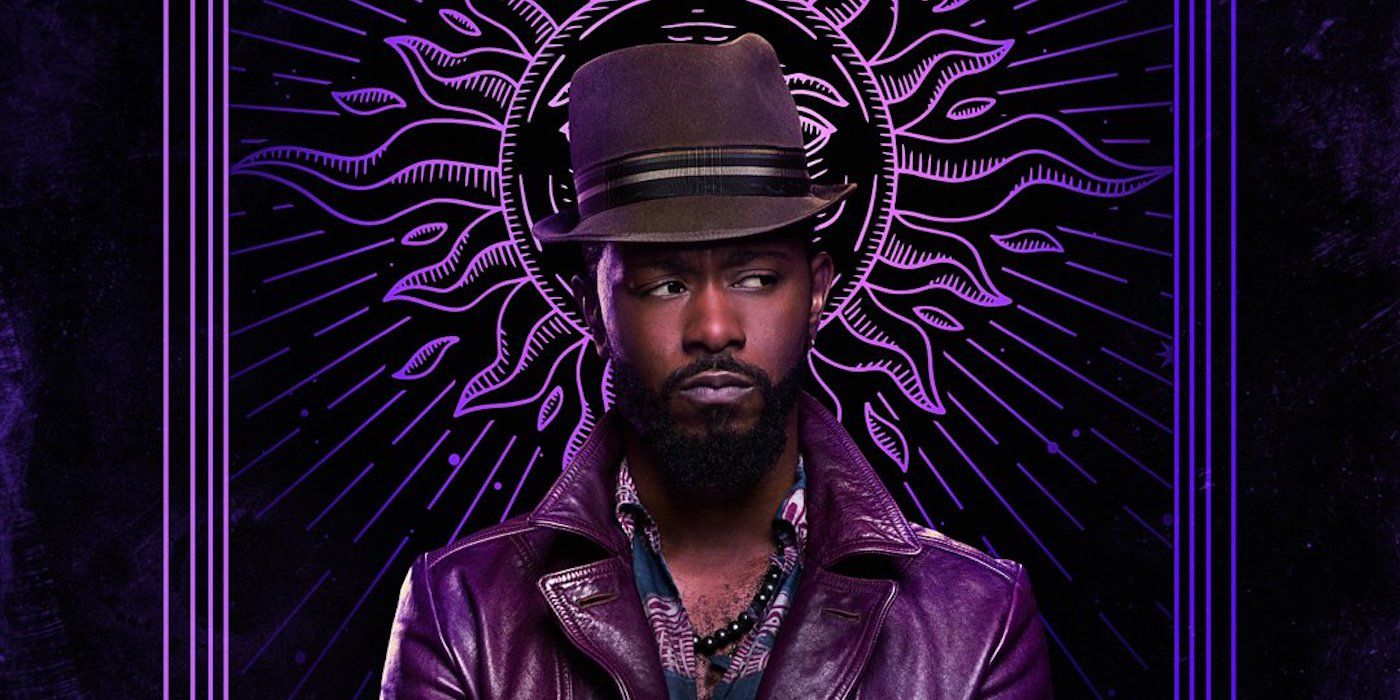 Unquestionably the best thing about Disney's 2023 Haunted Mansion, LaKeith Stanfield breaks into the family-friendly mainstream with one of his biggest roles to date. As a grieving scientist turned supernatural tour guide, he fully understands the assignment of being consistently funny while balancing the comedic tone with an invaluable emotional weight. The movie, which is much better than you've probably heard, gives Stanfield and the rest of the cast to be their silliest. Having fantastic chemistry with his co-stars proves that he's got the knack for charismatically leading a charming ensemble cast while giving a major motion picture its much-needed heart. Sure, it's an imperfect movie, but Stanfield carries it on his back like Atlas, making it a fun, laid-back flick for a spooky evening.
Marcus, 'Short Term 12'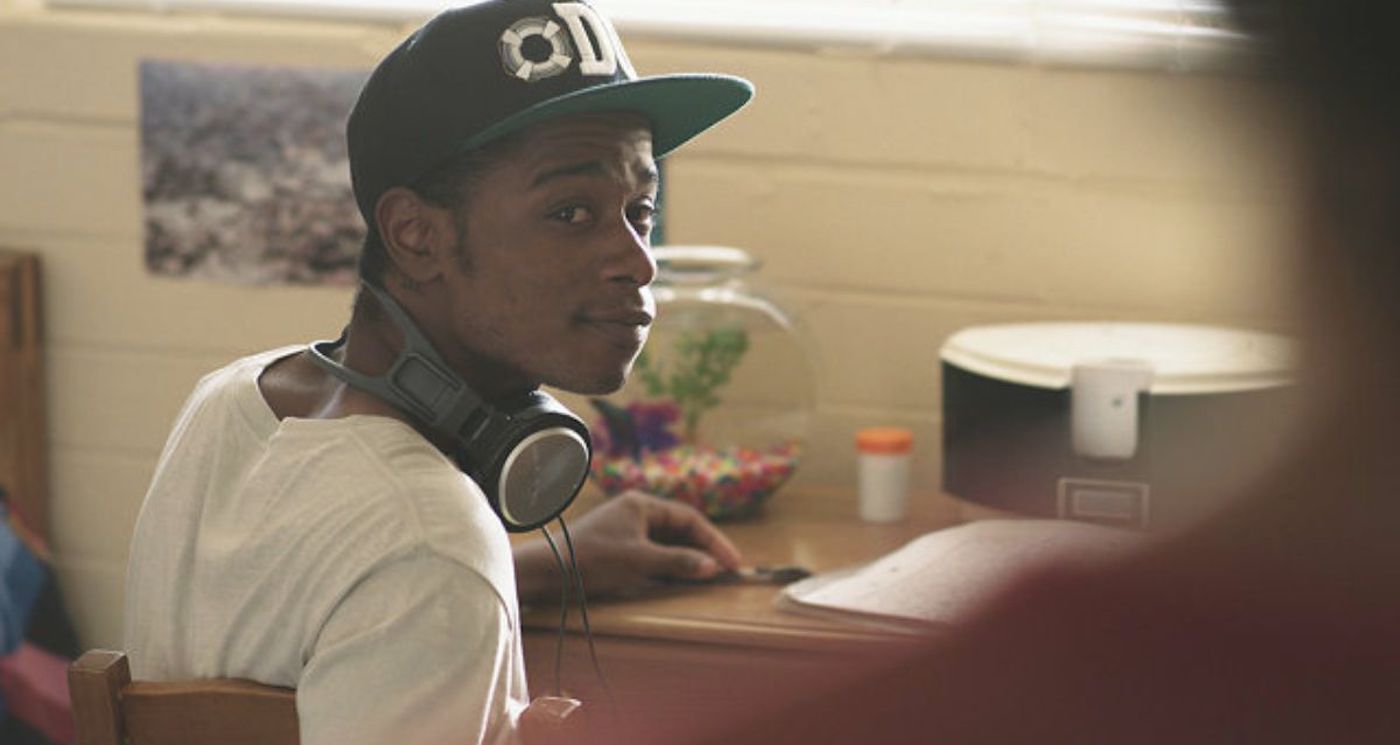 Stanfield's astounding debut role in Short Term 12 features the kind of high-caliber acting one could typically only expect from a seasoned performer. Still, as a first-timer he delivers on all fronts, showcasing a set of acting chops that place him alongside the greatest breakthrough performers of his generation. A depressive teenager residing at a home for troubled youth, Marcus is on the cusp of eighteen and ready to set out into the world on his own.
With Marcus, Stanfield masters the concept of restraint, and while his character is undeniably emotional, the actor has a tremendous skill for knowing when to hold back and when to let loose. Marcus is a confrontational but wounded youngster who frequently tries to hide his emotion in feigned indifference, but thanks to Stanfield's vulnerability, it immediately becomes clear that there's a lot to this character hiding under the surface. With a performance as confident as it is heartbreaking, Short Term 12 is an essential entry in Stanfield's filmography. The fact that Destin Daniel Cretton went on to make a smash MCU hit is no surprise — he knows precisely how to balance an ensemble cast, giving supporting actors like LaKeith the room they need to shine.
Snoop Dogg, 'Straight Outta Compton'
Stepping into the shoes of the Doggfather himself is no easy feat, but Stanfield's minor-but-memorable appearance in Straight Outta Compton as LA rapper Snoop Dogg actually does a pretty good job. The birth of the prolific hip-hop group N.W.A. is captured by F. Gary Gray's confident direction, who tells with a great knack for drama the tale of the influential group's rocky rise to power. Stanfield's Snoop doesn't show up until roughly the third act of the film, but his heavyweight presence makes him feel like a leading character whenever he's onscreen.
What's impressive about the portrayal of Snoop is how Stanfield manages to capture the effortless confidence of the rapper, both seemingly aloof and alert, with the sort of bulletproof charisma that's impossible to ignore. A late scene finds Snoop finding Dre (Corey Hawkins) screwing around in his studio until he writes the iconic synth progression of "Nuthin' But a 'G' Thang." Snoop hops on the half-improvised beat and starts throwing down some bars that helped, once again, to change the face of hip-hop. With Stanfield as Snoop, it almost feels like you're really actually there in the historical moment. Like the group's massively popular record of the same name, Straight Outta Compton excels in its field, being one of the great modern biopics.
Source: https://dominioncinemas.net
Category: MOVIE FEATURES