True to its name, the Star Wars franchise is built on conflict. From the original struggle between the Empire and the Rebel Alliance to the ongoing war between the Jedi Knights and the Sith Lords, conflict has fueled this franchise. That conflict continues in Ahsoka, as Ahsoka Tano (Rosario Dawson) finds herself facing a trio of new Dark Side users. The former Jedi Baylan Skoll (Ray Stevenson) and his apprentice Shin Hati (Ivanna Sakhno) have risen up to challenge Ahsoka & her allies, alongside the Inquisitor Marrok. Though the trio seem to be in the employ of Morgan Elsbeth (Diana Lee Inosanto) as she attempts to rescue Grand Admiral Thrawn (Lars Mikkelsen) from his exile on the far side of the galaxy, there's always an ulterior motive when it comes to the Dark Side. Beneath the black capes and red lightsabers, there's one element that ties together all of Ahsoka's new villains. It's an element that also happens to pop up in creator Dave Filoni's work — including his previous Star Wars projects.
you are watching: The Meaning Behind the Names of 'Ahsoka's Newest Baddies
RELATED: 'Ahsoka' Has Already Given Us This Groundbreaking Star Wars Moment
Baylan Skoll and Shin Hati Are References to Norse Mythology
Baylan Skoll and Shin Hati don't have your typical Star Wars names. Their surnames are a reference to Skoll and Hati, a pair of wolves in Norse mythology. The two wolves are forever cursed to chase heavenly bodies, with Skoll pursuing the sun and Hati pursuing the moon. Eventually, they will catch their prey — at Ragnarok, the self-proclaimed "twilight of the gods," which will bring about an end to all living things. Wolves play a large part in Norse mythology, with the most famous of said wolves being Fenrir; Ragnarok is said to begin when he breaks free of his chains and swallows existence whole.
While this isn't the first time that a Disney-owned property has delved into Norse mythology — especially where Marvel Studios and the Thor films are concerned — the fact that Skoll and Hati's names are harbingers of the apocalypse can't be a coincidence. In their very first appearance, the duo starts wreaking havoc by boarding a New Republic transport ship & slaughtering everyone in their path to free Morgan. Hati also deals a grievous wound to Sabine Wren (Natasha Liu Bordizzo) during their lightsaber fight. There are also the struggles the New Republic is facing, as well as the rise of Imperial remnants that will eventually lead to the birth of the First Order. Skoll and Hati are more than living up to their names; they bring darkness in their wake, at a time when the galaxy is struggling to free itself of said darkness.
Marrok Draws From One of the Deepest Corners of Arthurian Lore
Marrok briefly appears in the second episode of Ahsoka, "Toil and Trouble," where he engages Ahsoka in a lightsaber duel. Not much is known about the Inquisitor, other than the fact that he wears a suit of black armor encasing him from head to toe. Like Skoll and Hati, his name is also connected to the legend of a wolf: Sir Marrok. Marrok happened to be one of the Knights of the Round Table, serving as King Arthur's bodyguard. Marrok was also described in Le Morte D'Arthur, the poem that chronicled Arthurian legend, as "the good knight, that was betrayed by his wife, for she made him seven years a werewolf." Yes, one of the Knights of the Round Table was an actual werewolf. Filoni putting in nods to Arthurian legend in Ahsoka isn't too surprising, as parallels can be drawn between Luke Skywalker & King Arthur.
Speculation has started to bubble around Marrok's identity, especially since he's an Inquisitor. One fan put forth the theory that he is actually Ezra Bridger (Eman Esfandi), who was discovered and brainwashed by Morgan. Connecting back to Arthurian lore, Marrok's wife was a witch; Morgan herself was revealed to be a descendant of the mystical Nightsisters, who frequently appeared in Star Wars: The Clone Wars. Another theory is that she is Barriss Offee, the former Jedi Padawan who staged a bombing and framed Ahsoka for it; those events ultimately caused Ahsoka to leave the Jedi Order. These theories spring from the fact that the Inquisitors are former Jedi who turned to the dark side, and either choice would add some tragic weight to Ahsoka's story.
These New Names Come From Dave Filoni's Love of Wolves – and It's Not the First Time He's Done This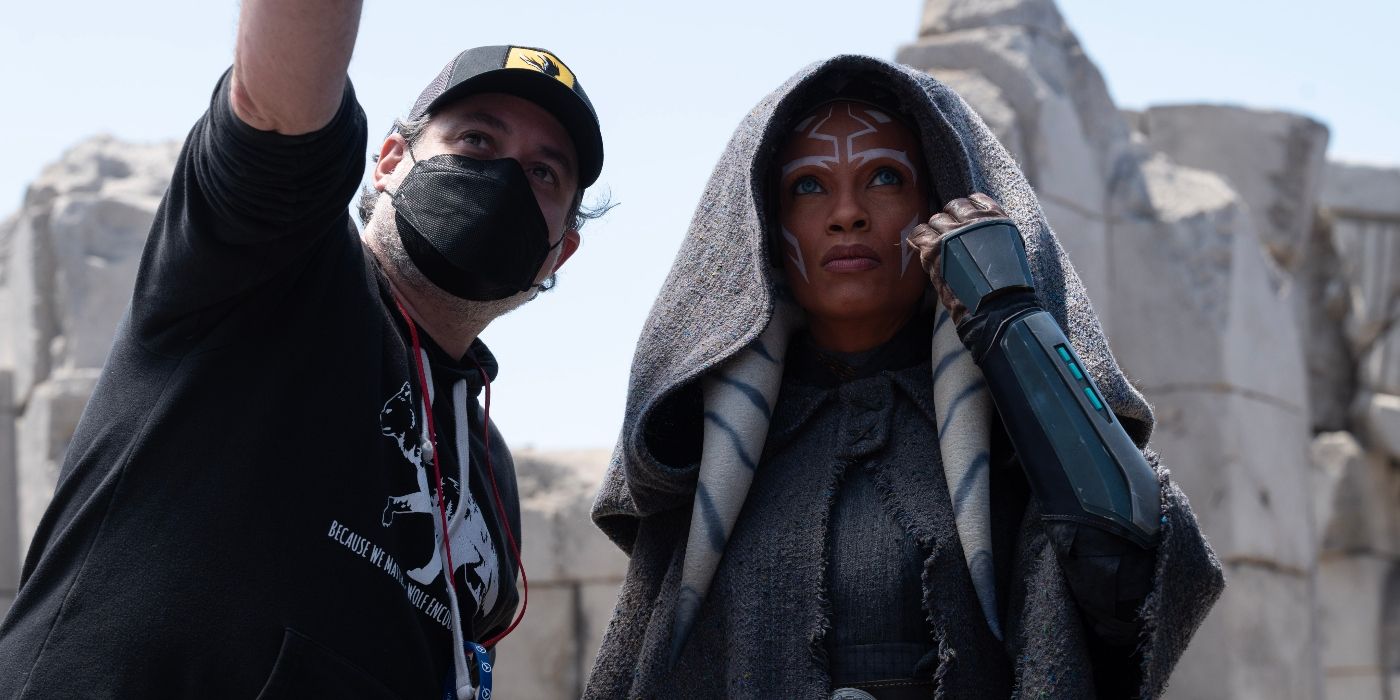 This is not the first time Filoni has placed a great significance on wolves in his work. During the final season of Star Wars Rebels, Ezra and his master Kanan Jarrus were approached by loth-wolves while they fought to free Lothal from the Empire's grasp. Kanan sensed that the wolves had a powerful connection to the Force, and he was right; one of them managed to put Sabine to sleep with a single word, while another only addressed Kanan by his true name, Caleb Dume. They also led Ezra to the ancient Jedi temple on Lothal and summoned the portal to the World between Worlds — it was there that Ezra managed to rescue Ahsoka from her duel with Darth Vader.
Filoni's love of wolves stems from watching the film Never Cry Wolf, as well as how the wolf factored into various folk tails. "It just really kind of opened my eyes as a young kid to the world and the environment and wolves. … They're often vilified, but sometimes they're seen as teachers," he said during an interview centered on Rebels' final season. "They have this duality towards mankind and a representation that to me is very similar to the Force." That continued throughout The Mandalorian, where Filoni had a cameo as an X-Wing pilot named Trapper Wolf. It seems that as long as Dave Filoni is involved with the Star Wars universe, wolves will continue to play a major part in his stories — even the upcoming feature film he's slated to direct.
New episodes of Ahsoka premiere Tuesdays on Disney+.
Source: https://dominioncinemas.net
Category: TV