Editors Note: This article contains spoilers for Ahsoka Episode 3.
In the third episode of the Ahsoka series, we catch a glimpse of the extraordinary and mystical creatures known as Purrgil. Purrgil were first introduced in Star Wars Rebels. They are giant space whales that have the ability to travel at light speed across vast distances – distances that go much farther than the Outer Rim. Yes, Purrgil can miraculously travel from one galaxy to another, and no, they do not use hyperdrives, rather, their tentacle tails expand, glow, and pulse just before they take flight, and it is these obscure tails that launch the Purrgil into light-speed. Purrgil prepare for their lengthy journeys by feeding off starship fuel, which sustains them for extended periods of time as they speed through the blurring white and blue of hyperspace. Purrgil are undoubtedly one of the most fascinating and curious Star Wars creatures because their supernatural abilities actually inspired the creation of hyperspace technology within the Star Wars universe. The Purrgil's appearance in Ahsoka was not just for show. We can assume they will play a part in helping Ahsoka Tano (Rosario Dawson) and Sabine Wren (Natasha Liu Bordizzo) find their missing Jedi friend, Ezra Bridger (Eman Esfandi), whose prolonged absence was initiated by a Force connection he forged with the Purrgil a long time ago.
What Are Purrgil and How Do They Connect to Hyperspace Travel?
During the Star Wars Rebels finale, Grand Admiral Thrawn (Lars Mikkelsen) position's his Star Destroyer above the capital city of Lothal, threatening to destroy the city if the Rebels do not cease their attack on the Imperial Complex. But Ezra sneaks aboard Thrawn's Star Destroyer, having already commanded his Rebel friends to send out a signal beacon from their ship (the Ghost). The signal beacon is known as Frequency Zero. Not much is known about Frequency Zero, but we soon find out that such a frequency has the power to contact Purrgil. A huge school of Purrgil arrive shortly after the Frequency Zero beacon is sent out, and they drift beautifully above the city of Lothal. The largest Purrgil attaches its tentacle tails to Thrawn's Star Destroyer whilst Ezra and Thrawn are still aboard. Then the Purrgil's tails begin to glow and pulsate, and Ezra surrenders himself to his fate, knowing he is about to be transported far, far away, but also knowing that his sacrifice will save the people of Lothal.
see more : Aubrey Plaza Thinks Harper and Cameron Did More Than Kiss on 'White Lotus,' Says Harper Should Divorce Ethan
The Purrgil propels itself into hyperspace, bringing Thrawn's Star Destroyer along with it, which, again – is a miraculous feat and shows how vast in scale these Purrgil really are, with humongous bodies strong enough to haul the weight of Star Destroyers. It is worth mentioning that the Purrgil's immense and strong bodies also have the power to destroy starships. We first learn of this fact in Season Two of Star Wars Rebels, when the Ghost crew are scouting fuel for their ship, and they happen to fly into a small herd of Purrgil, who are also on the hunt for starship fuel. Hera Syndulla (voiced by Vanessa Marshall) reveals that the Purrgil are dangerous creatures who are known to crash into ships whilst journeying through space. But Ezra believes that the Purrgil have no intention to hurt others, rather, they are merely traveling from one place to another, searching for food. Herds of Purrgil are indeed spread about the galaxy, and we glimpse them briefly in The Mandalorian Season 3 when Din Djarin (Pedro Pascal) and Grogu are flying through hyperspace on their N-1 starfighter. Grogu spots the Purrgil in the distance, gliding along at the speed of light.
RELATED: 'Ahsoka' Episode 3 Recap: Time Flies When You're Having Fun
Ezra Bridger, Thrawn, and the Purrgil Are Linked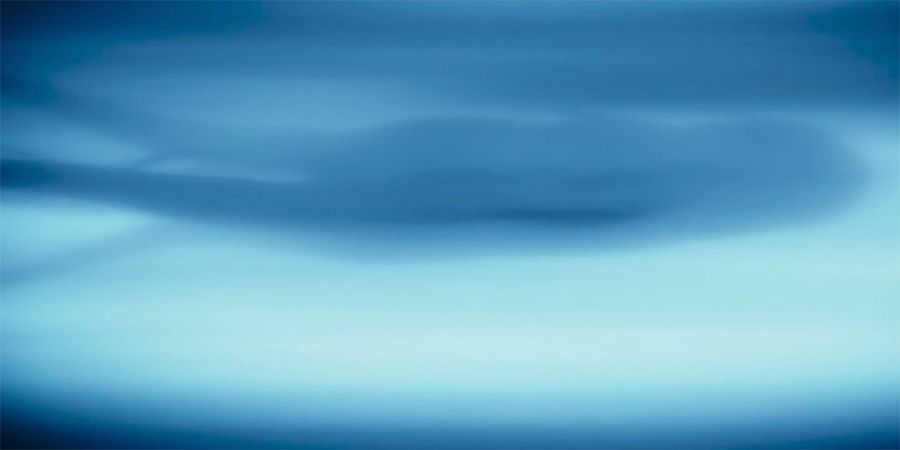 Ezra's aptitude for the Force was channeled through his ability to connect with other living things, and one of these things was the Purrgil. When Ezra first encounters the Purrgil, he senses their tender and harmless nature, and they in turn can sense that he is earnest and good-natured. Ezra and the Purrgil forge a peculiar connection, and the Purrgil trusted Ezra enough to come to his rescue during that fateful day on Lothal, right before Thrawn was about to thwart the Rebels plans. The Purrgil helped Ezra and the Rebels liberate Lothal, but unfortunately once the Purrgil jumped into hyperspace – hauling Ezra along with it, Ezra's friends were unable to track the trajectory of the jump, and Ezra has been missing ever since.
The Purrgil thrust Ezra, Thrawn, and a Star Destroyer full of Imperials to another galaxy. Which is where we find Ahsoka and Sabine in the Ahsoka series – in desperate search of Thrawn, and most espeically their long-lost friend, Ezra. Thus far, Ahsoka and Sabine have tracked Thrawn's allies to Denab System, and it is there that they find Thrawn's allies building a ginormous hyperspace ring, one of unimaginable scale with the power to transport a ship from one galaxy to another. Thrawn's allies know where Thrawn is and it is their plan to use the hyperspace ring to get to him. Morgan Elsbeth (Diana Lee Inosanto)– a witch who is leading the pursuit of Thrawn – calls the hyperspace ring: The Eye of Sion, which is currently orbiting the planet Seatos.
The Purrgil May Become Ahsoka and Sabine's Allies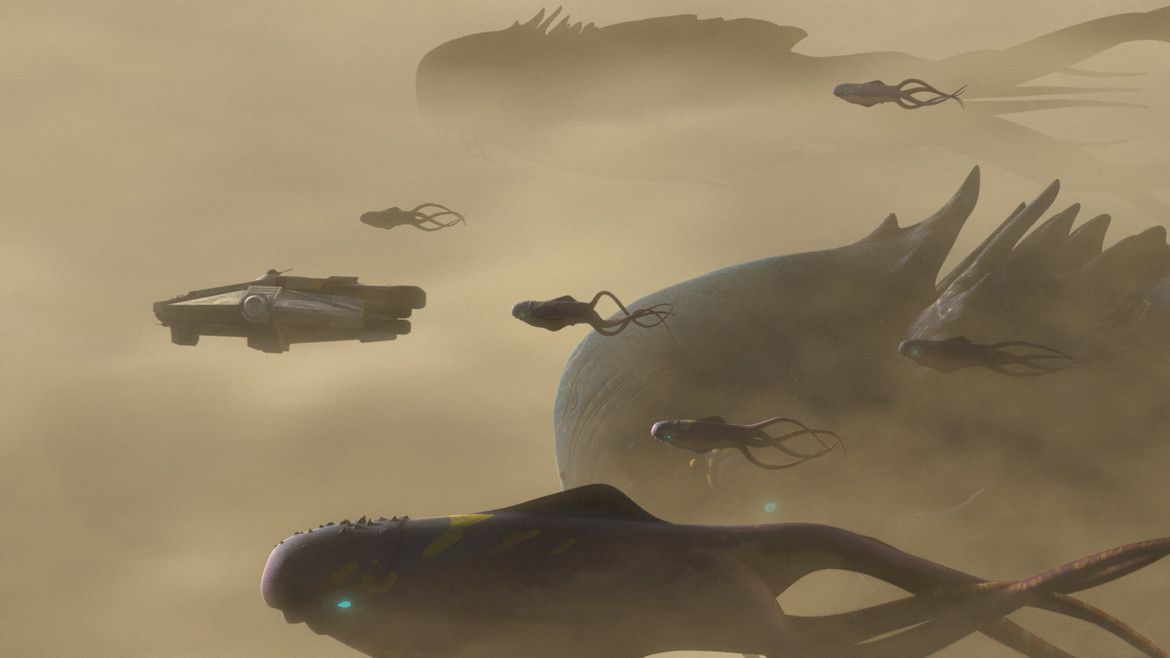 Ahsoka and Sabine manage to break through Seatos's atmosphere after being attacked by Morgan's fighters, but before they land, they catch sight of some mysterious Purrgil gliding through Seatos's misty clouds. Ahsoka's starship is tiny in comparison to the scale of the Purrgil, who – despite their large bodies – are graceful and free-flowing in their movements. Sabine tells Ahsoka that she hasn't seen Purrgil since the day Ezra disappeared. Their sighting of the Purrgil definitely brings Sabine and Ahsoka hope. Just as the Purrgil played an integral part in Star Wars Rebels, we can assume that they will play an integral part in Ahsoka. Ezra forged a connection with the Purrgil long ago, and Ahsoka and Sabine's success in finding Ezra may very well depend on their own ability to form connections with the Purrgil. The Purrgil's could be Ahsoka and Sabine's key mode of transport toward Ezra's location.
Source: https://dominioncinemas.net
Category: TV