Fans of Adventure Time, rejoice! The arrival of Adventure Time: Fionna and Cake, Max's newest spin-off of the Cartoon Network hit animated series, is almost upon us. Created by Adam Muto, an animator with a huge track record as a director in the original show, the new ten-episode miniseries features entirely fresh adventures of Fionna (Madeleine Martin) and Cake (Roz Ryan), the beloved genderswapped versions of Adventure Time's main heroes, Finn (Jeremy Shada), the human, and Jake (John DiMaggio), the dog. This time, however, the fan-favorite young girl and cat duo won't be mere figments of the Ice King's (Tom Kenny) imagination, but real living beings that travel from a different dimension, much similar to our own, to the Land of Ooo, where they encounter an exciting new world.
you are watching: Everything to Know Before 'Adventure Time: Fionna and Cake'
But, wait, did you get a bit lost while reading that last paragraph? Yeah, we don't blame you as Adventure Time lore can be a bit confusing, and, considering that the show ended five years ago, some details might be hard to remember. What's all that about Fionna and Cake being just figments of the Ice King's imagination, for instance, and since when do parallel universes exist in the world of Adventure Time? Don't worry, we've got you. Here are all the basic Adventure Time elements that you need to remember before pressing play on the very first episode of Adventure Time: Fionna and Cake.
Related: 'Adventure Time': Why Music Is So Important to the Cartoon Network Hit
Who Are Fionna and Cake in 'Adventure Time'?
In the original Adventure Time series, Fionna and Cake were not an actual part of the overall story, but merely characters created by the Ice King. The princess-obsessed wizard conceived the duo as gender-swapped versions of Finn and Jake to star in numerous fanfics that had them fighting evil and getting hit on by princes. However, the fics weren't always written by the Ice King himself. Throughout the five episodes in which Fionna and Cake appear, Marceline, the Vampire Queen (Olivia Olson), and Lumpy Space Princess (Pendleton Ward) have also tried their hand at their own stories about the two heroines. And, despite the Ice King's refusal to recognize it, they even had some success with their own fics – or, at least, Marceline did: Season 4's "Bad Little Boy" features one of the greatest musical moments in the history of the show.
Despite being somewhat more romance-oriented than your regular Adventure Time episode, Fionna and Cake stories are a lot like the ones starring Finn and Jake. The sole difference is that all characters are turned into gender-bent versions of themselves. So, instead of dating Lady Rainicorn (Niki Yang), Cake harbors a crush on the mysterious Lord Monochromicon, and so on. Apart from that, the two ladies' personalities are a perfect match to Finn and Jake's, with Fionna being the slightly naive butt-kicker and Cake being her music-loving BFF with a lot of street smarts.
In the trailer for Adventure Time: Fionna and Cake, though, Cake seems to be nothing but a regular cat, at least in the beginning. Living with their owner, Fionna, in a world much more similar to our own than to the magical Land of Ooo, she's bored out of her mind and dreams of a life with a little more adventure. For reasons that are yet to be revealed by the upcoming show, this leads to them being taken to another universe, in which they run into a man called Simon Petrikov. But who exactly is he? And why do Fionna and Cake claim to need his help?
Who Is Simon Petrikov?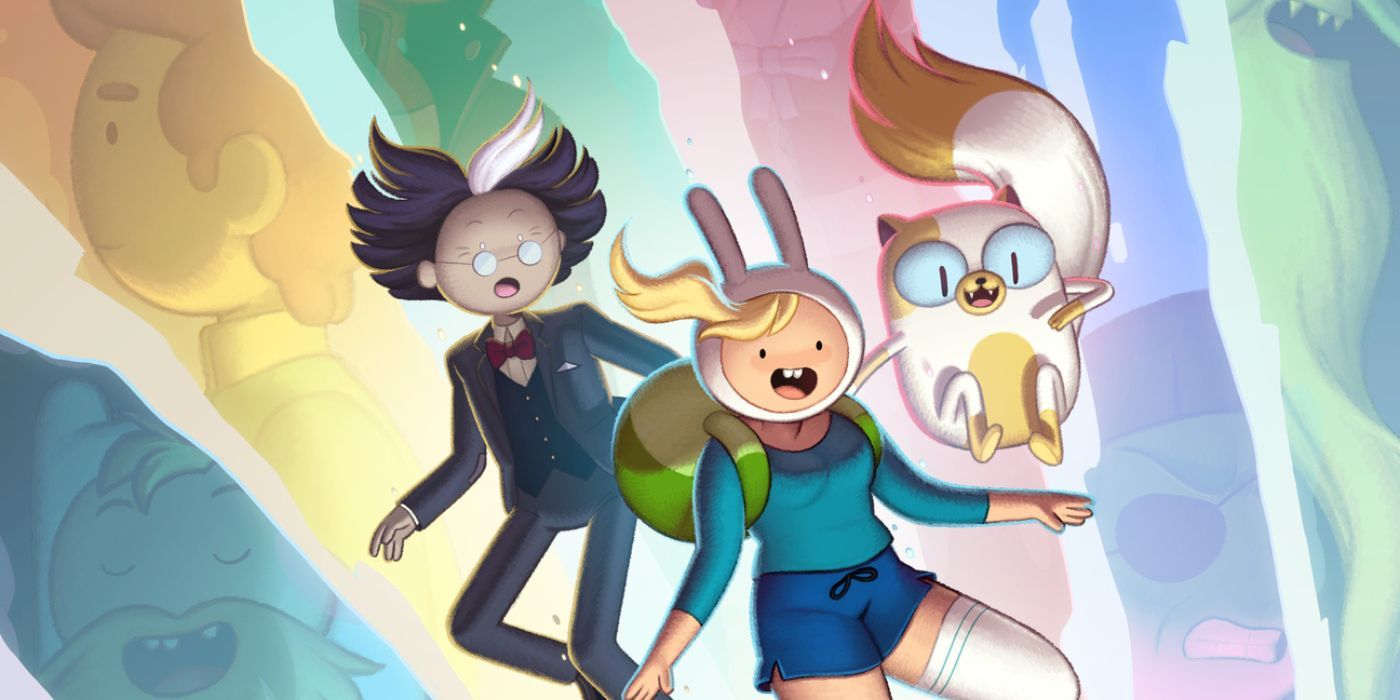 Well, Simon Petrikov is none other than a poor archaeologist whose personality was erased by that of the Ice King. It seems confusing, but bear with us for a second. In Season 6's "Evergreen", we learn about the origin of the crown worn by the Ice King. It was created by an ice elemental millennia before the events of Adventure Time as a way of stopping a comet from hitting the show's version of Earth and putting an end to life as its inhabitants knew it. The crown was supposed to give whoever wore it their heart's biggest desire, which, in turn, was supposed to be the destruction of the comet. Alas, the person who ended up putting on the crown was not the ice elemental, but his assistant, Gunther (Pamela Adlon), whose heart's desire was to become his master. As a result, the comet hit Earth, and the crown was imbued with the powers and a distorted version of the ice elemental's personality.
Centuries later, Petrikov purchased the crown while on a trip. Out of curiosity, he put it on, and his personality was completely replaced by that of the Ice King. It was an extremely disturbing event that led him to isolation, as his fiancée, Betty (Felicia Day), grew afraid of the man Simon became when he had the crown on and left him. Still, he kept on wearing the crown every now and then, in the hopes of understanding how it works.
This all happened back before the cataclysmic event known as the Mushroom War, that turned Ooo into the world we see in Adventure Time. Briefly depicted in episodes such as Season 5's "Simon and Marcy", the Mushroom War saw poor Simon completely lost in a post-apocalyptic world accompanied by a young and defenseless Marceline. The only thing the old scientist had to protect himself and his companion from the mutants that took over Ooo was the crown. Thus, he kept putting it on repeatedly, until he lost all memory of the man he once was.
It's a tragic story that doesn't get any more cheerful towards its end. Sure, Betty travels through time to save Simon, and her trip to the future is actually the reason why he never sees her again after donning the crown, but her dabbling with magic eventually leads her down a dark path as well. By the end of Adventure Time, Betty manages to reunite with her beloved, powerless, but memory-full Simon, but she uses the crown to stop the malevolent, chaos-loving Golb from destroying the world. Her wish is simple: to keep Simon safe. This, in turn, leads her to completely fuse with Golb and move away from Ooo.
see more : 'The Masked Singer' Season 10 Premiere Opens With a Huge Reveal: Here's the Superstar Under the 'Anonymouse' Costume
Thus, Simon finishes Adventure Time completely alone, but back to his former self. Sadly, though, not everyone is happy with the effects of his transformation. In the trailer to Adventure Time: Fionna and Cake, we see that some miss the Ice King – or, rather, miss what the Ice King had to offer. More specifically, there is a demand for Fionna and Cake stories. Going back to these old tales seems to be the catalyst that brings the "real" Fionna and Cake to the Land of Ooo.
When and Where Will 'Adventure Time: Fionna and Cake' Take Place?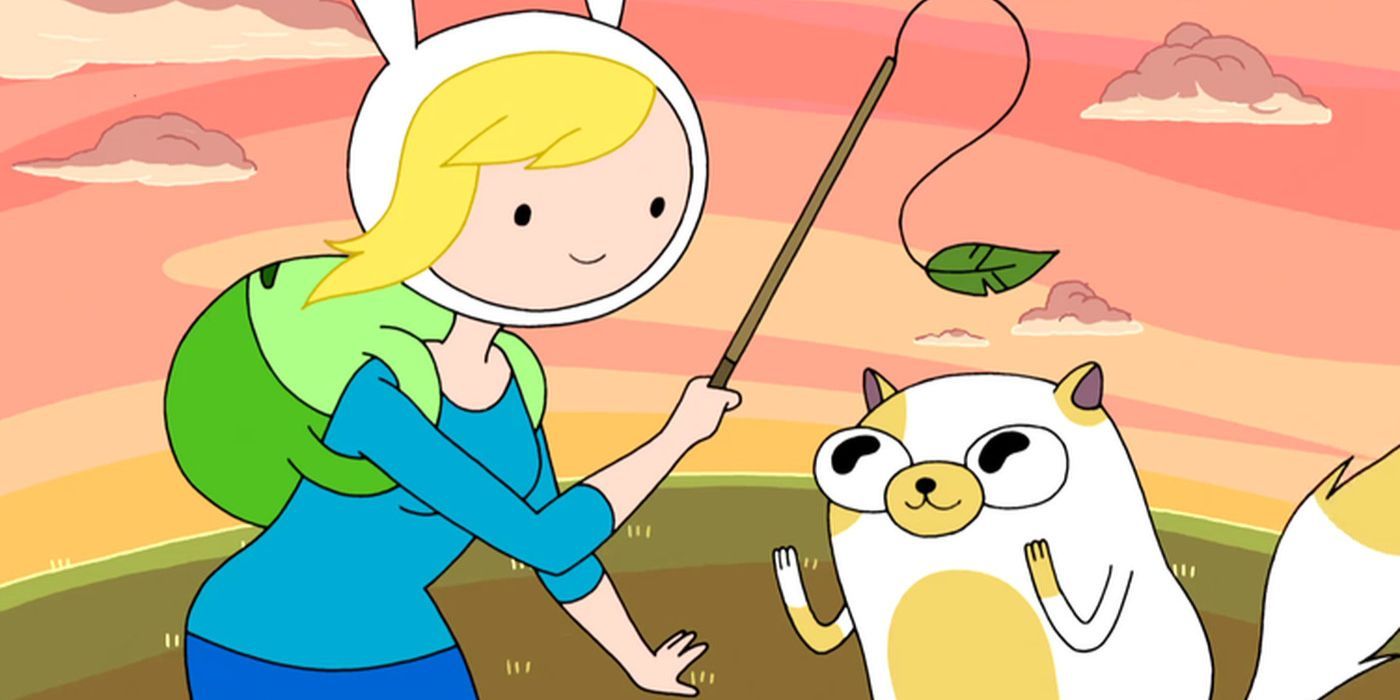 Thus, everything points to Adventure Time: Fionna and Cake taking place after the events of Adventure Time, in a Land of Ooo free of the threat of the Lich (Ron Perlman). This theory is furthered by the presence of a much older, bearded Finn in the trailer, as usually, accompanied by Jake. Fionna and Cake, however, don't seem to be inhabitants of this new world, but rather travelers from a strange land. Considering their contact with Prismo, formerly voiced by Kumail Nanjiani, a Wish Master that exists in the center of the multiverse, there is a strong suggestion that the show's protagonists actually arrive in Ooo through a portal between two or more parallel universes. And, well, we all know that everything nowadays is a multiverse, so…
But has Adventure Time touched on parallel universes before? Well, yes, and not just through the existence of Prismo, who lives in a dimension completely outside of time. Many alternate dimensions that appear throughout Adventure Time, the Nightosphere, where Marceline's dad lives, and Lumpy Space being just a couple of examples. Still, are there universes in which parallel versions of our heroes, such as Fionna and Cake, exist? Again, yes, the most important of which is the "Farm Universe", which appears in Season 4's "The Lich" and Season 5's "Finn, the Human" and "Jake, the Dog". On this side of the multiverse, Finn is a young boy living on a farm in a world in which Simon Petrikov used his powers to freeze the bomb that led to the rise of the Lich.
Some fans also count the universe in which the adventures of Fionna and Cake take place in Adventure Time as their own alternate reality. However, so far, this reality only existed in the minds of characters such as the Ice King, Marceline, and Lumpy Space Princess. Now, with Adventure Time: Fionna and Cake, the gender-swapped universe is coming closer to becoming an actual part of the Adventure Time canon, instead of merely a story inside a story.
Adventure Time: Fionna & Cake premieres August 31 on Max.
Source: https://dominioncinemas.net
Category: TV