One of the central conflicts throughout the Harry Potter series is the racial elitism that permeates the wizarding world. Many families with purely magical ancestry feel superior to other wizards and, more importantly, non-magical people. Voldemort (Ralph Fiennes) and his countless zealous crusaders, the Death Eaters, incite two wars because of their self-proclaimed blood purity and superiority to other groups of people. The Malfoy family is one of the most prominent among Voldemort's followers, playing a central role in the First and Second Wizarding War. Across multiple generations, members of the Slytherin-coded family have acted as everything from rival to secret ally, making for some of the most complex and intriguing characters in the series.
you are watching: 'Harry Potter's Malfoy Family Tree Explained
RELATED:10 'Harry Potter' Characters Who Were Better in the Movies
Who Are the Malfoys?
The Malfoy family is one of the most prominent and wealthy families in the series. They are one of the Sacred Twenty-Eight, a group of wizarding families that were believed to have remained pure-blooded throughout the centuries, meaning that they had not been known to marry anyone of muggle ancestry. As with most pure-blood families, they are related to other wizarding families such as the Blacks and Lestranges. Some families in the Sacred Twenty-Eight, like the Weasleys, chose not to associate with the elitist view of blood purity. However, the Malfoys were the premier example of people that took immense pride in their pure-blood heritage.
The Malfoy family also have strong ties to the Slytherin House, with the majority of its members being sorted into the group at Hogwarts. All the Malfoys seen in the films were sorted into this house, even in the epilogue. In fact, the family serves as a perfect example of the traits that Slytherins seek to embody. They are ambitious, resourceful, and cunning. The Malfoys are proud and care deeply about self-preservation, holding true to their ideals and the protection of their own.
Lucius Is a Power-Hungry Patriarch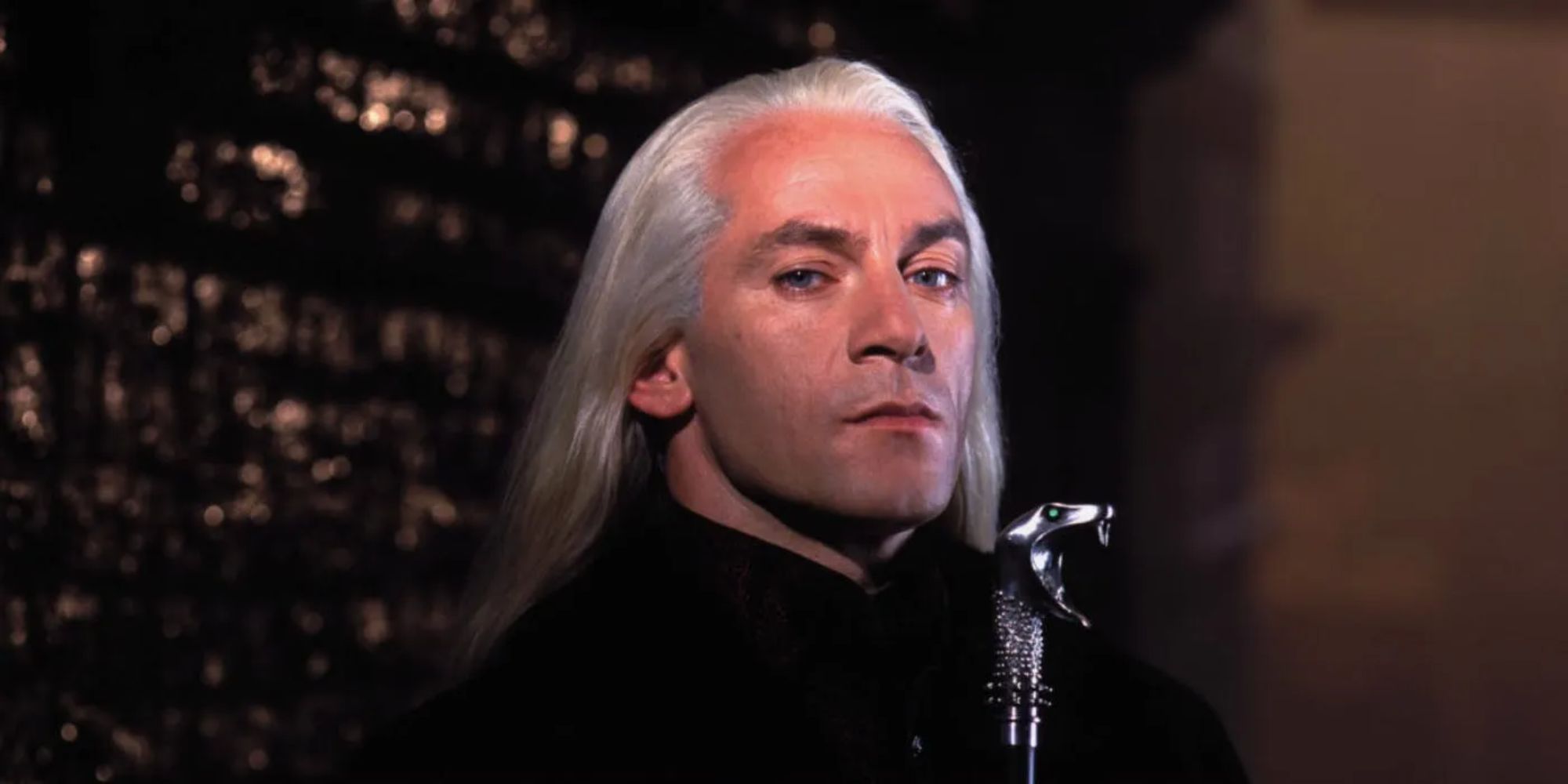 Lucius (Jason Isaacs) is the head of the family during the series and is the poster child of what a Malfoy was supposed to be. The aristocratic Lucius was sorted into the Slytherin House and went on to become Voldemort's second-in-command during the First Wizarding War. After Voldemort's first defeat, Lucius was able to maintain his freedom and high social standing by claiming to have been under the Imperius Curse, which forced him to serve Voldemort.
see more : The Best High School Movies From the 80s
The uber wealthy Malfoy was a thorn in the protagonists' sides, even before Voldemort's return. In the Chamber of Secrets, it was Lucius who gave Ginny Weasley (Bonnie Wright) Tom Riddle's diary, leading to the reopening of the Chamber of Secrets and the release of the basilisk. When Voldemort returned, Lucius likewise came to his side. He led the charge to find the prophecy that Voldemort was searching for in Harry Potter and the Order of the Phoenix but failed in his attempts. His failure was held against him, as Voldemort replaced him as his second-in-command and proceeded to humiliate the Malfoys. The embarrassment knew no bounds as Voldemort not only forced them to make Malfoy manor a Death Eater headquarters, but he even took Lucius's wand for his own use, leaving the wizard without his most important tool.
Narcissa is More Powerful Than She Appears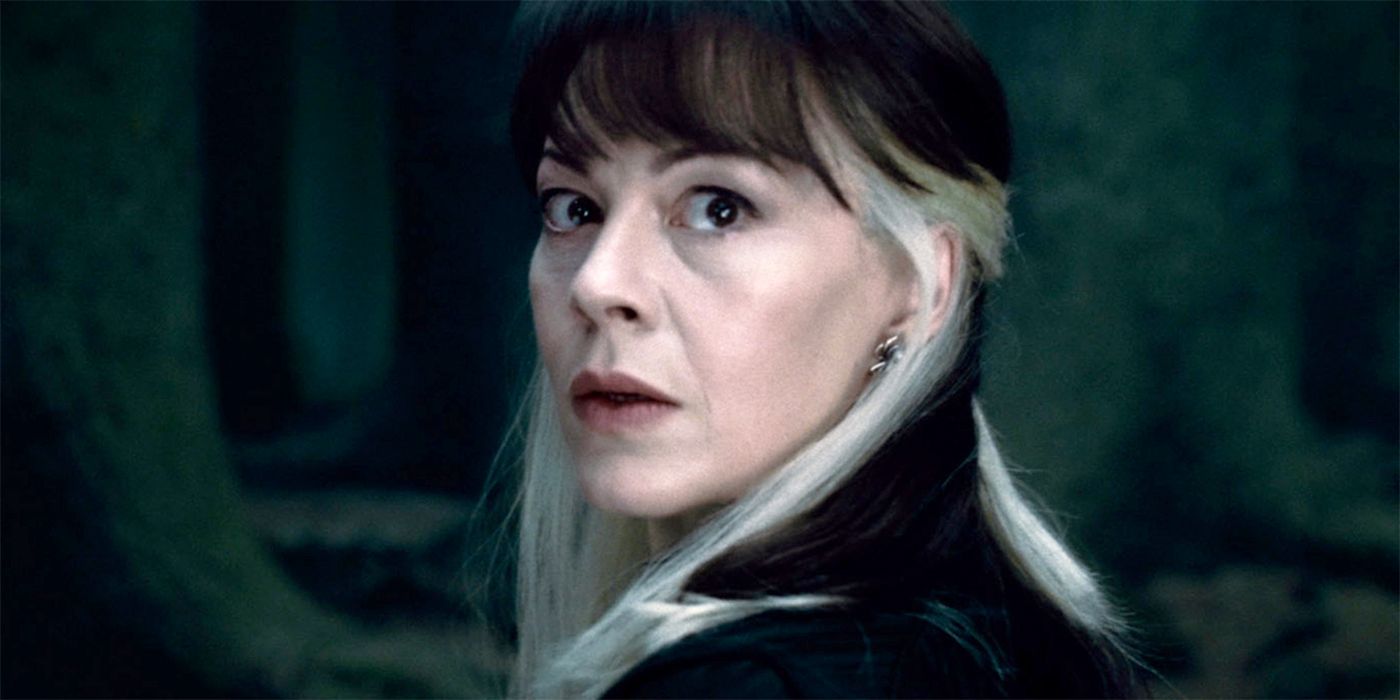 Though Narcissa (Helen McCrory) does not receive much spotlight throughout the series, she is nonetheless one of the most powerful witches. It's actually her subtle discretion that plays a key role in her power and influence. Narcissa was born into the Black family and is sisters to Bellatrix Lestrange (Helena Bonham Carter) and Andromeda Tonks, the latter of whom is the mother of Nymphadora Tonks (Natalia Tena). The youngest of the Black sisters, Narcissa married Lucius and had Draco, who was named after stars and constellations in the Black family tradition.
Through both wizarding wars, Narcissa's goals were centered on keeping her family safe, as Draco's protection was of utmost importance to her. Her commitment is demonstrated when she makes an Unbreakable Vow with Severus Snape (Alan Rickman), begging that he protect Draco when he's assigned a dangerous mission.
Narcissa's most important moment occurs during the Battle of Hogwarts. After Voldemort attempts to kill Harry Potter in the Forbidden Forest, she is the one asked to check if he is still alive. When she notices that Harry is actually alive, she subtly asks him if Draco is still alive. Upon hearing that her son was well, Narcissa performed one of the most important lies ever told in the series by telling Voldemort that Harry was indeed dead, which set the stage for Potter's dramatic return and final victory. While this seems like a simple lie, it was likely also a powerful demonstration of magic. One of Voldemort's greatest strengths is Legilimens, the ability to read another's mind. To counteract Legilimency, a wizard must be able to use Occlumency to protect their own thoughts. Though it is never outright confirmed, Narcissa's lie to Voldemort is possibly the greatest use of Occlumency seen in the entire series.
Draco Is Harry Potter's Foil and Rival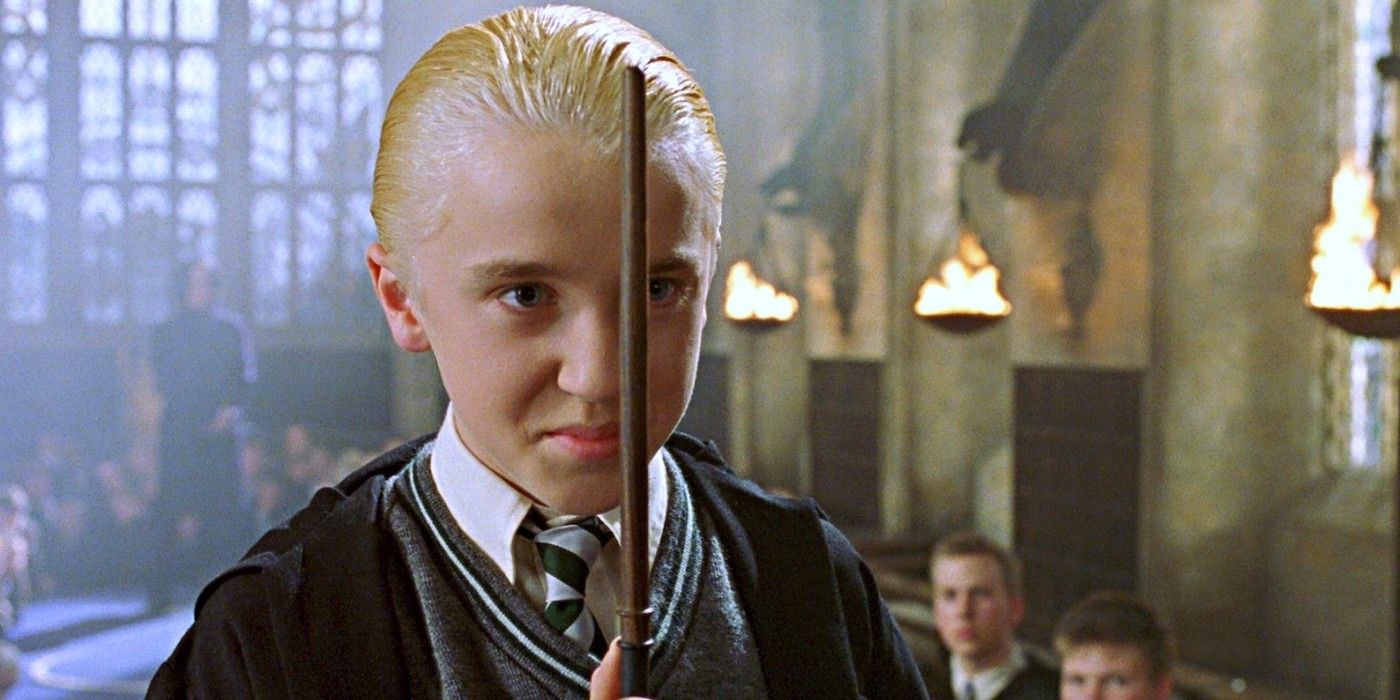 see more : No, Dolores Umbridge Is Not a Death Eater, She's Worse
Draco (Tom Felton) is the most prominent Malfoy in the series. His narrative arc is nuanced and complex—a tragic downfall followed by necessary redemption. The young Malfoy is introduced as a foil to Harry Potter (Daniel Radcliffe), as another young, wealthy, and talented pureblood wizard. Though Draco attempted to endear himself to Harry when they first met, their differences prove to be too polarizing for a friendship. While Harry's morality and kindness are his central traits, Draco starts off as elitist and snobby. He immediately looks down on Ron Weasley (Rupert Grint) for his hand-me down robes and family reputation.
Throughout much of the series, Draco antagonizes Harry and his friends. He and his two cronies, Crabbe and Goyle, are a consistent menace to the protagonists. In Chamber of Secrets, he duels against Harry and calls Hermione Granger (Emma Watson) a racial slur. In Harry Potter and the Prisoner of Azkaban, he almost gets Hagrid (Robbie Coltrane) fired. In Order of the Phoenix, he goes full narc and joins Dolores Umbridge's (Imelda Staunton) Inquisitorial Squad to enforce her unfair rules and snitch on Dumbledore's Army.
However, as the Second Wizarding War gets underway, Draco stops being just a bully and becomes an actual danger and threat. Following his father's failure to get Voldemort's prophecy, Draco becomes the outlet of the Dark Lord's punishment. Draco joins the Death Eaters and is assigned the nigh impossible task of killing Albus Dumbledore (Michael Gambon). Throughout The Half-Blood Prince, Draco works on repairing a Vanishing Cabinet as a way to get Death Eaters into Hogwarts. During this year, he and Harry have their most vicious duel, as both wizards cast some of their most dangerous spells at one another (Crucio and Sectumsempra respectively).
During the Battle of the Astronomy Tower, Draco confronts Dumbledore, disarming him of his wand. In this brief moment, he unwittingly claimed the Elder Wand from Dumbledore's control, one of the most powerful wizarding artifacts. However, Draco is unable to finish his mission, as Snape arrives and kills Dumbledore himself. Draco continues to serve the Death Eaters throughout the next year. During the Battle of Hogwarts, he attempts to capture Harry in the Room of Requirement but fails as Crabbe loses control of a powerful curse and perishes in a magical fire. At the climax of the battle, he and his family finally turn their backs on Voldemort and leave the castle. Their final betrayal of Voldemort allows them to remain free following the war, able to seek redemption for their past crimes.
Scorpius Malfoy Learns From His Parents' Past Mistakes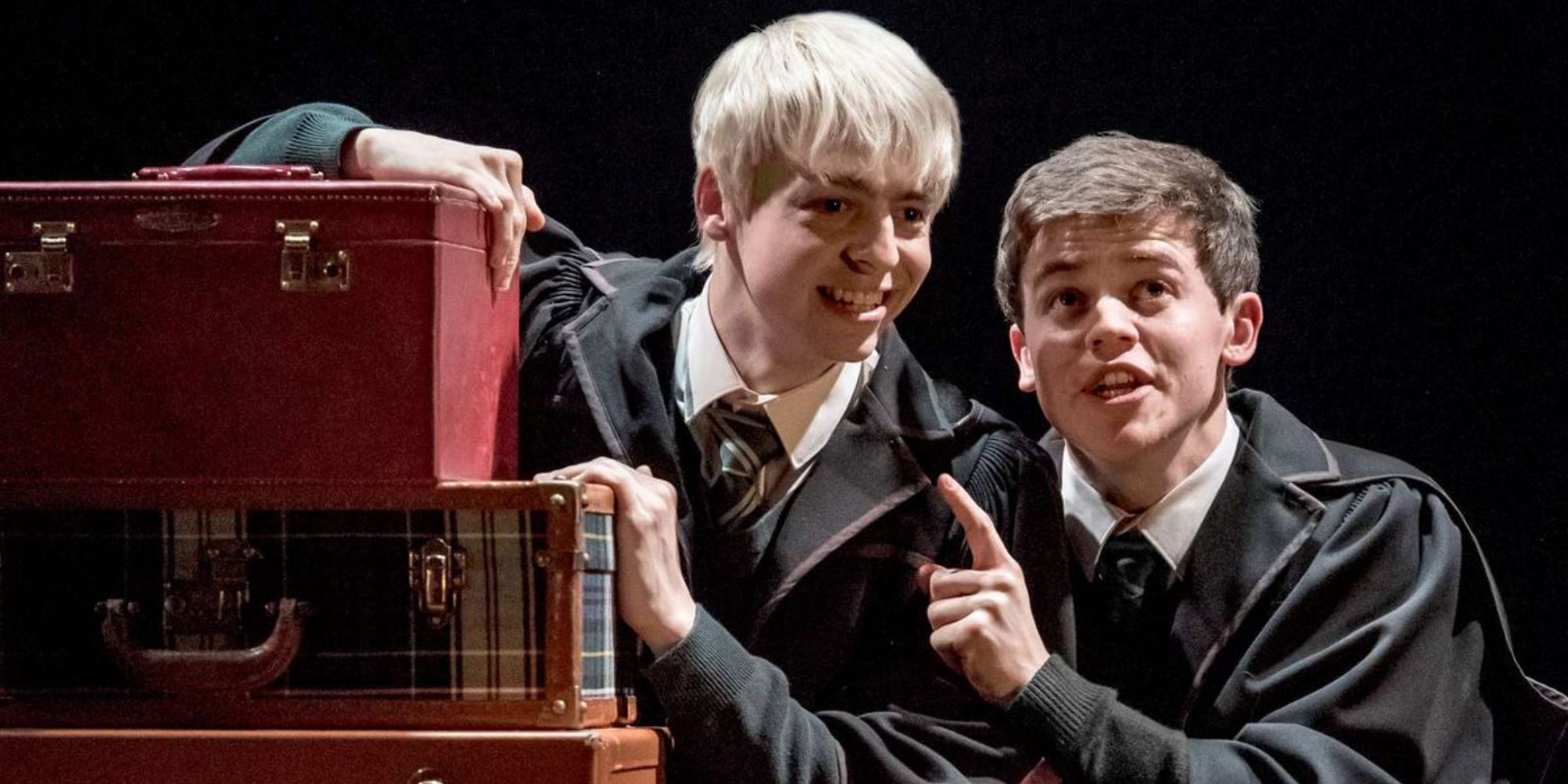 Draco eventually goes on to marry Astoria Greengrass, another Slytherin who has learned to untangle herself from pure-blood brainwashing. The two have a son, Scorpius, who is sorted into the Slytherin House but unlike those before him, is not taught about blood superiority. Scorpius plays a central role in the sequel book and play, Harry Potter and the Cursed Child.
The Malfoy family is small, but great in impact. Draco served as the antithesis to everything Harry stood for, and his parents were powerfully influential Death Eaters. Their stories are both tragic and redemptive, showing the depths of systemic issues in the wizarding world, while still giving hope that things can one day be repaired.
Source: https://dominioncinemas.net
Category: MOVIE FEATURES