Lets face it: Teresa Giudice has *questionable* taste in men. The beginnings of The Real Housewives of New Jersey, which premiered an unbelievable 14 years ago in 2009, introduced us to her first husband, Joe Giudice. Known as "Juicy Joe," from the gate, the couple's relationship was rocky. Over the years, things only got worse between the couple, with Joe Giudice's biggest slap in the face to his now ex-wife being the implication of a crime that would see them both sent to prison. While Joe Giudice was trouble enough, it's Teresa Giudice's newest husband, Luis Ruelas who may be worse.
you are watching: Luis Ruelas is Worse Than Joe Giudice
Yes, when you look at it through the lens of a prison sentence that took her away from her daughters and – likely – put her mother and father in early graves, it seemingly can't get any worse than Joe Giudice. But, whereas each of Joe Giudice's actions was overt, having zero care for who would see his bad behavior, oftentimes behaving terribly while cameras were rolling, Ruelas has a much more covert personality. For every negative comment Joe Giudice said about his wife during his time on The Real Housewives of New Jersey, Ruelas appears the opposite – a calm force bringing Teresa Giudice's temper down. But, from what we know of Ruelas' backstory – including allegations made against him by several exes – and other glimpses of his perhaps true personality during the show, could he be putting on a facade?
The Early Days
Chaos may be the best word to describe the audience's introduction to the Giudice household. A lavish and over-the-top mansion that was decorated with all the tackiness of an Olive Garden, the property was the home of Teresa and Joe Giudice as well as their three daughters, Gia, Gabriella, and Milania with the last child, Audriana born during the show's second season. Joe Giudice had never been a very hands-on father but still, his daughters looked up to him. Throughout the show, we see Joe Giudice bond with his kids while somehow simultaneously letting them down – something that may only be seen by them when they grow more into adulthood.
Meanwhile, at almost every turn, Joe Giudice undermined his wife, truly taking the title of "alpha male" to new heights. And then, there's the alleged infidelity – which Teresa Giudice has confirmed in recent years. In a Season 4 episode, the Giudices alongside the Lauritas, the Wakiles, the Manzos and the Gorgas take a trip to wine country in Napa Valley to celebrate the 50th birthday of Caroline Manzo. During dinner, Joe Giudice abruptly steps away from the table to take a "work" phone call. As he wanders through the vineyard speaking to the person on the other end, inquiring what they're up to in a friendly non-work manner, Teresa Giudice begins to look for her husband.
As he sees her coming, Joe Giudice is caught on mic saying "Here she comes, my b**** wife. She's such a c***." When she finally makes it to her husband's side, Teresa Giudice asks her partner who he's talking to. Playing it off like a work call, Joe Giudice says "A worker, what the f***?" before rattling off some Italian to make it seem more legit. But, wait! It somehow gets worse. When Teresa Giudice tries to wrangle her husband back to the group, he calls her a "r*****" and a "pain in the a**" giving viewers a clear look at the man she married and the verbal abuse she's been suffering on a daily basis.
Legal Troubles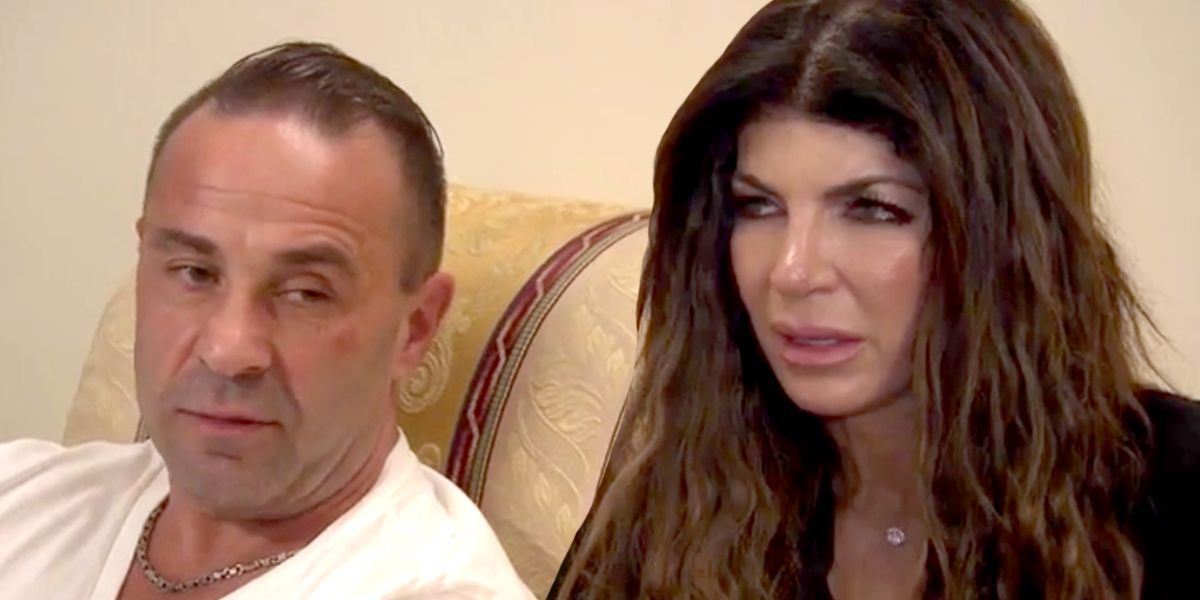 By the time the Napa Valley incident happened, financial troubles had already kicked up for the Giudices. One year later, in 2013, they would be charged with a conspiracy to defraud lenders and illegally obtain mortgages and other loans as well as allegedly hiding assets and income during a bankruptcy case. The indictment was a damning one, alleging the couple had committed mail and wire fraud, bank fraud, bankruptcy fraud, and made false statements on loan applications.
They would both plead guilty in 2014 with Joe Giudice sentenced to 41 months in prison and Teresa Giudice receiving 15 months behind bars. After serving her sentence, Teresa Giudice returned home just in time for Christmas with Joe Giudice heading to prison shortly after. While he was in jail, he received news that he would be deported to Italy. From here, the couple's relationship took a full downhill spiral with a divorce eventually happening in 2021 after 20 years of marriage.
Teresa's Next Beau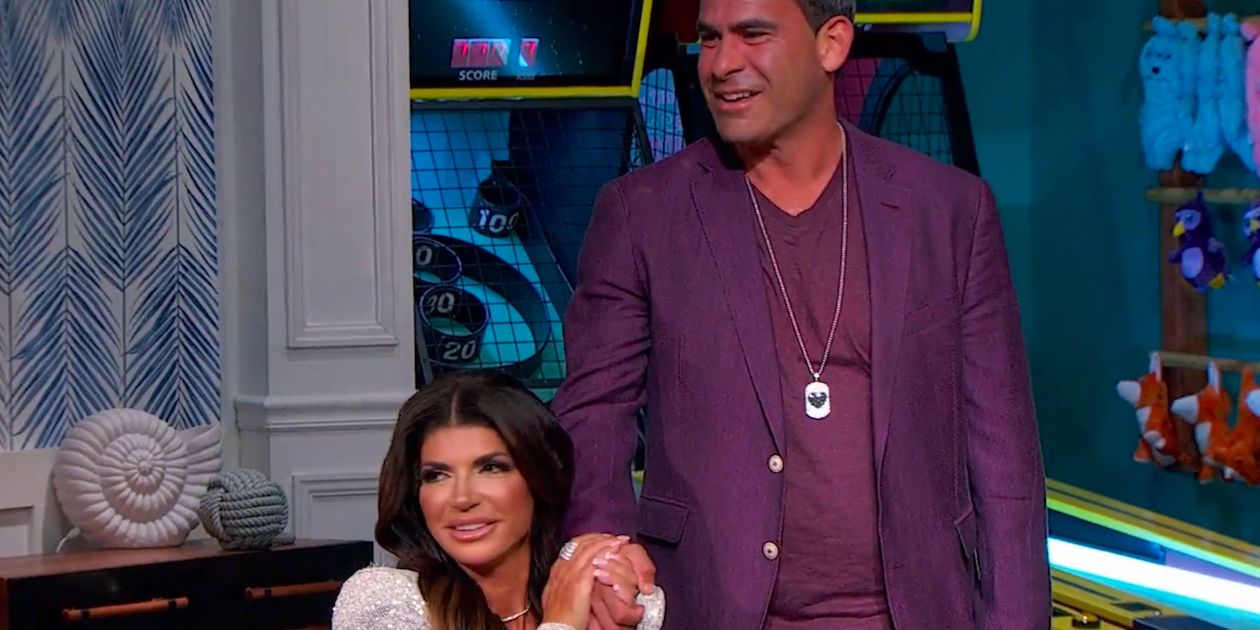 While they didn't officially divorce until 2021, Teresa and Joe Giudice had been separated for quite some time before the paperwork was filed. It was not long into their separation that Teresa Giudice met Ruelas while the two were vacationing separately where dreams come true – the Jersey Shore. It was a happenstance meeting and the pair quickly became inseparable. While Teresa Giudice seemed to be moving slowly with her new boyfriend, things soon took off like rocket fuel. By October 2021, the pair were engaged, with their wedding, which took place on August 6, 2022, receiving its own Bravo special.
At first, Ruelas appeared to be the man of Teresa Giudice's dreams – even her brother and sister-in-law, Joe and Melissa Gorga, sang his praises. The Gorgas had always been torn on Joe Giudice, with a lot of the show's drama being carried on the back of a feud between Joe Gorga and Joe Giudice. But, at the beginning of his sister's relationship with Ruelas, Joe Gorga couldn't have been happier and more supportive of the couple.
Choppy Waters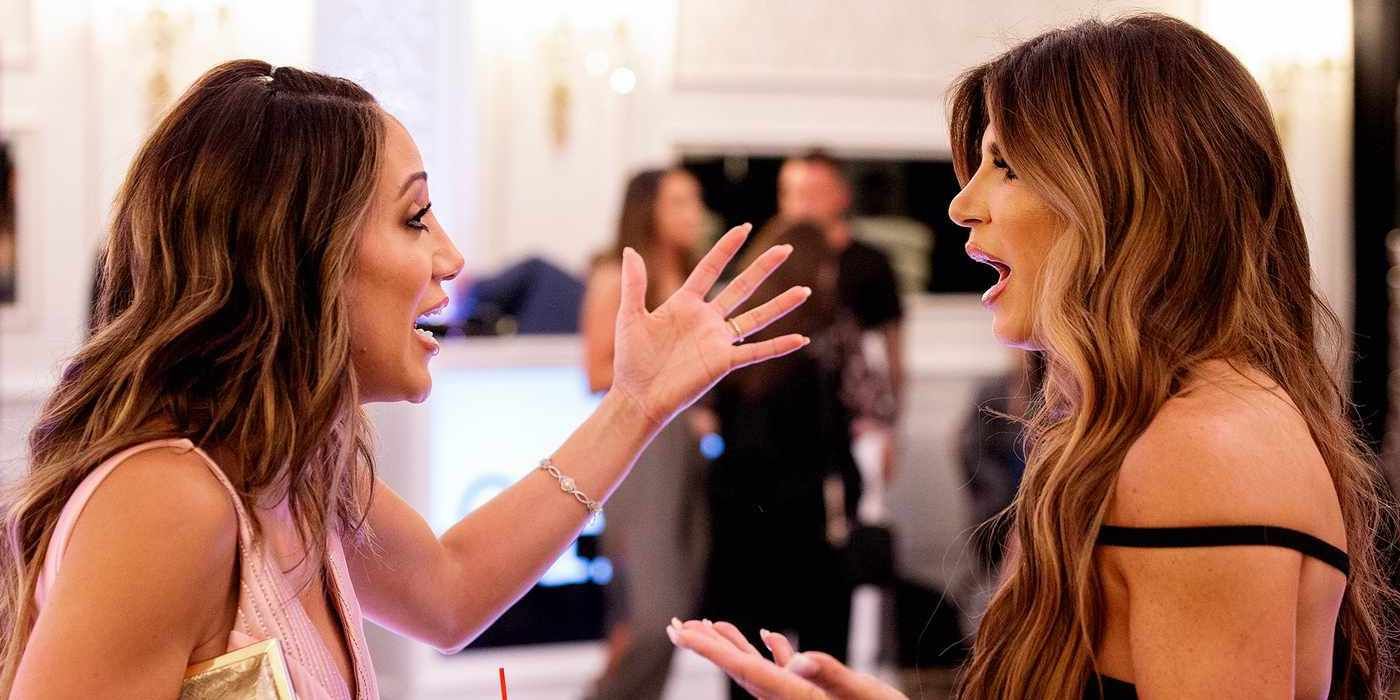 Unfortunately, allegations and rumors would soon find their way to the top with a laundry list of misdoings seeping through the cracks of Ruelas' mysterious background. When it comes to the red flags being thrown at Ruelas, Nonna could sew a quilt. There are just so many, and it's hard to know where to start. So, we'll break down the first claim of assault.
The first troubling news to break through to the family of Teresa Giudice, fans, and the rest of the cast of The Real Housewives of New Jersey was a road rage incident. In 2018, Ruelas was involved in an incident on the roadway where he ended up taking out his anger and frustration on another driver. While this isn't a direct example of Ruelas in a romantic relationship, it points to a short fuse temper that can be easily set off.
As Teresa Giudice's new love began to play out in front of audiences, she continuously referred to it as her "love bubble." Essentially, it was just a space for the two of them behind closed doors and out of the prying eyes of paparazzi and snooping fans – away from the cameras that follow them during the filming for new seasons of the Bravo series. However, for those who have any experience with abuse, a "love bubble" can also be a dangerous thing. It could also point to Teresa Giudice being (consciously or not) kept away from family and friends and only surrounded by her hubby – a close relationship that could have disastrous consequences.
Beyond speculation of what could possibly be going on inside the "love bubble," several of Ruelas' exes have stepped forward to make claims about his abusive behavior in their relationship. No matter what the allegation, Ruelas has always played it off, going as far as to call those women "angry exes" who were simply "thirsty for attention."
One of Ruelas' biggest undoings (and a piece of evidence that his exes may not be the thirsty women he's made them out to be) comes from a bizarre video that was the talk of Season 12. In the strange and – honestly – uncomfortable video, a shirtless Ruelas can be seen on a beach surrounded by other topless men. When it's his turn for camera time, Ruelas begs and pleads to the camera for his ex to forgive him and let him back into her life. He calls the other men his "brothers" and goes on and on about being a changed man.
This bonkers video didn't just have the cast of The Real Housewives of New Jersey talking, but it also held the attention of Bravo fans around the world. While it may not have been quite as scandalous as Scandoval, the alpha male beach day video certainly gave fans a reason for pause, with many worried about who Teresa Giudice's new boyfriend
A Family Torn Apart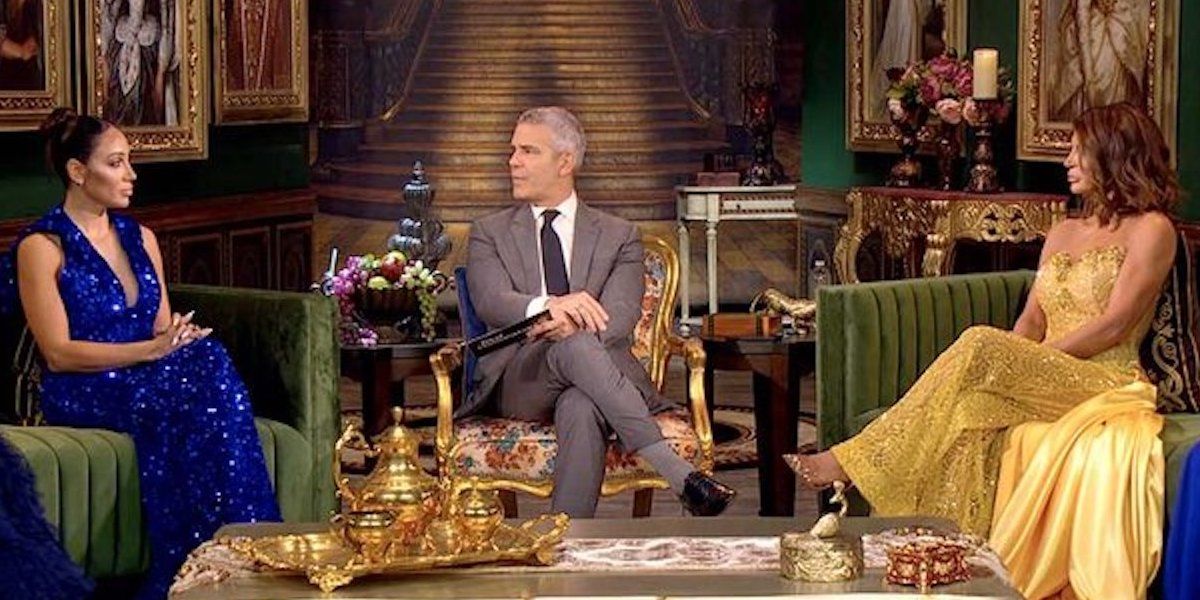 When picking apart Joe Giudice and Ruelas, there's no way to do a proper deep dive other than going into the guts of the family drama. For years, audiences watched as the Gorga and Giudice households were completely torn apart. Standing in the eye of the storm was Joe Giudice who, according to Joe Gorga, had turned Gorga's parents against him. Season after season, the drama between the Gorgas and Giudices gave us some of the very best moments of the series.
But, when the Giudices were sentenced to prison, it was the Gorgas who stepped up to help, with Joe and Melissa Gorga putting their differences with Joe Giudice aside. When it was Joe Giudice's turn to serve his time, Joe Gorga acted as a father figure to the household of girls, letting them know that he'd always be there should they need him. It was also during this time that the health of Joe Gorga and Teresa Giudice's parents took a steady downhill turn, with both passing away not long after. For Joe Gorga, he would never forgive Joe Giudice for the added stress his crimes put on the family and how it affected his sister.
Fast-forward a few years and Teresa Giudice has met Ruelas and the two have entered their "love bubble." At first, Joe Gorga was the biggest supporter of his sister's new relationship. But, after rumors began to swirl surrounding Ruelas' morality followed by the circulation of the now infamous men's group video, the duo's relationship took a nosedive.
While on camera, audiences watched Ruelas try to mend the torn bond between the estranged brother and sister, it's unclear what was going on behind the scenes. The entire season involved drama between the two families with Teresa Giudice unsure if she would be inviting the Gorgas to her wedding. More back and forths happen than can be counted with both sides appearing to be guilty of the strained relationship at points. But, during a car ride with her girls, a damning moment for Teresa Giudice plays out on screen. In the scene, Ruelas phones his fiancee who puts him on speaker for cameras to pick up. Just as he shares the news that he won't be inviting Joe and Melissa Gorga to a pre-wedding group dinner, Teresa Giudice informs him that cameras are rolling. The conversation comes to an abrupt end, but it's certainly not a good look for the couple.
Season 13's Drama Leaves Everyone Divided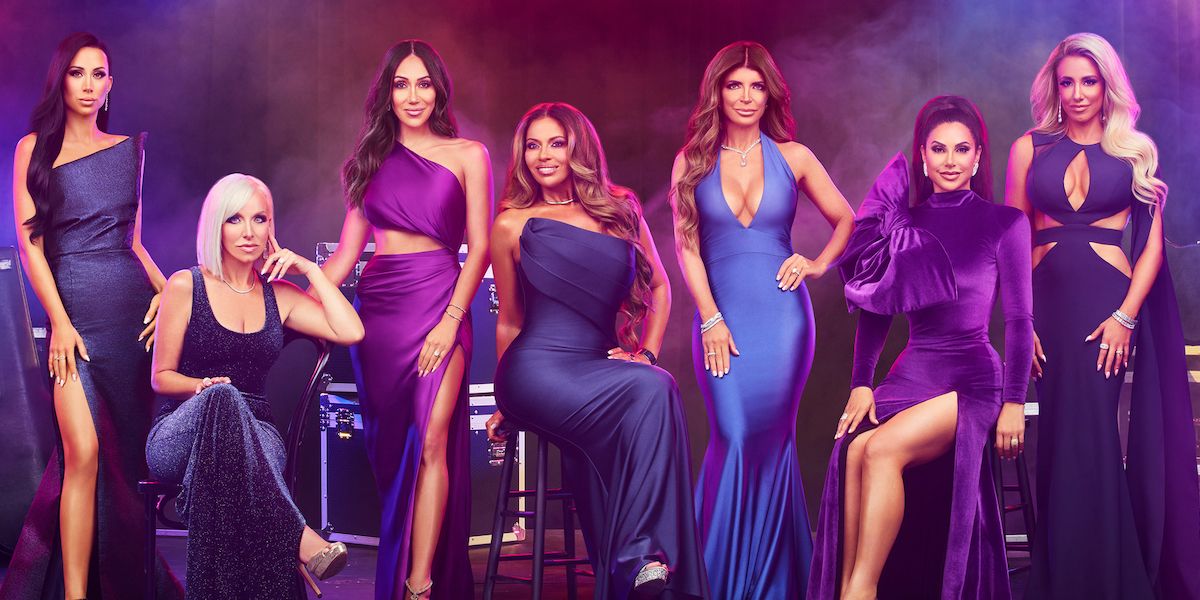 With the wedding drama, Season 13 of The Real Housewives of New Jersey was filled with strange moments between the entire cast and Ruelas. The final episode featured a red-faced Ruelas screaming at the entire cast that they were all being investigated by retired detective Bo Dietl. By the time the reunion came around, not only were the Gorgas out for blood, but other cast members including Margaret Josephs and her husband Joe Benigno and Rachel Fuda and her husband John Fuda, also had beef with Ruelas. There was also some tension between the newlyweds and Frank and Dolores Catania but no major revelations came to light. Both couples came with receipts claiming that they or someone close to them had been threatened by people in Ruelas' camp.
Luis Ruelas is the Worst Husband
At the end of the day, both Joe Giudice and Ruelas seem like suspicious guys and walking red flags. But, whereas Joe Giudice never painted himself as a "good guy" or someone who was just trying to help, Ruelas' snake-like ways have us thinking that he is somehow worse than Teresa Giudice's first husband. And – to be fair – at least Joe Giudice never put on Nono's pajamas.
Source: https://dominioncinemas.net
Category: TV