Few bands have contributed music to as many great films as the Rolling Stones. The iconic rock band, hailed as one of the greatest of all-time, dominated pop culture throughout the 1960s, and the group continues to be popular today. Songs like "Sympathy For The Devil," "Sweet Virginia," "Jumpin' Jack Flash," and "Emotional Rescue" have been used countless times in movies, television shows, and trailers, but there's one director that has a particular affinity for the music of Mick Jagger, Keith Richards, Ronnie Wood, and their former bandmates. Martin Scorsese has sampled The Rolling Stones throughout his filmography, but one film's use of one of their most beloved songs created one of the most iconic moments in his entire filmography.
you are watching: Scorsese's Crime Drama Nails How Movies Should Use Rolling Stones Songs
RELATED: Before Directing, Martin Scorsese Worked Crew on This Epic Documentary
"Gimme Shelter" Was Perfect in 'The Departed'
Although a majority of Scorsese's most famous gangster films were made earlier in his career, the legendary filmmaker made a major return to the genre with 2006's The Departed. The creative reimagining of the Asian action film Infernal Affairs was Scorsese's first remake since 1991's Cape Fear, but he made sure to set his latest gangster epic within a world that he was familiar with. The Departed reimagined the Hong Kong criminal underworld as a somewhat modern day version of Boston; in terms of style, it felt like Scorsese was reverting to the dark, depraved criminal world of Mean Streets, Taxi Driver, and Goodfellas. In order to indoctrinate the viewers into his version of history, Scorsese created a thrilling opening sequence that made use of the iconic Rolling Stones track "Gimme Shelter."
As with many of his best films, Scorsese opens with a voiceover piece of narration that introduces the stakes, setting, and pivotal themes of the story; Jack Nicholson's Frank Costello (a character loosely based upon the real criminal Whitie Bulger) discusses the violent conflicts between various ethnic, religious, and political groups within Boston ever since Costello first rose to the top of the city's criminal underbelly. Scorsese doesn't give whole a lot of specific times or dates, but it's evident that he's referring to the 1960s due to the references to the Boston race riots and period of political upheaval. Evoking this classic era is why using "Gimme Shelter" was such a perfect choice.
"Gimme Shelter" was first written by the Rolling Stones for their 1969 album Let It Bleed, and the song makes references to the string of major events in American history that occurred at the tail end of the decade. With oblique references to the Vietnam War and the protests that it inspired, "Gimme Shelter" sounds like a cry for help made by a traumatized bystander. That is an apt description for pretty much every character that Costello interacts with; a young Colin Sullivan (before he matures into Matt Damon) looks at the older gangster with a look of pure terror when Costello waltzes into a local diner and demands that he receives payment. Costello waxes poetic about his worldview; even if he's arguing against the influence of the church, he's keen to note Colin's keen academic skills. It serves a great way to show how the character will grow into becoming Costello's most ruthless undercover agent, as he's grown up learning to both fear and admire Costello's capabilities.
What's interesting is that "Gimme Shelter" feels like a specific theme for Costello himself, as the film begins incorporating notes from the actual score and songs native to Boston's history once it focuses on other characters. Costello doesn't represent all of Boston, but he is integral to the "war" and "terror" that made up his past. It's a brilliant piece of association on Scorsese's part, as it sets up a natural conclusion to the story; Costello's reign of terror has become so influential that he essentially has a monopoly over the city's infrastructure, and has to be eliminated. It also makes for an electrifying opening sequence that kicks off a 151-minute movie on a high note, proving that Scorsese hadn't lost a note of his signature style during his brief absence from crime cinema. Listening to Nicholson cackle as he shoots an innocent bystander feels even more morbid and disturbing as the sounds of Jagger's voice wail in the background.
Why Scorsese Loves the Rolling Stones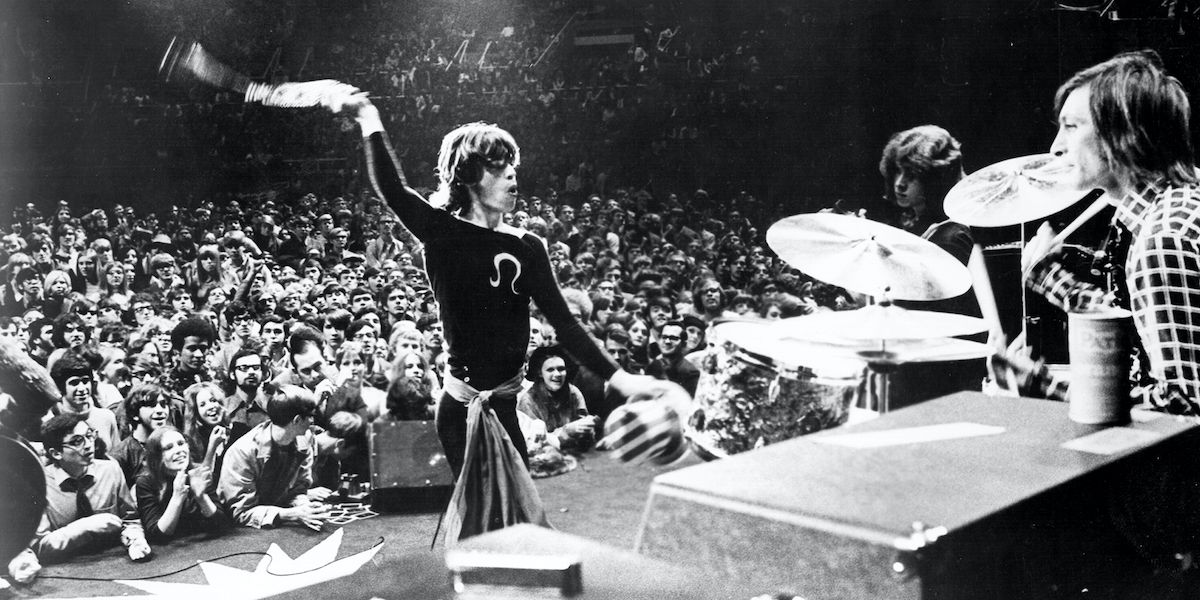 The Departed serves as an interesting example of sampling the Rolling Stones' music, because the practice has now become very common. Their music has entered into the larger pop culture ecosystem, and has been used by many filmmakers for its thematic value. However, Scorsese was actually one of the first filmmakers to start using the Stone's music when it was first released. His inventive mixing of "Jumpin' Jack Flash" as an introduction for Johnny Boy (Robert De Niro) in Mean Streets was one of the first times that a Rolling Stones song was interwoven naturalistically into a film's soundtrack.
Scorsese broke through as a filmmaker in large part due to his creative use of music mixing. The "Jumpin' Jack Flash" sequence in Mean Streets has been parodied, referenced, and used as inspiration for so many other films that it's become easy to forget that Scorsese did it first. Scorsese continued to use the Rolling Stones' music as a way to add a level of atmosphere or excitement to his projects. He would later use "Memo From Turner" as background music during Henry Hill's (Ray Liotta) flight of paranoia in Goodfellas and "I Can't Get No Satisfaction" during Nicky's (Joe Pesci) funeral in Casino.
Scorsese's relationship with the Rolling Stones is also a personal one. He chronicled the band's history and influence in the concert film Shine A Light, which chronicled the group's rise to stardom during their 2008 comeback tour. Later, Jagger and Scorsese served as producers and creative collaborators on the short run HBO drama series Vinyl. Given that they were contemporary artists that emerged during the same era, it makes sense that these two highly influential artists would want to keep each other in close company.
Source: https://dominioncinemas.net
Category: MOVIE