The '90s were full of shows that shared more than a few key elements. They often had outlandish premises, steeped in science fiction or fantasy tropes. They were usually developed to hit syndication, and lasted for years in reruns. Many of these shows eventually became cult favorites, or outright pop culture phenomenons. A key example of this is Xena: Warrior Princess, which featured Lucy Lawless' titular heroine battling the forces of evil. Ironically, Xena started out as a spinoff from Hercules: The Legendary Journeys — and over the years it would grow to outclass Hercules due to its lead as well as a number of other factors.
you are watching: The TV Spinoff That Was Better Than the Original Series
Xena Originally Started Out As A Villain
When Xena first appeared in Hercules: The Legendary Journeys, it was as a villain. In the episode "The Warrior Princess," she seduces young Iolaus (Michael Hurst) in order to draw out and kill Hercules (Kevin Sorbo). Xena is depicted as cruel, bloodthirsty, and manipulative — a far cry from the feminist icon she would grow to be on her own show. Then in the penultimate Season 1 episode "The Gauntlet," Xena suffers betrayal and has to rely on Hercules for help. This eventually leads to a fight between the two, but Hercules refuses to kill Xena. She is moved by this, and in the Season 1 finale, "Unchained Heart," she chooses to make amends for her misdeeds.
This would lead to the Xena series, which almost never got made. Xena was originally slated to die at the end of "Unchained Heart"; however, series co-creator Robert Tapert was convinced by Universal to give her a series. "The guys at Universal quickly said, "You know what? You should rip yourself off before somebody else does and try and make a spin-off out of that character," Tapert told Entertainment Weekly as part of an oral history celebrating Xena's 15th anniversary. And so, Xena's road to redemption began, with the pilot episode "Sins of the Past" having her rescue a maiden named Gabrielle (Renee O'Connor), who eventually became her sidekick.
'Xena' Began To Slowly Become Its Own Series — And Eventually Overtook 'Hercules'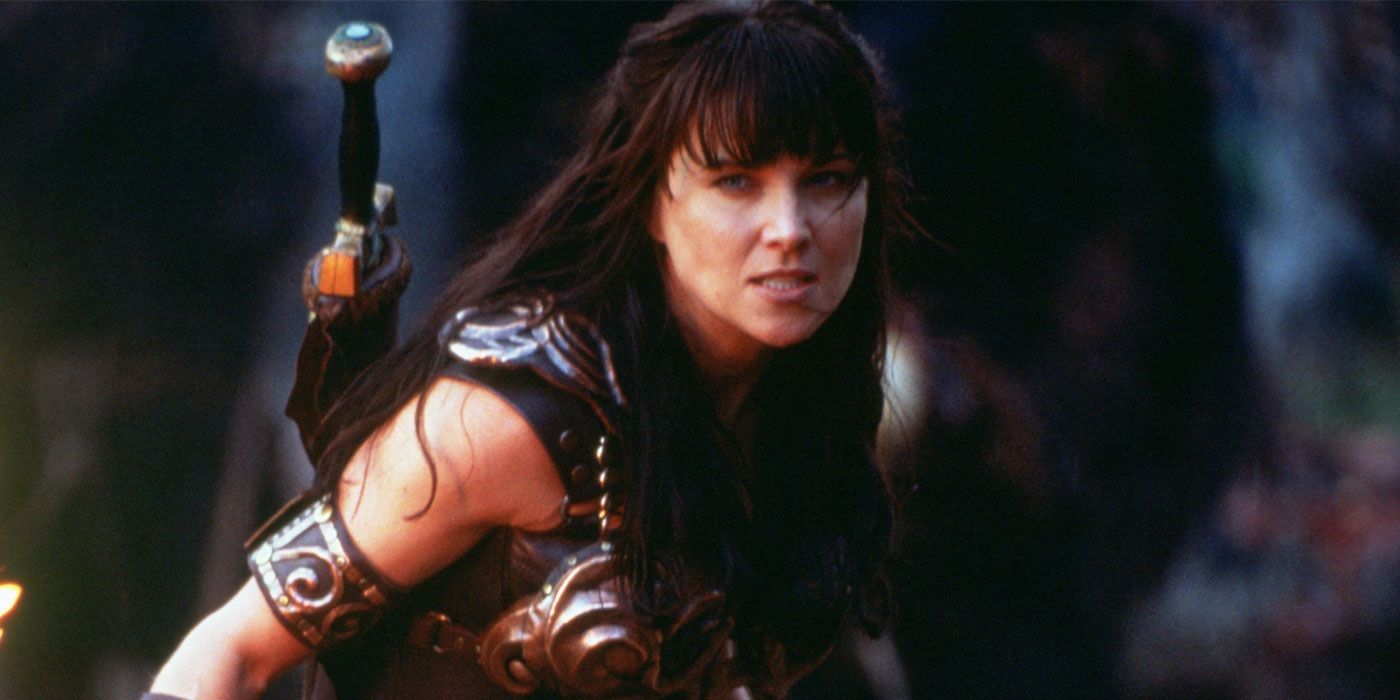 The first season of Xena: Warrior Princess had its own ups and downs to overcome. Lawless threw herself into the physical demands of playing Xena, which led to multiple injuries. Perhaps the most egregious is a stunt on the set of The Tonight Show with Jay Leno; Lawless broke her hip while attempting to ride a horse for a sketch. The ratings also took a while to kick in. "It took a full year for Xena to rise in the ratings," Tapert noted. But soon a second season was ordered, and eventually, the show ran for six seasons, outstripping Hercules: The Legendary Journeys in ratings.
A large part of what made Xena a more compelling character was her struggle for redemption. Throughout the series, enemies from her past come to haunt her, and she goes through a number of trials including her crucifixion. In contrast, Hercules feels like he never really grew as a character; he was the stock leading man. Xena would also gain traction due to the relationship between Xena and Gabrielle, which carried a number of romantic undertones. Lawless grew to embrace this: in an interview with Collider, she discussed her reaction to a magazine article that touched on those themes when Xena season 1 was filming. ""It was Michale Musto writing about how Xena and Gabrielle were queer characters, and we're like, 'What the hell?' We were going, 'That's crazy!' And we were both like, 'That's cool.'"
Finally, Xena had two overarching villains. Both the warrior queen Callisto (Hudson Leick) and the god of war Ares (Kevin Tod Smith) would terrorize the Warrior Princess over the course of the show. Both of them also represented the darkness that Xena was fighting to overcome. In Callisto's case, she had an axe to grind after Xena had burned her village to the ground. Ares thrives on war and strife, and sees Xena as a worthy candidate for his queen. The best villains often serve as a mirror to the heroes, and Xena's villains definitely lived up to that mantra.
RELATED: Best Sword-and-Sandal Epics, From 'Spartacus' to 'Gladiator'
'Xena' Would Continue To Thrive In Other Media, Apart From A Failed Reboot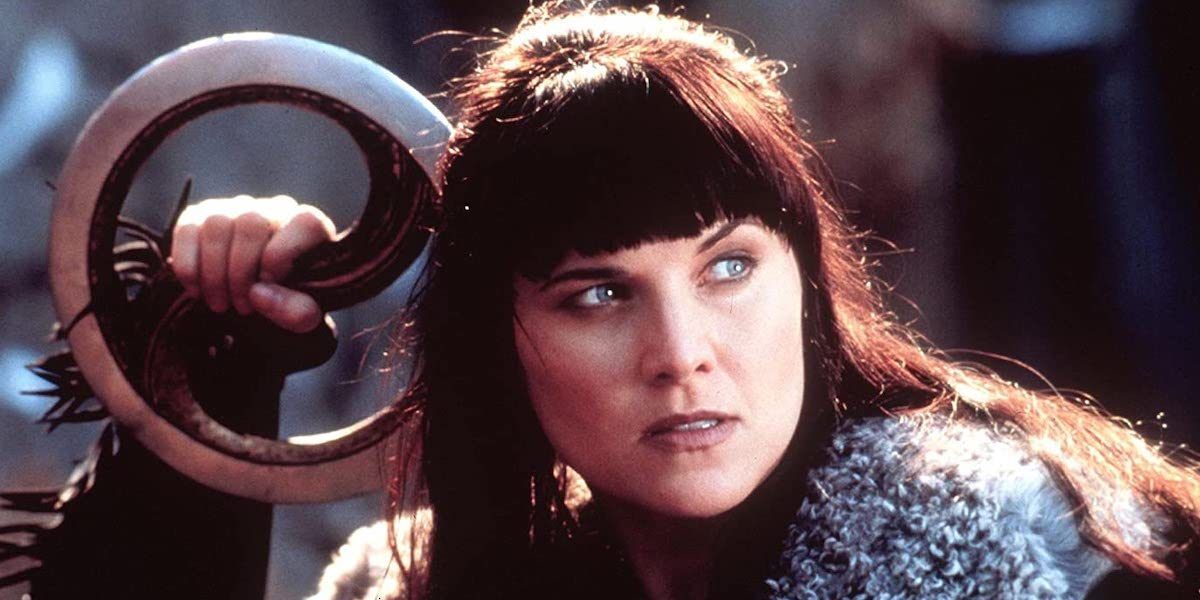 The popularity of Xena: Warrior Princess led to a number of other Xena themed projects. Dark Horse Comics published a series of Xena comic books, with the license recently landing in the hands of Dynamite Entertainment (which finally moved Xena and Gabrielle's relationship into romantic territory, among other things.) Plenty of video games were released for '90s era consoles, including the PlayStation 1 and Game Boy Color. The one project other than the show that Xena fans may remember is the animated movie Hercules & Xena – The Animated Movie: The Battle for Mount Olympus; Lawless and Kevin Sorbo reprised their roles as Xena and Hercules, with the titular heroes battling the goddess Hera.
After Xena's cancellation in 2001, rumors swirled about a potential reboot and/or film adaptation. Finally, in 2015 a reboot was commissioned by Universal, with Javier Grillo-Marxuach (Lost, Law & Order: Special Victims Unit) tapped to write and produce. Grillo-Marxuach said that he was looking forward to updating elements of the show, including Xena and Gabrielle's relationship. It would have even brought back Tapert and Sam Raimi as executive producers. However, in 2017 the project was shelved, as Grillo-Marxuch had left the project due to creative differences and Universal couldn't figure out a direction for the new series.
To this day, Xena: Warrior Princess remains one of the most influential genre shows of the 1990s. It was one of many shows — including Buffy the Vampire Slayer and Dark Angel — that would feature a well-rounded female lead, and is still referenced in pop culture. A whole segment of The Simpsons' "Treehouse of Horror" special featured Lawless returning to the role of Xena, albeit with a tongue-in-cheek attitude. Xena will forever live on in the hearts of her fans, as well as the woman who portrayed her.
Source: https://dominioncinemas.net
Category: TV