Once again fans watched real couples go through The Ultimatum: Marry or Move On experiment. The Netflix show returned for Season 2 and Treyvon "Trey" Brunson gave Jeriah "Riah" Nyree an ultimatum. Riah said she wasn't ready to get engaged because she wanted her career figured out. Trey wanted to take care of her to move forward with marriage. The couple had more differences with where they wanted to live and if they saw children in their future.
you are watching: 'The Ultimatum': Riah Shares Her Shocking Next Chapter
Season 2 was filmed in late 2022. The cast returned to film the reunion in the summer of 2023, according to Bustle. We're still getting more updates from the couples since the reunion aired. Riah is becoming a mother after emotionally talking about possibly not having children on the show.
RELATED: 'The Ultimatum' Season 2 Ends With Quiet Kat Shutting Down Roxanne in the Best Way
Riah Discussed Her Pregnancy Fears on The Ultimatum
The season started with Riah and Trey seemingly on different pages when it came to wanting children. Riah tearfully told him she didn't know if she wanted them in the first episode. Trey expressed wanting her to be the mother of his future kids. Riah asked him if he'd be OK with not having children. He wasn't quick to answer.
Riah revealed the source of her pregnancy fears later in the season. "So I think for me, it was a defense mechanism," Riah told Nick Lachey at the reunion. "Me and Trey, we were pregnant two years ago and I didn't have a heartbeat. And for me, to protect myself, I always said I didn't want to have kids. I don't want to have kids because I didn't want to be pregnant and go to the doctor again and just like know that I didn't have a heartbeat. That was rough."
Trey said they were far from each other at the time, which made it hard. "It was really early in our relationship," Riah added. "But I know that I can't always just use things to protect my feelings let alone not listen to what he wants. And I still, I do want to have a kid in the future."
Riah Reveals She and Trey are Expecting a Baby Boy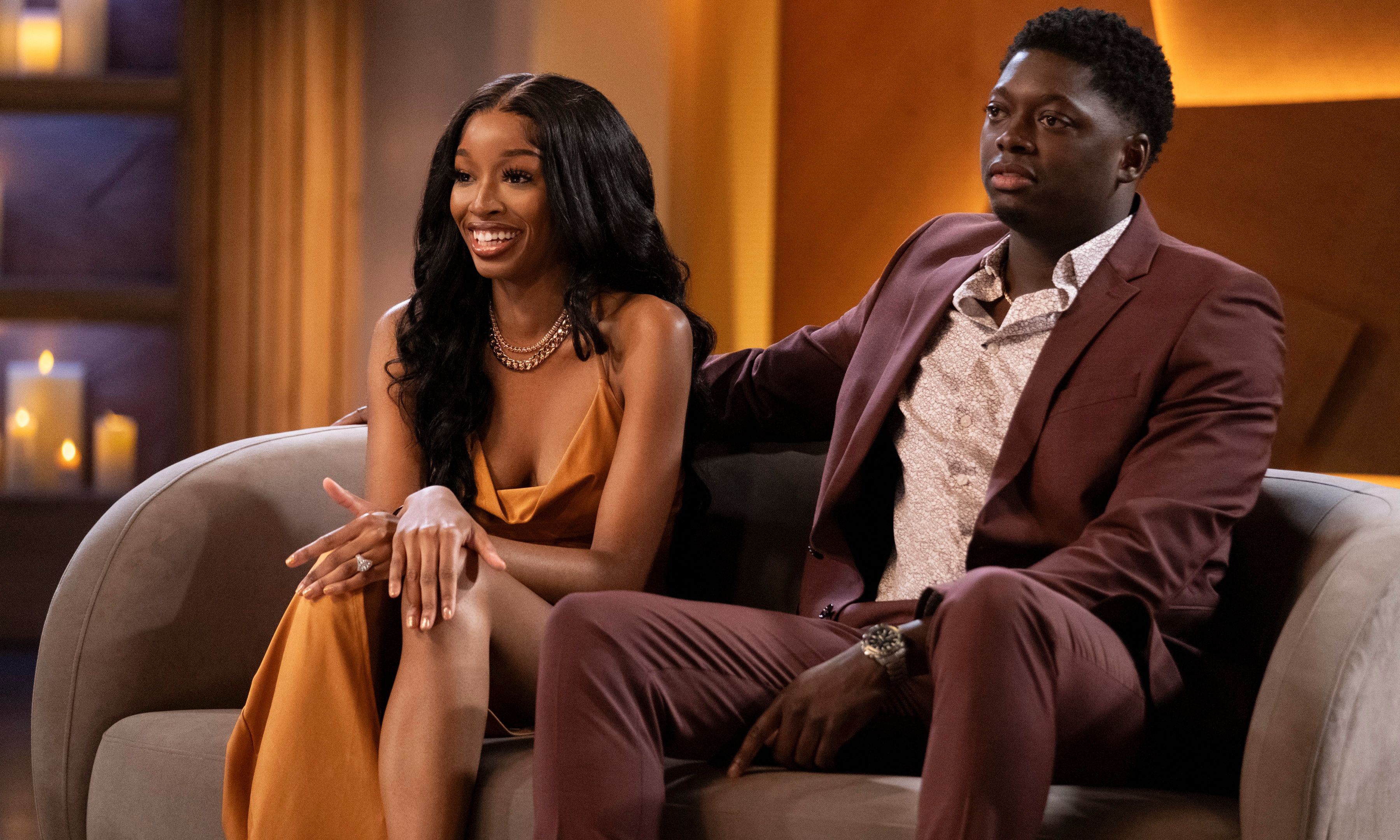 The cast is free to update fans on their life after the season. Riah posted an Instagram picture of a sonogram, a gray bear onesie, and gray bear booties with a chalkboard reading "Baby Brunson January 5, 2024" on September 3. She captioned the post, "Next Chapter: Motherhood. These past 5 months have been so sweet and special. From hearing your heartbeat to little flutters and kicks. We cannot wait to meet you."
Fellow cast members commented on the post. "Congratulations!!! Another Ultimatum baby," James Morris wrote. "AWH congratulations you guys, I'm so happy for you!" Ryann Taylor McCracken added. "Soo happy for you two!!" Kathryn "Kat" Shelton wrote. "Congrats! You and Trey will make the best parents together!" Alex Chapman commented. Stars from season 1 also shared their well-wishes. "Aww, congratulations Riah! Happy for you, girl!!!" Shanique Imari commented. "Congratulations." Rae Williams wrote.
Trey shared the same post on his Instagram account. "EVERYBODY!!! Me and @jeriahnyree are ready to welcome our baby into the world. I fell in love with our little one as soon as I found out she was pregnant," he announced in the caption. "Gender reveal coming soon."
Riah had her trial marriage with James. She was frustrated with not getting the physical connection she desired during their marriage. Trey paired with Ryann and admitted to having feelings for her. The reunion revealed the two couples haven't spoken since filming. But the cast threw out the idea of having a group chat to keep in touch in the future.
Source: https://dominioncinemas.net
Category: REALITY TV