Book-to-screen adaptations can be a tricky tightrope to walk — you're essentially taking a story that involves a lot of introspection and altering it for a more physical medium, one that relies on outward expression more often than it does inner thought. In terms of Judy Blume's 1970 novel Are You There God? It's Me, Margaret, that internal dialogue is literally right there in the title. With its unflinching subject matter and ensuing censorship, the fact that it's taken the story over 50 years to earn a big-screen movie doesn't come as a surprise. What is a surprise — and delightfully so — is that writer-director Kelly Fremon Craig (The Edge of Seventeen) has absolutely nailed her translation of Blume's beloved coming-of-age story. As someone who read the original book again, and again, and again — checking out a dog-eared copy from my local library more times than I could count — watching this movie felt exactly like being catapulted back to the instant when I first fell in love with sixth-grader Margaret Simon and her journey into womanhood.
Here, Margaret — in all of her endearing glory — is brought to life by Abby Ryder Fortson (whom eagle-eyed MCU viewers may recognize as the first incarnation of Cassie Lang). Having just returned home from a memorable time at summer camp in New Hampshire, Margaret faces the unexpected and very unwelcome news that her parents, Barbara (Rachel McAdams) and Herb (Benny Safdie) have decided to move their family from the heart of New York City to the suburbs of New Jersey. It's just right across the river, as Margaret's dad not-so-helpfully points out, but our lead is still distraught at the fact that she won't just have to say goodbye to all of her friends, including her grandmother Sylvia (Kathy Bates), who she's always had a tight-knit relationship with. This is the first time Margaret decides to reach out to God with a small ask — to see if there's anything, at all, that can be done in order to stop this move from happening.
Cut to a sequence of well-manicured lawns and kids running through sprinklers and it's clear that her plea has failed — but it also kickstarts a series of heart-to-hearts that carry on through the film, in which Margaret privately gives voice to some of her biggest inner desires (to develop enough on top in order to fill out a bra, to finally get her period) as well as some of her most passionate emotions (questioning a close friend's betrayal, raging over cruel treatment from the cutest boy in school).
Through all of those inner conversations, Fortson captures all the ebbs and flows of preteen angst, swinging between the highest highs and the lowest lows in an instant and propelling all of us back to that respective time in our own lives, regardless of which generation we hail from now. The film may take place over the course of a specific year, bookended by the summer of 1970 and the one following, but so many of the themes that Blume first put down on page have always been timeless and feel even more apropos now, especially when it comes to plots like Margaret wrestling with her religious identity and navigating confusing hormonal feelings.
The surrounding cast, consisting of family and friends, is as essential to the story as Margaret herself, and each character manages to add depth and conflict while also remaining endearing and likable. As Margaret's parents, McAdams and Safdie step into their roles with two very different modes of nurturing — McAdams' Barbara has given up her job teaching art so that she can be a stay-at-home mom, while Safdie's Herb works a steady 9-to-5, but neither of them is an emotionally absent figure in either their daughter's life or the movie itself. Their contrasting religious upbringings don't initially offer a point of contention — Barbara was raised Christian, Herb Jewish — as they've always insisted that Margaret can decide what faith she wants to pursue when she's old enough to make that choice for herself.
The issue does come to a head, however, right around the time Margaret is assigned a year-long project by her teacher, Mr. Benedict (a charmingly deployed Echo Kellum). In the process of exploring her family's background, Margaret discovers that there's a reason she's never met her mother's parents, and it's through that storyline that McAdams and Safdie are given space to skillfully tread into more emotional territory. Things aren't all heavy for the Simon family, as the two actors prove, portraying a worn-in chemistry that feels affectionate and appropriate for long-time parents. In terms of comedy, though, Bates is the one who nearly walks away with it all as Margaret's grandma Sylvia, a force of nature with red-dyed hair and rhinestone-crusted caftans.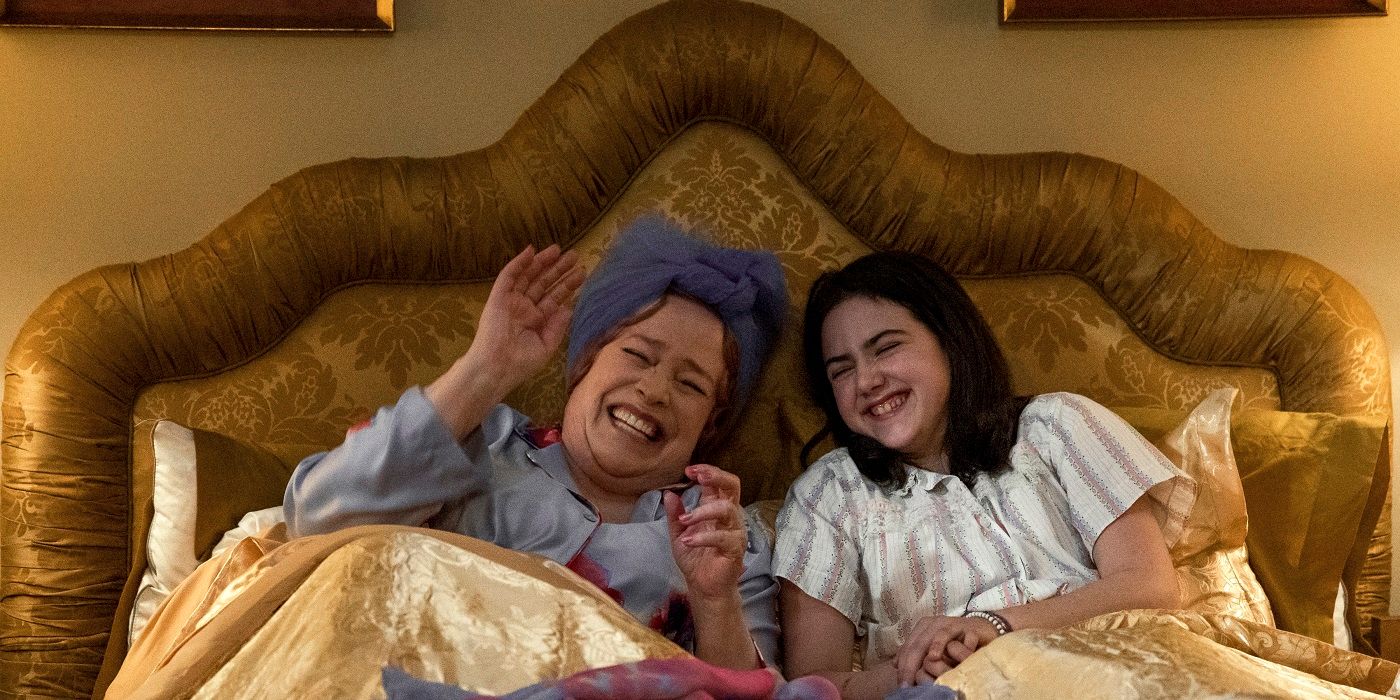 The other strong force of nature in Margaret's life is the group of girls who assert themselves as her new friends — led by the very precocious Nancy Wheeler (Elle Graham), who wastes no time in declaring that the foursome will be forming their own super-secret club, complete with must-follow rules. Nancy projects herself with confidence from the jump as the ringleader, showing off her new AA-size bra as well as the kissing technique she's perfected on her bedpost. That said, anyone who was once a preteen girl at some point in their life knows that this kind of self-possession is a myth, a veneer that can crack and shatter without warning. When it happens to Nancy in one of the film's most heartwrenching scenes, you don't feel a sense of anything but pity for someone who reverts to being a scared little girl, and Graham brings all the necessary depth required for it. It's also a defining moment in Nancy's friendship with Margaret, the latter of whom begins to debate whether she's still willing to maintain ties with her friend in the wake of hurt feelings. If there's any plotline that feels less-than-successfully resolved by the end of the film, it's this one, which sees their relationship culminate in more of a question mark than anything else.
All that aside, Margaret has others to lean on in spite of shaky ground with Nancy. Katherine Kupferer wields a dry hilarity to her role as Gretchen, Isol Young taps into some hidden vulnerability as the oft-mocked Laura Danker, and Aidan Wojtak-Hissong channels a blushing, sweet sincerity as Margaret's crush Moose Freed. One particularly great scene, in which Margaret and fellow club member Janie (an adorable Amari Price) awkwardly stumble through the experience of buying sanitary napkins from a nonchalant, teenaged-boy cashier, earned uproarious laughter from my packed screening. It's a single, snapshot moment in the overall narrative, but it perfectly encapsulates what Craig has pulled off with this gift of a movie, as well as what Blume first put down on the page.
Are You There God? It's Me, Margaret isn't just a long-awaited adaptation; it's a loving, laugh-out-loud one, with clear affection for the original story rendered in every frame. It's also destined to become as iconic for film lovers as the novel is for readers, with an unflinching, enduring message for all generations that still manages to resonate over 50 years later.
Rating: A-
Are You There God? It's Me, Margaret opens in theaters on Friday, April 28.
Source: https://dominioncinemas.net
Category: REVIEWS