This review was originally published as part of coverage for the 2023 Sundance Film Festival.
Late in his life, Little Richard would talk about how he was the inspiration for all the artists we now consider rock and roll. The Beatles opened for him, Jimi Hendrix played with him, and The Rolling Stones learned from him. What might seem like bold claims are actually a sad truth: Little Richard might be the most influential musician of the 20th century. The brilliance of Little Richard: I Am Everything, by director Lisa Cortés, is that it does the work and shows that Little Richard deserved better and deserved more respect for his contributions, an icon who paved the way for everyone that would come after him, from Elvis Presley to Tyler, the Creator.
Little Richard: I Am Everything shows a legend torn between two personas. On one hand, Little Richard is one of the first outwardly gay celebrities, a star who reveled in this part of his life and showed the world exactly who he is. But the other version of Little Richard is a man who is struggling with his faith, and the fear that being who he inherently is will hurt him in the next life. Little Richard: I Am Everything keeps coming back to a quote from Richard that says God gave it, show it to the world, and yet, Richard struggles with showing the world exactly how God made him. It's almost as if Little Richard has a split personality which he had a hard time balancing.
Cortés' documentary does an excellent job of showing how Little Richard became the superstar he is today, exploring his youth, the drag acts that were becoming popular around the same time as Richard, and the impact that Richard had on the future of music history. Richard likes to claim that he's "the one that started it all," and Cortés does an excellent job of presenting the facts, showing that, in fact, he did start it all, and he deserves more credit than he received when he was alive.
RELATED: 'Little Richard: I Am Everything' Trailer Showcases the True King of Rock n' Roll
Some of the most fascinating segments of Little Richard: I Am Everything show the other icons he influenced. John Waters discusses how his super-thin mustache has been a tribute to Little Richard for decades. Mick Jagger talks about how early in his career, he watched Little Richard every night—a master class in how to become a great frontman. Old footage shows The Beatles and their deep admiration for the man who they opened for in Hamburg. Near the end of the film, Cortés shows a montage of all the musicians that came after him, and while the clips are fast and many, thanks to Cortés' work here, we can easily thread the line from Little Richard to some of the greatest musicians and artists in the last century.
In moments that throwback to the early days of Little Richard, we see a sort of magic or glitter that comes from him, spreading throughout wherever he is. It's almost as if Cortés is showing us that Little Richard, simply through his talents and being who he was, permeated those around him, a powerful presence that left an indelible mark on music history.
see more : 'A Small Light' Illuminates a Real-Life Heroine Who Fought Against the Nazis | Review
Cortés wisely doesn't hide from Little Richard's latter years, when his catchphrase became "shut up," when he longed for the credit he was due, and was extremely lonely and just wanted love. The duality of his life seemed to cause him great pain—especially near the end—and even though we can see the legacy that was left behind, the tragedy of his life is a lack of self-acceptance, and the appropriation of his talents that made others extremely popular artists, and left him behind, waiting for the appreciation he deserved.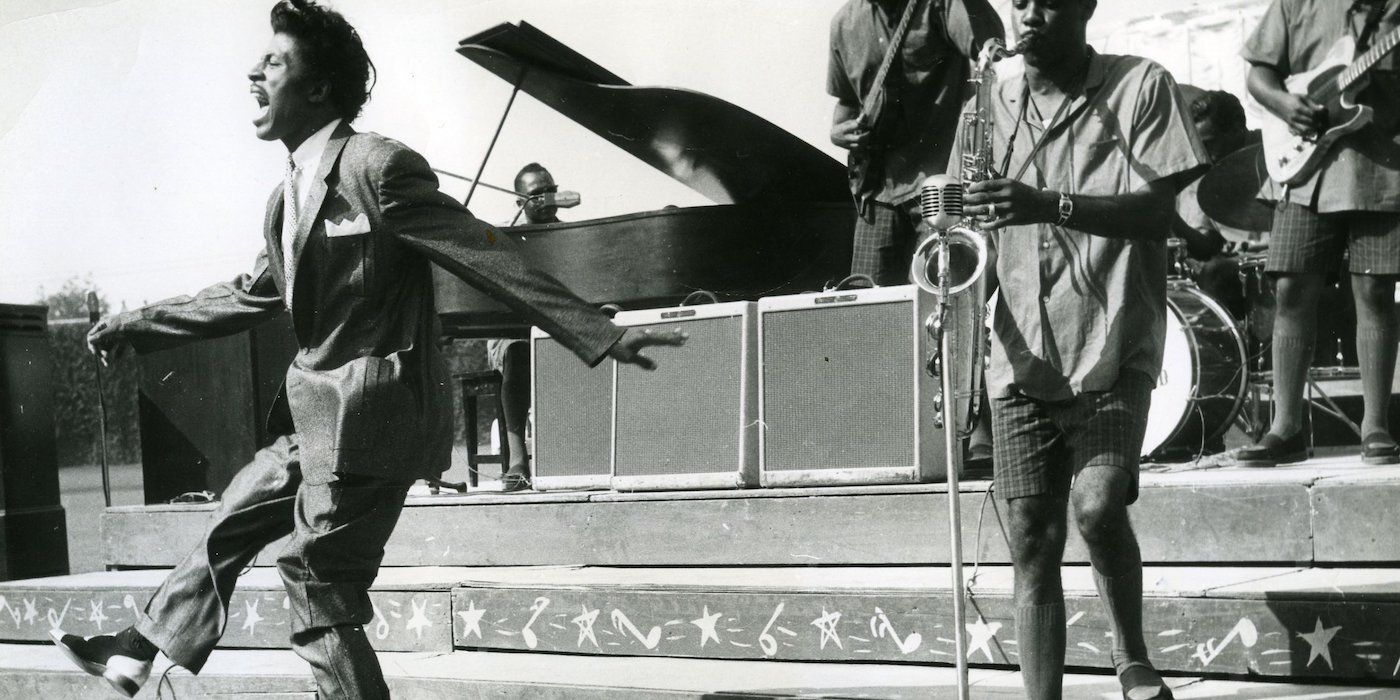 Little Richard: I Am Everything has to do a lot in its relatively short runtime, from exploring the origins of the musician, explaining both sides of his personality, and also diving into Richard's influence on the future of music. Thankfully, Cortés' documentary handles all this beautifully, and will make the viewer want to immediately learn more about Richard, his extremely fun work, and the life that impacted so many around him.
Rating: B
Little Richard: I Am Everything is in theaters and on VOD starting April 21.
Source: https://dominioncinemas.net
Category: REVIEWS