Episode 5 of The Marvelous Mrs. Maisel's final season picks up right where it left things with the premiere—with another jarring jump into the future. While it feels like these time jumps were designed to provide fans with some degree of closure, they end up delivering more dread than joy. In fact, they essentially derail the episode right from the get-go, which is unfortunate, especially when "The Pirate Queen" is a fairly fun episode.
In the present 1961 timeline, a lot of things seem to be coming together for the series' cast of characters, including a handful of plotlines that seem to be setting them all in the direction of the future we've been given a front-row seat to. With Mei (Stephanie Hsu) no longer in the picture to smooth tensions with Joel's (Michael Zegen) landlords at the club, he is beginning to look for a new location to open it in. Elsewhere, Susie (Alex Borstein) is actively trying to ensure that the rest of her clients are booked and busy, while Midge (Rachel Brosnahan) is running herself ragged by trying to work her day job at The Gordon Ford Show and take on gigs every night.
Speaking of The Gordon Ford Show, the topic of the hour is advertisers and Gordon Ford (Reid Scott) has very little interest in that topic, especially when it comes to some diaper cream advertiser that the bosses upstairs are wanting him to sell on the show. Gordon doesn't want to make an appearance at an upcoming event with the execs from the diaper cream company, but Midge sees an opening for herself. They need someone to entertain them, and she happens to be a comic and a mother with her fair share of diaper experience.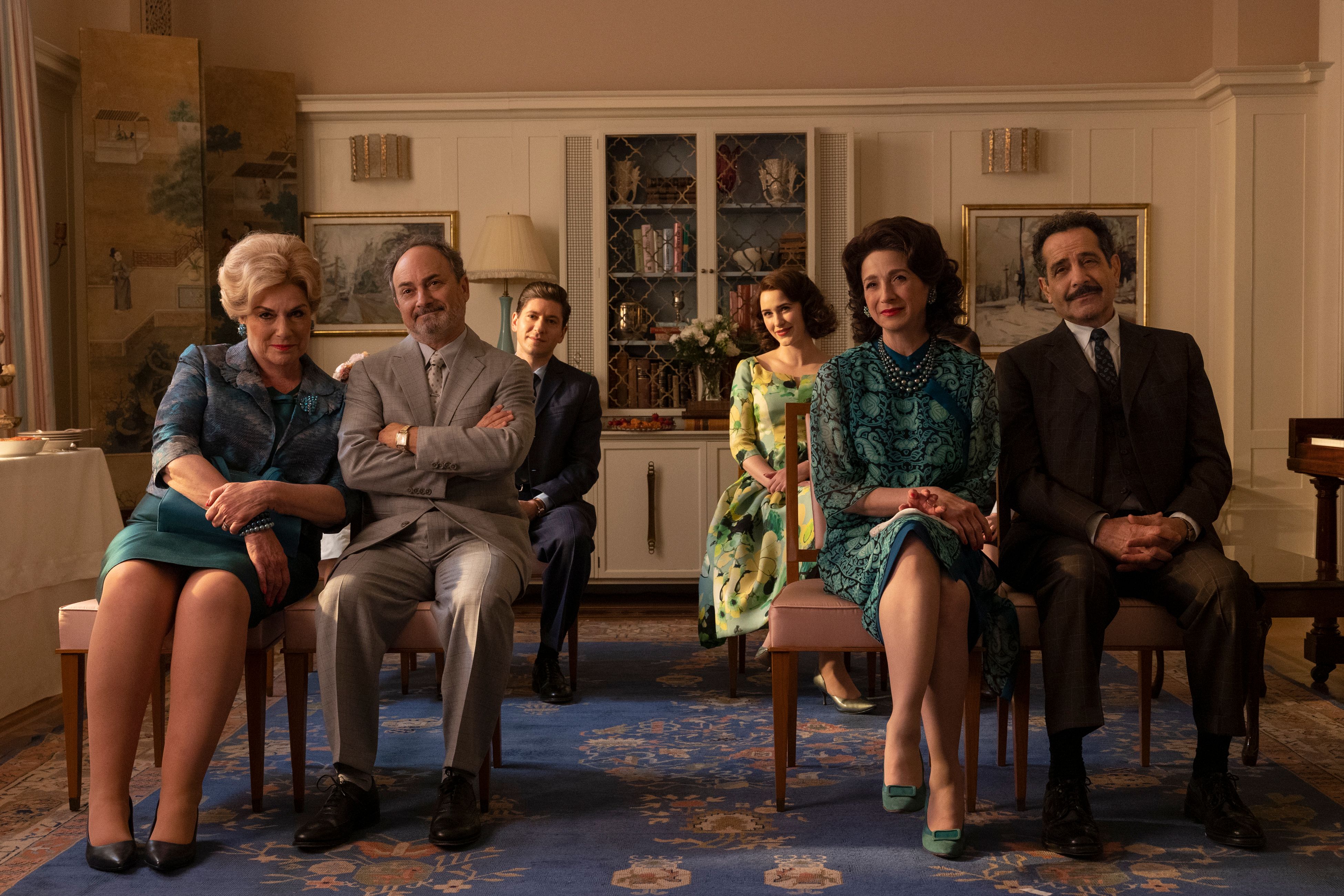 One of the more underdeveloped plotlines of Season 5 of The Marvelous Mrs. Maisel comes to a head in Episode 5 as Zelda's (Matilda Szydagis) whirlwind relationship with Janusz (Alexander Gemignani) takes the happy couple right to the altar—or at least a doorway in the middle of the Weissman's apartment. Zelda's marriage is a rude awakening for Abe (Tony Shalhoub) and Rose (Marin Hinkle), who realize they're about to lose their housekeeper. They try their best to act like they're sad about losing a member of their family, but in reality, they're just upset about the fact that they're going to have to do everything on their own now. It's not just Abe and Rose that have this realization either, Midge and Joel realize about halfway through the ceremony that they're going to lose their built-in childcare. How are they supposed to balance full-time jobs and their busy nightlives without Zelda to pick their kids up from school? If the flash-forwards are any indication, they never do figure out how to parent their kids.
The last few seasons of The Marvelous Mrs. Maisel have been really trying to make its audience care about Joel again. "The Pirate Queen" picks up a few months after Midge's trashy situation, and Joel still hasn't let go of the fact that he has an issue with Susie being in bed with the mob. Especially not if it means Midge is also in bed with them. The subject comes up again in Episode 5—with Joel tipping Midge off to the fact that he's hankering to play her white knight still—and the whole thing plays out in a way that's pretty reminiscent of Season 3. For long-time connoisseurs of the Amy Sherman-Palladino universe, it shouldn't necessarily come as a surprise that she's still stuck on trying to make Christophers happen. Set to the catchy tune of "Hernando's Hideaway," which is the perfect tango to play in a gay bathhouse, Susie goes full-on dog-with-a-bone while trying to chase down a role for one of her clients. Rather than going after it in a typical fashion, she opts to belittle and critique which weirdly pays off for her. This seems to be laying the groundwork for wherever Susie's career is headed, which we know is a success — even if it does mean she and Midge won't be on good terms in the future.
The Marvelous Mrs. Maisel has never shied away from the fact that Midge lives in a man's world, and Episode 5 is no different. After a very successful set on the yacht, where she fully charms the diaper cream execs and her Gordon Ford Show bosses, Midge risks it all to rescue one of the waitstaff girls from a lecherous execs. Unfortunately for Midge, the boat was in international waters when she decided to accidentally drop the execs' jacket over the railing, and—because, of course, his wallet was in his jacket pocket—she technically committed an act of piracy. Hence, "The Pirate Queen" title of the episode. With tensions rising between Gordon and George (Peter Friedman) who went through with the sponsorship event, despite Gordon telling him to shut it down, Midge manages to skirt around any actual repercussions for her actions. Gordon is pleasantly amused to have a pirate on his staff and Mike Carr (Jason Ralph) is thrilled to finally smell blood in the water with George.
Midge and Gordon's relationship continues to evolve in "The Pirate Queen," with Gordon taking what appears to be a genuine interest in her comedy career. While it's unlikely that she'll ever make her way onto The Gordon Ford Show without a little strong-arming, it does seem like Gordon appreciates that she's a very funny lady—at least where it pertains to making him laugh. It can't be ignored, however, that Gordon is her boss, and he's also a master of spin and charm. He makes a living sitting in front of cameras and charming his way into the hearts of his audience, much in the same way that Midge lures her audience in with her wit. At the end of the day, Gordon is Midge's boss, and he's also married, so his flirtation puts Midge in a bad position across the board. To the credit of The Marvelous Mrs. Maisel, the script seems entirely aware of this fact; after all, it's this episode where Midge saves the waitress from the creepy guy!
Five episodes into the final season of The Marvelous Mrs. Maisel, it feels like a lot of the magic of the show has already run its course. The flashforwards cut short any real enthusiasm. Rather than allowing audiences to live in the moment and savor the final episodes they have with their favorite characters, the series seems fixated on concocting plots that make the future make sense. Midge's future may be filled with success, but it paints such a lackluster horizon compared to the thrills and highs of Season 4. The jokes just aren't as funny as they once were.
Rating: B-
New episodes of The Marvelous Mrs. Maisel Season 5 are available to stream on Prime Video every Friday.
Source: https://dominioncinemas.net
Category: REVIEWS