I love love. This is an obvious prerequisite for anyone whose favorite genre is romance, but what is so compelling about these themes on a personal level goes far beyond what we are generally presented with on screen. It's what comes after the fall that makes for a good narrative: the building of trust, the friendship, the eventual distinction between physical and emotional intimacy, the shift as newness gives way to comfort and stability. When an entire story builds up to a sweeping declaration and a ride into the sunset — the culmination of the fall, but not beyond — these things get lost. Fortunately in the case of Netflix's sweeping, beautifully-told Queen Charlotte: A Bridgerton Story, love is present and intricately prominent throughout, taking center stage in all its brilliant facets.
Queen Charlotte: A Bridgerton Story follows the titular monarch as a young woman, played by India Amarteifio, as she goes from being a girl from a German province to the Queen of England, married to the mysterious young King George (Corey Mylchreest, whose kind eyes and charming smile are an absolutely devastating combination). Also at a critical juncture in her life is young Agatha Danbury (Arsema Thomas), recently elevated in a precarious society, and forced to fight to keep her place even though those around her would be only too happy to take it from her. The series also follows Queen Charlotte (Golda Rosheuvel), Lady Danbury (Adjoa Andoh), and Lady Bridgerton (Ruth Gemmell) in the Regency era, sometime between the second-to-last scene of Bridgerton Season 2, and the epilogue, as Charlotte attempts to get at least one of her thirteen living children married while Agatha and Violet reflect on their youth, their past loves, and what life might hold for the pair of them now.
As younger versions of characters we already know so well, both Amarteifio and Thomas do exceptionally well at making their interpretations their own. They layer in their performances with shades of Rosheuvel and Andoh's takes, respectively, but infuse them with something distinct. Thomas's Lady Danbury might be younger, but make no mistake: she is every bit as fierce and intelligent as her older counterpart. Married to a much older man (Cyril Nri), she knows what life is like under less-than-ideal circumstances, and already displays a take-charge attitude even as she gets used to the new ways of the ton.
Amarteifio's Charlotte has the youthful optimism — but never naïveté — of someone put in a position she has never had to occupy, but where she feels she can affect real change. Nearly everyone around her does their best to push her into her pre-determined place, including her mother-in-law Princess Augusta (Michelle Fairley), and her aide Brimsley (Sam Clemmett). Simmering just beneath her usually-composed surface are the warring urges to do things correctly as determined by others and as determined by her own will. The combination of the two eventually manifests into shades of the older Queen we all know and love.
Because Queen Charlotte is, first and foremost, a love story, the challenge in telling this particular story was always going to be finding a way to make it more of a romance, and less of a tragedy. Viewers who had already seen Bridgerton knew that the marriage of Queen Charlotte and King George (James Fleet) appears to be a difficult one, due in no small part to George's mental illness making him sometimes unable to remember his wife or the major events of their life together. While older Charlotte publicly displays very little emotion when speaking about her husband, it's obvious in her throwaway comments here and there, combined with the way she speaks to him in Bridgerton, that she still does love him very much. Her love for her husband was never in question, but rather how Netflix would make a swoony romance out of a marriage we know will suffer hardships due to inadequate mental health care available in the late 1700s, and the toll such inadequacies cause on those who need the care in the first place.
Amarteifio and Mylchreest's chemistry does, in a word, ensure that this story is every bit as swoony as a Bridgerton story should be. Their marriage was a foregone conclusion right from the start, meaning the show throws them headfirst into holy matrimony, rolling courtship and realities of marriage into one long, confusing experience. The two have no choice but to make their marriage work, all while Charlotte battles a new country and customs that other her, and George battles an internal threat that cannot be seen or understood by anyone around him. Watching them work through their relationship together, overcome life's challenges together, and fall even more and more into the kind of friendship-driven love most of us can only dream of was the most rewarding part of the entire season.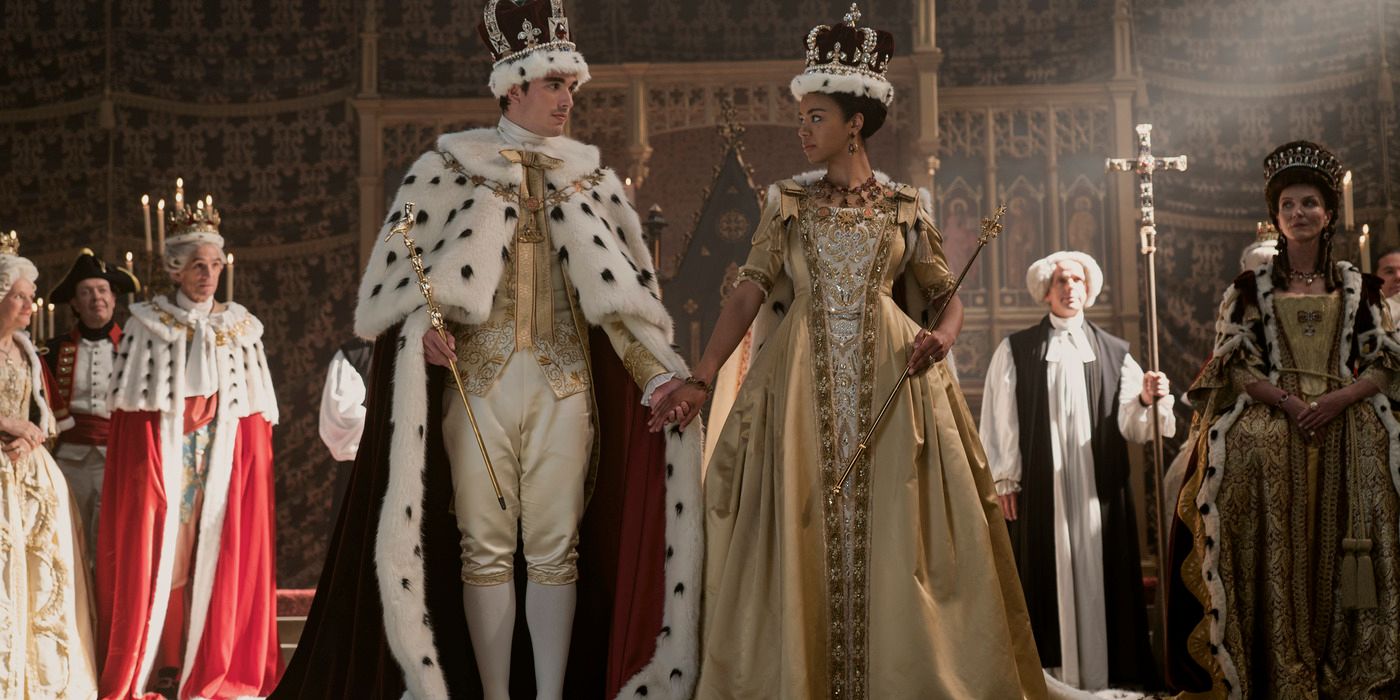 Unlike Bridgerton Season 2, which was largely salvaged by the sheer chemistry exuded by Jonathan Bailey and Simone Ashley, Queen Charlotte remembers to keep the central love story, well, at the center. The other stories, those surrounding Princess Augusta, Lady Danbury, as well as the three women in their later years, all function as plots on their own, but also serve to reinforce the world Charlotte and George live in, and color in the background of their struggles, ensuring Queen Charlotte never takes its eye off the prize. Underscoring the pressures on Young Charlotte as a new Queen married to a King with no heir is the "Great Experiment," that is to say the integration of British society and the elevation of people of color into the ton. As the "first of their kind," Charlotte is treated as the beacon upon whom the success of the entire venture rests. Her failure to have a successful marriage with George (read: produce an heir), will be viewed as a failure of the entire endeavor.
Much like in Bridgerton Season 1, while the intention behind this plot thread is clear enough, its execution winds up diluting any point it could have hoped to make. Part of the problem is never giving the issue an actual voice, reducing it to insinuations like "people like us," and "our side." A reasonably intelligent person can understand what is being said with no struggle, but by not giving it any voice, and steamrolling over the nuances of what generations of actual baked-in bigotry looks like, it unintentionally gives the impression that Charlotte and George's marriage solved systemic racism, with the only remaining vestiges of it being intolerant outliers. It's a shame that this particular plot point was handled in so shaky a fashion when every other larger theme the series wanted to touch on — grief, duty, happiness after tragedy, mental health — was navigated with so much more care. Fortunately, much like in the first season of Bridgerton, the actual technicalities of this Great Experiment only take up a small part of the story, leaving the bulk of it to be conveyed through performance instead, resulting in a much more nuanced outcome than writing alone can deliver.
Beyond the plot, the series is every bit as much a feast for the senses as the flagship series. From sumptuous gowns and decadent jewels to increasingly elaborate hairstyles, the creative team has really outdone themselves, upping the visual ante without ever overwhelming the characters. For fans of Bridgerton's distinct needle drops — those string quartet covers of pop songs — don't worry, those made the jump to the spin-off too. Queen Charlotte: A Bridgerton Story delivers a beautiful, self-contained love story that champions relationships both romantic and platonic built on a foundation of trust and connection, while never forgetting to keep the central romance — the diamond of this standalone season — at the heart where it belongs.
Rating: A-
Queen Charlotte: A Bridgerton Story begins streaming on Netflix on May 4.
Source: https://dominioncinemas.net
Category: REVIEWS