You know what they say: First comes love, then comes marriage. Then comes another marriage. Then comes…a family reunion in Greece? Alright, maybe that's not quite what they say, but for those of us who have spent the last 21 years with the Portokalos family, that is certainly the fun-filled ride we've been on. In the latest film in the series, My Big Fat Greek Wedding 3, writer-director Nia Vardalos reunites audiences with her extended on-screen family for a sun-dappled, laugh-out-loud, heartfelt comedy that manages to recapture a lot of the magic of My Big Fat Greek Wedding.
What Is 'My Big Greek Wedding 3' About?
Set roughly a year after the events of My Big Fat Greek Wedding 2, Toula (Vardalos) is having a rough time. She and her husband Ian (John Corbett) have both lost their fathers (Michael Constantine and Bruce Gray), and her mother Maria (Lainie Kazan) is struggling with the effects of aging, and with her memory. As hard as things are at home, though, she and Ian are headed for Greece, specifically her father's village on an island not far from Athens, for a family reunion.
Once they arrive, with daughter Paris (Elena Kampouris), Toula's brother Nick (Louis Mandylor), and aunts Voula (Andrea Martin) and Frieda (Maria Vacratsis) in tow, they're greeted at the airport by village mayor/resident taxi driver/utter scene-stealer Victory (Melina Kotselou), who arranged the whole reunion in the hopes that it would drive onetime residents of the village back home to hopefully settle and turn it into a bustling town once again. Also along for the trip is Aristotle (Elias Kacavas), the nice Greek boy Aunt Voula is determined to set Paris up with.
RELATED: How to Watch and Stream 'My Big Fat Greek Wedding 3': Find Showtimes
Beyond the chaos of a not-quite family reunion that would send any meticulous trip planner screaming for the hills, My Big Fat Greek Wedding 3 has a lot going on, but arguably that's part of the charm. There are only so many ways a vacation in an out-of-the-way WiFi-less town can go wrong before it starts to get old, so fortunately there is plenty to keep the Portokalos family occupied. Toula embarks on a quest to find her father's three childhood friends, with Ian both attempting to support her, and also wanting to take advantage of the first real vacation the two of them have had in quite some time.
Relationship Troubles Are Less Important in 'My Big Fat Greek Wedding 3'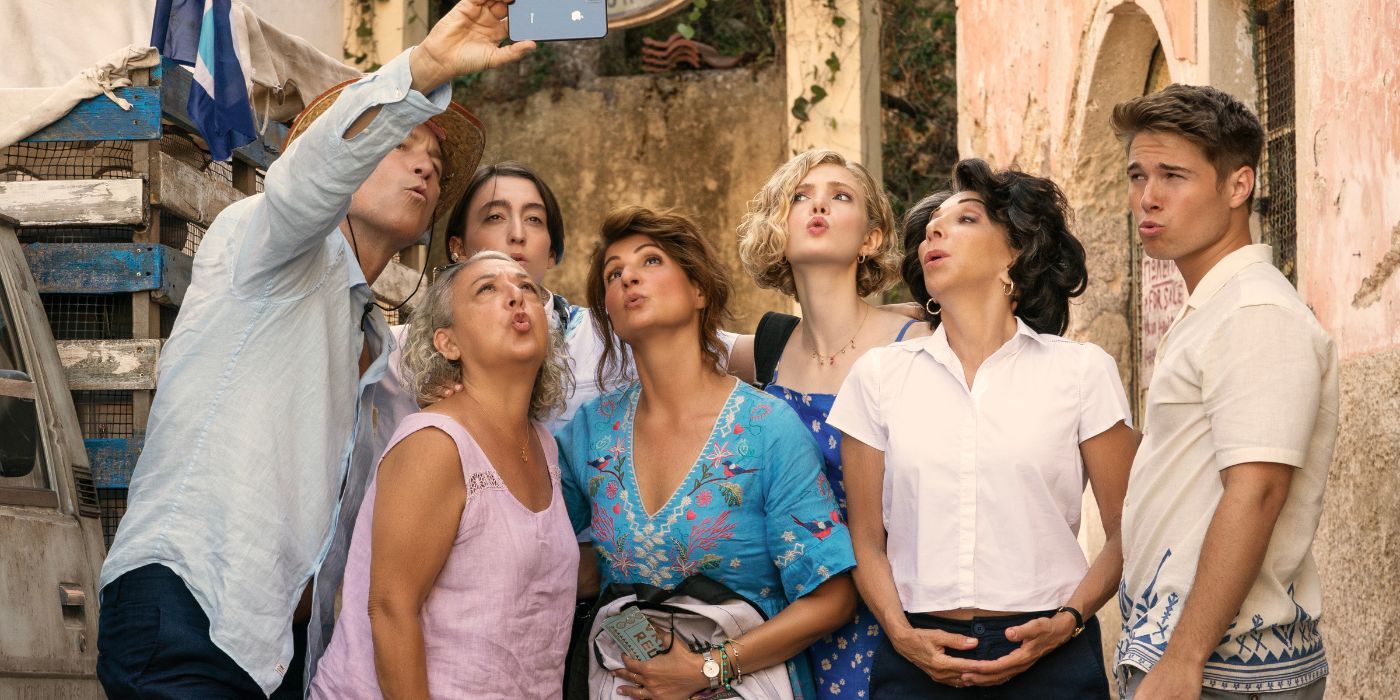 The smartest thing this movie series ever did was not ever throw Toula and Ian's relationship into serious jeopardy. Yes, they aren't the 30-somethings they were in My Big Fat Greek Wedding anymore, but Vardalos' script firmly leans into the new, comfortable dynamic of two 50-somethings who still clearly love each other very much, having moved past the speed bumps and growing pains in the second film. They are a sure thing from the beginning, and despite jokes about finding other men attractive, the story never gives into the lazy, easy temptation of undoing the romance told so beautifully in the first film only to hastily patch it up in 90 minutes.
The younger crowd also doesn't just play second fiddle to the older characters in their misadventures. Paris' journey almost mirrors Toula's in the first film. In that classic coming-of-age-in-an-immigrant-family way, Paris isn't sure how much of their culture and customs she wants to take on as her own, determined to forge an identity of her own, and grow up on her own terms, rather than those set out for her.
Victory takes Paris and Aristotle under their wing and introduces them to the two other young people in the village: Christos (Giannis Vasilottos) and his girlfriend Qamar (Stephanie Nur), a Syrian refugee living with their elderly host Alexandra (Anthi Andreopoulou). Qamar's presence opens the story up to by far its most serious facet: the arrival of Syrian refugees in Greece. In this too, the story does the best it can to balance such a heavy topic without ever losing the tone of a rom-com. To ignore it altogether would have been wrong. To make it the entire focus of the story also would not have been the right choice — that's not this story, and it's also not Vardalos' story to tell.
Instead, Syrian characters are featured liberally in the background of the crowd scenes, suggesting a lot of them have made their home on the island. Victory also tells Paris and Aristotle that while Christos and Qamar want to be together, his father Peter (Alexis Georgoulis) would never approve, wanting him to marry a Greek girl instead. The film takes an interesting — and for many of us, familiar — approach here too, examining when exactly a newcomer is welcomed as "one of us" versus how soon it becomes an "us vs. them" issue. Again, to belabor this point would distract from the overall joy of the film — the romance, the heart, and yes, even the titular wedding — but it's not completely ignored as a non-issue either, which would have felt dishonest.
'My Big Fat Greek Wedding 3' Still Has Plenty of Heart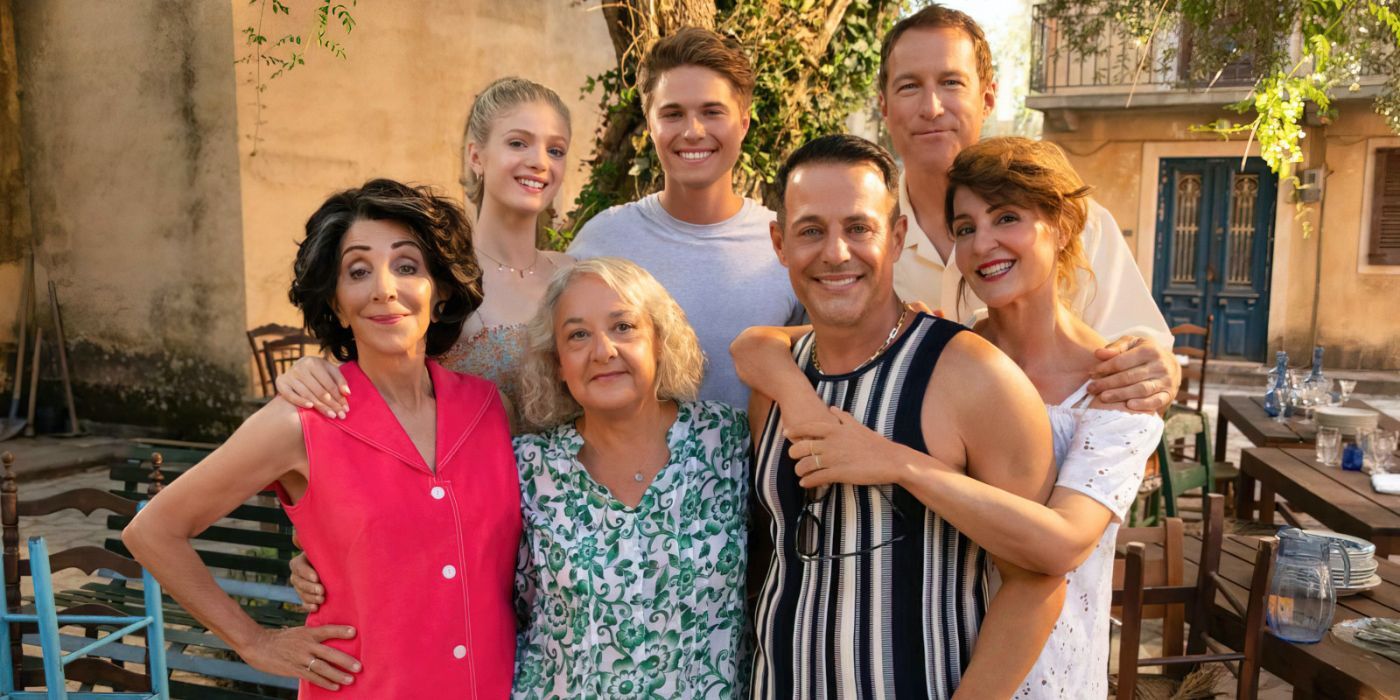 see more : 'The Marvelous Mrs. Maisel' Season 5 Episode 4 Review: Dashed Dreams & Trashy Treats
Where this film truly succeeds is in recapturing the same heart, and the same truth of the first film. Both of them are films that capture a certain point in a person's life, and My Big Fat Greek Wedding 3 does this with such specificity. Toula and Nick are coping with the sudden loss of their father and, heartbreakingly, the very gradual loss of their mother. They're becoming the oldest generation in the family whether they're ready for it or not. They each cope with the struggle and loss differently, but in the moments they lean on each other for support are funny, tender, and one of the truer sibling relationships I've seen on-screen.
For the younger generation, things are not as simple for them as they were for generations past. They're all dealing with a changing world, and the very real prospect of having to figure out what the rest of their lives look like, and whether they want it to be anything like their parents. Victory, in particular, has one of the more compelling arcs in the film, wanting to do the best by their little village, and by those who live there. They actively realize they're in a position to help people and make things better, and their journey to getting there is a true highlight of the film. As a personal note, watching Victory explain to Aunt Voula that they are non-binary — never outright stated, but pretty heavily implied — using the kind of language so many of us use for this kind of topic with older, well-meaning relatives, really struck a chord
Most importantly, for those of us who have been here since the beginning, My Big Fat Greek Wedding 3 is still laugh-out-loud funny. Between Voula and Frieda's auntie antics, to Nikki (Gia Carides) and Angelo (Joey Fatone) doing their best to win the Most Chaotic Sibling Duo awards with their hijinx, to some truly gasp-worthy moments, the comedy keeps things zipping right along.
As far as finales go, this beloved series could not ask for a better one than My Big Fat Greek Wedding 3. The first film did something truly special — it's the highest-grossing rom-com for a reason. While the second film embraced the larger-scale comedy side of things, My Big Fat Greek Wedding 3 feels much more focused. It is full of so much joy, and so much heart, celebrating family, culture, and love, while also emphasizing that even the most ancient of civilizations aren't completely trapped in the past, especially if the new generation has anything to say about it.
Rating: A-
The Big Picture
My Big Fat Greek Wedding 3 reunites audiences with the lovable Portokalos family for a sun-dappled, laugh-out-loud, heartfelt comedy.
The film follows Toula and Ian as they navigate a family reunion in Greece while dealing with the loss of their fathers and Toula's aging mother.
The movie balances serious topics with heartwarming moments and hilarious comedic antics from the Portokalos family.
My Big Fat Greek Wedding 3 comes to theaters starting September 8.
Source: https://dominioncinemas.net
Category: REVIEWS