While network sitcoms can often fall into the formulaic realm of comedy, that isn't the case for a number of cable shows deserving of more attention and critical acclaim, like Comedy Central's Awkwafina Is Nora From Queens. With the MTV Entertainment Studios production subverting actress and comedian Awkwafina's life pre-stardom through vibrant absurdist humor with co-creator, Teresa Hsiao, the quirky, half-hour sitcom's Season 3 reminds us why we love this quirky, down-on-her-luck, and chaotically horny character Nora Lin so much. Continuing its foray into the wild, eccentricities of life, the series finds our good-hearted, yet brash anti-hero taking audiences on another mystical ride with her family while steadily hitting the mark of a genuinely sweet, funny, and distinctly heartfelt sitcom with just enough pathos to make you tear up.
Picking up from the events of Season 2, which found Nora returning home to Queens after not enjoying the cult life with her Aunt Sandra (Ming-Na Wen) in New Mexico, things have taken a turn for the Lin family after the pandemic. While Nora happily quarantined with her lonely Grandma (Lori Tan Chinn) in the Season 2 finale, the 31-year-old has come out of lockdown changed even if she's still retreating into her usual habits, filled with facial expressions and silly voices, when things get too serious for her. Constantly comparing herself to others while striving for a larger-than-life existence despite marching the path of menial jobs, Season 3's Nora is much more self-aware, questioning herself and exploring the possibility of therapy in the premiere episode, "Nightmares," much to the anger of her Grandma because, as it goes, Asians don't believe in it. While she is still the type of person who can't do a pushup to save her life and will forever hallucinate following an anxiety spiral, she is constantly trying and that's what makes her all the more charming and endearing as a character rooted in realism.
RELATED: Awkwafina Is Really Trying in 'Nora From Queens' Season 3 Teaser
In addition to Nora's refreshed mindset branching out from the Season 3 premiere episode and an existential crisis she is navigating the best she can, her father Wally (BD Wong) is getting ready to propose to Brenda (Jennifer Esposito) but comes across his own issues that find the family patriarch keeping secrets this season. In many ways, Nora and her father are more alike than ever except he has a hard time admitting it to the ones he loves most. Meanwhile, in the premiere episode, Grandma mourns the loss of a friend as she looks ahead this season to really living her life and elevating her own legacy. But naturally, the family isn't complete without the successes of Nora's lucky cousin Edmund (Bowen Yang), who is hard at work enjoying his newfound fame with the procedural series "Love & Order" while sporting fashionable jorts.
see more : 'The Equalizer 3' Review: Denzel Washington and Antoine Fuqua Deliver a Gleefully Violent Final Installment
While the plots this season might appear thin on the surface and not every moment packs a consistent punch of laughs, Nora From Queens shows us most magnetically how this absurdist comedy is actually a strong character study of Nora. This all is due to the star power of Awkwafina who continues to demonstrate how compelling a performer she really is, especially through zestful expressions and physical comedy. Getting into the most bizarre and weirdest situations that are batsh*t crazy, like a Hunger Games-styled reality show where Nora eats a bird for survival, Awkwafina gives us her all, and it's this which makes the show so worth watching.
Nora is a character that has a lot of growing up to do as we have seen in the previous two seasons, but Awkwafina creates an incredible balance through a very nuanced performance in Season 3 of a lovable weirdo mixed with a relatable anti-hero, even if she has never read a book or can recall one she claims to have finished. She could be incredibly dispirited considering her life's circumstances and the constant comparisons feeding her anxiety, but the compartmentalized performer in her offers us a much more comical and energetic presence that helps set the show apart from others.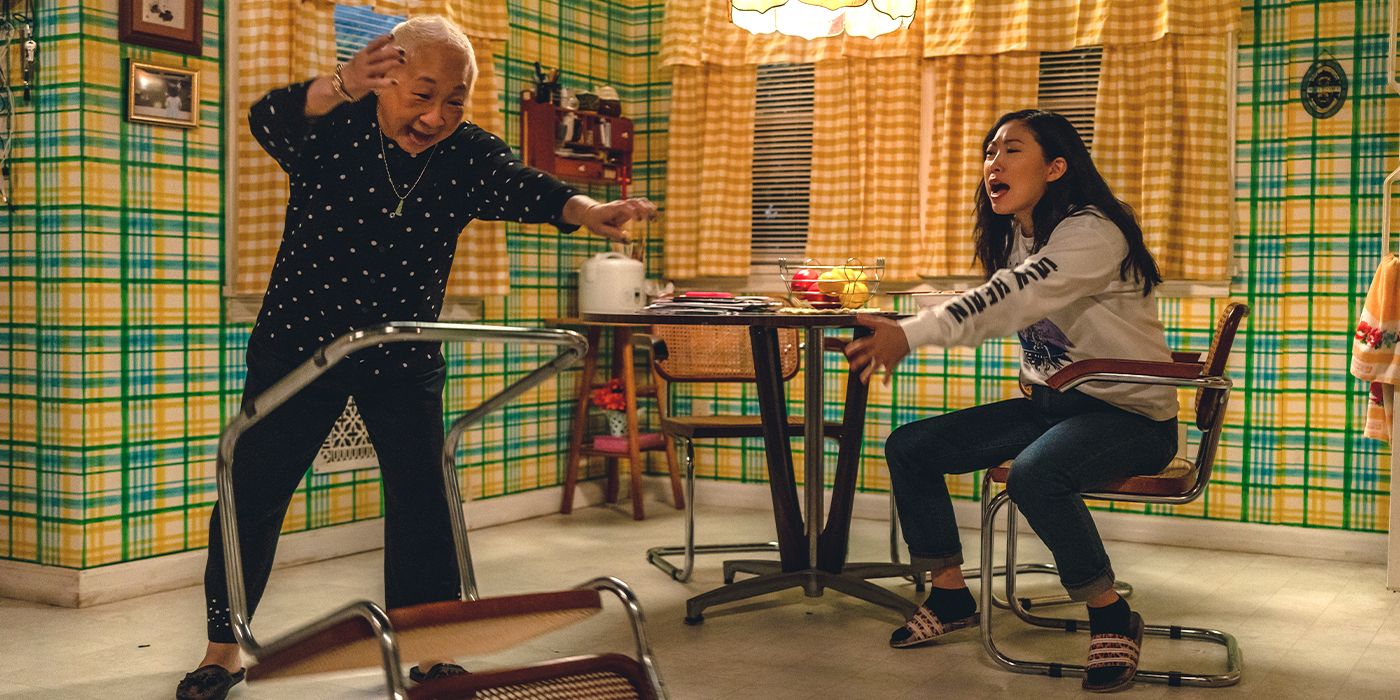 Though Awkwafina's Nora receives a lot of love and care this season through the understanding of a system rigged against her, the supporting cast is in a league of their own with an unfiltered joy that truly encompasses the show at its best. Yang, known for his sketch comedy on Saturday Night Live, gives us all the more reason to recognize how he is one of our generation's funniest comedians alongside Awkwafina. In an episode airing this season, Yang is front and center of the laughs with his performance after Edmund discovers how he is part Icelandic, taking Nora with him on a trip that boasts some of the funniest moments, including a Nordic makeover for the quirky cousin where he resembles a Children of the Corn.
Additionally, Wong shows us his range as Wally who hits some highs and lows, despite an incredibly adorable moment that finds him popping the question to Esposito's Brenda. Though fans got a sneak peek of the proposal in the trailer, there is more to this milestone that finds the two actors really digging into their characters and makes for a compelling, mature relationship as the season progresses. Topped off with the series' most beloved character in the jovially punchy and wild Grandma played by Chinn, the actress shows off her comedy in a number of episodes making her a real joy to watch since the start of this show in 2020 — even if she goes off the rails at one point this season, while wearing some heavy facial ink after teaming up with her niece.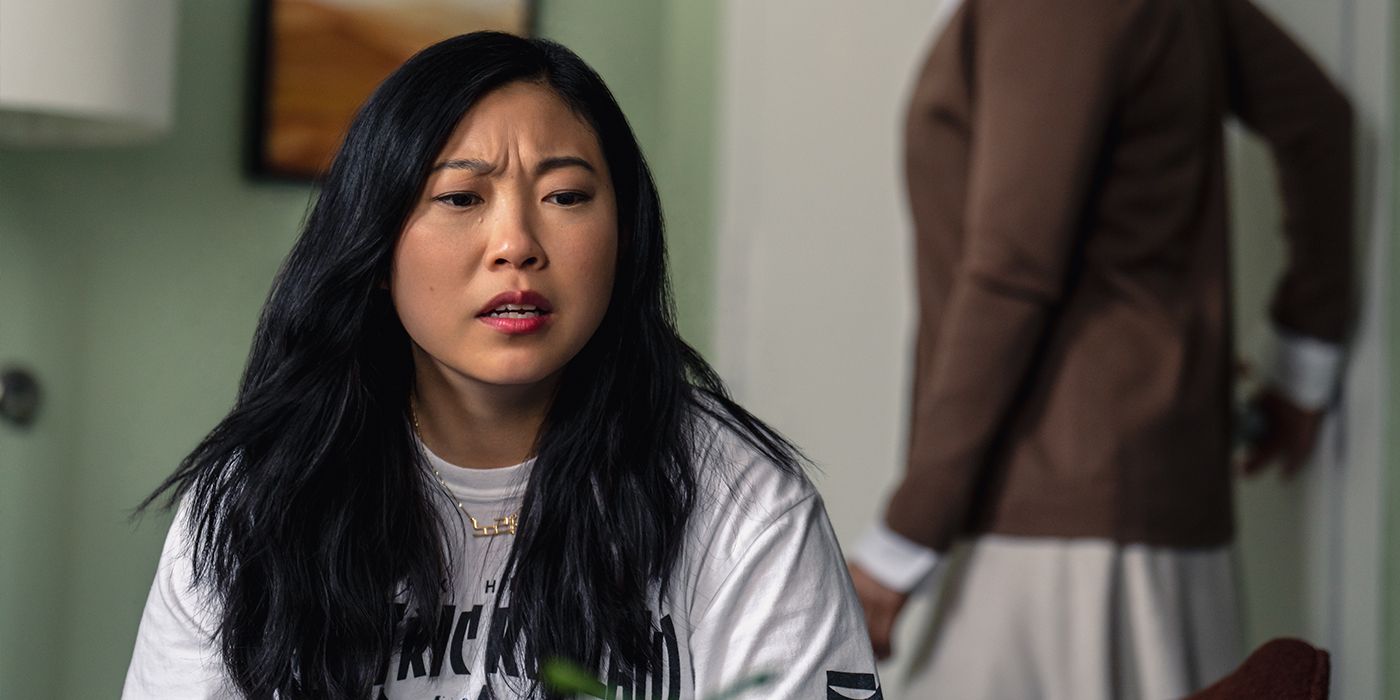 One of the sheer joys of this series, particularly with Season 3, is how nothing feels forced with its direction. Like the wisdom from Grandma reassuring Nora she will find her place in time, the series makes its purpose stand out through our anti-hero's microscopic interactions and internalized communications that appear rudimentary but are rather deep. In no shape or form does Awkwafina Is Nora From Queens ever fall into the trappings of conformist comedy so many on network TV often formulate for viewer engagement. Instead, the series finds its very unique characters and situations diverge from normative conditions while upholding cultural specificity through effortless sincerity. This makes the single-camera comedy one of the best to come out of the pandemic as it has grown through the feelings we all experienced through exceptionally unusual circumstances, making this a relatable, pointed joyride rivaling the delights of Broad City. While the writing is good this season, there are moments of weakness that find the actors carrying much more of that weight through their performances, shrouding that frailty but making it OK that it doesn't always work.
Fitting most delightfully into Comedy Central's brand of irreverent humor while injected with some mature comedy, it's Awkwafina's chemistry with Wong, Chinn, and Yang that also provides us a lot to look forward to as these four are the heart of the series through a plethora of entertaining multilayered dynamics. Awkwardly funny and lighthearted with a strong positivity, the series delves into the high of dysfunction and the endearing action of everyone just trying in life. Even if the writing is a tad weak in spots compared to its previous seasons, Awkwafina Is Nora From Queens Season 3 still has moments of laugh-out-loud hilarity mixed with poignancy, a sharp point of view, and a genuine heart that cannot be tamed.
Rating: B+
Awkwafina Is Nora From Queens Season 3 premieres April 26 on Comedy Central.
Source: https://dominioncinemas.net
Category: REVIEWS