White House Plumbers should be a home run. Its creator, David Mandel, is no stranger to political satire, having written for Veep, one of the best to ever do it. The cast is stacked with A-listers, from leads Woody Harrelson and Justin Theroux to a supporting cast that includes Lena Headey, Judy Greer, and Kiernan Shipka. Unfortunately, despite all of this, the writing will only ever allow what has all the makings of a great show to settle for being sometimes decent.
The miniseries tells the story of E. Howard Hunt (Harrelson) and G. Gordon Liddy (Theroux) — the two men who masterminded Watergate, a scandal that eventually led to their own arrests as well as Nixon's resignation. The limited series is comprised of five episodes, all around an hour each, and you feel every minute of its runtime. The editing choices feel strange, spending tediously long on some scenes with bits that overstay their welcome while breezing past what feel like key points. Instead of being snappy and exciting, the pacing feels disjointed and confusing. The show doesn't truly ramp up until the end of Episode 3, and one can't help but wonder if it should have been a movie instead.
The actors do their best with what they've been given — it's just a shame they weren't given more. This is especially apparent — and egregious — when it comes to Dorothy (Headey) and Fran (Greer), Howard and Gordon's wives. Dorothy is one of the smartest and most capable people in the series. While the fact she's underestimated is played for comedic effect, her underutilization veers more frustrating than funny. While there are glimmers of something more, she's largely relegated to the naggy, irritated housewife. Fran is the opposite of Dorothy, perfectly content to obliviously support her husband and carry out her wifely obligations and maternal duties. Headey and Greer are two powerhouses capable of depth and subverting your standard roles. But here? They're flattened into one-dimensional caricatures: Headey is just the straight man, Greer the comedic relief. They're enjoyable to watch — particularly when they get a chance to interact (and are brilliantly exchanging money via casserole pans) — but they both ultimately feel like wasted potential the majority of the time.
Their husbands don't fare much better. The series clearly wants us to see Howard and Gordon toggle the line between underdog and anti-hero, but the problem is they rarely feel like real people. There are glimpses of genuine emotion. For instance, a small moment from Harrelson after Howard and Dorothy have a fight is one of the best in the series. But these are few and far between. Perhaps that's the point — the irony — considering they are based on actual human beings, but it doesn't make for a very entertaining viewing experience. Howard's stubbornness and Gordon's wacky eccentricity are occasionally fun, but the shtick gets old fast. They feel ripped straight from a five-minute sketch — something that seldom translates well when extended to a five-hour story. Even in satire, things have to feel authentic, and they just never quite manage to.
Still, if there's something that can almost save it, it's their chemistry. Harrelson and Theroux are obviously having a ball playing off each other, and their enemies-to-reluctant allies, odd-couple dynamic keeps the show from completely falling apart. They both hate and love each other. They're both extremely different yet fundamentally similar. They're both bumbling idiots and criminal masterminds. The show is interested in juxtapositions, but it lacks the nuance to offer commentary on it in any meaningful way.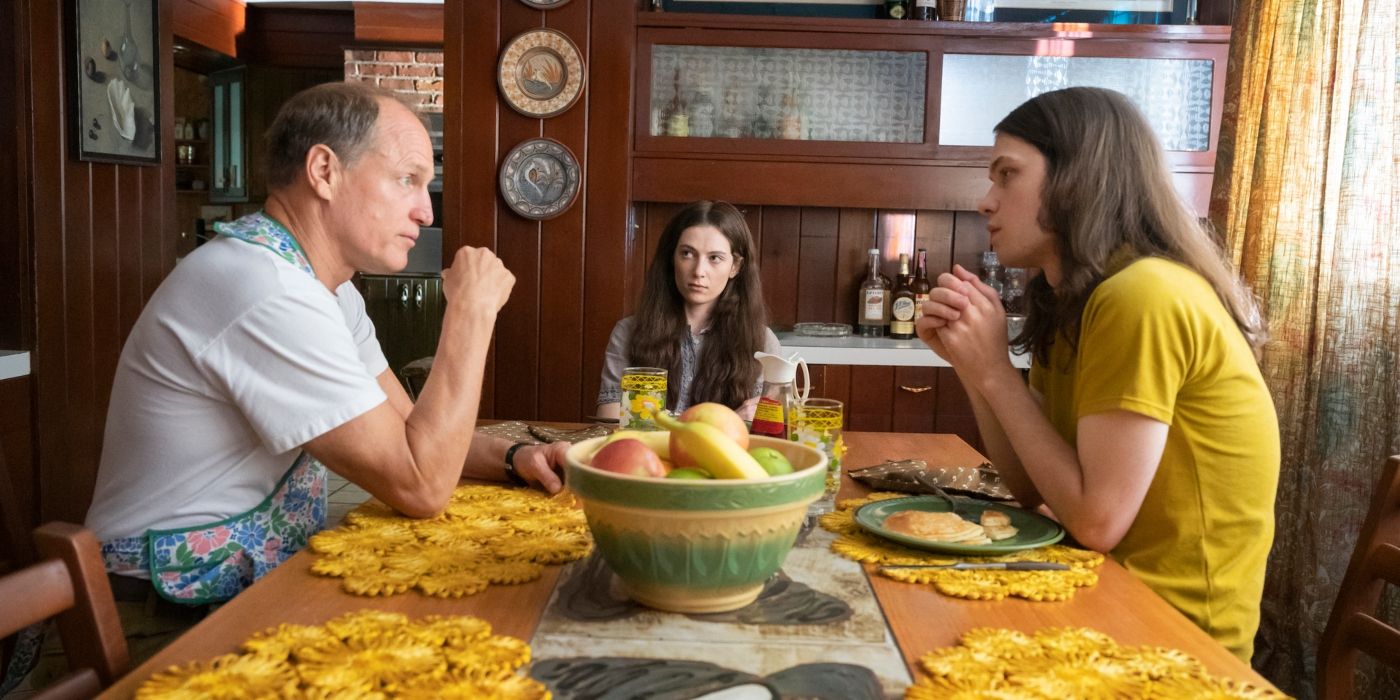 In addition to these character dichotomies, the focus also oscillates between worlds, splitting its time between focusing on Howard and Gordon's careers and home lives until the two are eventually forced to intersect. When they do, however, it feels too little too late, and it's hard to care that this professional debacle is blowing up things at home — especially because we rarely see Howard connect with his children in any meaningful way and they, too, feel boiled down to well-worn clichés: perfect and ambitious Kevan (Shipka), rebellious and struggling Lisa (Zoe Levin), hippie musician John (Liam Jones), and the youngest, David (Tre Ryder).
There is some effective comedy (Lisa and John attempting to make small talk while high is particularly funny) and intriguing tension to be found within the family unit, but the execution of the latter proves troublesome. Howard and Lisa are both stubborn to a fault and have vastly different viewpoints, making their dynamic ripe for conflict. But when they do butt heads, it almost feels like the show easily sides with Howard, letting him off the hook more often than not. And with allusions to Lisa's mental health issues, it all ends up feeling a bit cruel.
Of course, you have to look at the context of the time period and environment — it probably is a realistic depiction of how Lisa would have been viewed — but tone and genre come into play, too. A lot of her emotions feel exaggerated for laughs so she can be painted as crazy and obnoxious, which doesn't always sit right. Combined with dated jokes pertaining to race, as well as LGBTQ+, Jewish, and disabled people, it never feels offensive or controversial necessarily, but it does come across as a bit lazy, at times, content to rest on the laurels of it being the 70s where times were different and anything went. It begs the question of whether it has anything new to say.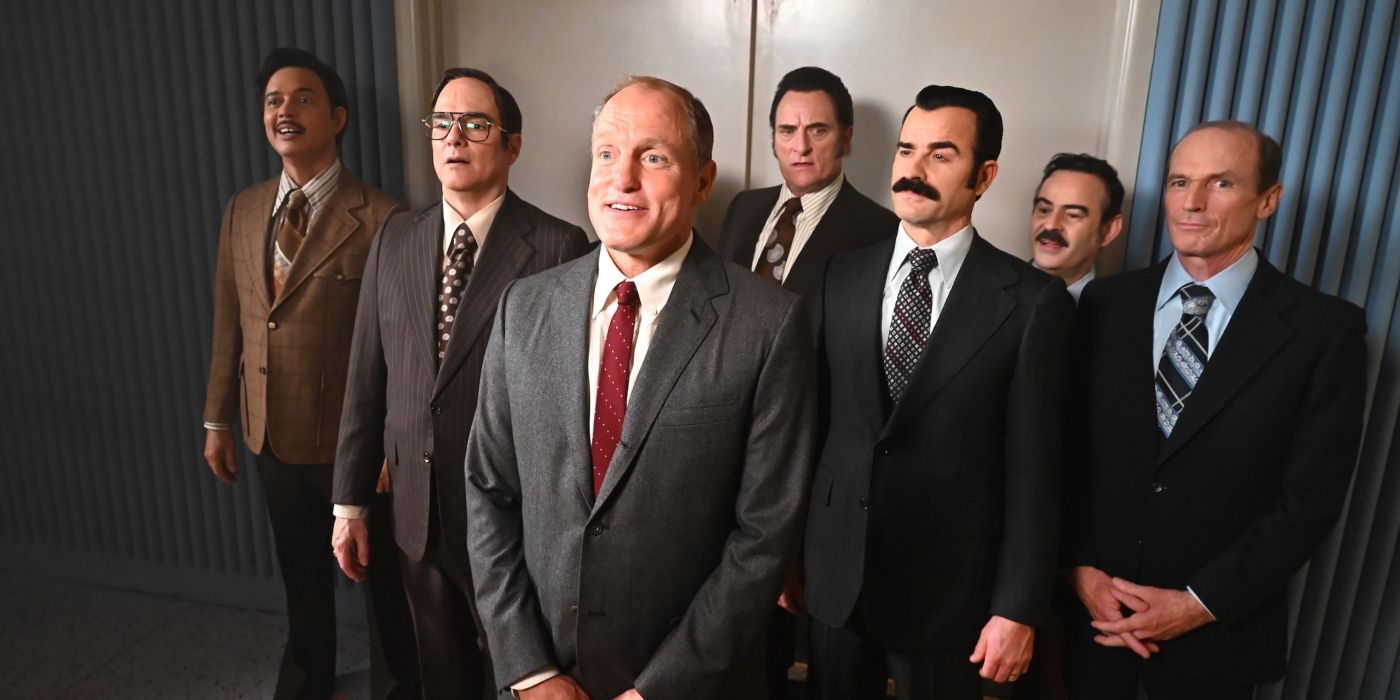 There are elements of the show that capitalize on the period in a more positive way, namely, the set and costumes. There's no doubt that White House Plumbers is stylish. The aesthetic feels ripped straight from the 70s, making for sleek and immersive visuals. The attention to detail — from the government buildings to the living rooms, the professional suits to the bohemian dresses — is clear. The music and cheeky subtitles peppered throughout also add a layer of flair, including the first few frames that tell us no names have been changed since mostly everyone involved was found guilty.
White House Plumbers is a satirical drama. The problem lies in the fact it's not sharp or clever enough to be a truly biting satire or deep or emotionally resonant enough to be a moving drama. It's an interesting story told in a merely adequate way. The combination of shocking real-life events and stellar performances should spark a strong reaction but will likely evoke nothing more than a shrug at best and slight annoyance at worst. It's a stylish watch, sure. It's just a shame it feels like that was chosen over substance.
Rating: C+
White House Plumbers premieres May 1 on HBO.
Source: https://dominioncinemas.net
Category: REVIEWS