This review was written during the 2023 WGA and SAG-AFTRA strikes. Without the labor of the writers and actors currently on strike, the film being covered here wouldn't exist.You know what you're getting yourself into when you go see a movie called Dicks: The Musical. It's the type of film that elicits giggles before you walk into the theaters. "One ticket for Dicks, please," alone makes the title worthwhile, a childish gag that is impossible to avoid. It's a fitting title for the film adaptation of the musical Fucking Identical Twins from writers/stars Aaron Jackson and Josh Sharp, and it's a title that this film absolutely lives up to, as its lead characters scream and brag about their genitalia and prowess in the bed right from the beginning. And while Dicks: The Musical, from Borat director Larry Charles, is often funny in that abrasive, adolescent humor sort of way—and intentionally so—it mostly forgets that being loud and crude usually isn't as funny as being clever.
Jackson and Sharp star as Trevor and Craig, two long-lost identical brothers who look nothing alike (despite the movie insisting they do), who find each other years after being separated. Trevor and Craig are both identical in their attitudes, however, as they continuously brag about their massive penises, and how they're always on top at their job selling vacuum cleaner parts. After butting heads at first, Trevor and Craig realize that they're both exactly what the other needs and form a friendship built around trying to get their parents back together. Trevor was raised by mom Evelyn (Megan Mullally), an eccentric woman who believes herself to be in her 90s, travels around in a wheelchair, and oh yeah, her vagina fell off years ago. Meanwhile, Craig was raised by the father Harris (Nathan Lane), who is just now announcing that he's gay, and who spends most of his time taking care of his "Sewer Boys," two monstrosities he found—fittingly—while sailing around the sewers of New York City, as one does.
'Dicks: The Musical' Gets Old Fast
Craig and Trevor's story, yes, is basically The Parent Trap, just with more Sewer Boys and fallen-off vaginas. And Bowen Yang as God. Oh, and as a musical, obviously. When Craig and Trevor take center stage, their songs are almost primarily overtaken by constant braggadocio and as many "fucks" as humanly possible. It's silly at first, but the tone of these songs gets old unfortunately too soon, especially as the first few musical numbers rely solely on them. Like most of Dicks: The Musical, Craig and Trevor are decidedly brash and irritating, and that can occasionally make their characters also feel like a bit too much to handle.
RELATED: TIFF 2023: The Movies We're Looking Forward to Most
see more : 'A Small Light' Illuminates a Real-Life Heroine Who Fought Against the Nazis | Review
Yet it's when Dicks: The Musical steps away from Craig and Trevor that this starts to find its unusual voice. Mullally and Lane are perfect choices for such a strange tale, and they sell these parts with all the Broadway-ready attitude that they require. Also receiving a disappointingly little amount of screen time is Megan Thee Stallion as Craig and Trevor's boss, who is the alpha within this alpha male world. Megan Thee Stallion only gets one musical number, but like with Mullally and Lane, it works because it's letting a person with fantastic musical talents take over and do what they do best.
But despite flying vaginas, songs about being blessed between the legs, and about as many 69'ing jokes as humanly possible to cram into a movie, Dicks: The Musical hits a weirdness plateau a bit too early. As the film falls more into the Parent Trap narrative, it starts spinning its wheels, relying on the same types of jokes that lose momentum with every retelling. With a comedy musical of this tone, Dicks: The Musical needs to continuously push the limits for this concept to work throughout.
Momentum Is a Problem in 'Dicks: The Musical'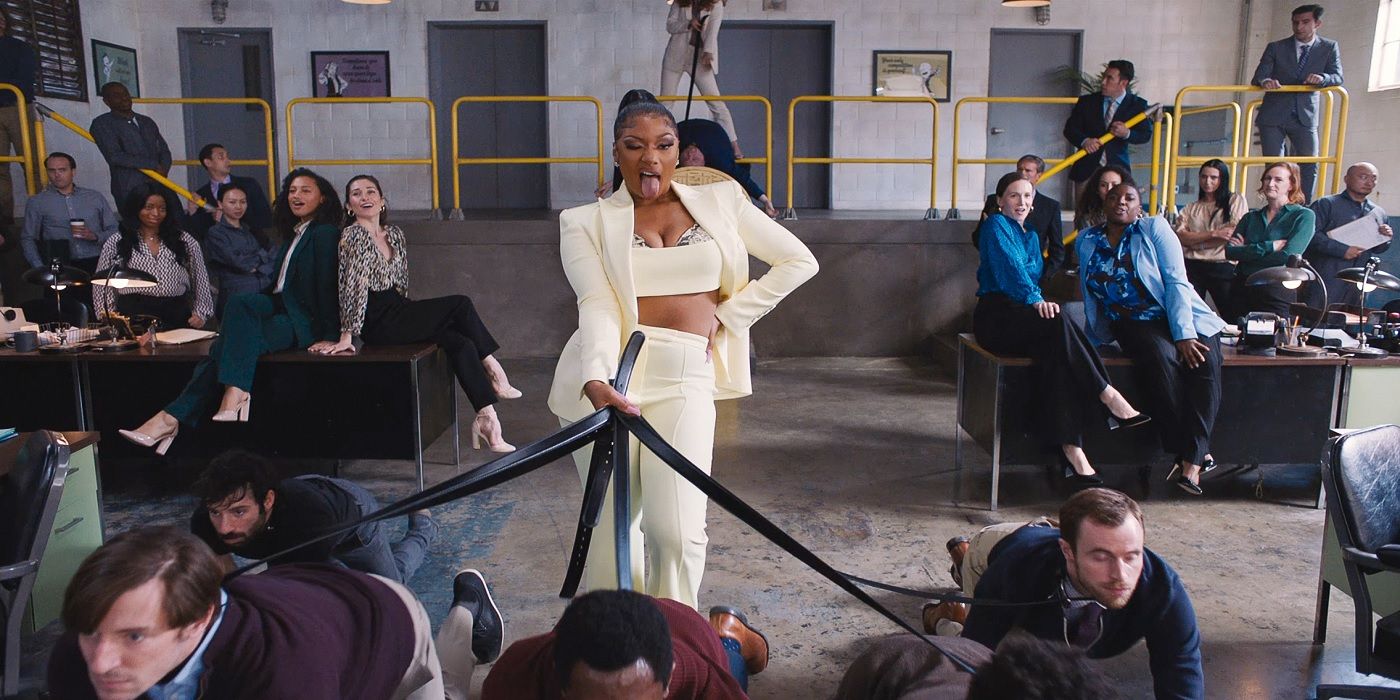 This is odd considering Charles knows how to build an absurd story in this way, whether through the awkwardness of Borat or the strange choices of the crew from Seinfeld. At a certain point, Dicks: The Musical loses its momentum and, while there are enough jokes throughout consistently to make this worthwhile, it's not the type of exponential growth that one might expect from Charles. In fact, some of the best moments of Dicks: The Musical come from Charles allowing the cast to just slightly break before he cuts, which is at least a fun reminder of just how absurd and ridiculous this entire concept is. Maybe the best part of Dicks is watching the outtakes, where Nathan Lane questions how his career got to this place.
see more : 'The Boy and the Heron' Review: Hayao Miyazaki's Latest Isn't His Swan Song, But It Sure Feels Like It | TIFF 2023
Still, Dicks: The Musical ends up going completely in by the end, embracing the horrifying and strange world that Jackson and Sharp have presented in a third act that is about as bonkers as you'd hope the entirety of the film would've been. Dicks: The Musical seems to think it's pushing buttons and boundaries throughout, but it's in this final act when you realize just how safe it has really been playing its story up to this point. It's excellent to see what Jackson, Sharp, and Charles can do when they actually do go as nuts as you'd hope, but it's a bit too little, too late by that point. At the very least, it's highly unlikely there will be another movie that ends with as much bravura and madness as this one does, so thankfully, Dicks: The Musical goes out on a surprisingly high note.
Dicks: The Musical is a decidedly big swing and a genuinely weird take on the musical that has its moments, but also feels a bit stretched too thin given its concept. There are absolutely highs to this weird wonderland of genitals and Sewer Boys—especially with that third act—but for a comedy that needs to build and build to this idea justice, Dicks: The Musical too often relies on the same jokes told over and over again with a narrative that can't continuously build the absurdity.
Rating: C+
The Big Picture
Dicks: The Musical is a brash and crude comedy that relies heavily on shock value and repetitive jokes, often forgetting to be clever.
The film's stars, Aaron Jackson and Josh Sharp, play identical brothers who constantly brag about their genitalia and engage in adolescent humor.
While the movie has its moments, especially in the third act, it often falls into predictable jokes and fails to continuously push the boundaries of its concept.
Dicks: The Musical premiered at the 2023 Toronto International Film Festival and comes to theaters on September 29.
Source: https://dominioncinemas.net
Category: REVIEWS