Less than one hundred years ago, the Nazi regime rose to power, ushering in hateful rhetoric under the guise of "well-meaning" Germany-first ideologies. The average person—who fit into what the government viewed as the "ideal" citizen—was free to turn a blind eye to the ugly truth of the situation. The regime-backed notion of "us vs. them" divided a country, and eventually, a continent, driving out rational thought from otherwise sensible people. If it didn't directly impact them, why should they care that books are being banned? Why should they care if their neighbor is being driven out because of their heritage? Why should they care if a local businessman has been shot dead by police for a minor offense? National Geographic's chilling biographical drama A Small Light isn't about those people, however; it's about the brave people who saw atrocities happening and looked for ways to help those being targeted, who looked for a way to shine a small light in the darkest of nights.
What makes A Small Light stand out among the ever-growing list of films and series based on the tragedy of the Holocaust is that it takes a very different approach. Rather than centering on the Franks—a family whose story is well-known—it shifts them into the periphery, opting instead to shed a light on a woman and a network of everyday heroes who are often relegated to the footnotes. Still, even with the shift in the narrative, the Franks and the horrors that Jewish people endured during World War II are never out of focus.
A Small Light is not so much about the victims of this atrocity, in the way that films like The Survivor have fashioned themselves, as it is about the people who risked their lives because it was the right thing to do. The series is blatant in its condemnation of people who reap the benefits of prejudice and hatred, blindly focused on their own small joys and creature comforts. Therein lies why there is a certain degree of unsteadiness deeply embedded in the harrowing story that unfolds. We know how history played out for the Franks, and we know the hateful rhetoric that led to the Holocaust isn't just history. The insidious hatred that led to such a tragic atrocity is still alive and well in 2023. The uneasiness that bleeds into the mundane moments of life showcased in the series, the horror that shreds through any semblance of joy, is made even more apparent through that modern lens, reminding its audience that eventually, they will have to reckon with what it means to turn a blind eye.
Despite recent attempts to minimize the legacy of Anne Frank and her family, most people are aware of what the Frank family endured during the Holocaust, in part, because Anne's diary was preserved and published for the world to read. Her diary gave a brutally honest glimpse into what life was like for a young girl coming-of-age in an era that actively sought to—and succeeded in—killing her. A Small Light focuses on the story of Miep Gies, the woman who, alongside her husband Jan Gies, bravely hid the Frank family, as well as other Jewish families and Anti-Nazi activists. Without her, Anne's diary would have been lost to time and her voice would have been successfully silenced.
Miep Gies' (Bel Powley) story unravels in a non-linear fashion throughout A Small Light, and sometimes, in hindsight, the audience is able to see that the facts are occasionally provided by unreliable narrators, often through the lens of Anne Frank's (Billie Boullet) unwavering optimism. Powley does well at playing Miep as a doe-eyed, yet head-strong woman who is forced to grow up in an unimaginable time. At the onset of everything, Miep's biggest concern is fighting her adopted family's attempts to marry her off to her adopted brother and finding a job to tide things over. It's the latter part of her story that brings her into the Frank family's lives. While looking for a job she comes across a job listing for a businessman who has recently moved from Germany to the Netherlands, in hopes of saving his family from the persecution in their homeland. Otto Frank (Liev Schreiber) is hesitant, at first, to hire Miep because she has no experience, but it's her tenacity and steadfast belief in doing the right thing that eventually leads to him trusting her enough to ask for her to shelter his family despite the unfathomable risks.
While so much of A Small Light is focused on the bleak realities of Nazi occupation and Miep's actions to hide the Franks in the hidden annex in Otto's shop, the series also focuses on the beautiful love story between Miep and Jan (Joe Cole). What starts as a marriage of convenience blossoms into a passionate union between two people who cannot sit idly by. While Jan's participation appears slow to form, his actions often burned brighter than Miep's own fire. Their relationship is one of extremes, and it's framed in a very nuanced fashion, adding compelling layers to what it means to take action. While Miep is focused on the Franks and families like them, Jan is thrown headfirst into the Dutch Resistance, all the while downplaying his involvement for Miep's benefit.
Some of the most compelling aspects of Miep's story are also anchored to her friendship with Tess (Eleanor Tomlinson) who is willfully oblivious to the reality of the world around them. Through Tess, Miep gets her first glimpse of how ignorance can corrupt an otherwise good person. Tess isn't an inherently bad person, and her justifications for why she willingly supports those involved with the Nazi Party make sense—she's doing what she has to do to survive. But still, she stands as a sharp contrast to Miep's willingness to be a helper, because Miep could've easily taken the same path as her friend. Tess is a fascinating enigma of a character. She is so wrapped up in the glamor of the era and focused on saving face, that she is entirely unwilling to see how her inaction has far-reaching ramifications.
A Small Light does stray from historical accuracy in certain areas, opting to instead fictionalize some of the staff at Otto Frank's Opekta business. It also fails to give any real depth to Bep Voskuijl who befriended Anne and assisted the Frank family in hiding, much in the same way that Miep does throughout the series. It seems that perhaps for the sake of simplicity, her contributions have been folded into Miep's storyline in subtle ways. Her omission is understandable, though no less sad, as she was another woman who risked it all to do the right thing. As the real-life Miep said at the time of Bep's passing, "The special thing about Bep was that she was so humble. She was heroic without bravura, simply assumed that the hiders in the Annex must be helped. For her, that wasn't a difficult choice to make." Even the most humble heroes still deserve to be part of the stories they helped to create.
see more : 'The Movie Teller' Review: Lone Scherfig's Adaptation Mines the Art in Heartbreak | TIFF 2023
Beyond the script, which succeeds at delivering an emotional and poignant story, A Small Light's cinematography and production design elevate it even further. Towards the end of the series, as the war draws to a close and the hour of the Frank family's fate arrives, the scenes begin to feel very vacant and isolating. This subtle framing creates a strong sense of absence: of hope, of life, of a future. Stuart Howell brings a real understated beauty to his cinematography, utilizing the camera's own language to flesh out each harrowing moment. The series' costuming also helps to build out the world, with costume designer Matthew Simonelli bringing in simple designs that feel lived-in. The costuming works in concert with every other aspect, helping it feel visually compelling, even with its simplicity. There are beautiful contrasts too, showcasing the ostentatious lives of those who danced while the Jewish people died.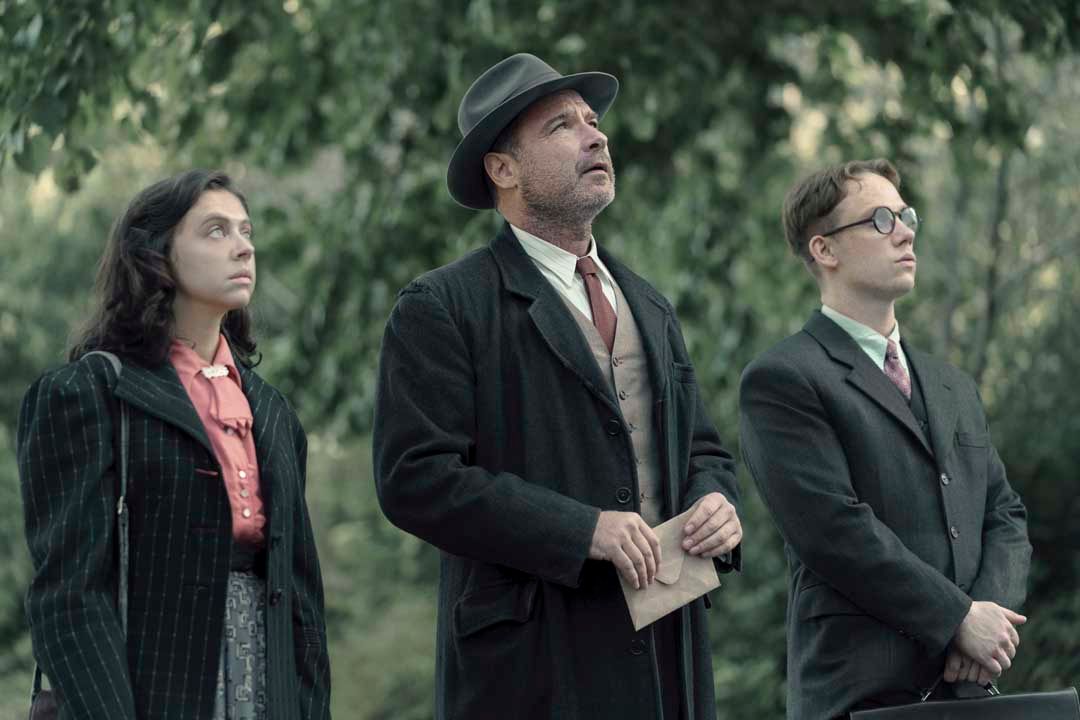 At points, A Small Light can feel quite slow, but this reinforces the idea that these things don't happen quickly. Hatred is slow-moving. Even when horrible things occur, life blissfully moves on for the unaffected. Opting to tell this story via a series, rather than a movie, was ultimately the right decision. Rushing through Miep's life for a truncated movie would've allowed for disingenuous framing. Her choices weren't quickly made—they were a series of purposeful decisions stretched out over time. As were her husband's and all the members of the resistance who fought back, in their own ways. While it may prove difficult to retain viewers week-to-week, A Small Light has the potential to be an incredible series to binge once it is all out. Each episode flows into the next, building on the creeping sense of foreboding and delivering twists and turns.
A Small Light is a beautiful and heartbreaking reminder of what "helpers" are capable of doing. While there is joy and laughter and life on full display throughout the eight-part miniseries, it never strays too far from reminding its audience that there are people, still today, looking to snuff out those aspects of life. Still, A Small Light is safe in its exploration of this era, staying the course of familiar hallmarks of biographical dramas. It isn't gratuitous in how it displays the atrocities, which makes them even more agonizing because that is how they happen in the moment. History is happening all around us, but we often don't see it until it's printed in textbooks.
Rating: B+
A Small Light premieres on National Geographic on May 1, and it will stream on Disney+ and Hulu. New episodes air Mondays on National Geographic, in addition to streaming on Disney+ and Hulu.
Source: https://dominioncinemas.net
Category: REVIEWS