This review was written during the 2023 WGA and SAG-AFTRA strikes. Without the labor of the writers and actors currently on strike, the film being covered here wouldn't exist.
Of all the memorable work that actor Simon Pegg has done throughout his career, it is unlikely that writer-director Adam Sigal's ambling crack at a dark comedy Nandor Fodor and the Talking Mongoose will be remembered as one of his best movies. However, it might be one of his strangest, though not in the way one may hope. Even with an intriguing mouthful of a title that seems to indicate a great deal more absurdity, it is an awkwardly straight-faced period film without any prevailing vision on a technical or thematic level. Instead, it feels like it was made on a lark without achieving nearly the degree of whimsy or wonder needed to actually succeed in pulling it off. The cast is sufficiently fun and the remote location a proper backdrop for the offbeat story to play out. It just never brings all its pieces together, revealing that the greatest paranormal force haunting the entire affair is the ghost of a better film.
This all begins with the titular Dr. Nandor Fodor (Pegg) who we are informed is the world's foremost parapsychologist (meaning he looks into supernatural occurrences) in the 1930s. He is quite skeptical of most cases that come his way until something new begins to complicate this. Drawing rather loosely from the real historical figure's work, which is more interesting to read up on than this sporadic interpretation of it, we are soon thrown into a particular investigation that's one of the most eccentric ones he has ever had to take on. Specifically, it is of a talking Mongoose named Gef who inhabits a remote area on the Isle of Main. Humorously voiced by Neil Gaiman, one of the more inspired creative decisions in the mostly empty experience, the animal is believed by locals to have knowledge that he will share with them. Dr. Fodor and his ever-patient assistant Anne, played by the always delightful Minnie Driver, then set out to figure out what is going on in this small corner of the world. The journey in pursuit of knowledge they undertake, while lightly humorous, is an ultimately forgettable one without the earned charm necessary to make up for its persistent lack of substance.
The Farce of 'Nandor Fodor and the Talking Mongoose' Falls Flat
see more : 'One Piece' Review: A Swashbuckling, Self-Contained Adventure for the Straw Hat Crew
Much like the investigation Dr. Fodor undertakes, it all increasingly feels like a fool's errand. Everything it seems to start to dig a bit deeper into, whether it is in its humorous tone or thematic interests around faith, never comes to life with enough gusto to leave any impact. While different in almost every regard, the film that was oddly echoing around while watching this one was last year's The Wonder starring Florence Pugh where she led what was often a truly wondrous look into profound and fundamental questions about belief itself. Even as the time period, general tone, and circumstances of its story are vastly different, Nandor Fodor and the Talking Mongoose comes across as almost a spoof version of that. At least, that is how it can feel in a more abstract sense. In execution, it is only half-heartedly interested in leaning into jokes and doesn't make any comprehensive attempt at clever deconstructions of the tropes of paranormal films. The longer it goes on, the more it pours on a sincere yet superficial sappiness that is never given the proper care to really take hold. It is a film that you absolutely want to root for, but it gives you little with which to do so. While there are plenty of films that can coast on mostly okay vibes and still hold together, this is not one of them. It is never entertaining or engaging enough to make the slapdash story into a cohesive comedic vision.
RELATED: Simon Pegg Ranks Tom Cruise's Most Dangerous Stunts Including 'Mission: Impossible – Dead Reckoning'
Even in just an opening scene where we get a dump of exposition via flashback narration from Dr. Harry Price, another investigator who also looked into the case, there is a sense that it has reached a ceiling of what it could potentially do with this story. Though it is nice that this is done by Christopher Lloyd, whose brief appearances bookend the film, the material that he and the rest of the cast are working with is too fleeting. An argument could be made that this is the point and that, if you look hard enough, you can see a more reflective work of storytelling wrapped up in this largely vacuous series of events. While an interesting read, all of this remains trapped in a theoretical version of what the film could have been rather than the one we actually got. For all the ways it may stretch into some unexpected places that attempt to subvert where we think it is going, none of them hold much of any muster.
'Nandor Fodor and the Talking Mongoose' Builds to Little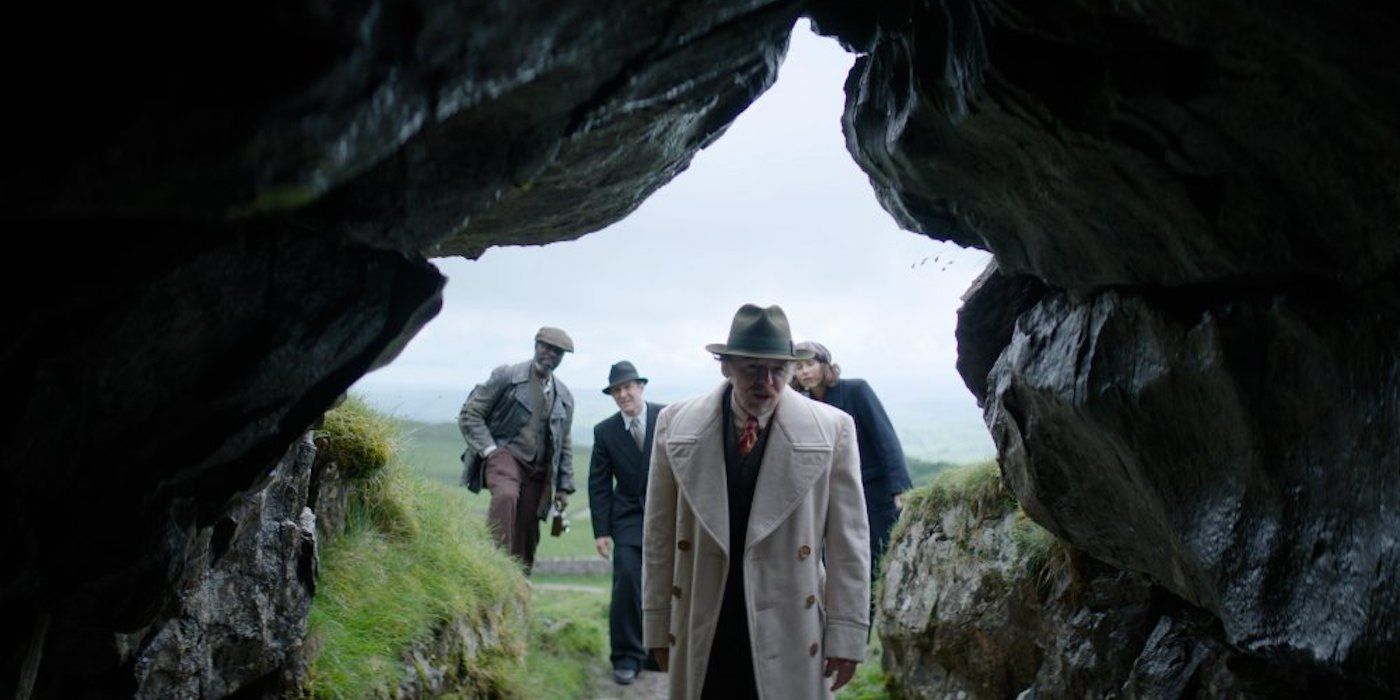 The greatest surprise comes in the final moments where it makes one last grasp for something more via a woefully rushed monologue and sequence of scenes. As it hammers home what it was about, it feels more like a shrug than the showstopper of a finale it seems to think it is. It never cuts more than skin deep as we only catch glimpses of the bare bones of a film rather than one of actual flesh and blood that gets going anywhere. For all the ways the film is about belief and embracing the uncertainty of what we don't know about the world, it doesn't have the faintest idea of how to put in the work to get you to believe in any of it.
Rating: C
The Big Picture
Nandor Fodor and the Talking Mongoose is an awkwardly straight-faced period film lacking in technical and thematic vision.
Despite a fun cast and a remote location, the story never brings all its pieces together, resulting in a lackluster and forgettable film.
The film falls flat in its attempt to lean into either humor or thoughtful reflections as it all only amounts to a superficial experimence.
Nandor Fodor and the Talking Mongoose is in theaters starting September 1 and on VOD September 19.
Source: https://dominioncinemas.net
Category: REVIEWS