It's time for a big, fat, week-long party! With just one week left before the release of My Big Fat Greek Wedding 3, Focus Features is getting into the swing of celebration with a special "Greek Week" event, a week-long celebration of love, food, family, and especially the characters first created by Nia Vardalos in the beloved original 2002 romantic comedy. The five days of festivities will come to an end on September 8, the day My Big Fat Greek Wedding 3 hits theaters, but if the wait seems unbearable, don't worry: there's plenty to keep you busy until then!
you are watching: 'My Big Fat Greek Wedding 3' Is Hosting Fan Events, Screenings, and Free Weddings
Greek Week kicks off on Monday, September 4, where fans can share their excitement for the latest outing with the Portokalos family by sharing their film-inspired posts all across social media using the official hashtag, #MyBigFatGreekWedding3. On Tuesday, September 5, blogger Amy Lupold Bair, who runs Resourceful Mommy will be hosting an official watch party of the original My Big Fat Greek Wedding on Twitter at 5PM PT/8PM ET using the hashtag #MyBigFatGreekWatchParty.
It's Wedding Wednesday on September 6, with Focus Features offering free weddings at participating chapels across the U.S. for one day only. For those in New York City, the Today Show will host a live-on-air wedding for one lucky couple in Rockefeller Plaza, where fans can also swing by later in the day to take pictures in the special Wedding Chapel pop-up activation. Fans in New York, Los Angeles and Chicago can attend advance screenings featuring an exclusive photo activation and giveaways including t-shirts, snacks, and even Windex. Additionally, advance screenings will be held in Atlanta, Boston, Cleveland, Detroit, Miami, Philadelphia, San Francisco, Tampa and Washington, D.C. Finally, on September 7, participating locations in New York and Los Angeles will be offering free food, drinks, discounts and other giveaways.
What Is 'My Big Fat Greek Wedding 3' About?
My Big Fat Greek Wedding 3 follows Toula (Vardalos), her husband Ian (John Corbett) and the rest of her family as they head to Greece for a chaos-filled family reunion, and to fulfill the final wish of Toula's late father Gus (Michael Constantine). While there, Toula is on a mission to find Gus's childhood best friend, a mission that naturally is not as easy as it sounds. The film also stars Elena Kampouris, Louis Mandylor, Lainie Kazan, Andrea Martin, Gina Carides, Joey Fatone and Gerry Mendicino.
see more : Where to Stream 'Guardians of the Galaxy Vol. 3'
My Big Fat Greek Wedding 3 hits theaters on September 8. Check out the full list of Greek Week events and the list of participating New York and Los Angeles giveaway locations below: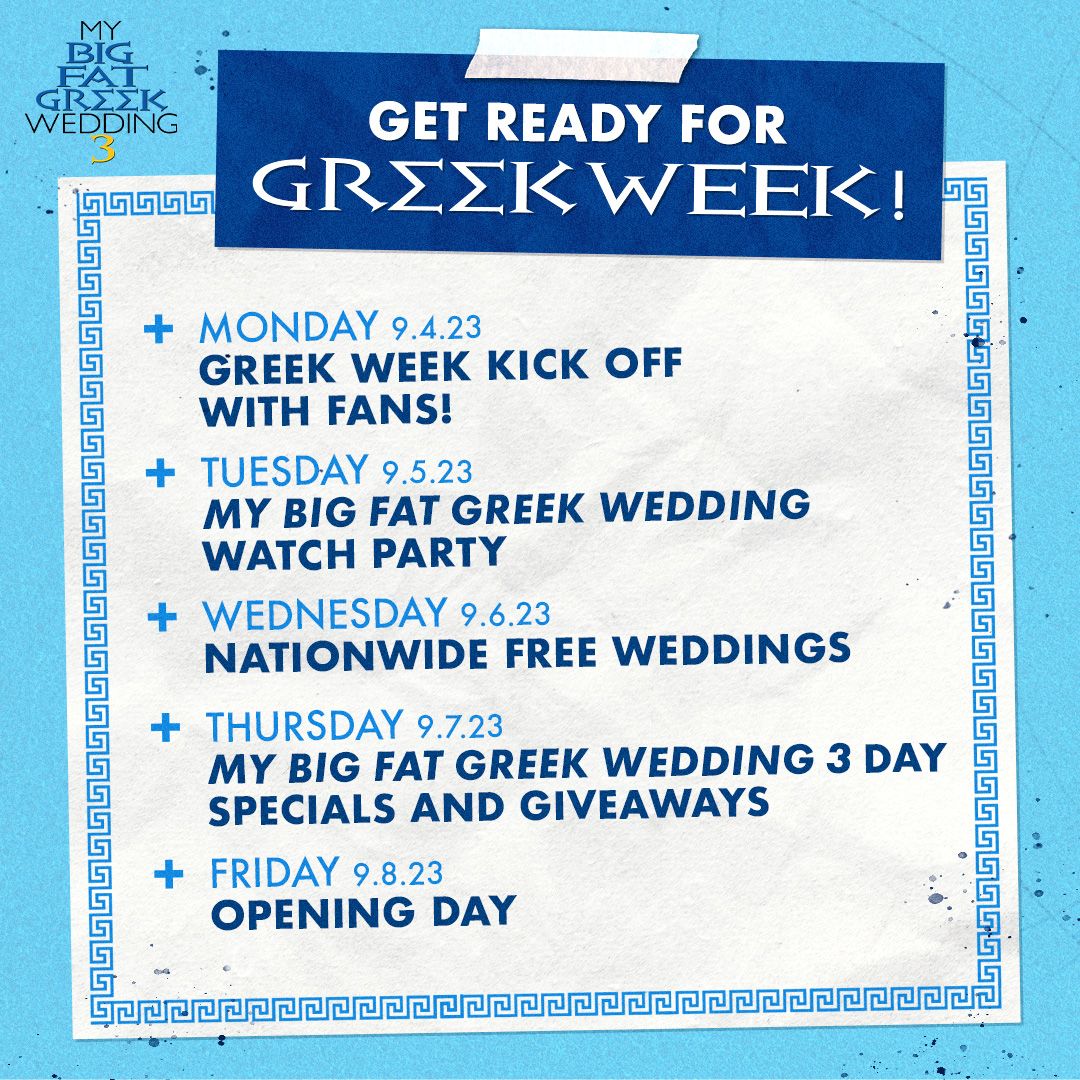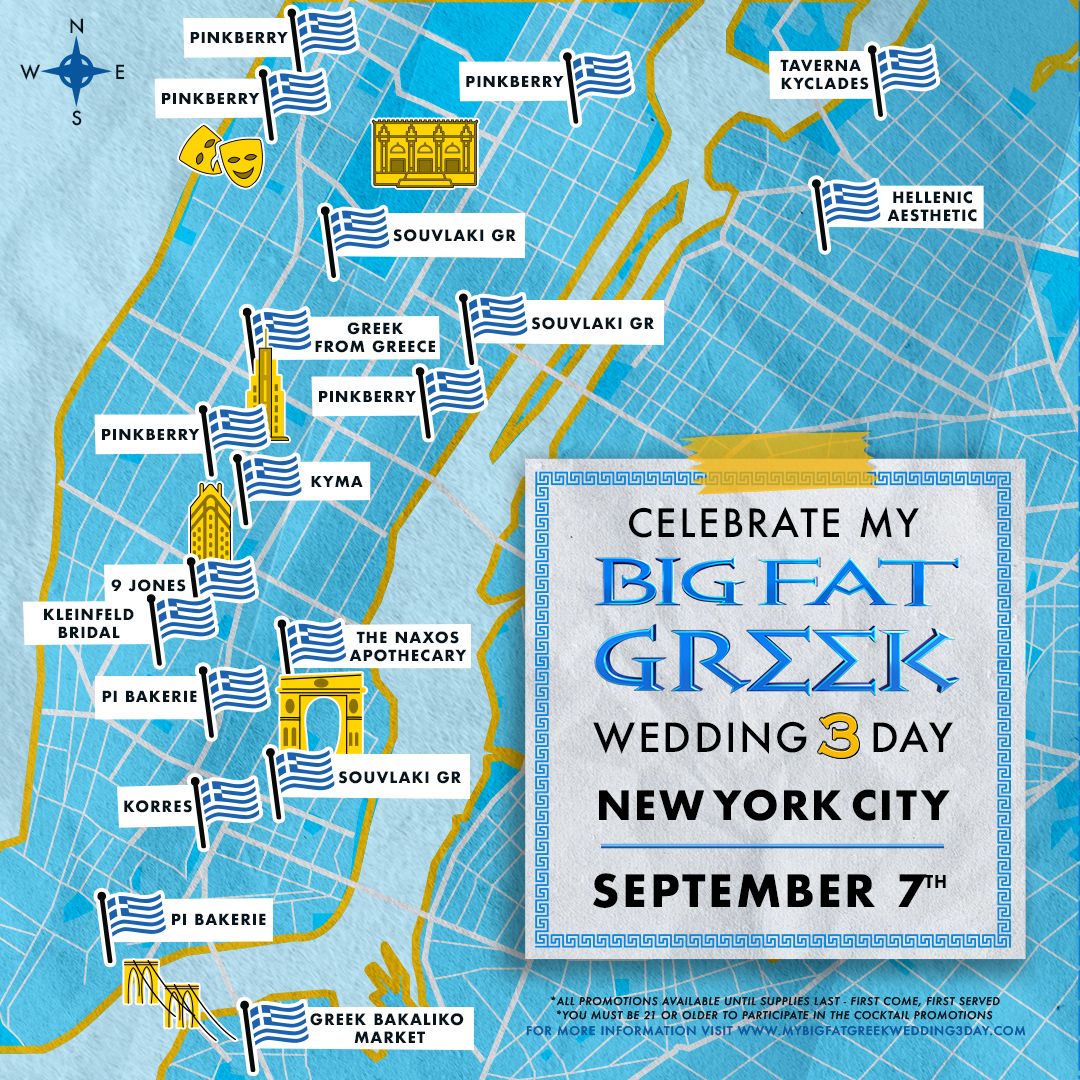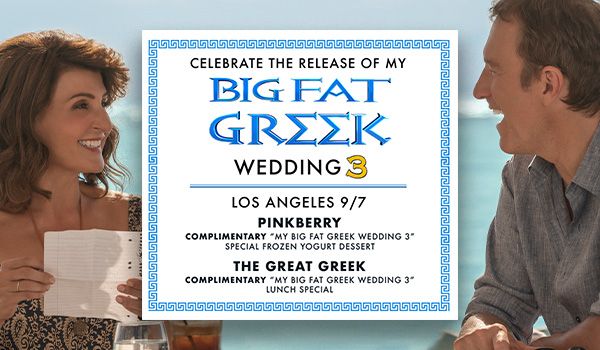 Source: https://dominioncinemas.net
Category: MOVIE