This review was written during the 2023 WGA and SAG-AFTRA strikes. Without the labor of the writers and actors currently on strike, the series being covered here wouldn't exist.You know what would make a good zombie story? One where a troubled loner has to escort a kid who could save a broken world through a hostile environment where the undead that have overrun it are merely one threat of many. What's that? They already did that in the critically acclaimed series The Last of Us from earlier this year, which itself was an adaptation of a beloved video game? Hmm, well, that certainly is a bit awkward for the latest The Walking Dead spin-off that is The Walking Dead: Daryl Dixon. However, for those who have stuck with the series through its occasional highs and many, many, lows, awkwardness has often been the name of the game. To put it lightly, the expanding universe has not always been known for grace in its storytelling. That has changed a bit, with recent seasons of Fear the Walking Dead and The Walking Dead: Dead City respectively, but there is still much to each new entry that feels like it's shambling along in search of its glory days from decades ago.
In this new story focusing primarily on one of the favorite characters still alive from the original story, played once more by series standby Norman Reedus, there's much that lacks a unique sense of energy and momentum over the course of the first season's six episodes. That being said, even as this attempt to start fresh brings some growing pains, it proves to be a successful enough reinvention for a zombie franchise still in desperate need of it. Of all the spin-offs thus far, Daryl Dixon may be the one that has the greatest chance of drawing back in the viewers who tapped out from the zombie saga for where it is all going next. While Daryl has been around for quite a long time in this world, this new storyline largely jettisons the baggage the character has been carrying to focus on a more streamlined story. Does it feel like an approximation of other apocalyptic storytelling like the aforementioned The Last of Us? More than a little. Is it as compelling? Not really. Is it still on the higher end of what we've come to expect from The Walking Dead? Absolutely, but there is still a long road ahead for it to be truly essential television once more.
What Is 'The Walking Dead: Daryl Dixon' About?
The story is built around the protection of a child who is believed to be almost biblically special. Laurent, played by newcomer Louis Puech Scigliuzzi, is not fully aware of this himself and is mostly just curious about the world that he's been sheltered from. The one doing the sheltering is Isabelle, played with gravitas by Clémence Poésy doing her best to class up many of the story's contrivances. She's part of a group of nuns in France and has a painful backstory of her own, which gets explored via flashbacks about how Laurent was born. How did Daryl stumble into all this? That requires some coyness, as the season doesn't immediately make it clear how he got there — other than he wants to escape as quickly as possible to return to America. He soon strikes a deal wherein he will accompany Isabelle and Laurent across France as they try to find safety in a world where that is tough to come by. Faces new and old from their lives come through, and the season starts to build out this previously unknown corner of the world we now find ourselves in.
For those who watch less for the story and more for new zombie creations, this also means that the walkers are continuing to evolve. While Daryl Dixon is still very much about humanity and hope in a world almost entirely devoid of it, the creativity on display in terms of the effects is still spectacular. Some of this takes on a more tantalizingly playful edge, including one standout gag of a cold open surrounding music that almost feels like it could have been ripped from a George Romero film. It's unfortunate that the show doesn't maintain this more madcap energy, especially when many of the settings we travel through feel interchangeably drab. Much of this can be chalked up to it all being apocalyptic chic, but there are moments where the series feels rather narrow in its largely monochromatic visual presentation. What holds it together is how this spin-off feels driven much more by character and emotion rather than just plot. The greatest trouble with The Walking Dead in the past has been that it just kept throwing in conflict after conflict with little care put into reflecting on the people taking part. While this spin-off is often derivative, with some moments becoming almost comical in how much they feel like The Last of Us-lite, Daryl himself is a sturdy foundation to build from. After fading into the background in the original series, his taking center stage here is a nice change of pace.
Norman Reedus Is Fittingly Stoic in 'The Walking Dead: Daryl Dixon'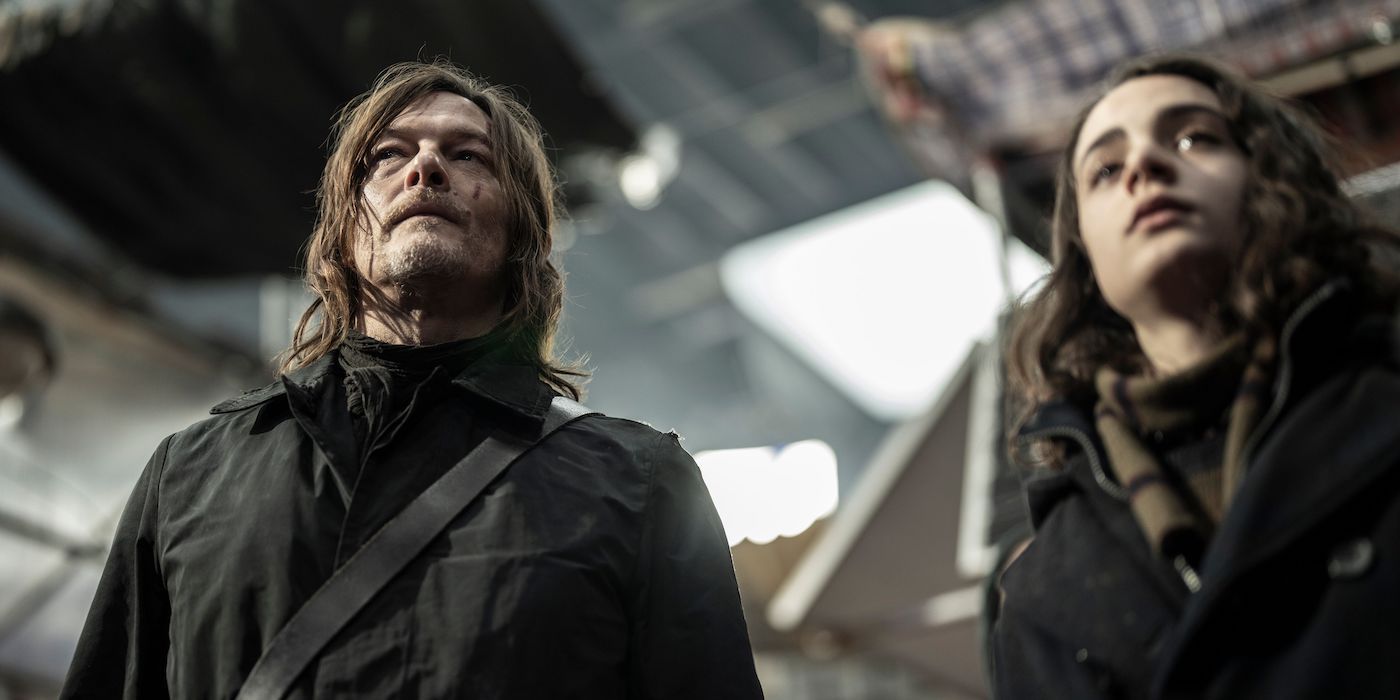 see more : 'Solitude' Review: Ninna Pálmadóttir's Feature Debut Is a Raw and Profound Triumph | TIFF 2023
The focus that Daryl Dixon puts on character rather than empty spectacle is its greatest asset. It isn't the richest or most unique of emotional journeys, with many elements still feeling rushed, but at least there is more thought to how it all plays out this time around. While the season's best acting comes from Poésy, Reedus still settles into his gruff role well. To be clear, this is often rather one note; however, it is one that he hits time and time again. For the first time in a long time, Daryl Dixon feels alive, like there are layers to his character beyond just that he can shoot a crossbow really well. Wherever he goes next in this new story, even with all its flaws, both the character and the spin-off series manage to stand on their own two feet within the vast Walking Dead universe.
Rating: B
The Big Picture
The Walking Dead: Daryl Dixon is a successful reinvention of the zombie franchise, offering a fresh start for viewers who may have lost interest.
The spin-off focuses more on character and emotion rather than empty spectacle, giving the story a greater sense of depth.
Norman Reedus delivers a stoic performance as Daryl Dixon, bringing a renewed energy to the character and making the spin-off worth watching.
The Walking Dead: Daryl Dixon premieres Sunday, September 10 on AMC and AMC+.
Source: https://dominioncinemas.net
Category: REVIEWS