I consider myself something of a soccer documentary connoisseur. From Max's Angel City series to Matildas on Disney+ and Welcome to Wrexham on Hulu, I've devoured them all. Copa 71 brings another little-known story to light — so little known that some of the sport's biggest names today had no idea of its existence.
Copa 71 follows one of the first women's World Cups that took place in 1971 in Mexico City. Despite drawing record-breaking crowds, the event was all but erased from history, and FIFA still doesn't recognize it as an official Word Cup to this day. The footage has been hidden and the participants all but forgotten — until now. The documentary, executive produced by Venus and Serena Williams, blends that archival footage with interviews conducted with athletes from Mexico, Argentina, Denmark, France, Italy, and England as they reflect on the life-changing tournament half a century later. There have been several waves of women's soccer gaining popularity, and this documentary captures an interesting one that's previously been absent from the conversation.
'Copa 71' Showcases the Joy of International Sisterhood
On one hand, Copa 71 is extremely inspirational and heartwarming. It's lovely to see these athletes given the opportunity to talk about what a special experience playing in Mexico City was, recounting the bright lights of the press as they stepped off their plane and the adrenaline that came with knowing their game was being televised.
The sense of international sisterhood that permeates this World Cup is something rare and special, and filmmakers Rachel Ramsay and James Erskine do a nice job focusing on it without sugarcoating or oversimplifying. There are rivalries, of course — as well as controversies about whether the referees were biased toward the Mexican team because of it being the host country — but overall, the message we're left with is that these women banded together to fight against the establishment.
FIFA refused to recognize the tournament, upset that they were using the phrase "World Cup" since it threatened their power and control over the sport, but the support the players lacked from leadership they made up for by lending a hand to one another. Members of the Danish team recall the Italians coming to pick them up after their bus broke down on the way to Guadalajara, and the English team recounts the Mexican players waiting at their hotel to personally give them condolences once they were knocked out of the tournament.
Though the teams were erased and ridiculed once they arrived home, they still have fond memories of the embassies throwing parties and participating in various cultural celebrations. As the Olympics have shown, sports are a universal language that can unite those of different backgrounds, and from the interviews with the athletes, it's clear that the '71 World Cup capitalized on that.
'Copa 71' Highlights How Little Has Changed in the Last 50 Years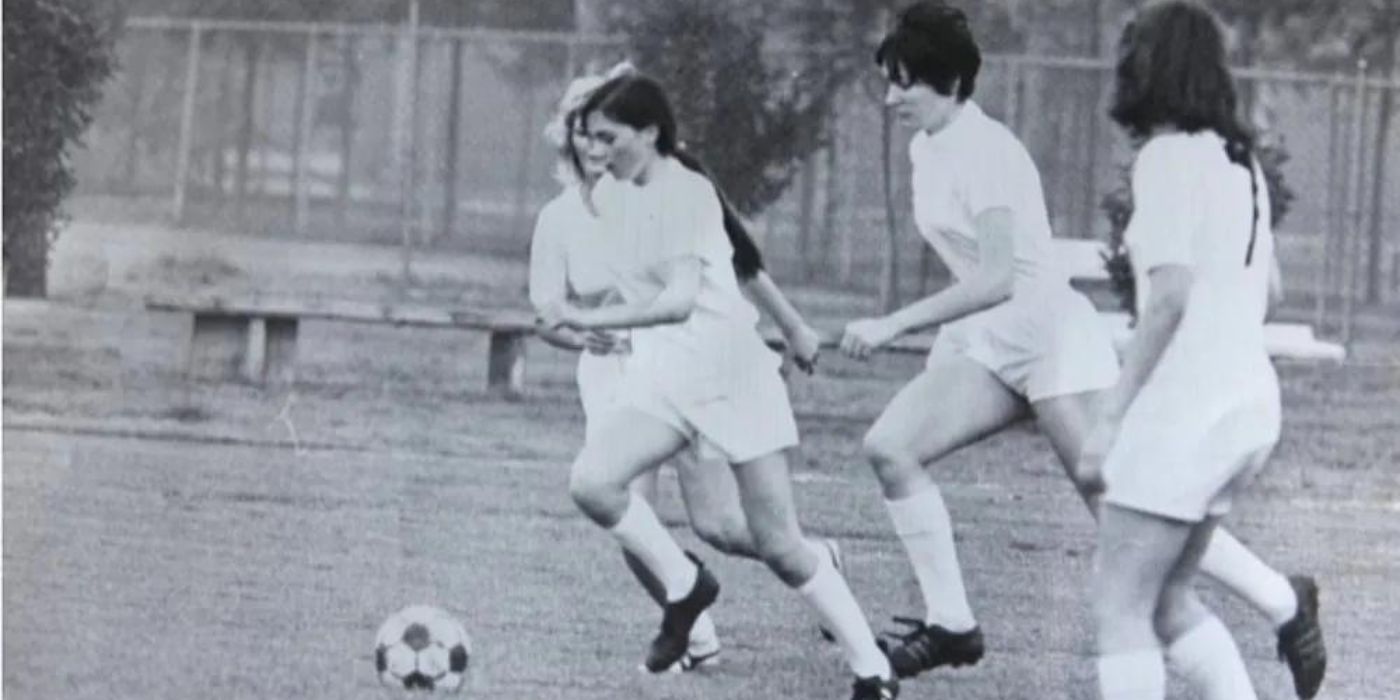 On the other hand, however, watching Copa 71 can be a disheartening experience because it highlights many of the same problems female athletes are still facing today, even within the same sport. In Copa 71, the women share that, while the men got to play on the grass and in nice facilities, they were often practicing on the dirt. This parallels the Angel City doc, where the team was scrambling to find a practice space, often having to train at strange hours that were particularly hot and hard on the body to accommodate the men's teams they were sharing the fields with.
RELATED: TIFF 2023: The Movies We're Looking Forward to Most
The Mexican team nearly refused to play in the final against Denmark because they weren't being paid despite people profiting off everything from ticket sales to merch. The US women's team has been vocal about their fight for equal pay, as highlighted in the Max documentary LFG. Sexualization is a huge issue highlighted in Copa 71, with shockingly disgusting archival interview clips showing men shamelessly admitting they're only attending the games to ogle the women in shorts. Just last month, Spain's soccer chief forced an unwanted kiss on a player after their World Cup victory.
Still, that fact highlights how necessary films like Copa 71 are. Its very existence shows that there are people out there who won't allow the women who paved the way to be forgotten and do take them seriously as athletes. While there are many struggles they face in the documentary that are familiar, there are moments that show how far we've come. For instance, there's the shocking fact that, in 1917, there was a large women's soccer presence in England with around 100 clubs. Unfortunately, in the early 20s, prominent doctors published articles stating how it was dangerous for women and their ovaries to play soccer, even making their participation in the sport illegal in some places.
'Copa 71' Could Afford to Get a Bit More Personal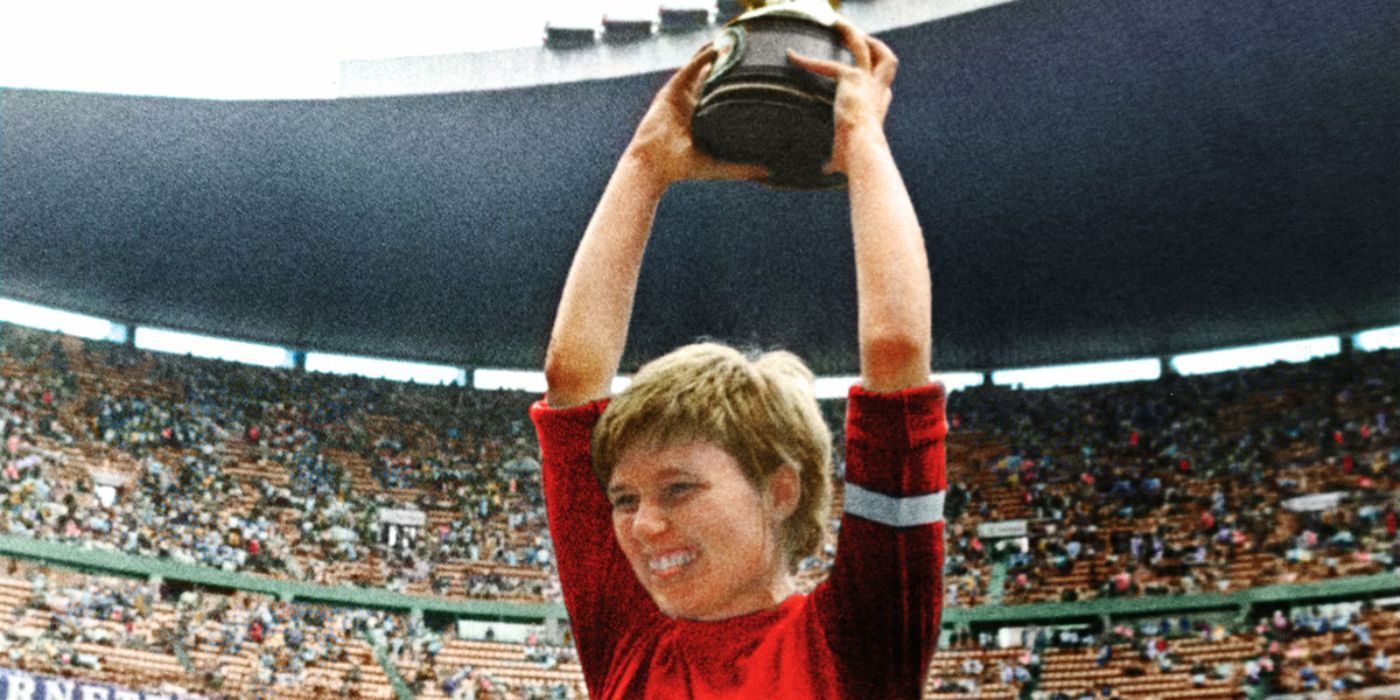 The number of people Ramsay and Erskine are able to interview for this documentary is incredible, and it's a treat to hear so many different perspectives on the titular World Cup. However, the broad scope and lack of main protagonists can be a bit of a disadvantage at times. I found myself wishing we could dive deeper into particular women's stories, as we only get brief overviews about where their passion for the sport stemmed from and the obstacles they individually faced to play at the level they did. Elena Schiavo of Italy gleefully admits she'd beat boys up when they didn't allow her to play with them, and Silvia Zaragoza chillingly recounts how her father would yell at or hit her if he caught her playing football. The focus on this one specific event feels a little limiting, and though we care about the event and what it means on a macro level, digging into the micro effects on these brave, trailblazing women could have made the impact even stronger.
The film can feel a bit generic at times, which is a shame because there are so many nuggets of fascinating information strewn throughout. There's mention of various countries having different playing styles — some liked to get the ball in the air, while other teams preferred to keep it on the ground — but it's not explored deeply, which doesn't make the recounting of the tournament and games feel as tense and exciting as it could. Mexico's marketing of the tournament is interesting as well, from the history and symbolism behind the mascot of Xochitl to both subverting and embracing sexiness to sell tickets, and examining its wildly successful campaign to draw crowds would have been intriguing.
While Copa 71 can feel a little surface-level at times, it's still an enjoyable watch and a solid introduction to an event very few remember. Though there are painful parallels between the '71 World Cup and women's soccer today over 50 years later, the documentary leaves the audience with a feeling of hope. There's much to learn from the women across the world who participated in the tournament, and telling their stories is a necessary step to truly revolutionizing the sport and the world for women as a whole.
Rating: B
The Big Picture
Copa 71 sheds light on a little-known women's World Cup from 1971, highlighting the incredible international sisterhood and unity among the players.
The documentary exposes the ongoing challenges faced by female athletes, such as unequal treatment, lack of support, and sexualization, drawing parallels to the present day.
While Copa 71 could have delved deeper into individual players' stories and explored certain aspects in more detail, it remains an enjoyable and important watch that gives hope for the future of women's soccer.
Copa 71 had its world premiere at the 2023 Toronto International Film Festival.
Source: https://dominioncinemas.net
Category: REVIEWS