There's certainly no shortage of espionage spy thrillers on TV these days, with Prime Video's highly anticipated Citadel the latest offering in the genre. So, what makes this story stand out among the rest? The short answer: its style. As the second-most expensive TV series ever produced, Citadel can certainly afford to be as stylish and as sexy as it wants to be — and with two leads like Richard Madden and Priyanka Chopra Jonas, how could it not be sexy?
Whether you buy the chemistry between Madden and Chopra Jonas will have a lot to do with how much you enjoy this series. Their every interaction may sizzle to some and fizzle to others. Personally, I found their chemistry to be so hot I thought my screen might melt. In the very first scene, their flirtatious yet stilted conversation seems to hold so much meaning that you can't help but want to find out what happened between them. But, in Episode 2, there's a flashback that shows their first meeting and subsequent hookup, and they go from zero to having sex so quickly that it's a bit jarring. They've just met, and they're already posing the question of real, genuine trust after lovemaking. It feels — especially between spies — a bit soon for such a heavy question. More of a slow burn would've been preferable, but this story decision does serve its purpose, showing the intense history between Madden's Mason Kane and Chopra Jonas' Nadia Sinh in order to give viewers a frame of reference for their future interactions.
The first episode, which takes place on a train, catapults us into the narrative, with a fight in a tiny bathroom that goes down within the first few minutes. The ensuing scenes also fill us in on who Citadel is, who Nadia and Mason are, and how they're fighting against the bad guys, called Manticore. Nadia and Mason think they're on the train to intercept a suitcase of uranium, when in fact, Manticore has begun killing Citadel agents around the globe, and plans to get rid of Nadia and Mason at the same time. What follows is a bloody and vicious shootout with numerous nameless bad guys getting shot and trying to kill Nadia and Mason in new and creative ways. It's a lot to take in, but ultimately it serves to show the ruthlessness of Manticore. A Manticore baddie blows up the train car, and Nadia and Mason are presumed dead. Their memories are wiped, with a bit of sci-fi meets spy thriller technology, and they go on to live normal lives for the next eight years — until Mason pops up on the radar and is discovered by Citadel tech whiz Bernard Orlick (Stanley Tucci), one of the few survivors of the Citadel takedown.
Mason's life seems, at first glance, to be the all-American, normal version, complete with a kid who plays soccer and a loving wife (Ashleigh Cummings). But Mason's desperate to find out about his past, having woken up in an Italian hospital with lots of scars and no memory of who he is. Madden's performance is solid, with noticeable differences in his personality when he's Mason and when he's his new persona, Kyle. Kyle is a bit awkward and unsure of himself, while the Mason of particular flashbacks is undoubtedly cocky and walks with a swagger. Madden's American accent takes a bit of getting used to if you're used to hearing his natural Scottish lilt, but he completely inhabits both sides of the character.
Chopra Jonas' Nadia takes center stage by the second episode, and in short, she's a badass. She can take down men twice her size and still look hot doing it. We have less time with her as her alter ego, Charlotte Vernon, but when she's Nadia, she's at her best. Unlike Mason, she remembers everything — including that hot and heavy relationship from their past. The bad guys in this story aren't afraid to hit a woman, but she's not afraid to hit them back, either. Nadia is the badass female spy character we've been looking for; more than once, she saves Mason's ass, too.
While the premise behind Manticore as the bad guys and Citadel as the good guys may seem simplistic, it's really not that cut and dried. Remember, it was a Citadel agent who turned against our leading duo and caused their destruction at the beginning of the first episode, and the identity of that agent is unknown. It could have been Mason, Nadia, Bernard, or someone we haven't even met yet — and that overarching question becomes a guessing game, especially in the third episode when a new suspect might come into play.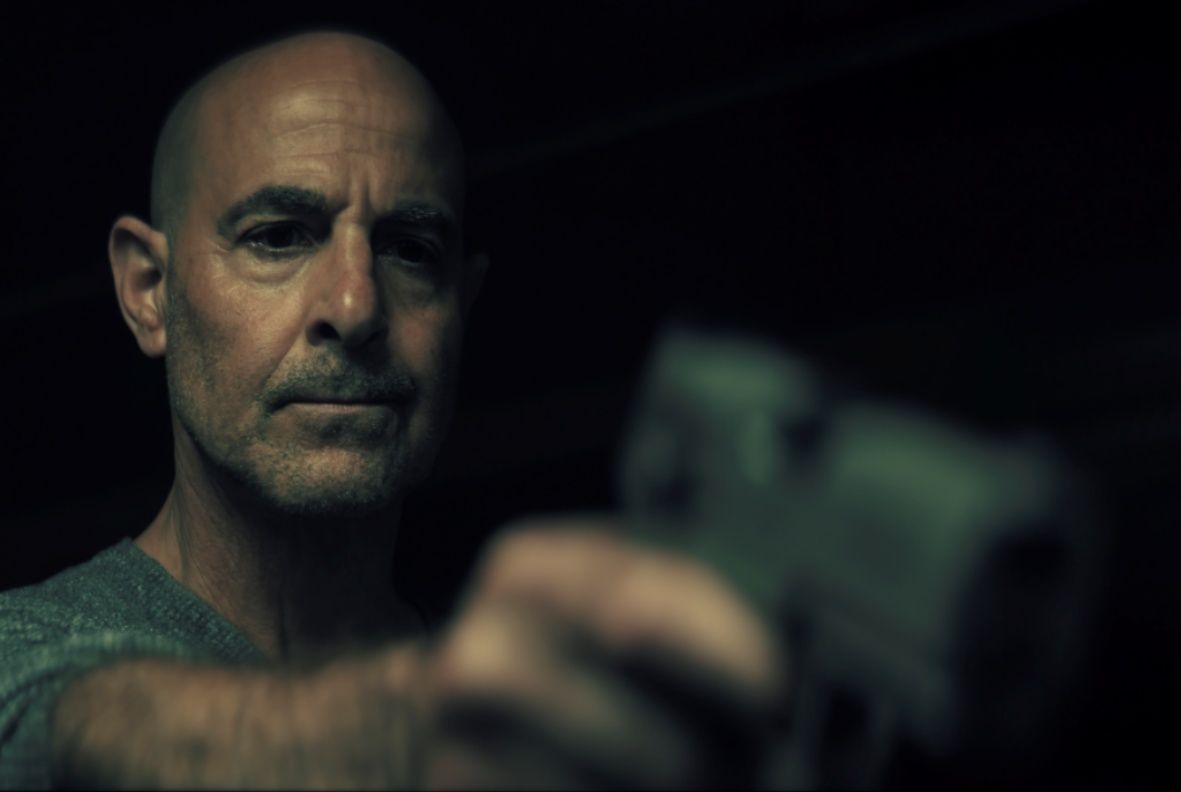 Citadel is ultimately at its strongest when it ramps up the action. The hand-to-hand combat, a sequence involving Mason's escape from a snowy mission, and the shootouts are definitely enough to get the pulse pounding. Executive producers Joe and Anthony Russo definitely have their fingerprints on these scenes, too, with some of them bringing to mind scenes from Captain America: The Winter Soldier, which is arguably one of the best Marvel films. Of course, Citadel has its own stamp on these scenes as well, with a cool style all its own.
Another bright spot of Citadel is undoubtedly Tucci's Bernard. Quick with snappy one-liners, he provides much of the comic relief, and even when he's callously shooting someone in the head, you kind of like the guy immediately. He also has the best line in the first three episodes, with him telling Manticore head Dahlia (a deliciously evil and ruthless Lesley Manville) that the password to Citadel's intelligence is "whydon'tyoufuckoff!" Bernard's more than just a comedic presence, though. It becomes clear at the end of Episode 3 that he knows far more than you thought he knew — and he just might be the key to the whole plot. With only the first three episodes available for review, the extent of his involvement is still unclear.
One of Citadel's downfalls, however, is that it suffers from rushed pacing. The show jumps all over the globe — in Spain one minute, Iran or Morocco the next. The time spent in these exotic settings is at a bare minimum, with the overall feeling being that the series missed out on more of an opportunity in terms of spotlighting its locations. With episodes clocking in at just around 40 minutes, there could've been more time spent on character development, especially where Mason and Nadia's past relationship is concerned. In terms of motivation, what drives Dahlia to be so evil; what's in this for her?
Of course, these questions may be answered with the final three episodes, which, judging from the preview at the end of Episode 3, will hold even more action, intrigue, and impending hotness from Mason and Nadia. Some might criticize the show's hefty price tag, its globe-hopping, shoot-'em-up nature, or even the accents. But overall, Citadel is a thrilling ride, as long as you don't take it too seriously and embrace its slightly campy side.
Rating: B+
Citadel premieres with its first two episodes on April 28, exclusively on Prime Video, with the remaining episodes premiering weekly every Friday.
Source: https://dominioncinemas.net
Category: REVIEWS