This interview contains spoilers for Season 3, Episode 6 of Reservation Dogs. There are now only a few episodes left of the small miracle of television Reservation Dogs and, while it is sad to see it go, the series continues to craft its character-driven story with such care that it sets itself apart from most anything out there. Last week, we discussed the otherworldly "House Made of Bongs" episode with director Blackhorse Lowe with how it bent time and space itself. In our continued conversation, we talked about the latest episode that is also his last on the series, working with great actors like Zahn McClarnon, and saying one final farewell to this story. As a warning, this interview gets into major spoilers.
you are watching: 'Reservation Dogs' Director Blackhorse Lowe on "Frankfurter Sandwich" and Saying Goodbye to the Hit Series
COLLIDER: Episode 6 is almost a part two to Episode 5 in that we see everyone grown up once again. Also, because you directed the episode centered around Cheese before, it's a farewell to Cheese in some way, where we're seeing how he's starting to feel these same things. What was your feeling in revisiting Cheese and then these characters grown up after you had just made an episode of them younger?
BLACKHORSE LOWE: It was a beautiful experience. But also, I think when you're directing, you're so much in the mode, you're not really conscious of what you're feeling, you're just trying to make your day. It's not until you get to the actual editing process where you become objective and actually see. Because before, I wasn't really conscious of [Episodes] 5 and 6 being combined thematically in terms of Young Maximus and Lane kind of going through these similar things and dealing with guilt and all these other emotions. So, not until the end when I was actually able to objectively look at it, was I like, "Oh, they're actually one storyline to a certain degree." So I was able to figure that out.
Especially going into the episode with Lane, too. It is a beautiful thing because I started in Season 1 with the original story, the backstory of Deer Lady with Zahn [McClarnon], when they're taking the turnaround in Season 1 and then go on to Season 2, where you continue to explore him and Big, and then going into Season 3 with this. So, it feels very natural because I've been working with Lane very closely. In each of those seasons, me and Zahn and him would do rehearsals before things, so I've really built up a friendship and a very good working relationship with Lane and Zahn. It was nice to see it kind of come from us trying to figure out who the character was, what the rhythm is, Season 2, figuring it out, and then [Season] 3, taking all the best of that we have and just really delivering on it.
Especially working with Gary Farmer who played Brownie, Wes [Studi] who plays Bucky, and then Zahn, who plays Big. We all started at the same time. We didn't know exactly how this was gonna come out, and then all of a sudden, all these awards and all these different things that are happening, and it's a very heavily applauded show. We're all very fortunate to be here. But also, our experiences growing with the show and growing with each other and exploring these characters and where they're going, it was a very fine thing. Also, I think my direction became a lot better with them just because I already had the shorthand, I already knew what we could do emotionally, and we're already friends, so there's no need to be shy. I could be as open with them as I possibly could be and vice versa. It was a very nice collaboration, with the exception of being in the woods and tick checks every night, but you know, you do what you can. But those guys, they're so much a tight unit, and they already had done so many scenes previous to it before I came and directed that episode. So, the natural connection they had with one another was already there. It was just a matter of turn it up, turn it down, add more there.
I want to specifically ask about Zahn McClarnon because he's so funny in this show, but then there's the moment in this episode where he pivots, and it becomes this emotional confession, which is still funny in a sense that they were coming out there to support Cheese and then he's the one that helps them. I want to know how many scenes of that did you do, and what were the conversations you were specifically having with him to kind of shift it into this new emotional register?
LOWE: Within the context of that scene, I never talked to them individually. It was more like a group thing. Of course, Lane I would take off separately because he's the one that's kind of the outlier of the whole group. But in terms of Wes, Gary, and Zahn, it was just like, "We need this moment to swell, we need the crying to happen here," and all these things. It was just an understanding of how heavy the emotion would be, whether it's comical, whether it's real, whether it's very understated, what was that fine-tuning thing? The great actors that they are, they gave me a range of those three different levels.
Also, especially since we're Native and we have these experiences in certain ceremonies, depending on their tribal affiliation, to a certain degree, they all come back down to the same emotional experience. So I told each of them individually, "There are these moments in ceremonies, which I know you've all been a part of, but that emotion and the crying is what I want delivered," which is basically what you saw, which is a combo of starting from something very light and happy and being standoffish, but then slowly all those things start chipping away, and all of a sudden you're just left with three grown men just crying, bawling their eyes out right before Lane. So it was a beautiful thing to kind of just let that go, and just giving them those cues and those specific references to our culture to kind of be like, "These are the emotional moments and beats." So once I said that everything was like, "Oh okay." It clicked in, and then everyone knew exactly what we were going for in those moments. So it made it so much easier.
Of course, being TV, and understanding the form, showrunners always want extra footage or extra performances. So I got everything from the most truthful to the most outrageous, to like [they] never stop laughing, never stop crying. We explored it as much as possible, especially for the amount of time allowed because you're shooting in the woods and, like I said, tick checks and rain, and everything else, so you always want to go over with your actors and really just deliver it, too, but you've also got time, you've got weather, and you've got everything else. So, you always just gotta be moving.
You mentioned that before. Were you staying out there in the woods camping?
LOWE: We were out there for, like, four days for that episode. It was the exact same place that we shot the "fish fuckers" episode previously. So we were already familiar with the grounds, but Oklahoma in mid-summer is not a fun place to be. [Laughs]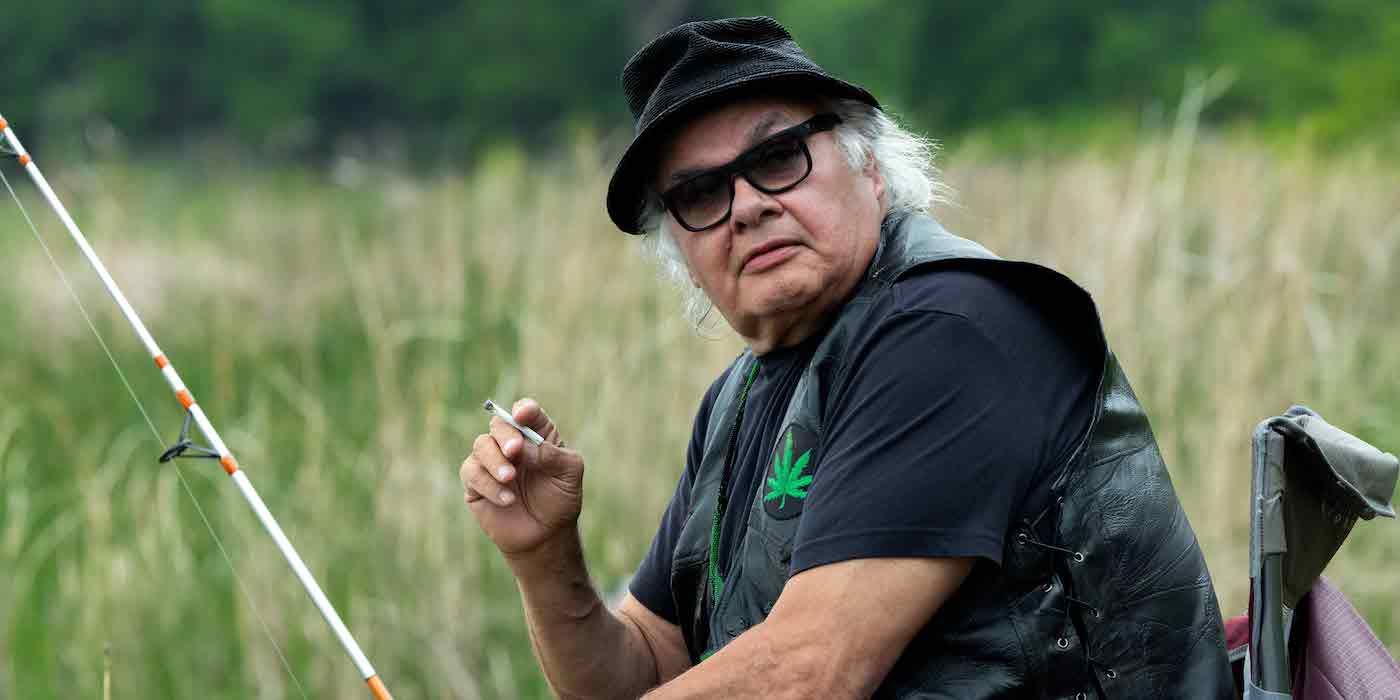 I can't remember if you've directed an episode where this visual reference has happened, but there's obviously the component of Uncle Boonmee Who Can Recall His Past Lives being this very interesting looming presence. Had you ever included that in something before, and what was your thought process of how to bring it in, where they're referring to it as it's Bigfoot?" But my mind is immediately like, "I've seen that," and I've never seen a TV show lift from this. I love it, but this is a little bit more obscure art house movie. What was the process there?
LOWE: That one Sterlin had already imagined way back early on in the first season, in terms of the Uncle Boonmee references and other works from that director, [Apichatpong Weerasethakul]. He did Tropical Malady and everything else, but that had already always been there. Then when it came time, when I did my Bigfoot portions of that stuff, I just basically fell back on that. The lovely thing about Sterlin and all the other directors is we're very well-versed in terms of international cinema and obscure references. There's a lot of stuff that's plugged in here and there, if you're able to catch it, and if you're very well-versed in cinema, you're able to pick it up. We're all very avid watchers of other films, so we just very much wanted to apply all these different things that influenced us. Especially when it comes to the work of that director, especially with Uncle Boonmee; a lot of that experience is very much paralleled Native experience, especially when it comes to creation stories and mythical beings and how they play out in the real world and all this kind of stuff. It was a natural inclusion of that, but also, it just comes back to Sterlin's vision and what he originally saw, and us enacting it and trying to make it better.
What are some of the other visual references from world cinema that you've enjoyed yourself putting in and then also seeing from your collaborators?
LOWE: Definitely The Holy Mountain I put a lot in [for] a lot of each of those episodes; a lot of [John] Carpenter, The Thing, as much as possible; Two-Lane Blacktop, and then a couple of [John] Cassavetes references that plopped in there, especially with the men going out into the woods a lot. I watched Husbands beforehand. So there was a couple of moments I was trying to reenact in there. Especially with like the sci-fi stuff too. I went as far back as the earliest vampires from outer space, just to really kind of get into that vibe and really explore it too. There were the other episodes with the star stuff, in which I referenced Belly, and it's all over the place like The Discreet Charm of the Bourgeoisie. There's little bits and pieces here where I want the camera to move like this one scene Luis Buñuel shot and just do exactly like that.
But also, it's a fun thing about it, too, because I actually have access to a movie theater, Circle Cinema. So before my episodes, I always try to make it a thing where we would watch a movie from that era or something that thematically fit into what we'd be making. When we started doing the Big episode from last season, I showed them all The Holy Mountain and El Topo to kind of get him ready for that type of psychedelic experience that I want. Then when we came to this one, we watched Two-Lane Blacktop and Vanishing Point for the '70s episode. Then, of course, for the Lane one, it was Husbands. So it was just like all these different film references, but they all kind of find a way to– We Native the fuck out of it just to really kind of give it its own voice.
see more : 'Succession' Director Mark Mylod Breaks Down Kendall's Ending, That Violent Hug and Shiv's Heel Turn: It's 'Screamingly Inevitable'
Is this your last episode directing on Reservation Dogs?
LOWE: Well, for those two episodes, yeah, since Season 3 is the end of it. But it's been a beautiful run. I really had a great time.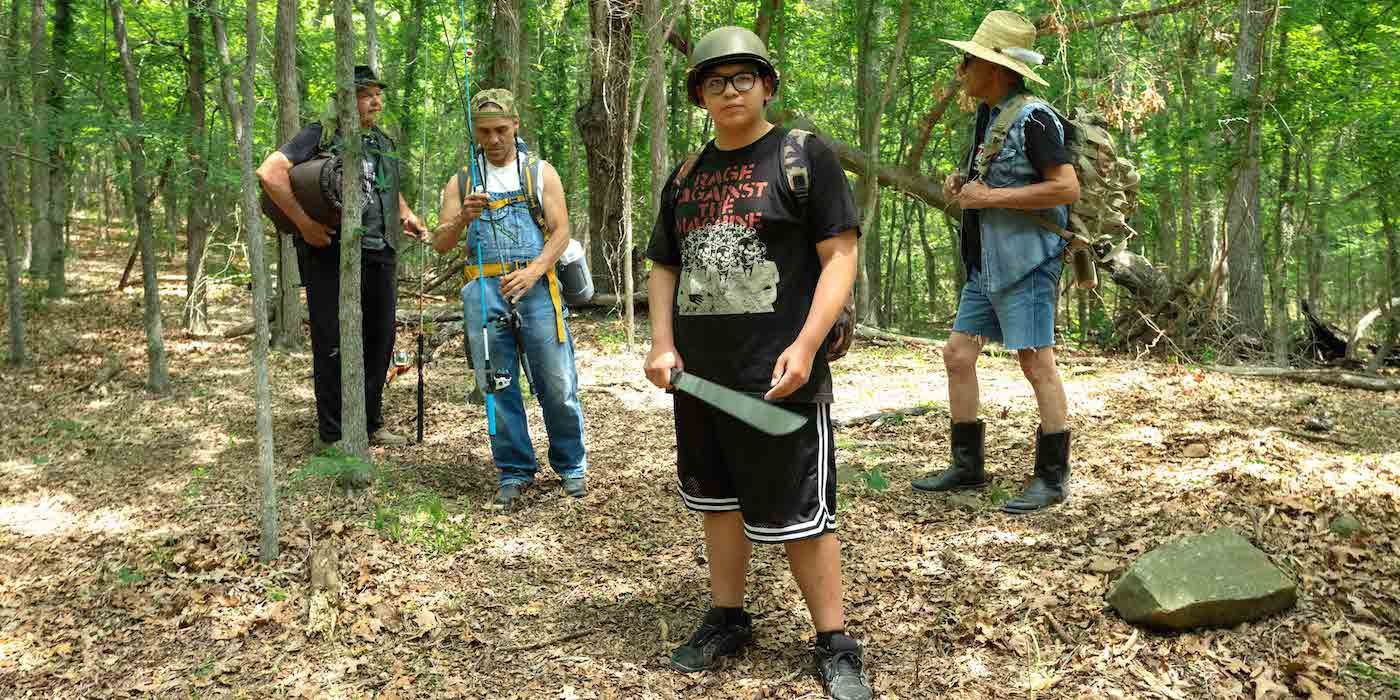 Are there any kind of final reflections you've had of what this show has meant to you individually as a director and then also to so many people? I know people want it to continue, but I also think there's something beautiful about, I hope, him ending it on his own terms, and all of this being so collaborative and beautiful. What is the thing you're going to take away from it in your last season?
LOWE: It's a sense of community. A lot of those crew members, actors, and other writers, we're all family now. We've got each other on short dials, and we have dinner together whenever we're back in Tulsa. That and we're always helping each other on each other's projects. Like, I'm working with Migizi Pensoneau in another film and talking with Sterlin about other projects, and then working with Kirk Fox and Zahn about other things. So it's really a beautiful thing of all these creative people coming together and really making something on our own. Also, the blossoming and blooming of all these other new projects and stories, and other shows that are hopefully to be sold after the writers' strike goes down, so that way we continue to see the narrative of the Native experience continue to go on.
But that was a real big thing, a sense of community and family, and what Sterlin had created there in terms of this different type of rhythm and grammar for onset behavior very much was a thing of family and friends, as opposed to a thing of hierarchy where it's just like the PA has to go do this and be treated like shit the whole time. Like, "No, this person's my cousin, and he wants to learn about the filmmaking process. We know he's just getting coffee, but be as open to him as possible." Then the next thing you know, they become your relative and your friend, and you're teaching them about the process of filmmaking and everything else, and it becomes a really great thing, vice versa.
Along with that, it's just like coming from the independent film world for 20 years where I self-financed my own three feature films, and had to lie, cheat, and steal in order to get stuff made, like pay off drug dealers in order to pay my crew, so you get lead for them, so they would keep coming back the next day. I'm extremely fortunate and extremely happy to have this opportunity to be in the DGA, to be in the WGA – they have medical and dental insurance. Because up to that point, I was in extreme poverty trying to keep up and just keep making movies and maintain this filmmaking artist lifestyle.
Now, with this new opportunity, the windows and the doors have opened up for me, being able to do this, Outer Range, go on to Blindspotting, go do Joe Pickett, and just really explore the TV universe, but also explore other universes within the entertainment industry too. So it's a really beautiful thing, it opened me up and showed me what is it there, but also, I have the maturity to deal with it. So I'm just very happy to have this experience.
Me and Sterlin originally met back in 2005 with a short film and my first feature, so we've become friends. We've known each other and seen each other's struggles. Now we're at this point, too, through all these different experiences and these failures and successes, we finally get to this point now where we know how to properly take care of something that we create and bring in other people, and see it done in a good way. Especially going for three seasons in the way that Sterlin wants to finish out the story arc. It's like, finish while you're on top, finish out before you become mediocre, and before you jump the shark. Finish when people still want more. So, he's making a very smart choice in doing that, too. Especially with [John] Landgraf and everyone else at FX really supporting and giving the show what exactly what it needs. It feels like it's a very natural place for it to stop, and I'm very much looking forward to what Sterlin and all the other creators on that show have next. So hopefully, this will be the big seed that plants many trees that many other shows will come from.
The final episodes of the final season of Reservation Dogs are now streaming on Hulu.
Source: https://dominioncinemas.net
Category: TV