A group of strangers live in a house. They have to compete against each other. Some will form alliances while others will implement different strategies to stay in the game. One by one, they are voted off until a winner is chosen. This all sounds like Big Brother, right? But it could also describe The Joe Schmo Show, which aired its first season in 2003 and will soon be rebooted for TBS. But that description doesn't even begin to tell the whole story.
Reality TV exploded in popularity during the aughts. 2003, in particular, was an experimental year for reality television. The Simple Life transplanted tabloid fixtures Paris Hilton and Nicole Richie from glossy L.A. to moves-at-a-slower-pace Arkansas. America's Next Top Model was foisting makeovers and photo shoots with snakes on young women, vying to make it big in the modeling industry like its host Tyra Banks. Queer Eye For The Straight Guy had five gay men coming to the rescue of straight men. The Joe Schmo Show, which aired on Spike TV (and which eventually became the Paramount Network), was one of many quirky reality programs to come out of that period, but there was something that set it apart from its contemporaries: Every contestant on the show but one wasn't really a contestant, but rather an actor posing as a contestant. Eight of the nine contestants – actors. The host – actor. The challenges – completely rigged. The elimination ceremonies – pre-determined by the writing staff.
And yet that final contestant, one unsuspecting guy named Matt Kennedy Gould from Pittsburgh, Pennsylvania, was completely real and completely oblivious. It turns out that Gould, a law school dropout who lived with his parents while working as a pizza delivery driver, signed on for more than he ever would have imagined. The Joe Schmo Show might seem a bit twisted, but what else would we expect when Paul Wernick and Rhett Reese, the guys who would go on to write the Deadpool movies, decided to create a reality show?
RELATED: 15 Best Reality Shows of All Time, Ranked
'The Joe Schmo Schmo' Was Basically 'The Truman Show' For Real
Following the Big Brother format, the show opens with the "contestants" meeting outside a mansion that will be their home for the next week. Matt is under the impression that he'll be competing for $100,000 on a show called The Lap of Luxury. He meets his fellow competitors and roommates, all fulfilling a reality show archetype: "The Rich Bitch," "The Virgin," "The Gay Guy," "The Schemer," "The Asshole," and "The Buddy." It even had actors playing "The Veteran" and "The Quack Marriage Counselor," the latter of whom was played by an up-and-coming actress you may have heard of named Kristen Wiig. Yes, before she was a Saturday Night Live legend and Hollywood funny woman, Wiig was portraying a bizarre therapist vying to win the grand prize while in actuality being a part of a team of actors that was pulling off a television first. And of course, no reality show would be complete without "The Smarmy Host," in this case Ralph Garman played a self-loathing game-show host who's disappointed that a Big Brother knockoff is the best gig he could secure.
But while it may appear that Matt is in the most difficult position in the show, it's actually the actors who are under the most pressure not to blow their covers (and thus ruin the entire conceipt). In the first episode, an actor mixed up detail about his character in front of Matt, only for Matt to notice and Dr. Pat (Wiig) having to think quickly to diffuse a possible exposure. Her quick thinking and relaxed acting while under pressure hint at the talent that would take her so far in the coming years. Throughout the time in the house, production and the cast continually have to find ways to plug up any holes that could make Matt aware of the reality that everything is a farce and that he's living in his own version of The Truman Show.
The challenges included games like "Hand on the Hooker" – it was the purposefully raunchy Spike TV, after all – where contestants were assigned a body part they had to use to touch a naked model with. (Example: "Right hand to left breast.") The nude model used was the adult film star Tawny Roberts, who Matt recognized after she took her top off. The games were usually played for immunity. To everyone's surprise, Matt was the first person to refuse to touch Roberts, giving up immunity and leaving the producers scrambling. While the producers would map out scripts and scenarios in order to respond to how they assumed Matt would react to given situations, he would often surprise everyone by behaving differently than expected.
The first game of the show was one where the housemates each had to model another contestant's underwear and guess which pair of underwear belonged to whom. Matt, in good nature, rolled with the punches and modeled the underwear of "Molly the Virgin" (Angela Dodson). Some games were rigged for Matt to lose, while others were fixed for him to win. Contestants had to wear sumo suits and try to knock their opponents out of the ring. Matt, being more solid than most of the cast, easily won the competition and sent Kristen to the hospital for accidentally knocking her over too hard. Kristen, to her credit, managed to stay in character the entire time. And Matt further proved what an endearing guy he was by giving Kristen the prize he won from the sumo game.
"Matt the Schmo" Becomes the Hero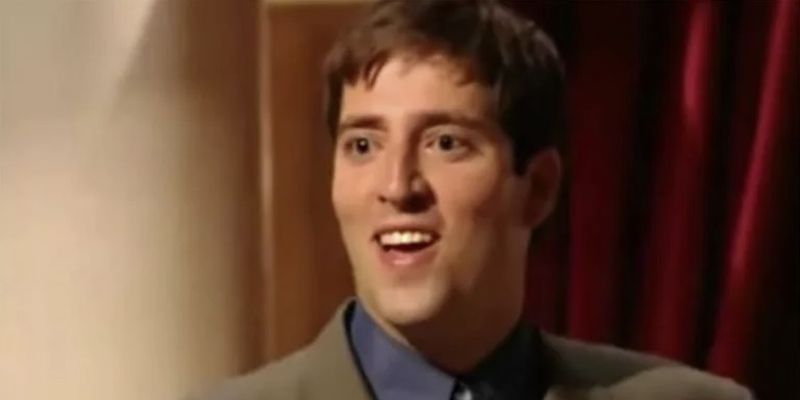 The Joe Schmo Show walked a tightrope between using pre-planned scenarios and having to go with the flow and work around unexpected changes in the plot. Many of the storylines focused on "Hutch the Asshole" (David Hornsby) causing strife in the house. Hutch was often at the center of a conflict or unhelpful sneering. While many of the contestants had (or professed) to have issues with Hutch, he managed to stay due to winning immunity from games – games that were fixed for him to win so that his character could go on to create more tension in the house. Hutch particularly honed in on "Kip the Gay Guy" (Lance Krall) as a target for his bullying, often threatening to throw Kip, who can't swim, into the pool. But Matt didn't idly stand aside while Hutch would harass Kip, instead standing up for his fellow contestant.
Some storylines included events like Molly's religious boyfriend coming to visit the house only to be dismayed by seeing her in a bikini and shaming her for wearing one on television. This led Molly to be comforted by "Ralph the Host," much to the chagrin of "Ashleigh the Rich Bitch" (Melissa Yvonne Lewis) who had been open about having a crush on the host. One particularly brutal plot point had the house compete for TVs by eating bizarre food. While everyone had their turn at eating something off-putting, the worst was, of course, saved for Matt who (with the producers clearly being inspired by Pink Flamingos) was made to believe that he had to eat dog feces. Don't worry, he didn't go through with it. His refusal to eat, though, resulted in him having to have a tense meeting with an actor who he believed was a network executive for Spike. But despite the faux network executive using intimidation tactics like lawsuits to coax Matt, Matt managed to stick up for himself, impressing production and the cast.
Matt, who was initially intended to be the joke of the show, ended up winning over the cast, production, and audiences with his nice every-guy appeal. In the second episode, when "Earl the Veteran" (Franklin Dennis Jones) was unexpectedly eliminated, Matt was genuinely affected by his elimination. Matt bursts into tears because he and Earl – or the man he knew as Earl – had time to bond. Seeing Matt break down, the actors and production began to question themselves – were they going too far? In a show built on deception, Matt's sincerity became its best feature.
Matt was always himself, and, compared to the vicious personalities that reality shows tend to cast, his kindness and being the most real thing about the show made him someone everyone could root for. In the finale, it was all revealed to Matt that the entire show had been a setup and that it was only focused on one thing all along: him. Through it all, he remained true to himself and showed that his true superpower was being a genuinely good guy. The Joe Schmo Show set out to find a regular guy and put him through an experience that has been unseen before. What the show didn't anticipate was just how much a regular guy could garner so much love and turn a series designed to be cynical into one that surprisingly has a lot of heart.
'The Joe Schmo Show' Doubles Their Schmos for Season 2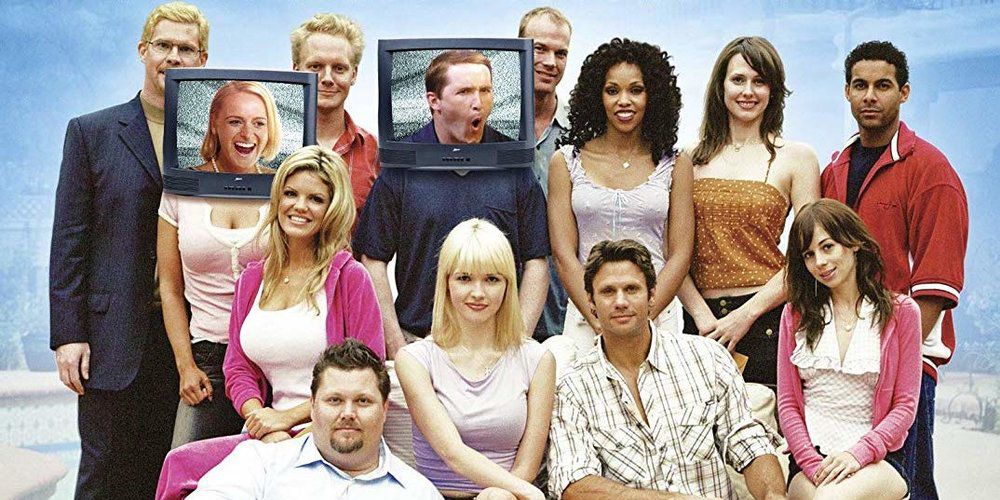 The second season of the series was modeled after The Bachelor and The Bachelorette. In it, there were two unsuspecting contestants: "Joe Schmo" (Tim Walsh) and '"Jane Schmo" (Ingrid Wiese), who lived in a house together with other actor/contestants, who were ostensibly also vying to be chosen by "Austin the Bachelor" (Tim Herzog) and "Piper the Bachelorette" (Valarie Azlynn). The second season included archetypes like "The Bitch," "The Stalker," "The Weeper," and "The Playah." Like on The Bachelor franchise, contestants were eliminated until Austin and Piper each had one suitor left.
The show's worst fear came to fruition this season. Ingrid, clearly whip-smart and perceptive from the moment the series started filming, began noticing oddities and inconsistencies on the show. Whether it was an actor's minor mistake or plot holes, Ingrid, who gave Austin a book about Madeleine Albright as her "about me" gift, was figuring out that everything was a sham, despite the producers' and actor's best efforts to convince her otherwise. Things eventually came to a head during an elimination ceremony. After "Ambrosia the Bitch" (Gretchen Palmer) was eliminated in an especially dramatic fashion, producers confirmed to Ingrid that she was currently starring in a show centered on trying to fool her.
With Tim still unaware that the show is fake, the producers offered Ingrid a unique opportunity: She could join the cast as an actor and still receive the $100,000 prize if she can keep her new cover as an actor till the end, thus helping convince Tim that it's all real. Or she could just leave. Ingrid takes the offer and transcends from Jane Schmo to an actor in the know. With Tim being the only Schmo left, a new Jane Schmo, Amanda Naughton, is brought on as a new contestant who is unaware of the nature of the show. Though Amanda, like Tim, doesn't realize that everything is a setupuntil the end, there was a close call in the finale. Amanda recognizes eliminated contestant "Rita the Drunk," played by Natasha Leggero, as a real-life comedian that Amanda had seen perform. However, it didn't derail the show because Leggero's character was eliminated before Amanda's arrival, which meant Amanda was unaware of Leggero's fake alias.
The second season ended with Austin and Piper proposing to each other while everyone watched until all was truly revealed. Tim and Amanda were finally made aware of the show's deceit, and it was revealed to them that Ingrid was originally meant to be an unsuspecting contestant, as well. The Joe Schmo Show returned in 2013 for a third season that was premised on contestants vying to become bounty hunters and featured Chase Rogan was the unsuspecting Joe Schmo. However, the season was met with underwhelming reviews, and the show was soon cancelled.
But the legacy of that surprising first season lived on. Amazon Freevee's Jury Duty, which released earlier this year, has gained attention using a similar concept, and Wernick and Reese, in addition to working on Deadpool 3, are both returning to produce Joe Schmo's unexpected reboot. In a decade that was overflowing with reality TV, The Joe Schmo Show truly managed to set itself apart and, at times, provided more heart than anyone could have expected.
Source: https://dominioncinemas.net
Category: REALITY TV