Beauty pageants are a strange animal. Women are required to strut in a bikini, model an evening gown, and then answer questions that even politicians and academics would have a difficult time answering on the spot within an allotted time frame. Some questions that contestants are asked are reasonable. Think: "Who is someone you think is a good role model for women?" But other questions can be ridiculous. For example, in the 2014 Miss America pageant, Miss Virginia was asked how the U.S. should respond to ISIS. Despite being asked a Mt. Everest of a question, she gave a succinct and competent answer. But why was a pageant contestant asked a question that top government officials were fumbling to answer? Then, there was the 2016 Miss USA pageant where Miss Hawaii was asked who she'd be voting for in the upcoming presidential election. Taken aback by such a question, like any person would if asked such a question on national television, she also gave a good response. But it's not always the questions that are ridiculous, often the answers can be bleak as well. Such was the case at the 2001 Miss USA pageant.
In pageants, not everyone will respond well to a question. There are YouTube videos dedicated to beauty pageant question-and-answer flubs. Sometimes a contestant will freeze on stage when put on the spot. Other times, their answer will simply not hit the mark. But occasionally, an answer will come across as callous, which is exactly what happened during the final question of Miss USA's 2001 pageant. However, unlike most contestants who answer a question poorly and don't win the crown, one contestant's harsh answer went under the radar and still won her the title of Miss USA.
'Miss Congeniality' Influenced Miss USA 2001
Miss USA 2001 received a boost of interest for its year due to the success of Miss Congeniality, which was released in 2000. Miss Congeniality has slovenly, unfeminine FBI agent Gracie Hart (Sandra Bullock) go undercover as a pageant contestant. The movie provided depth for an institution that was beginning to look outdated with evolving feminism of the times. In the film, the contestants, who Hart is initially leery of, are depicted as fully-formed people who just happen to enjoy competing in pageants. The movie even answers one of the criticisms leveraged at pageants via the question-and-answer portion of the competition when Hart is asked: "As you may know, there are many who consider the Miss United States pageant [the film's fictional pageant] to be outdated and antifeminist, what would you say to them?" Hart's response served as a justification for pageants and their place in the 21st century: "Well, I would have to say I used to be one of them. And then I came here, and I realized that these women are smart, terrific people who are just trying to make a difference in the world."
The 2001 Miss USA pageant was clear that the film inspired it by having William Shatner, who played a host in Miss Congeniality, host that year's pageant. Ernie Hudson, who also had a role in Miss Congeniality, was a judge. Usually, pageants don't attract big-name celebrities as judges. But in 2001, Miss USA managed to have Martha Stewart as a judge. And that year's pageant didn't shy away from joking about the cattiness that can be present in pageants.
see more : Cassandra Jean Whitehead Quit 'ANTM' Before the Show's Controversies Backfired
The pageant commenced with the usual order: all the contestants were introduced, the Top 10 were called, swimsuit and evening gown competitions were held, and then a Top 5 was called. It's during the Top 5 when things begin to intensify, because it's no longer just about being beautiful and elegant, a contestant has to prove that she cannot only be the face of Miss USA, but the voice as well. Miss Missouri, Larissa Meek, who had received top scores for the swimsuit and evening gown competitions, was stumped by questions from Daniel Baldwin when he asked if the media's need for controversy affected sports and who was her favorite female athlete. Meek, who described herself as an artist, admitted that she didn't follow sports and even froze during the first question. She didn't advance to the Top 3–pageant formations. For this year's pageant, finalists had to answer two rounds of questions in order to win the crown. Though she didn't become Miss USA, Meek would go on to star in the reality show Average Joe– a dating show like The Bachelorette where a group of average-looking men has to compete against a group of male models, all vying to be chosen by the beautiful woman in the end. She also hosted Model Citizen which was about models having to travel to various parts of the United States to work on community projects. The aughts were an experimental time for reality TV.
Did She Say That?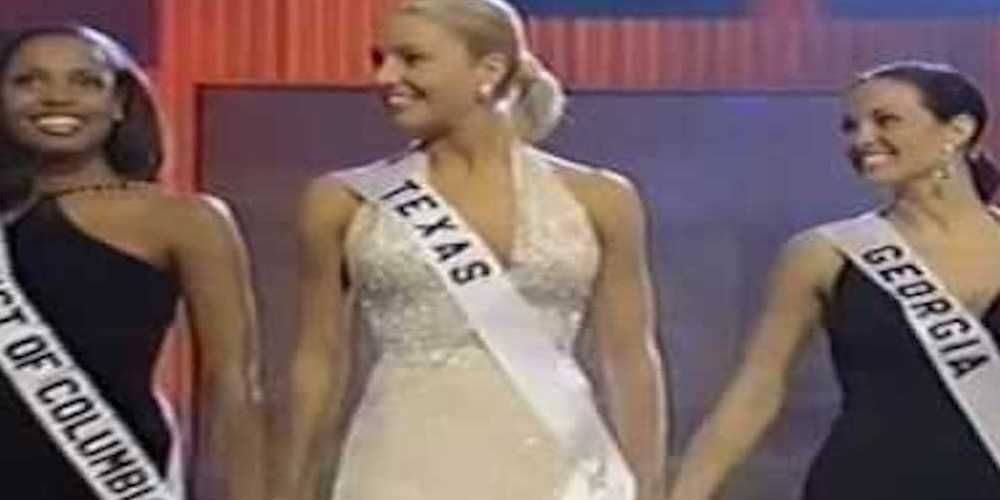 After the front-runner didn't make it to the final 3, there was one more question left to go: "Many things that were once science fiction are now science fact. Some scientists believe they can clone human beings. Should we?" By no means was it an easy question. Even two decades later, that's still a difficult question to answer. The first contestant, Miss District of Columbia, gave a good answer, saying that she felt cloning in regard to humans should be limited to organs. But after her solid answer came the next contestant, Miss Texas. When asked the same question, Miss Texas gave an answer that was truly callous, even if she didn't intend for it to be: "Absolutely not. I believe that everything happens for a reason, and I've actually done a lot of reading about cloning here lately. It's been in the news quite a bit. And I have faith that everything happens for a reason. A lot of people are wanting to clone children because they've lost a child, and again, like I said, I think everything happens for a reason. And I think that's a boundary that we should not cross."
Stances on cloning humans aside, what was strikingly harsh about her answer is that she used the example of children dying but then follows it with everything happens for a reason. Essentially, she said that children dying happens for a reason. Perhaps that wasn't her intention, but that's what she said.
"Everything happens for a reason" has been the go-to to try to make sense of things that are unbearable. But despite its ubiquity, the phrase doesn't hold up. Many things in life don't happen for a reason. Sometimes tragedy finds us, and we have to survive it the best that we can. For some, it makes it easier for them to weather the storms of life by convincing themselves and those around them that everything is happening because of a grander plan, some universal reason that's beyond our comprehension.
Yet, despite giving an answer that would be salt in the open wound that is the loss of a child, she went on to win applause and the crown, becoming Miss USA 2001. It was as if the judges overlooked the callousness, intentional or not, and said 'Good enough. That's our winner.'
Honesty Doesn't Always Win Crowns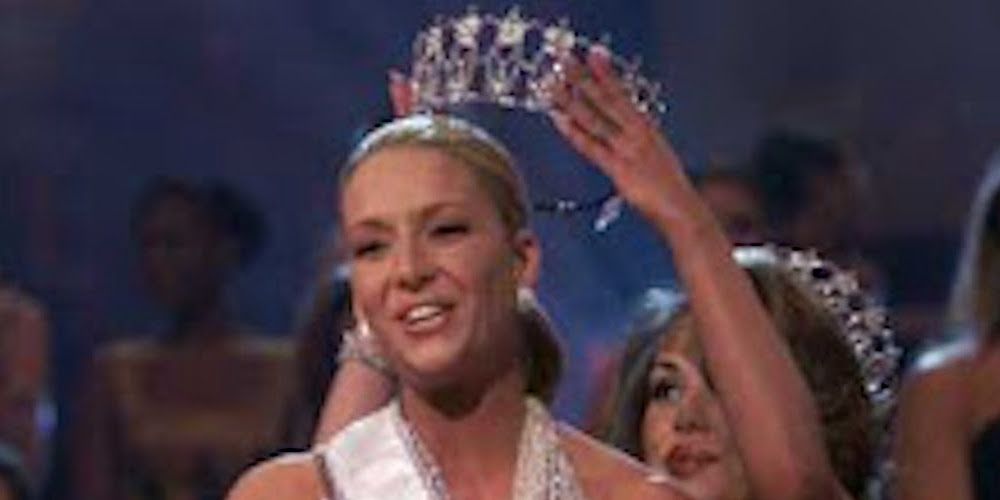 Pageant culture doesn't allow for much honesty. In the 2001 Miss Universe pageant, the Top 5, which included Miss USA, had to answer the question of what would they change about their past. Miss India gave an honest reply, saying that she wishes wasn't ill for a year when she was younger. She spoke of how she wished she could reclaim that time and replace it with health. It was an honest answer, but it wasn't the pageant answer; she placed fourth runner-up. The other four contestants responded as to be expected with varying versions of, 'I wouldn't change anything. It made me who I am today.' Again, Miss USA, like three of the other finalists, dipped into another phrase that people use to avoid unpleasant feelings: no regrets. She spoke of the adversity she had faced growing up, including her parents' divorce. She placed second runner-up, and Miss Puerto Rico went on to win the grand prize with her most polished version of the no regrets answer. No regrets is an ethos that society pushes on us, but it's okay to have regrets. They're a part of life and allow us to be honest with ourselves.
Pageants can be disappointing because there is a facade that's required to be successful in them. A contestant can't be too honest or say how she actually feels about something if they think it could jeopardize them being the one with the crown and the bouquet in the end. The veneer has to be shiny and not allow for any cracks of the unpleasant aspects of humanity to show through. But in the pageant of life, we also give our own glossy answers that sound right because we think we're supposed to say them. And one of those hollow answers that we repeat because we hear it so often that we assume it must be true is that everything happens for a reason. But as life proves, everything doesn't happen for a reason. And the sooner we dispel those empty phrases, the sooner we can be in touch with all aspects of our humanity, even the unpleasant parts, not just the ones we think will reward us with a sash.
Source: https://dominioncinemas.net
Category: REALITY TV