If you've touched RuPaul's Drag Race drama with a ten-foot pole, you know that queens and fans alike have plenty to say about how viewers react to arguments onscreen. In the worst scenarios, it can come to doxxing and organized efforts to mass report and deactivate the offending party's social media accounts. Whether they're pro-drama or anti-drama, some participants have decided that they get to dictate what people are allowed to say and be offended by. So how did we get here?
People having big reactions to reality television isn't a recent phenomenon. What's unique about RuPaul's Drag Race discourse, however, is that those who love seeing queens argue have developed a trump card: fighting is drag culture, and if you don't like it you're either lying or incompatible with drag. They profess with certainty that nobody would like the show without it. But is that true?
All Reali-tea, No Shade on 'RuPaul's Drag Race'
For a show that's supposedly all about the drama, isn't a little strange that there's a prize for the kindest and most helpful queen of each season? Miss Congeniality has been a mainstay of RuPaul's Drag Race since Season 1, predating staple traditions like the Snatch Game and the reading mini-challenge; because it's what? Fundamental. It's true that shade between queens is a cornerstone of drag culture—especially in the ballroom scene— but houses have four corners, and the drag houses that are remembered for their legendary reads have an equally long and important history of uplifting those in their communities.
The inaugural titleholder, Nina Flowers, upheld that legacy during her reign. In 2009, Denver Mayor John Hickenlooper declared May 29 "Nina Flowers Day" for her contributions to the city's LGBTQ+ community and their fight for equality. Coincidentally, she isn't even the only Miss Congeniality named Nina to receive that level of public recognition for LGBTQ+ activism. Season 11's winner, Nina West, has recently been using her platform to educate people on the history of members LGBTQ+ leading the charge on several major political and social justice movements, emphasizing the fact that drag has always been more than a form of entertainment.
see more : 'RHOA': Former Producer Rips Marlo Hampton for Forced Kandi Burruss Beef
In a similar vein, Season 9's resident nice girl, Peppermint, has been outspoken about the wave of anti-trans legislation in the U.S. and has been involved in several fundraisers for LGBTQ+ charities. Although Peppermint was never crowned Miss Congeniality, fan-favorite Valentina admitted that she probably would've taken the title had her fans voted fairly. Peppermint is also the co-founder of Black Queer Town Hall— a nonprofit organization that amplifies Black queer voices— alongside Season 8 winner Bob the Drag Queen.
Although RuPaul's Drag Race puts fun first, the show has undeniably brought drag culture into the mainstream (albeit imperfectly, but that's another conversation). Like it or not, that level of visibility comes with responsibility. Selectively highlighting the drag history that supports one's personal preferences to dismiss any criticism of unkindness is a disservice to the very people who paved the way for this level of widespread drag to be possible. There's nothing wrong with enjoying reading, but weaponizing and misrepresenting its history to shut down a Twitter debate is unconscionable. If fans and queens really care about where modern drag culture came from, then they need to acknowledge that kindness played an equally important role in the scene as shadiness, and accept that those on the softer side of the community belong just as much as anyone else.
'RuPaul's Drag Race' Provides Sugar, Spice, and Everyone Nice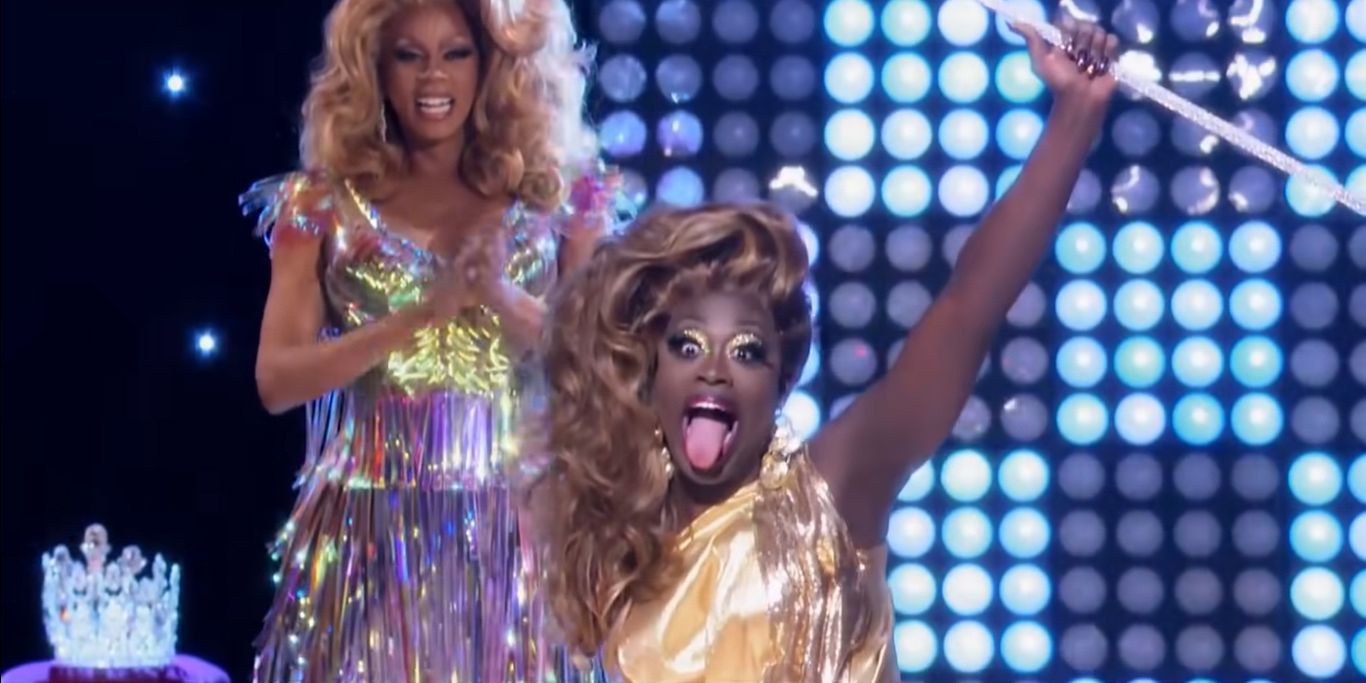 Now that we've debunked the myth that a love for dishing out insults is the end all be all of drag, let's break down the claim that the show would be too boring to watch without fights. Frankly, Farrah Moan said it best: "Some of us don't have to force storylines to get their airtime." Of course, not all the fights are a disingenuous attempt for attention— especially when alcohol is involved— but a sizable chunk of them clearly are. Oftentimes, contestants who are more reserved than the average queen get accused of not being real, but the elephant in the room is the fact that some of the most outspoken pot-stirrers are just as fake, if not moreso.
Playing the reality TV game is understandable. With only one winner, exposure is the biggest prize most of the queens are going to get on their season, but what notably sets Drag Race apart from shows like Keeping Up With the Kardashians or The Real Housewives is that its cast is entirely made up of queer artists (well, except Maddy Morphsis). Seeing as this is one of the few shows on television that can make that claim, why are we encouraging the cast to lean into the cookie-cutter formula of more traditional reality shows? Do we really think they couldn't possibly have something new and interesting to say when they aren't being prompted by producers to squeeze into an archetypical mold? Maybe they already are having those kinds of conversations, but they get in favor of moments that the producers can be certain are a safe bet for ratings.
Even if the queens don't have anything unique to discuss, queer joy is worth showing, and the times it has been have been received well. Season 12 is jokingly referred to as "RuPaul's best friend race" by fans after the alleged dramatic storyline between Gigi Goode and Sherry Pie was cut due to the latter's unacceptable offscreen behavior. Aside from some sour attitudes toward Aiden Zhane, the season was relatively drama-free, which allowed for plenty of time for onscreen silliness with lovable queens like Heidi N Closet and Crystal Methyd.
With All Stars Season 7 having no eliminations, there was very little tension between the competitors, which allowed for a mostly carefree and lighthearted werk room. The winners' taking a victory lap for a season was refreshing, and especially well-deserved in cases like Jaida Essence Hall, whose reign was uneventful due to the pandemic, and The Vivienne, who was less well-known by the franchise's fanbase than the American winners. The season is beloved for the next-level talent the winners bring, but also because of how contagious the queens' fun-loving attitudes were.
Speaking of popular fun-loving queens, twins Sugar and Spice ended up being some of the most beloved contestants of Season 15 simply because they were there to have a good time. The fanbase and their co-competitors had their doubts about the social media queens, but quickly learned that it's hard to hate on a pair whose goals were to make friends and new memories. What they lacked in experience they made up for in goofiness, and it made good TV by contrasting with their more serious cast mates.
At the end of the day, it all comes down to personal preference. Liking drama doesn't make fans problematic bullies, and preferring more stress-free seasons doesn't make fans oversensitive babies who don't understand drag. So long as we can stop pretending our opinions are objective and infallible, we can find common ground and appreciate our shared love of drag. Now, sashay away from this article.
Source: https://dominioncinemas.net
Category: REALITY TV