Cheating, lies, and abuse. The Real Housewives franchise is one ripe with problems. And one of those problems is the way the franchise upholds patriarchy in its approach to wives and their success. The Real Housewives franchise may focus primarily on the wives, but without husbands, or exes, the women wouldn't be cast. Most women on the show start off as traditional housewives where their main role is tending to children and domestics. As their time on the show progresses, things change in their marital dynamics, and chaos often ensues. It's not just the actions of the husbands on the show that have been called into question. The problem comes from men behind the scenes who work on the backend and also about shows selling audiences a show about kept women. But it is a franchise that consistently has storylines of the men walking all over the women in their lives. And even the "good" men have their issues. Breaking down the problems from husbands given the "good guys" label by fans and how even they have their issues to producers who outright tell wives that their success is hard on a man, the entire franchise has a problem with upholding the idea that men need to be coddled and that their wives being more successful is a "bad" thing for them.
What Exactly is a "Good" Husband on 'Housewives' Franchises?
There are the good husbands, and the cast of The Real Housewives of Salt Lake City is a testament to such. It's a cast made up of women who were already successful in their careers before adding on a Bravo check. Meredith Marks' husband, Seth, is a good example of equal contribution in how modern couples balance their work and family. Meredith is able to have it all: her family, her career, and her spot on the show. But Seth's sexism reeks in different ways.
Seth has often made remarks about Meredith's frenemy, Lisa Barlow, that border on the offensive. When Lis and Meredith got in a screaming match, Lisa's hot-mic bathroom moment in which she referred to Meredith as the "whore of New York City" and claimed Seth couldn't keep a steady job went down in history as one of the most epic moments in Bravo history. And when Lisa couldn't explain it away, the divide between the longtime friends grew deeper. The Marks didn't appreciate the rant, and Seth had no problem interjecting. Seth, in turn, made derogatory comments about Lisa on-camera and within earshot whenever he could. Though initially his actions were considered justifiable, viewers eventually felt it teetered along the lines of bullying.
Lisa Vanderpump and Ken Todd may no longer be on The Real Housewives of Beverly Hills, but Todd would often find himself in the midst of fights that were between the women on the show. He defended his actions by wrapped in a bow of chivalry for his wife. Within the same series, there is Mauricio Umansky, husband to Kyle Richards, who seemingly stays out of the drama and everyone's business. But he is also constantly the subject of cheating rumors. And he's best friends with PK Kemsley, who may be a good husband but, like Todd before him, time and time again he uses fights his wife Dorit Kemsley is in as a way of insulting the women around him.
For Every "Good" Husband, There's a Horrible One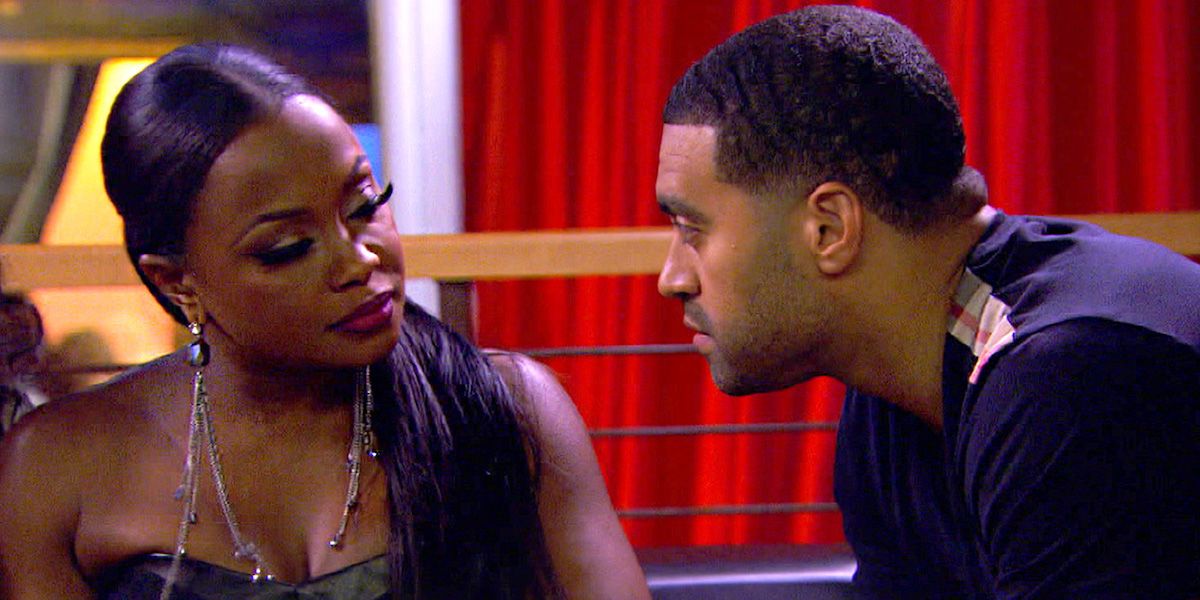 The franchise has been faced with husbands who can't handle their wives growing platform on the show. The worst of these offenders are the ones who blame their wives for him not measuring up, at least materialistically. It's men like Michael Darby on The Real Housewives of Potomac who blames his wife for his own choices. Throughout his time as Ashley Darby's husband, he primarily stayed off-camera and hid behind her success on the show to continue his philandering, all of which were exposed each season — or called into question with Ashley having to defend him. Michael didn't care if his actions hurt Ashley, allowing her to be a constant target of mockery from her co-stars and viewers. When they eventually got divorced, Michael refused to be kind to her and used their two young sons, as well as his financial power, against her.
In the same series is Juan Dixon. His relationship with Robyn Dixon has constantly been brought down by his cheating, with co-stars and viewers in disbelief that he desires a true relationship with Robyn. The two have been married twice to one another. Their first divorce was due to his infidelity and growing financial trouble. They remained in the same household as a benefit to Juan who doesn't have close family or friends and needed Robyn's financial support and a roof over his head that he was unable to provide for himself, despite him frolicking around with other women. Robyn however, didn't date, and held out hope they'd reconcile. He clearly strung her along, and was even caught on his own hot mic moment admitting his romantic feelings for her were diminished, noting he stayed for the sake of their sons. Robyn internalized his words, and instead of leaving and finding happiness elsewhere, she made the effort to "fix" their loveless relationship. The minute that Robyn found success in the show, he ventured away and allegedly cheated on her before the two remarried in 2022. His reason for his latest indiscretion was that he needed emotional support he wasn't getting from Robyn.
The Real Housewives of Atlanta had Apollo Nida blaming Phaedra Parks for his choice resort back into his life of crime. In one episode, he told Parks: "Some of the decisions I made were based on how you act. They weren't about me." According to Nida, Parks didn't share income from the show, leading him to his criminal ways. "Every time you get paid, you run off with the check. We're talking four years, I have not touched none of the money that we made," he yelled. He eventually was sentenced to eight years in prison for financial crimes, resulting in their divorce.
In Atlanta, there was also the famous divorce of Nene Leakes and Gregg Leakes. Nene claimed Gregg couldn't handle her becoming the breadwinner in their home after he previously held that role. But the two would reconcile and remarry two years after their split.
'The Real Housewives of New Jersey' is the Worst Offender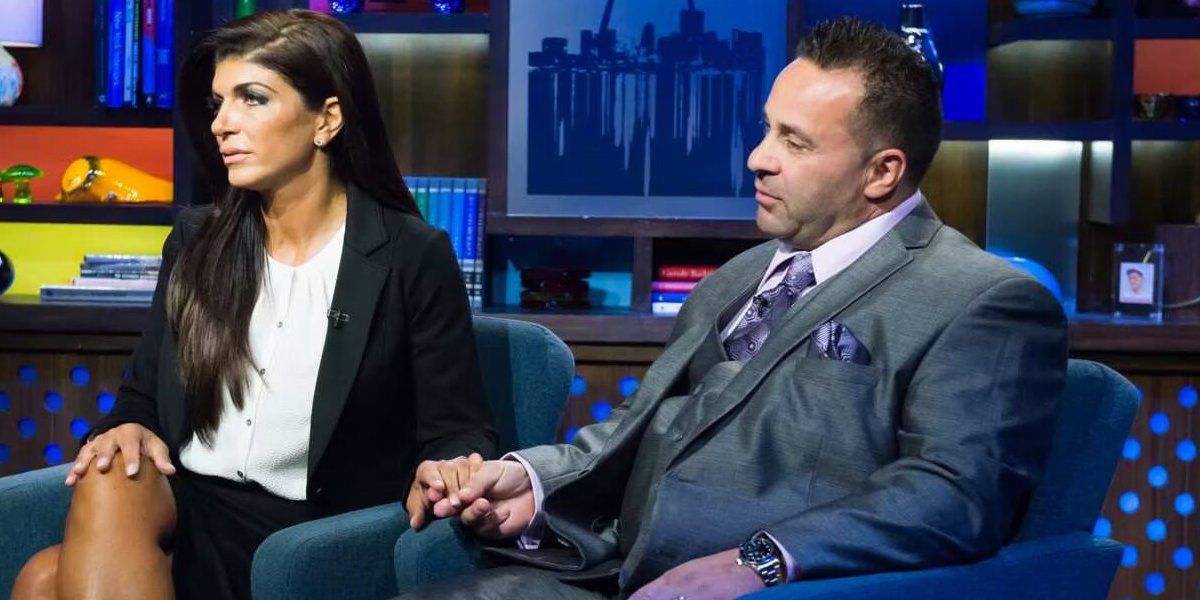 "My bitch wife," is a quote from The Real Housewives of New Jersey that highlighted how many of the men on the show view their wives. Joe Giudice is a prime example of the horrors that these men can bring due to their own insecurities. He was married to Teresa and committed bankruptcy fraud and other wire financial crimes that she claimed she was unaware of. Either way, a judge found her liable also. Both served prison sentences. It ruined their relationship. While Joe took the blame, his actions and selfishness wreaked havoc. They divorced in 2020. She has since remarried.
In the same series, there are other examples of "oxic patriarchal views, especially with men wanting their wives to stay home. We saw when Melissa Gorga opened her own clothing boutique, Envy by Melissa Gorga, and her husband Joe Gorga complained about her working outside of the home and him not having hot meals every night. Envy is still doing well, but it isn't because her husband was helpful about it. She fought against his desire for her to close it, despite the threat it caused to their marriage. They even reportedly considered divorce, but were able to move past Joe's caveman views.
In the more recent seasons of the show, we saw as Jennifer Aydin's husband Bill Aydin wanted to be seen as a victim in his own cheating scandal. He cheated on his wife years prior, but it became public knowledge when Margaret Joseph called him out on camera. The longtime couple attended marital counseling where Bill told his wife that he wasn't going to help out more with their five children because he considers it to be work solely for the woman. He also consistently blames Josephs for making his affair a problem, not his personal actions.
It stems from production down
The most shocking part of the problem is that the executives behind the scenes share similar views with some of the men on the show. Former producer of The Real Housewives of Atlanta and The Real Housewives of New Jersey, Carlos King, discussed his feelings on reality stars who have marital trouble, and outright blamed the women. While discussing his OWN reality series Love & Marriage: Huntsville, he hinted to understanding why Martell Holt cheated on his ex-wife, Melody Shari, and noted his experience on previous shows with other couples. "Sometimes, the wife neglects the husband and let's go of his hand. And he sometimes has a hand in your growth. Whether it's 'Babe, go out there and do that, I'll stay home and watch the kids' or 'You know what babe, you should be doing this.' And I tell women too that as you grow in your career, don't neglect your husband in the sense of don't emasculate him," King told a panel and audience. His point further exudes the constant worrying a woman endures while reaching for their own dreams and simultaneously having to work harder to stroke their man's ego.
Source: https://dominioncinemas.net
Category: REALITY TV