For the first time in his storied film career, three-time Academy Award-nominee Sylvester Stallone is looking into the lens in an entirely new way. On May 17, the Paramount+ reality television series, The Family Stallone, premieres, giving the world a look into the life of one of cinema's most notable action heroes, along with his wife, Jennifer Flavin, and their three daughters, Sophia Rose Stallone, Sistine Stallone, and Scarlet Rose Stallone (plus the family pets!). While promoting the show, Collider's Steve Weintraub spoke to the family about what it actually takes to create reality TV, and according to Rocky himself, it's more "labor-intensive" than feature films.
The role of a father in a house full of daughters is a particularly special one, but it isn't easy. During their interview, Sophia, Sistine, and Scarlet roast their dad for attempting to direct reality TV, tease him for his small, but close, group of friends, and more. Flavin falls easily into the matriarch role of what Stallone lovingly refers to as "the family," but she gets her jabs in, too. They also discuss all the elements that go into making a reality series that fans aren't often privy to, the family pets are beloved and ever-present, and Stallone reveals which reality show staple was the very last thing he gave into. For all the love and chaos, you can watch the interview in the video below, or read along with the full transcript.
COLLIDER: I have seen Sly work, and he likes to control/direct things when he is on set, so I am curious what he was like when you were filming the series, knowing that about him?
SISTINE STALLONE: Oh my God.
SOPHIA ROSE STALLONE: That is a good question!
JENNIFER FLAVIN: Exactly the same.
SCARLET ROSE: The exact same! Sometimes he can't help himself, he comes out when we're just shooting a scene, he turns into director Sly and he goes, "The lighting, it has to be facing me."
SYLVESTER STALLONE: I go, "What is that lens? A 35?" I can't help it.
FLAVIN: "Shouldn't it be in a long lens, and shouldn't you be looking over the shoulder?" And I'm like, "It's a reality show! They can be looking anywhere!"
SOPHIA: "That line wasn't good! Start over!" And we're like, "This is not how it's supposed to go."
SYLVESTER: Yeah, ignorance would have been bliss, but unfortunately, you know too much, you gotta stick your two cents in.
You want to obviously make it as great as it can be, and you have the experience behind the camera.
SYLVESTER: Thank you. I think that's also important that the next season, hopefully, will make it even more cinematic.
SOPHIA: [Laughs] What? Like with explosions and stuff? I get hit by a plane.
SYLVESTER: Yeah, we're gonna have explosions!
SISTINE: Car chases…
SOPHIA: Helicopters!
SYLVESTER: I get hit by a plane.
FLAVIN: Bow and arrow!
SISTINE: Shootouts…
When it comes to a reality show like this, how much are you discussing before filming begins with the producers and the network what's off limits, what you're willing to talk about, and how much is it being found in the edit, and then you're discussing, "I don't really feel comfortable with that scene, but that's okay?"
SYLVESTER: Oh, wow, that's a mouthful because the edit is everything. I'm a big editing aficionado, and the family has to get into the editing room so everyone's on the same page. Quite often you have an editor, they're not with the family, and they'll put things in they think are interesting, and they just don't work for us. Also, when you're on the set, after a while, the girls, they start to know what works for them and what doesn't – "This angle doesn't work, this lighting is kind of harsh." Eventually, everyone finds their own style, I think the crew itself falls into that groove, and everything is copacetic after that.
FLAVIN: The stories are real.
SYLVESTER: No, the stories are totally real, but you do go, "I'm not gonna say that, okay? And I'm not gonna say that because I just don't think it's funny and I don't think it's relevant."
SOPHIA: Well again, every family has something – even you – everyone has something private they don't want to talk about, so I think that that's a very fair thing. But I think 90% of it is exactly who we are.
SCARLET: Yeah, we're pretty raw.
SOPHIA: It's just the 10% that we love to keep between ourselves.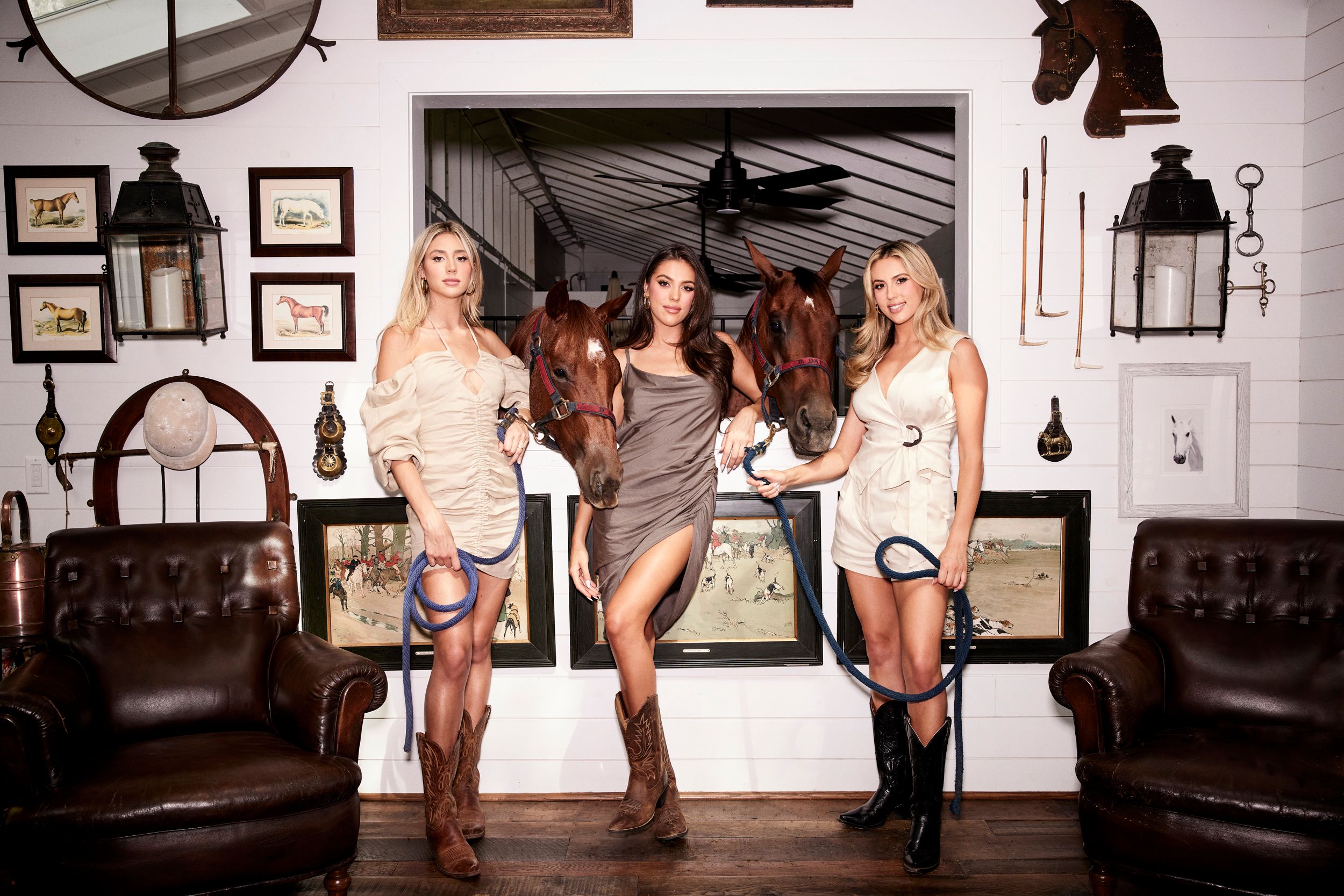 By the way, I could never do what you guys just did. I give you a lot of credit.
SOPHIA: Oh yeah, it's a lot.
FLAVIN: It was very intimidating.
SCARLET: It was, it was really hard because we're not growing up in the spotlight, so having to be so raw and so honest, especially in front of the camera, was a big step. Especially for me because they have their podcast, so they're kind of used to it. But it was really hard for me at first.
FLAVIN: And also, you're in college.
SCARLET: I'm in college, yeah exactly.
SYLVESTER: Hmm, there's not a shy bone in your body, girl. That's good, though. Everyone here is very animated, you might say, which helps.
FLAVIN: There's no, really, wallflowers in our family, so it wasn't that hard. If there was someone in our family that definitely didn't want to do it, then I would honor that, but everybody was excited to be a part of it because we have a lot of funny stories.
SYLVESTER: I think that's a good idea; you have a reality show that no one speaks. Everyone is so shy, and that's it. Call it Big Mouth.
For soon to be fans of the series, what do you think would surprise them to learn about the actual making of the show?
SOPHIA: It's a lot harder than you think.
SISTINE: I think people don't understand that there's probably hundreds of hours of footage that are completely unused. It really wasn't one of those things where, "Oh, we have a call time, we show up for 30 minutes and then leave." We really put in six, sometimes seven, days a week, 8 to 10-hour days for months and months.
SYLVESTER: Also, some storylines aren't finished, and you have to keep going back and adding to the storyline.
SISTINE: Right. So it was just a lot of time, a lot of energy, but it was really nice being able to do it with your people because they're also doing it with you.
SYLVESTER: It's a lot more labor-intensive, I find, than doing a feature. A lot more because it's unstructured and you just need to fill in, "Oh, God, we have to go back six months later. We need this thing here. Is it working? We need to approach this scene from a different angle. We need a voiceover, a different narrative." It's quite fascinating, it's a real skill set.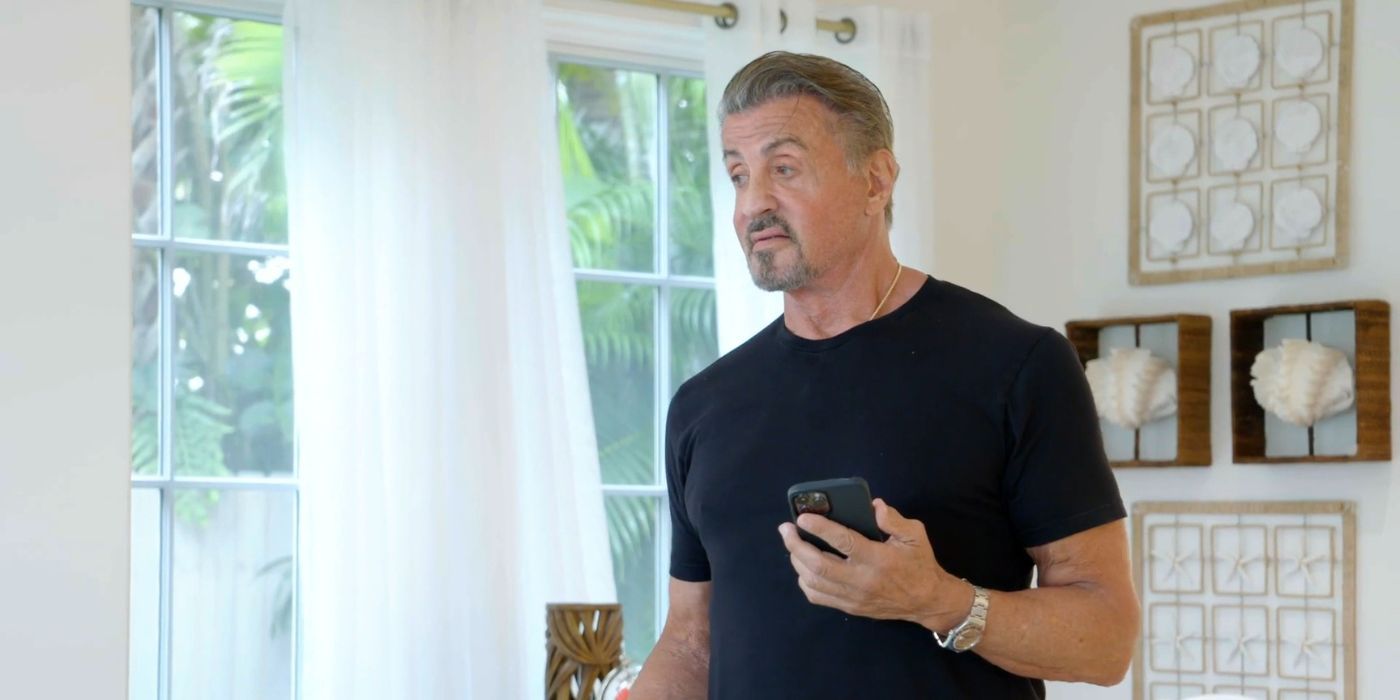 Again, I want to reiterate, I couldn't have done it. This is a question for everyone but Sly; if someone has never seen a film that he's done, what is the one that you want them watching and why?
SOPHIA: It's funny, I've actually had a boyfriend's tell me, "I've never seen your dad's movies in my entire life."
SYLVESTER: What a creep…
SISTINE: I think I would want people to see either Oscar because it was the only comedy he did, thank God – just kidding! – or Rhinestone because that was the only singing movie he did. Because it's funny! Everyone knows you as one type of character.
SYLVESTER: I see your point.
SISTINE: Dad, what's the movie– what's it called? Bad Cop?
SYLVESTER: Cop Land.
SISTINE: Cop Land! [Laughs] Bad Cop…
SYLVESTER: Jesus, what about Rocky? That might work.
FLAVIN: I think Sly is very similar to Rocky, out of all your movies. It's like, Rocky combination with Oscar because–
SYLVESTER: Yeah, you know Jennifer, you know what I'm sayin'? How you doin?
FLAVIN: Aww, are you gonna take me to the pet store?
SYLVESTER: Buy you the turtle food. You know, you hit 'em in the back, and they cough.
FLAVIN: I think Sly is very sensitive and he's a very soulful person. He's a writer, he's a reader, and I think that's like more like a Rocky, very calm and very sensitive and caring, and loves to be with the family. Doesn't have a lot of friends–
SYLVESTER: Immature.
FLAVIN: Very immature, but then also, he's like an Oscar where he's super funny–
SISTINE: Has no friends…
SYLVESTER: Has no friends?! Jesus.
FLAVIN: [Laughs] You don't!
SOPHIA: Loser!
see more : History Has Shown 'Jeopardy!' and 'Wheel of Fortune' Will Survive Without Their Iconic Hosts
FLAVIN: Well, you don't have a lot of friends. Excuse me, you have the same friends–
SCARLET: He has a group!
SYLVESTER: Me and Quasimodo? No friends.
FLAVIN: No, he has the same friends he's had for 50 years. That's a good thing!
SYLVESTER: Yeah, because I support them all – kidding.
FLAVIN: That's not true. Anyways, he's a really funny guy, so I think Oscar is probably– [daughters laughing] What?
SYLVESTER: I know you're sorry you asked that question.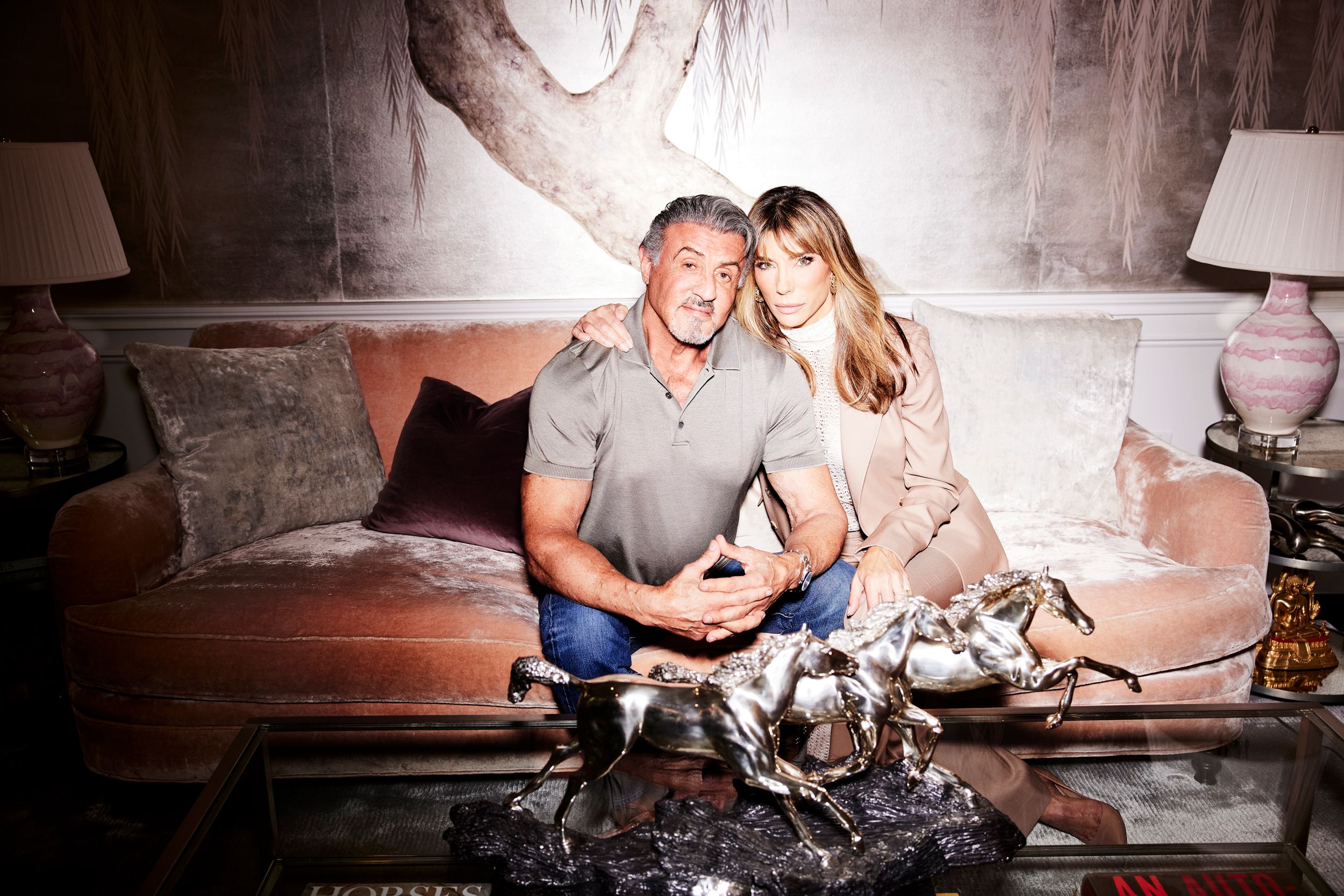 Sly, I saw on the trailer that you feed someone at the table, which reminds me of something that I do. I'm just curious if you're as much of a pushover with animals as I am?
SYLVESTER: I'd like to think I'm not, but yeah, they're in the bed with me, they're eating my toast.
SCARLET: Every morning at breakfast.
SISTINE: [Points off camera] One's right there.
SYLVESTER: We're actually eating off the same fork, which is disgusting, but true. Yeah, I am. How do you look at those eyes and not give in?
FLAVIN: We have three dogs and a cat at home.
SYLVESTER: Sort of a cat. She's like half a cat.
FLAVIN: Half a cat, half human.
SYLVESTER: No, half owl. It's a–
SISTINE: You guys, this poor guy, he can't even get a word in.
SCARLET: Enough! Who cares about the cat? [Laughs]
FLAVIN: He cares about our cat!
SYLVESTER: Give him an extra minute, then! Go. An extra minute for you, go for it, since we screwed up your interview.
I actually do appreciate it. One of the things that I always find fascinating about reality shows is when you guys have to sit in the chair and sort of recap what's happened, or sum things up. How awkward is it to sit in that chair and try to remember?
FLAVIN: Yeah, the confessionals.
SCARLET: Oh my God, I am so bad at it. They're asking me stuff from so long ago, "How did you feel from, like, two–?" I'm like, "I don't remember how I felt three months ago!"
SISTINE: And you also have to speak as if it's happening to you right now.
SCARLET: Oh, and then it's the grammar that always messes you up, too.
SISTINE: Yeah, they're very uncomfortable.
SYLVESTER: That was the last thing I gave into. I said, "Nah, I'm not doing it."
FLAVIN: He wouldn't do it for the first few months. He was like, "I can't do it, I won't do it, I won't do it," and then he finally gave in, and he's like, "Okay, I'll do it if we set it up in our backyard."
SYLVESTER: Yeah, I said, "Why is it always in front of a sheet somewhere, like in a phone booth?"
FLAVIN: Then all of a sudden, the light went down, lighting was horrible and we couldn't see him, so then he had to go into a sound stage, so it was pretty fun.
SYLVESTER: So my experiment was a failure, outdoors did not work. But I know what you mean, it's not easy, it really isn't. That confessional is the glue, quite often, that holds the show together. It's kind of like the narration.
The Family Stallone is now streaming on Paramount+.
Source: https://dominioncinemas.net
Category: REALITY TV