[Editor's note: The following contains major spoilers for Based on a True Story.]From show creator Craig Rosenberg (The Boys, Gen V), the Peacock comedy series Based on a True Story follows Ava (Kaley Cuoco) and Nathan Bartlett (Chris Messina), a married couple with a baby on the way who are both itching for something more. The realtor and former tennis star expected bigger things for themselves, so when things start to unravel and they become suspicious of their plumber, an obsession with true crime leads to some wild conclusions that might actually prove to be true.
During this 1-on-1 interview with Collider, Messina talked about whether he listens to true crime podcasts, that this story isn't really that far-fetched from real life, working with Cuoco while she was actually pregnant, navigating the dynamic between Nathan and Matt (Tom Bateman), shooting the wild Crime Con episode, pulling off this kind of comedy, and that he'd like to keep exploring these characters for another season.
Collider: These characters seize an opportunity to capitalize on the obsession that we seem to have with true crime and true crime podcasts. Are you someone who's ever bought into that? Have you listened to any of those podcasts? Did you go down a research rabbit hole for this?
CHRIS MESSINA: No, I've never listened to them. I've seen shows about them. It's not where I choose to spend my time, although I see the fascination with it. When I watch them, I'm always trying to figure out how, if I'm ever in that awful situation, one gets out of it. It's almost like taking some self-defense class by watching it. I learned a lot about them, by doing the show.
I tend to be more interested in the crime-solving aspect than I am the details of the crime.
MESSINA: Yeah, I agree. That is interesting. You're like, "I think I know who did it?"
Are you surprised that this is such a successful and thriving industry?
MESSINA: No because when we're driving on the highway and we see a terrible accident, we slow down and we look, hoping to see that everybody is alive and well. We do slow down and look because of that thing in us, as humans, that wants to gaze into the darkness sometimes. And so, I'm not surprised at it. As wild as the TV show is, in terms of the decisions that this couple makes, Craig [Rosenberg], the showrunner, and I would have these discussions about, "How far off are we, as a civilization, from this kind of thing, where people are actually blackmailing a serial killer for fame and money? How far are we, really?" It's a bananas scenario, but I don't know necessarily how far-fetched it is.
This is one of those shows where the tone seems really tricky. You're dealing with the dark and heavy subject matter of a serial killer, but you are weaving humor into it. When you're doing something that's described as darkly comedic, do you have to try not to think about being funny and just hope that that humor translates out of the absurdity of everything?
MESSINA: Yeah, that's well said. I found the tone very difficult. Every day, I would ask Kaley [Cuoco], who's really, really good with that tone because she can be incredibly funny and then heartbreaking, just a second later, so she was really the leader and I would ask her, "Is this supposed to be funny? Is this serious?" The trick was just, if you played it honestly, there was a lot of stakes, and a lot of wants and needs from these characters, that some of it would come across as dramatic or heartbreaking or moving or emotional, and some of it would just be funny, in the structure of the scene. Craig, the showrunner, saw early on that Kaley and I like to improvise and we would often be very silly together. He let that dynamic flow, which was beautiful because it helped create a relationship. We would finish each other's sentences and overlap dialogue, and with that came a lot of chemistry. Hopefully, people will like these people enough to go down the road with them, as they make the stupidest decisions.
There's something so interesting about Kaley Cuoco really being pregnant during this shoot. As a viewer, it makes you feel like you want to protect her. Did that make you feel the same way?
MESSINA: Yeah. Initially, it wasn't written like that. As a father, I was really happy for her because I know how great that is, but I also thought it was amazing for the show. It just ups the stakes, as they tackle their bills and their professions that aren't happening. I thought it was the best thing for the show. She was a trooper because she had to do a lot of physical stuff. The hours are always long when you're shooting, and she never complained. She just laughed and played, and was super cool. I tried to take care of her, as my friend, as my scene partner, and as my TV wife, and I think that bled onto the screen.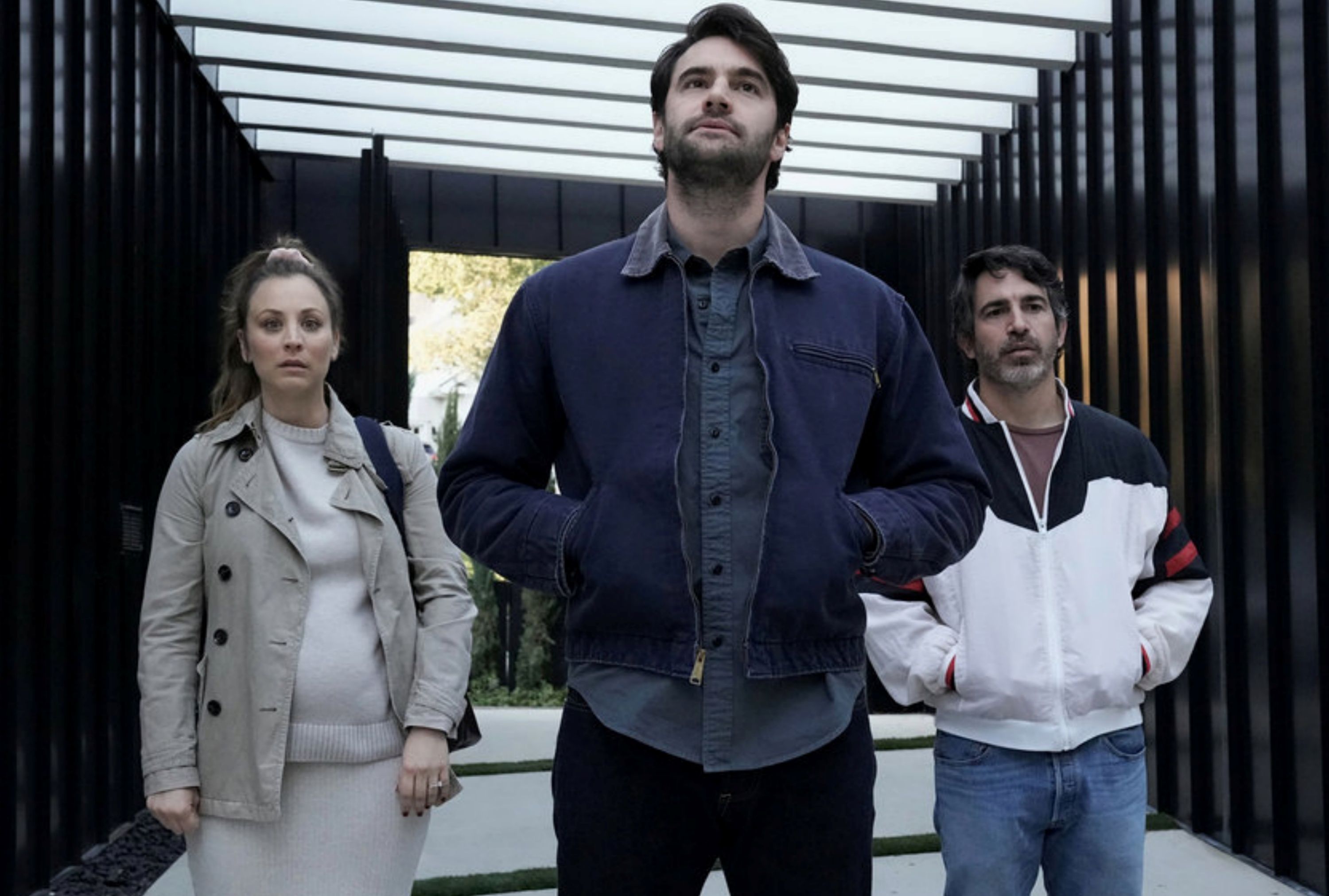 What's it like to navigate a relationship with someone who's your plumber, but also your local neighborhood serial killer? Did you guys talk about the relationship dynamic that you wanted to have together?
MESSINA: Tom [Bateman] and I discussed like their arc and how it was tricky. When do they stop being so afraid of him? Do they ever stop being afraid of him? There's something about Tom's character Matt that sees Nathan, and Nathan only wants to be seen. Nathan wants to be remembered as this great tennis player and he wants to be someone. So, I think there's a sadness for this guy that saw me and really liked me and, "Oh, shit, he's a serial killer? Now, I can't be friends with him. He made me feel so good about myself." And there's the guilt of that and the strangeness of that. We played with when Matt and Nathan could step towards bonding, and when I despised him. That was a fun, delicate tightrope walking.
Do you think that your character would have ever gotten to the point where he thought any of this was a good idea, if his professional life weren't falling apart, at the same time?
MESSINA: I don't think he would have. If his professional life was on track, this would have never happened. Even more importantly than his professional life, his marriage. He probably feels like, if his professional life was on better track, his marriage would be on better track. He sees himself so negatively and thinks that his wife has lost interest in him because he is unsuccessful. So, no, I don't think he would have ever been involved with this.
What was it like to shoot episode five, when you guys are at Crime Con? That episode had a lot of moving parts to make all of it work. Did it feel like a bigger episode? What were the biggest challenges in pulling that off?
MESSINA: I never knew that Crime Con existed. I didn't even know that was a real thing. I thought they had made it up. The director did such a great job because you just never have enough time and there were a lot of people. We were trying to create Vegas. A woman plummets to her death from a high rise, so there were special effects. Because Kaley was pregnant, as we moved on in the show, she would just be exhausted. She would fight through it, but she would be exhausted. They took such good care of her. We all loved her so much, but the hours would get shorter to have her because you couldn't do that to her. She'd have to go home, and then turn around and go back to work. So, that director did such a great job of orchestrating all that. We also had that crazy dance piece, which was super choreographed with lots of blood. They did a fantastic job, all the designers on all the episodes, but in particular with Crime Con.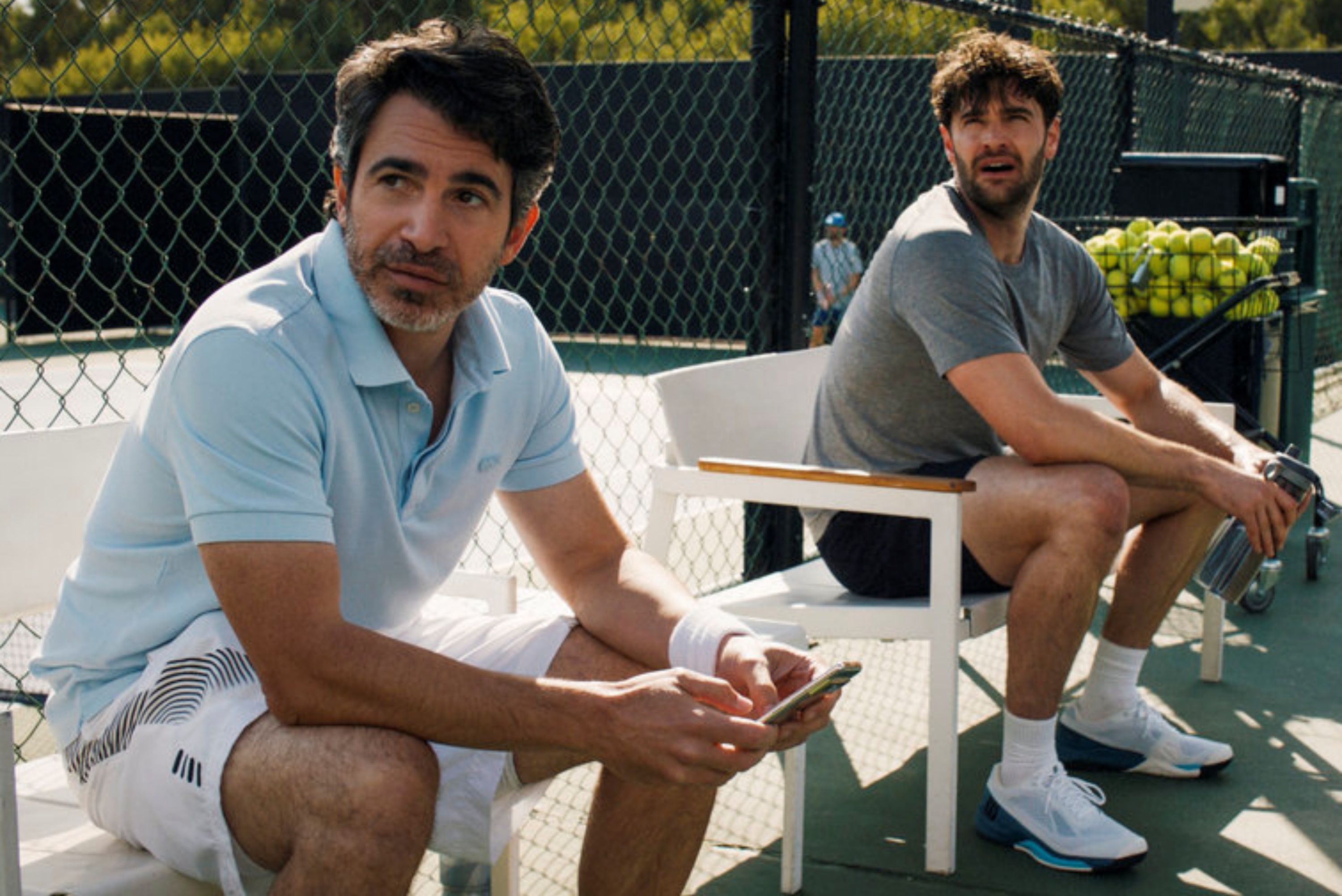 I actually thought the scene where you and Tom Bateman kiss was really interesting because you're probably not used to having a make-out scene partner that's taller than you.
see more : Why 'One Piece' Is the Show We Need Right Now, According to Director Marc Jobst
MESSINA: Yeah, that's true.
What was that like to figure out? Was there choreography involved in how to do that?
MESSINA: The kiss wasn't choreographed. They just let us go. What was choreographed was who would kiss who. The camera was moving around us, so you'd kiss, and then this person would turn and kiss, and then this person would turn and kiss. So, who would kiss who at what time, as the camera moved, was choreographed. We did have an intimacy coordinator that was super cool, and talked to everybody and made sure they were cool, which I'd never had before. It was the first time on a show that I'd ever had that. It was two women that did it, and they were spectacular and made us all feel comfortable. But the kiss with Tom, we just let it go. We just let it happen. I love that guy, and I have so much respect and trust for him. Hopefully, he had the same trust in me. And so, we just went for it.
How was it to do that whole fantasy sequence, with the stabbing and killing of everybody? What was that like to shoot?
MESSINA: It was fun. I had them put on this LCD Soundsystem song, "Dance Yrself Clean," which they don't use in the edit, but I wanted it for Nathan. I said, "Every time I dance and the camera is on me, I wanna play this song." There's something ritualistic or tribal about that song, and I thought, in a way, Nathan was releasing demons, of sorts, that he was holding onto. I wanted to lose myself in that dance. The thing about the fantasy sequences in the show is that there's no right or wrong. That was always a good thing. It's a fantasy, so if they don't like it or believe it or it doesn't matter, you can always fall back on that.
Do you feel like you're somebody who's comfortable with doing this kind of comedy, doing the improv, and doing the physical comedy? Does that feel like it comes naturally, or is it something you've had to work at?
MESSINA: I feel like I've had to work at it a lot. I don't necessarily feel comfortable in it, but I know when I have a good partner, or great filmmakers around me, and that they'll have my back and help me and make me look better. I really like comedy. It's extremely hard, what the great comedic actors, like Kaley and many others out there do. They make it look so easy and natural. It's very hard to land a joke, or land a funny situation. The second you start to play the comedy or ham it up, which I do a lot, you can see it a mile away. What's funny is the truth. That's what I try to lean towards, the truth of the situation. But I'm always pulled into wanting to be funny, or wanting to be liked, and that's always death in comedy, at least for me. A good scene partner just makes you better. I play a tennis player in the show, and you're only as good as your opponent. Acting partners aren't opponents, they're collaborators, but they only make you better.
By the end of this season, these two people are in deeper than I'm sure they ever expected. Is that something you would like to continue exploring with these characters? Are you hoping to do another season of this? Have you talked about where things would go next?
MESSINA: We would debate sometimes, while we were waiting for a lighting set-up, about where the show could go. I'm sure Craig, who's super smart and gifted, has many ideas. For me, I would love to do more. I love acting with Kaley. She made me better. I would love to learn more from her and just get to hang with her. I'd like to see a Bonnie and Clyde thing with them, where they just make worse and worse decisions and stupider mistakes that send them deeper into the hole. It would be fun to get another shot at playing with that.
Based on a True Story is available to stream at Peacock.
Source: https://dominioncinemas.net
Category: INTERVIEWS