Editor's Note: This article contains spoilers for Spider-Man: Across the Spider-Verse
To celebrate the release of Spider-Man: Across the Spider-Verse, with Shameik Moore and Hailee Steinfeld reprising their roles as Miles Morales and Gwen Stacy, Collider teamed up with Sony and IMAX to host an early screening of the sequel before it officially hit theaters. Following the movie, co-director Joaquim Dos Santos joined Editor-in-Chief, Steve Weintraub, on stage for a Q&A with the audience to discuss this passion project that took the cast and crew of thousands of animators over four years to complete. If you had to miss out on the event, no worries! Read on to dig into the behind-the-scenes, cameos, and more.
Like the first groundbreaking movie, Spider-Man: Into the Spider-Verse, Dos Santos and his fellow co-directors Kemp Powers and Justin Thompson, worked off of a script penned by Phil Lord and Chris Miller that continues the story of Brooklyn's friendly neighborhood Spider-Man, Miles Morales. Not only does the sequel continue the story of Miles' journey as a superhero, and his discovery of the Spider-Society within the Multiverse, the talent behind Across the Spider-Verse bring back the same innovative animation that earned the first of the trilogy praise as one of the greatest animated films of all time, and even "…somehow manages to equal—if not improve—upon this incredible world," according to Collider's Ross Bonaime. So how do you improve on Oscar-worthy material? Dos Santos tells the audience, "If the first film was about these characters coming into Miles' world, and sort of invading his world with their style, the promise of this film was that Miles was gonna trip into their style. We could literally go up and down the comic rack and step into different books."
Check out the full Q&A below to find out what changed throughout the editing process, why Academy Award-winner Daniel Kaluuya landed Spider-Punk, and how Gwen Stacy can bring a grown man to tears. As far as that recently-announced live-action Spider-Man, Dos Santos tells us "everything is on the table," and discusses where Spider-Man: Beyond the Spider-Verse is in production, Easter eggs, the sequence that took four years, cameos, and so much more. If you haven't had the chance yet, or if you want to try your eye at the cameos, snag some tickets and check out Spider-Man: Across the Spider-Verse on the biggest screen you can. In addition to Moore, Steinfeld and Kaluuya, the movie also features the vocal talents of Oscar Isaac, Jake Johnson, Luna Lauren Velez, Brian Tyree Henry, Issa Rae, and Andy Samberg.
COLLIDER: I'm gonna say congratulations.
JOAQUIM DOS SANTOS: I appreciate that very much on behalf of the other directors, and Phil and Chris, and everybody, I mean literally thousands of people, who made this film.
I want to say one more time, a huge thank you to Sony for letting us screen the movie early, and a huge thank you to IMAX for always being an amazing partner… I just checked on Rotten Tomatoes and there's, like, 90 reviews, and it's at 94, 95%. You put your heart and soul into this thing for a while, what does it mean to have such positive reactions from so many people?
DOS SANTOS: Look, it's surreal. I've been saying that all week. It's been four years we've been making this film. I came in at the tail end of the first one before it had done what it did and won all its awards, and you could feel it in the room just in lighting, when you're in lighting reviews, and we went with that. It opened sort of these creative doors for us and we just sort of went with our gut. We've been saying this all week, if it had been about doing the same film, but 40% more, I don't think we would have been into it. It was about trying new things, and the first film really [gave] us the creative freedom to try everything that was in our heads.
You co-directed this; talk a little bit about how that actually works because it's very unusual to have three directors on a project.
DOS SANTOS: The first film set the pace, they had three directors. It's a big film, there's a lot of ideas. Thankfully, we're sort of like a weird jazz trio where we each play different instruments. I come predominantly from storyboards and thinking about camera angles and how things play out visually through the lens. Kemp is an absolutely amazing writer – One Night in Miami, I don't know if anybody's seen that, but it's a master work – and Justin was responsible for the visuals, not only in this film, but in the first film. So all that groundbreaking stuff, all the stuff that really sort of blew the doors wide open on animation, that was, in large part, due to Justin and the crew that he ran. So we each kind of have our little talent pools that we live in.
At the beginning of the film, the first year of this film, we were all in every meeting together and it was great, we got to become bros. Then, you know, as production picked up and things got a little crazy and chaotic, we all sort of would see each other in the halls going to various meetings and we kind of covered each other on what we were doing, but we had each other's trust at that point, and we could just kind of like high-five in the hall, and say, "You got the thing on the thing? You got the thing? We're good, we're covered!" That's how it worked.
I would imagine that from the inception of this to what people see on screen, a lot changed along the way. What were some of the big radical things that you thought about doing that ended up being cut for whatever reason?
DOS SANTOS: So originally, this film was this film and Beyond the Spider-Verse, so it was huge. It was too huge for one film. We would screen it, and like midway through, we'd be like, "Holy crap, we're going off!" So we realized at some point, "Hey, we're gonna split the film up." We knew it was a trilogy, we just thought we could cram two films into one for the middle one, and it clearly didn't work. And the great thing about feature animation is that it's an iterative process. We've made this film probably 40 times. It's been long, it's been short, it's had a Gwen intro that was like five minutes long, it's had a Gwen intro that was 20 minutes long. It had a 50… It has all these different versions, and you get to screen that for people like you, for test audiences, we screen that for ourselves, and I think that the biggest change was cutting it where we cut it and realizing that there was a third film to be had out of the middle one.
So as you know, the next film comes out in March of next year, which is, you know, not soon enough. So I'm curious, where are you in the production process of the third installment?
DOS SANTOS: Chaos. We're in chaos, much like we were with this one. These films, again, you'd think that by now it's totally figured out, we've got the system down. I think the deal with each one of these films is, we break the rules every time. So we're in the process of trying to break the rules for the third one.
One of the things that I realized after watching this is all these titles are very literal. You have Into the Spider-Verse, Across the Spider-Verse, and now there's Beyond the Spider-Verse. What does Beyond the Spider-Verse mean?
DOS SANTOS: I mean, if I told you that you wouldn't go see the film.
Will the first trailer show things that people are gonna be like, "Wait, what?"
DOS SANTOS: I think all these trailers do. I mean, look, I don't think we'd be doing our job if we didn't try to wow at every turn. I think one thing that we are incredibly cognizant of is, as big and as crazy as the film got, what we're really locked in on is the journey of Miles and his family and his relation to his friends. So absolutely all the visuals are gonna be there, but I think continuing that journey and that sort of love affair that we have with Miles, with his journey, I think that's gonna be the thing that really sort of grabs people.
Beyond the Spider-Verse makes me think of other things, perhaps live-action. So is there any chance one of the worlds that you depict in Beyond the Spider-Verse could be live-action?
DOS SANTOS: I mean, you saw it in the film, there was cool stuff to be seen. I think everything's on the table. I can't give you an answer. I wouldn't dare give you an answer for fear of being, like, sniped right here on the spot, but yeah, I mean, that's the exciting thing of these films. Look, I'm a man of a certain age, and in my mid-forties, the idea that I would be seeing a film like this, so beyond what I could imagine, even when I was a kid, it's the stuff that I would draw in school on my notebook paper, and now it's happening. So I think everything's up.
I love the new characters that are in this, especially Spider-Punk. There are so many cool things. Which characters were almost in this? Because Chris and Phil told me that Beyond the Spider-Verse has characters that are not in this one.
DOS SANTOS: A lot of characters– Look, not only is it, you know, sort of like this crazy web that we weave in the film, but untangling the legalities of what characters we can and can't use… Some of them were straight bootleg. We watched this thing called Italian Spiderman. I don't know if you guys are familiar with it, but it's bonkers. It's completely bootleg, it's not owned by anybody except the crazy people that made it on the internet. We tried for Italian Spiderman at some point. Marvel was like, "We don't know what you're talking about, dude. That's not ours," so yeah… So all that stuff's on the table.
Talk about Spider-Punk a little bit, though, because it's a great addition, and also, you know, Daniel's voice.
DOS SANTOS: Yeah, Daniel Kaluuya is, I think, one of our great actors of our generation. I was surprised, honestly. You know, when I think of Daniel Kaluuya I think of him speaking in an American accent. We watched these interviews with him and it was just him doing this on a talk show, and we set that against the visuals of Spider-Punk as he was being developed, and just seeing a stagnant image of Spider-Punk set to his voice, it jumped off the page. So, yeah, I mean, look, I could hear the guy talk all day long. I'm gonna understand probably, like, two out of every five words that he says, but I'll listen to it all day long.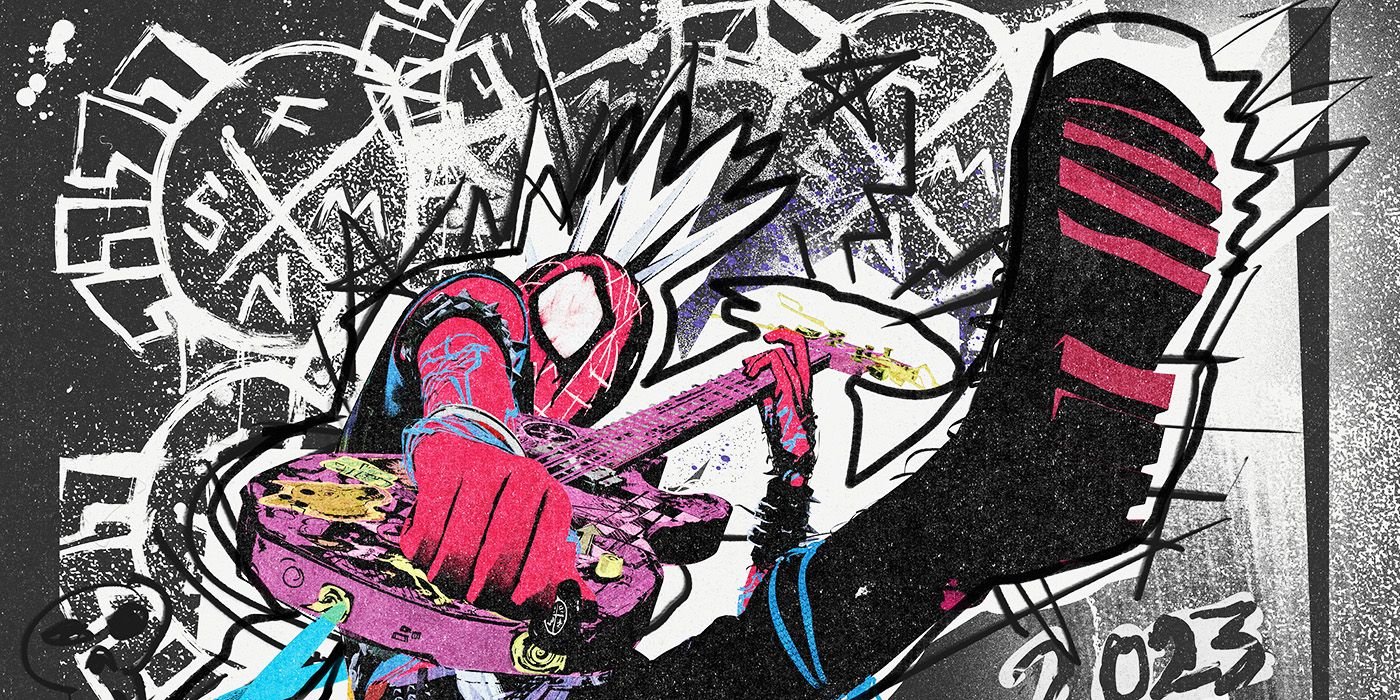 Everything has deleted scenes. If you remember, what was the last thing you cut out of the movie before you picture locked?
DOS SANTOS: You know, it's not any one big thing, there's like a series of little trims. I mean, you're really sort of fine tuning stuff. There's stuff that was cut at the storyboard phase, where we're thinking through bigger ideas. I think if I were to talk about them, I'm probably giving away stuff that might happen. Spider-Rex almost wasn't in the film, that whole thing happened, but I'm very happy he made it.
One of the things that I learned – and I had no idea – is what costs more in animation. I just figured everything on the frame cost a lot of money, but in actuality, there's Gwen's hair, for example.
DOS SANTOS: Millions of dollars.
So talk a little bit about that and other shots, or other things, that cost a ton of money that you'd never think.
DOS SANTOS: Yeah, you wouldn't think. I mean, Gwen just interacting with her hair, like putting her hair up, I've watched grown men cry at the idea of that. They were just like, "Oh, we can't do it, we can't do it, it's too much!" Pulling a mask on and off, especially if you're gonna do it slow. It's interacting with the face and sort of pulling the skin. That's another one that's like… that was almost like no-no territory., "We can't even do it. It's gotta be fast. It's gotta come from nowhere." Look, the subtlety of the acting, you'd be surprised… You think Spider-Man, you think: big crazy moves, swinging all over the place, and that's where the big money is sent. But it's the subtlety and performance that can sometimes cost more money.
How long does it actually take to animate certain scenes? Is it one of these things where you're working on shots for a year? Take us through some of that.
DOS SANTOS: If you think about the Guggenheim sequence, that was the first thing that we storyboarded, that was the last thing that locked animation in the film. So that was the entire four years that sequence was worked on. I think Justin has the actual figure, but if you were to line up the hours worked on this film in a straight line, it's like 792 hours straight, if it was one person who was doing it straight ahead. So the fact that all these things are happening in tandem, like side by side, that's how these films get made. And it is, I'm telling you, thousands of people, it's insane.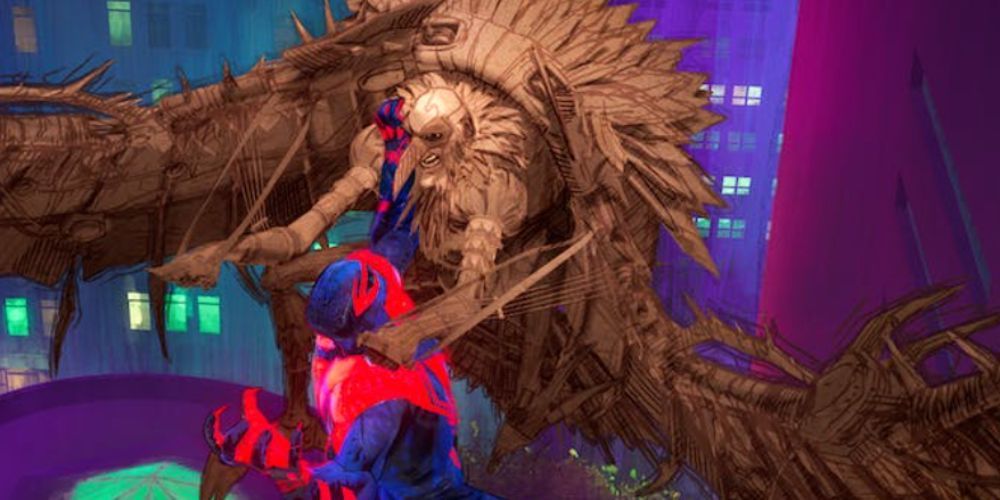 One of the things that I think is so cool, and I think one of the reasons why the film is so cool, is that you give the animators such individual freedom to bring their ideas to life. Talk a little bit about how that works.
DOS SANTOS: So this was a huge wake-up call for me. I worked predominantly in TV before this film, and when we would look at the original, like the… character animation, it's like a Brady Bunch grid on the screen, and you're in a room that's much smaller than this, but you're looking at a big screen, and it's just the animators performing the scenes. They're just going like [gestures], "I'm standing in front of a chair, walking around, doing all the stuff," and I'm like, "What the hell am I looking at here? This is like human beings…" And they're like, "Yeah, which of these performances that you're watching all at the same time on this grid do you like best?" And my brain melted. I was like Peter with Miguel, saying, "Spider-Verse." I couldn't fathom picking one.
They all look fantastic, but then you sort of individualize one, you lock in on stuff that you like, and then the animators will then do a rough pass over that performance that they do. And then once we start getting character performance in from the actors, sometimes we'll video that, and they'll start incorporating that. So Punk really evolved over time. At first, it was a lot of animators' performances, and then once Daniel started really lending his voice to it, I mean, the character sort of becomes Daniel on screen, it's crazy.
AUDIENCE: Getting into comics is such a daunting prospect for a movie or TV show fan, especially for Spider-Man, just from the sheer volume. I started with Spider Gwen, and so much of that intro is taken just verbatim from the page. What was the research process like for all of that? How did you decide on what scenes you wanted to be projected onto this screen exactly?
DOS SANTOS: One of the sort of big, geeky things that we got to do at the beginning was just lay out all the comics that we were gonna be referencing for pulling panels, and angles, and the ink work that we liked. If the first film was about these characters coming into Miles' world, and sort of invading his world with their style, the promise of this film was that Miles was gonna trip into their style. We could literally go up and down the comic rack and step into different books. So, yeah, it was like everything you would imagine; it was us with stacks of comics, just going like, "This is awesome. Let's do this, let's try this." Gwen's book, in particular, a lot of those covers were hugely influential. The scene where the paint is dripping down, and it's sort of setting up the city, that's like a cover of Gwen's comic.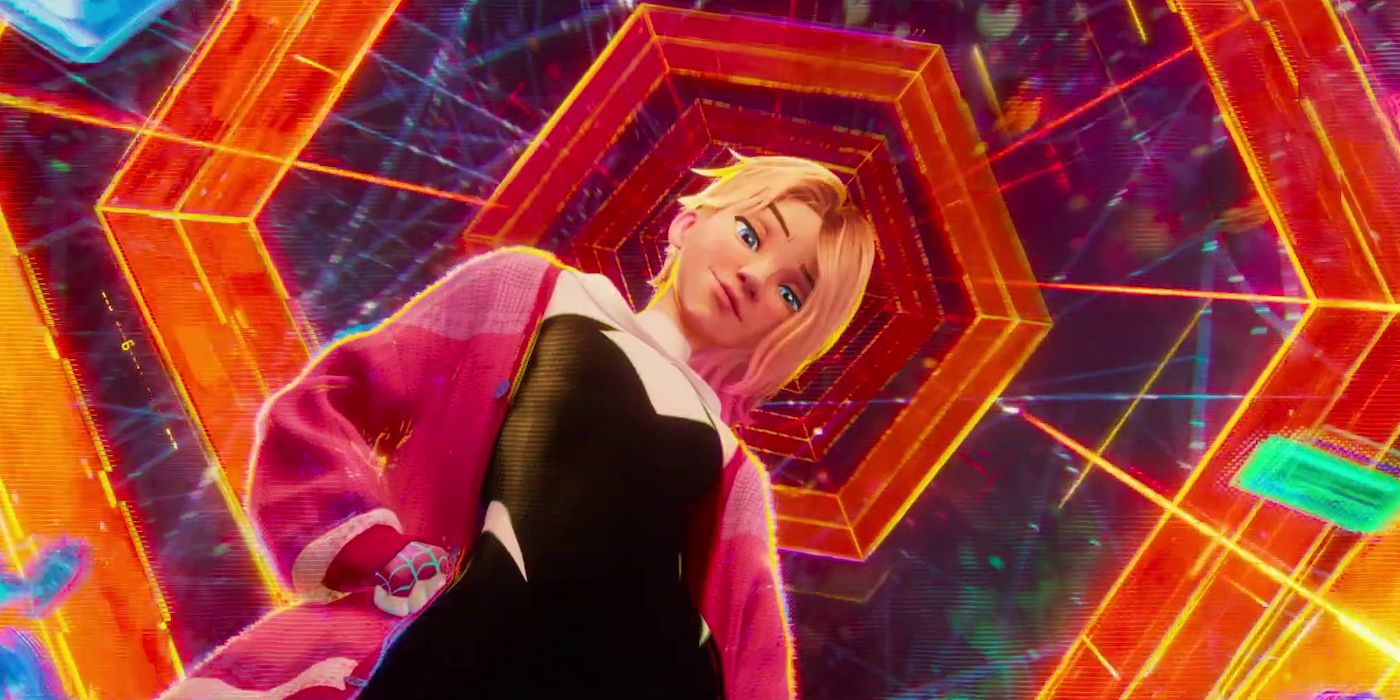 AUDIENCE: So I think one of the coolest moments in this movie was seeing Donald Glover as a live-action Prowler. Obviously, he played Uncle Aaron in Spider-Man: Homecoming, and this is our first time seeing him reprise that role. So I know yesterday at the premiere, Amy Pascal announced that a live-action Miles Morales movie is in development. So seeing him play a live-action Uncle Aaron, is that just like a fun Easter egg, or was that an indication that we're gonna see more of that in the future?
DOS SANTOS: I can only speak to what happened in the film, and it is a hugely fun piece, right? If I'm being honest, that news that Amy dropped was news to me. I was like, "What is going on?!" So I mean, look, I think, weirdly enough, Donald Glover is like the glue that holds the Multiverse together at this point. If you look at even the first Spider-Verse film, he's on TV wearing the Spider-Man costume, so he is sort of a thread at this point. It's really fun.
AUDIENCE: In the first Spider-Verse movie, the way that it was animated, I realized a lot of animated movies are doing that as well… so I was wondering, you guys who do the Spider-Verse, when you see all the new animated movies, are you like, "Yeah, we started that?"
DOS SANTOS: Well, I don't wanna speak on behalf of the first film's crew because the way it worked for me is, I was coming in with the last two months of that film still being made. It was like the scene in Saving Private Ryan where it was like fresh-faced soldiers were going to the front. I was like, "This is gonna be great!" And they were coming back like zombies, like, "Oh, dude, you don't know what you're in for. It's like the next four years of your life are gonna be crazy."
I do think from the outside looking in, there was sort of like a before Spider-Verse time and an after Spider-Verse time, and clearly it's influenced a lot of things. I think more than anything, it's a small enough industry that a lot of people that worked on Spider-Verse also work on other films. Really, it opened the door to people thinking in different ways and not having to fit into a feature-animation-look box, if that makes sense. It's cool to see.
AUDIENCE: Since you have all these styles combined into one movie, what exactly inspired you to just combine all of these styles into this one movie?
DOS SANTOS: It's a version of what I said before where, if the first film was these other styles, sort of by character, if you look at Spider-Ham and you look at Noir, they have different looks, and they were coming to Miles' world, the promise of this film was that Miles was going to go into those worlds. So essentially, we were making six different films in one film.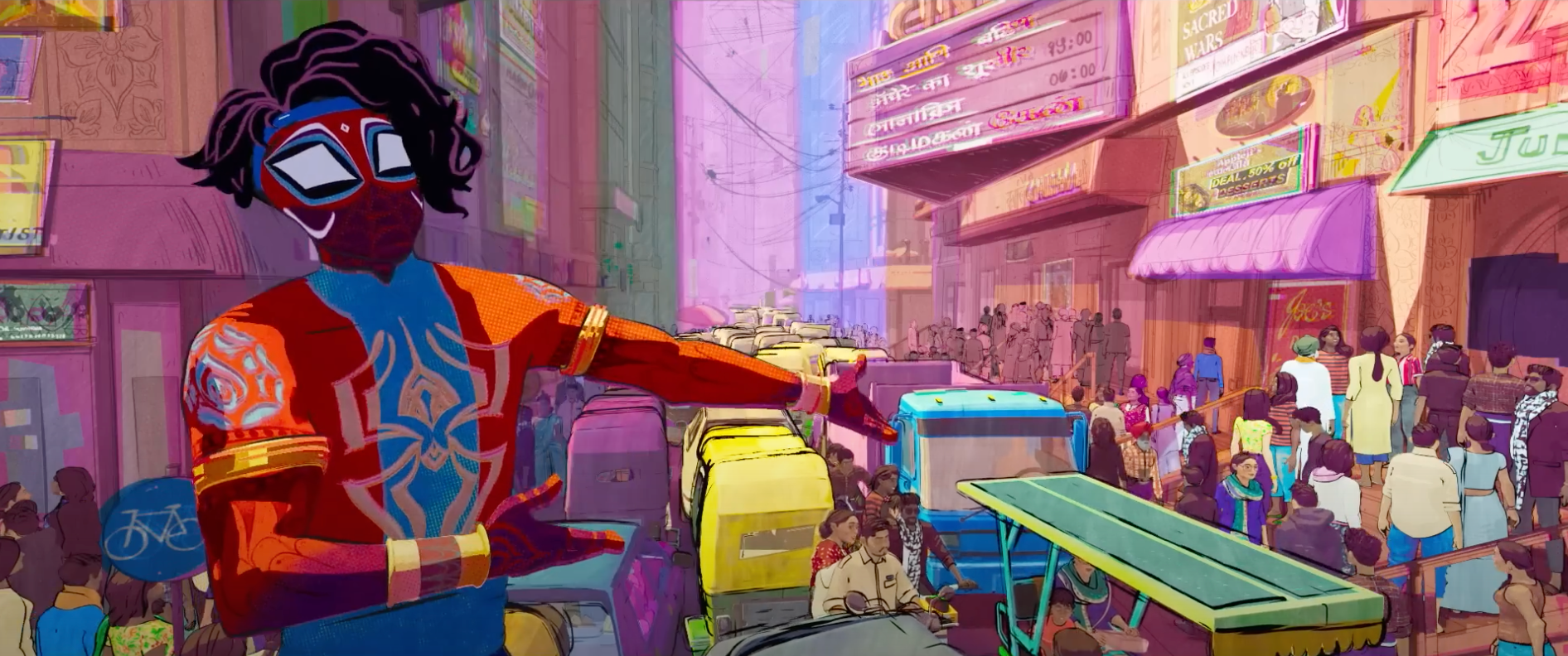 AUDIENCE: Obviously, four years on something like this, it's a passion piece as much as anything else, and you can't do that without – especially a film like this – without a deep love of the characters. Can you talk about your own experiences with the world and the character, your favorite versions, things that you were really determined to see brought into the film?
DOS SANTOS: So I've got this weird sort of origin story of myself. I'm from Portugal, our family crest is the spider, so "Aranha" is my middle name. I was literally born with a Spider-Man poster in my room, it's the first piece of pop culture that I can remember. I just don't know a world without Spider-Man. What I personally brought to it, I think it was just, you know, it's little things. I think we all are united on the fact that it's Miles' story and we have to make sure that we're completely in sync with what he's going through. I really, really like villains that sort of play this moral gray area. I don't agree with Miguel's methods, but I do understand why he's doing what he's doing. I don't know that he's a villain, he's a super antagonist. I also understand what The Spot is going through.
The Spot was an interesting character. We had a story artist named Wynton Redmond who was really lobbying hard for him to be on the show. He had no idea The Spot was even on the table as a villain, and he's a huge Spider-Man fan. And at the end we had a couple of beers, and at the end of the beer, he said, "Hey, what about The Spot? He's kind of a cool character." And I was like, "Oh, are we mic'd up here? What is going on?" And I think [it was] the idea that he was a character that was sort of understated and looked over; and again, those are all things that we can relate to. So I think more than anything, he was trying to bring relatability to each of the characters.
AUDIENCE: Going back to Gwen's intro, I've noticed there's things that happen throughout the movie scene. So is Gwen's intro told kind of like a flashback-type thing where she's revisiting, or is it just kind of like a foreshadowing moment?
DOS SANTOS: She becomes a mirror for Miles' journey. She's sort of the ghost of Christmas future in a way, where she gets to say, like, "Dude, do not tell your parents because it will not end well," and that puts Miles in a really uncomfortable space. Unlike any other Spider-Person, Miles has both his parents. He's deeply connected to them. We sort of joke that May, bless her, she is sort of blind, Peter just kind of comes and goes, like, "Hey, I'm doing a thing," and she's like, "Okay, Peter!" Miles' parents are not that; they're like the ultimate helicopter parents.
AUDIENCE: Why didn't you put enough Spider-Ham in the movie?
DOS SANTOS: That's a good point, actually. That was some stuff that was cut pretty early on, just for time. We knew part of the joy of Gwen getting the band back together was the promise that you'll see them more in the next one.
COLLIDER: We actually got something on Beyond! Thank you.
DOS SANTOS: There you go.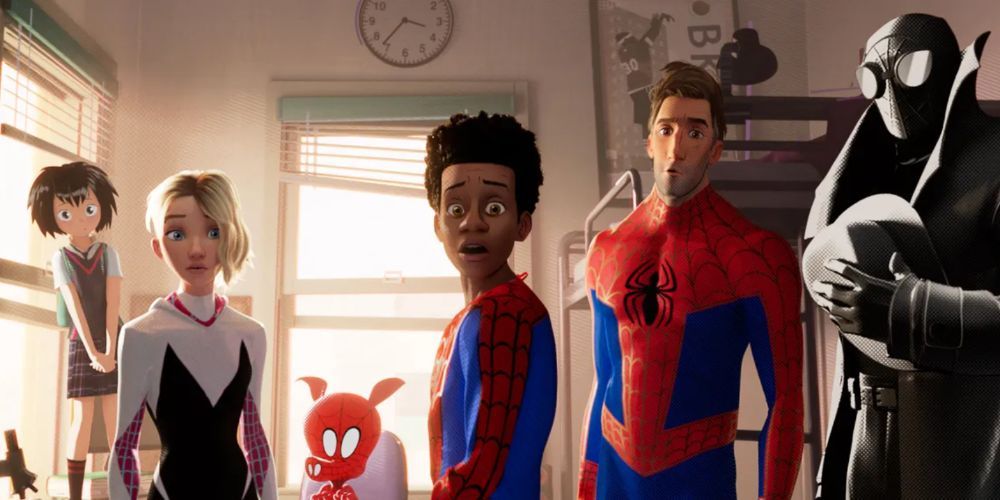 AUDIENCE: Of course you've got a story and the animation is there, [is there] some point, where you just go, "Okay, the story is good, the animation is good. Now we're gonna hand it to the visual guys who are gonna either turn it up to seizure-level, or take it down to an emotional level?" Because it seems like that's almost a separate entity.
DOS SANTOS: It is. I think you're absolutely right. I think it's the reason we have three directors on this film. At some point you just start looking at footage and your mind gets blown because you're seeing it for the first time, almost at like the final. So we have an amazing, amazing team. I mean, literally, it's like Kemp's in editorial, I'm getting feedback from Phil and Chris, "Hey, we need these scenes to be shot from this complete opposite angle now," so I'm focused on that, and we're getting final comps in from Justin and Patrick, who are our vis set leads, and Justin's a co-director with me. So yeah, it's this revolving circle of things getting finaled and then sort of going through the machine, getting unfinaled and refinaled, and then we're reshooting scenes. The film didn't get finished until last Friday.
AUDIENCE: Can you talk about the music for a moment? I thought that everything was so great, but the music really just another–
DOS SANTOS: Yeah, I think the sort of handoff between [Daniel] Pemberton's score and– You know, we brought Metro [Boomin] on as an executive producer of the soundtrack, and I think what that allows is for him to really curate each one of the moments of the film. There's tracks that are on the soundtrack that are set to scenes that didn't make it into the film. But he watched scenes of the film, and then really just connected with it. He has his finger on the pulse of what's coming before, what's happening now, and what's about to land, so he brought all of that.
COLLIDER: The first movie soundtrack wasn't bad either.
DOS SANTOS: [Laughs] No, not at all. Again, that's another one where it's like, "Holy crap, there's big, big shoes to fill." And I think if you think in that place for too long, you can kind of kill yourself.
AUDIENCE: What is the tiniest detail you wish people would pick up?
DOS SANTOS: I mean, I think one of the joys of this film is that it really does allow for repeat viewing because there is so much stuff grounded in every corner of the film. I don't know if it's a tiny detail, but what I love about that set piece is when Miles first goes in, it looks like the ultimate fun Spider-Man jungle gym, and when he's on the run, it suddenly feels like a jail. So the fact that the same location served two very different purposes was kind of a win.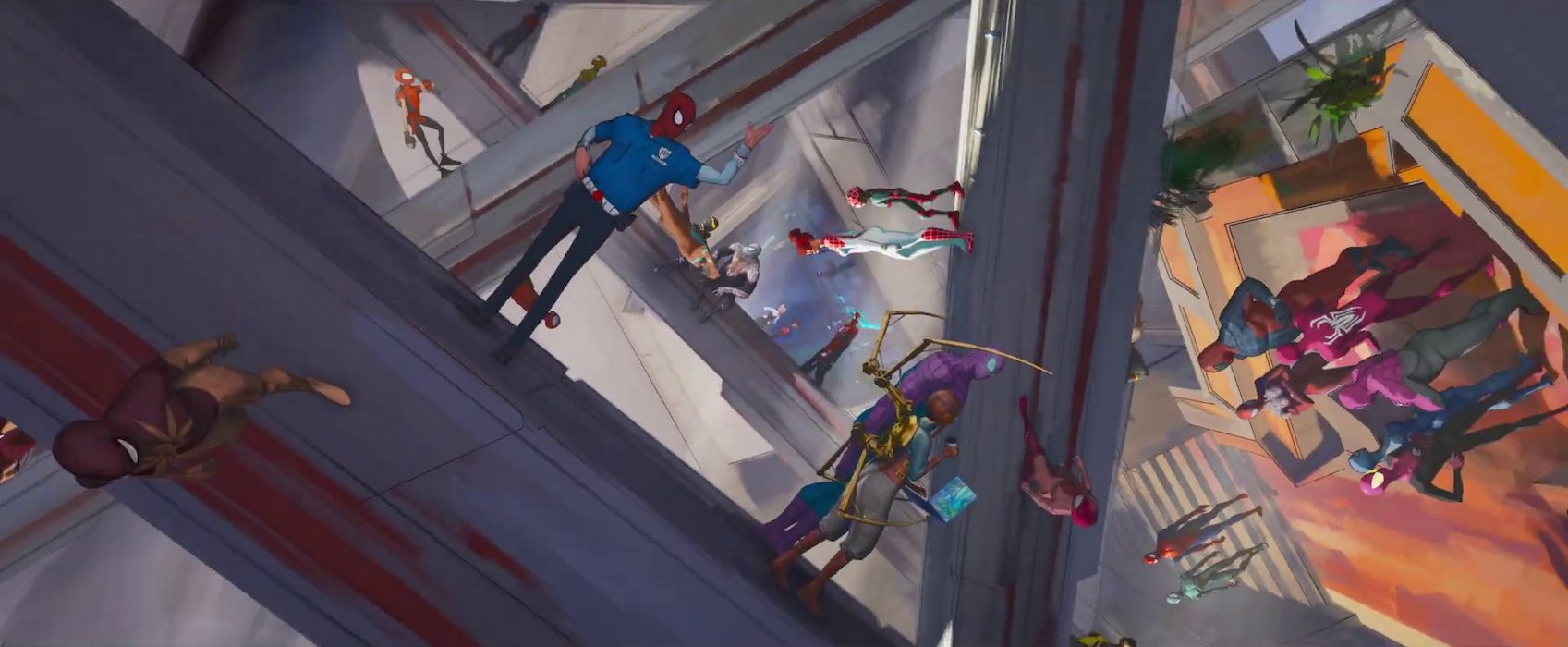 AUDIENCE: The first film is my favorite animated movie of all time, and this has probably surpassed it. I just wanted to know, what are your favorite animated movies? What are some movies that inspired your taste on this?
DOS SANTOS: I will say, for me, there's some very formative things that I think will resonate with a lot of people here. Akira is right up there. I grew up, you know, I was sort of a Saturday morning kid, so there was a series called Robotech that I absolutely loved growing up. And what I love about that show, at a time where TV was ruled by like G.I. Joe and Transformers, and these other cool shows, this was a serialized show that followed the story of the characters. There were robots that would transform into jets and fight aliens, and that was all cool, but you followed the relationship with the characters just as much as you do the big stuff. So I think that was a huge influence, for me personally, growing up with these. And then, you know, obviously all the Disney features that you can't deny the fact that they sort of paved the way.
AUDIENCE: There's a really cool moment during the Web of Life sequence where Miguel is trying to explain everything, where you guys quickly show the MCU's depiction of the Marvel Multiverse. It kind of got me thinking, whether it's a moment, an Easter egg, a character, whatever the case may be, was there anything requested by Marvel or Sony for you guys to include in this movie?
DOS SANTOS: You know, I think everything has to make the rounds, right? You sort of have to do the diligence and make sure that everything gets cleared. And then there are a couple of things you stick in there and you ask for forgiveness later. But yeah, I mean, look, that was quite intentional. If you happen to buy the version of this one that has the DVD commentary on it, you'll hear Chris talk in-depth about that whole process. But yeah, it was intentional.
COLLIDER: The thing about this is that there's so much crammed into every frame. The only way to really find all the Easter eggs is to literally watch it and push pause on every frame. Do you have a list of the Easter eggs?
DOS SANTOS: Again, on the director's commentary we do, we list every single Easter egg that's in the film.
Is it hundreds?
DOS SANTOS: Thousands. No, yeah, it's right up there. There's a lot, there's a lot. There's billboards that are on-screen for like a second that I think are inside jokes to so-and-so and the other guy. If you look at the wide shots, half the members that are at the party, sort of down below Miles and his mom, if you look like really closely, those aren't even the CG models, those are just actors acting down there.
Is it hard to get LEGO in this, or is it like Chris and Phil have got the in?
DOS SANTOS: I think those guys got the in, but the funny thing about the LEGO scene, that was a kid that recreated one of the teasers on social media, so he was hired. That was a 14-year-old's work. It was him and his dad that helped out, but it was a really neat thing. Can you imagine getting that call? I think they thought it was a prank, "What are you talking about?"
AUDIENCE: One of the games that I played when I was younger was Spider-Man: Shattered Dimensions, and I was wondering, are we gonna see Madame Webb at all?
DOS SANTOS: I don't know, man. I will say, I'm way older than you, and one of the anomalies that was in the cage was the Green Goblin from the Atari game.
AUDIENCE: Were there characters from the original, like the old cartoon?
DOS SANTOS: Yeah, when Spider-Man '67 swings the camera.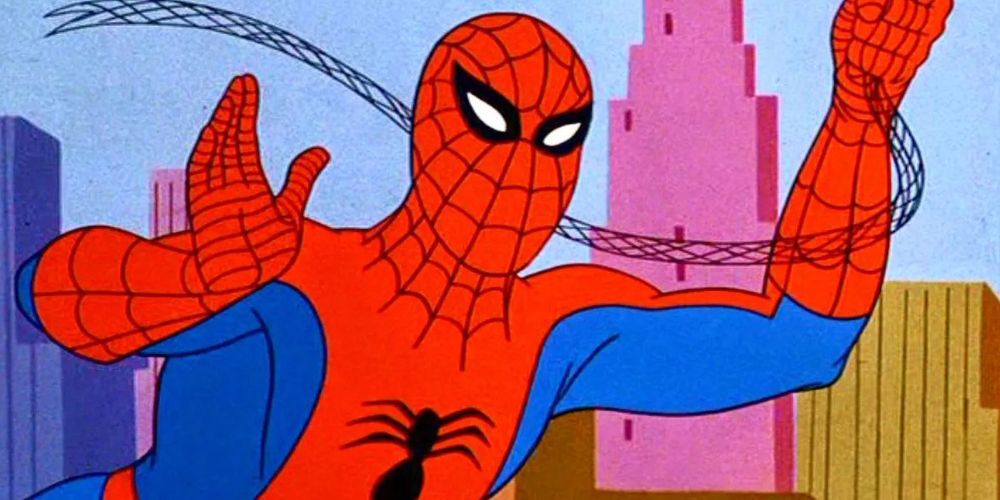 AUDIENCE: Going along with the cameos, there's one spectacular cameo that's been in limbo for a long time, and so what was the process of making that happen, and how do you feel like the fans of that particular series are gonna be?
DOS SANTOS: Look, that's another one that, for me, is kind of weird. I worked on that show. I worked on The Spectacular Spider-Man as a board artist. And so, Josh Keaton is a buddy, you know, he grew up with my wife… I worked on a Voltron show and he was like one of the leads in Voltron as well. And so he got to come in. It almost doesn't seem real. It's like, "Hey, do you want to just come over and hang out, and work on this multimillion-dollar movie, or do a voice of a character that you thought you'd never voice again?" Yeah, that was the process. It made a ton of sense.
Spider-Man: Across the Spider-Verse is playing in theaters and IMAX now. Check out our interview with all three directors below.
Source: https://dominioncinemas.net
Category: INTERVIEWS