We are living in an age of reboots, remakes, and reimaginings. Earlier this month, Paramount+ gave us Grease: Rise of the Pink Ladies, a very specific prequel series for the Pink Ladies characters from the classic 1978 film Grease with John Travolta and Olivia Newton-John. Prime Video just released Dead Ringers, starring twice the Rachel Weisz in the modernized, gender-flipped, limited series version of the David Cronenberg film. In addition to the announcement that Frasier will be back for new episodes with most of the returning cast, there are also Galaxy Quest, Twilight, and Harry Potter TV shows coming our way. And no matter how popular the original film or project was, you can't help but wonder…why?
It shouldn't be a surprise, then, to hear that Fatal Attraction, the iconic 1987 psychological thriller starring Glenn Close and Michael Douglas, would be getting the TV treatment. In fact, its premise actually lends itself rather smoothly to an episodic style. Now, full disclosure: I haven't seen the original film, and when I heard that it was being turned into a TV series, I made the conscious decision to not see the film in order to go in cold (or at least, lukewarm) to the series, and I'm glad I did. (And, yes, I know about the bunny.)
The Paramount+ original features Joshua Jackson stepping into Douglas' shoes as Dan Gallagher, a lawyer and the head of the major crimes bureau who makes a big mistake. After a few coincidental meetings and on-purpose drinks with Alexandra Forrest (Lizzy Caplan), the married man and father begins to have an affair with his new work friend. After a few trysts, Dan decides to call it quits. The only problem is that Alex is not exactly on the same page, and, well… she refuses to be ignored.
This modern reimagining takes a number of bold creative swings, the first being the way the story is executed in that there are two timelines competing with each other. In the present, Dan is a haggard mess, having just served 15 years in prison, and is determined to clear his name for the murder of Alex Forrest. This feels like a massive spoiler, but it's actually what happens within the first few minutes of the pilot. The other timeline the series jumps back to is 2008, making us better acquainted with the type of person Dan used to be. He's close to his wife Beth (Amanda Peet) and young daughter Ellen, is well-liked at work, and, as for his career, the sky is the limit. Jackson slides into the role of someone who, like in his other show The Affair, gets himself into a situation that is quite tough to get out of without some bumps and bruises.
While the jumping back and forth can get a little tricky to follow from episode to episode and the pacing is a bit inconsistent, the dueling timelines are largely effective. Showrunner and executive producer Alexandra Cunningham has a lot of story and character details to reveal, and it's clear that the way in which she does it was done is deliberate and strategic. Episodes 1 and 2 are focused on establishing the world with Dan's life and what he has to lose by giving in to his temptations. Caplan's Alex is positioned as this sexy, mysterious, confident force that appears in Dan's life, and we learn bits and pieces about her past through their late-night rendezvous. Who is this sensual stranger?
Episode 3, however, feels like a slap in the face in the best way, as it takes the viewer on a wild ride through the events of the previous episodes — but this time, from Alex's perspective. Caplan is a heartbreaking chameleon in this series, constantly revealing a different shade of her complex personality depending on who she is talking to. This episode, along with one later that is dedicated to a series of flashbacks to Alex's childhood, cements the fact that this is undoubtedly Lizzy Caplan's series. Her performance, which is equal parts chilling, seductive, and heartbreaking, cannot be overstated. We quickly learn that perhaps her chance encounters with Dan weren't happening coincidentally after all, but actually the exact opposite.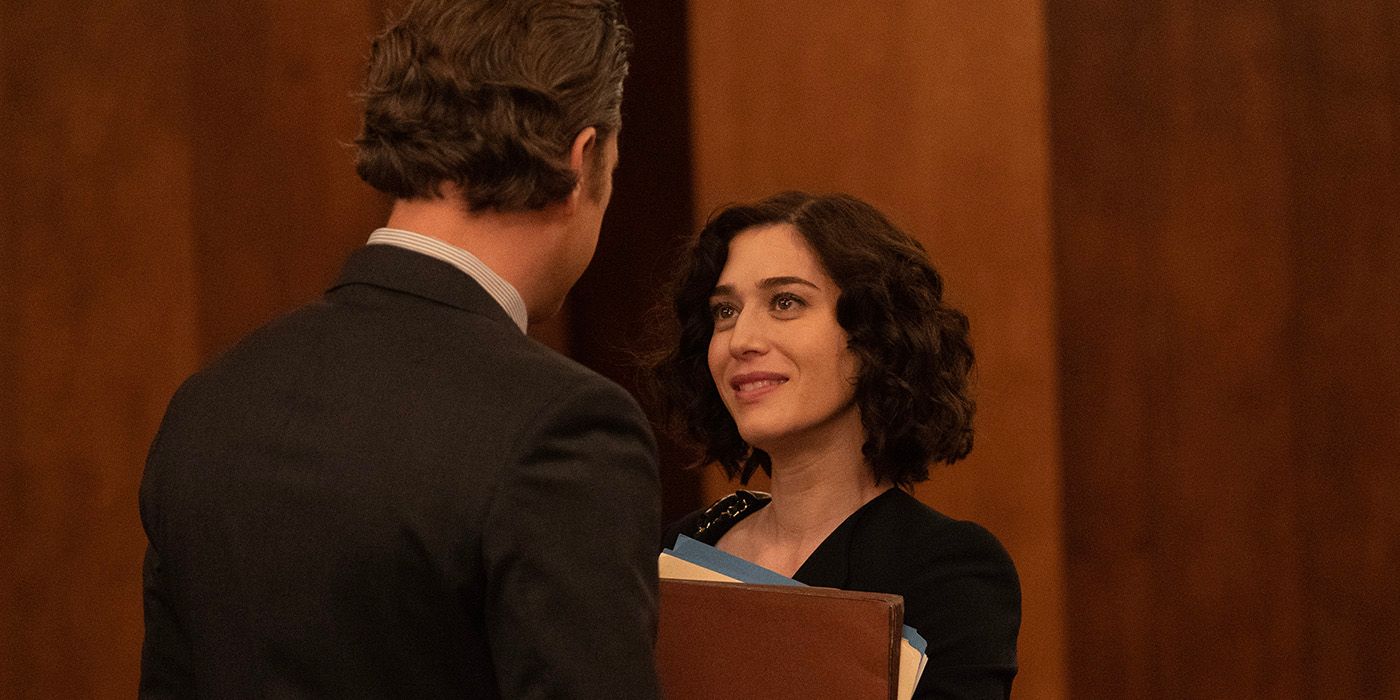 While bearing witness to all of Alex's premeditation is an unnerving and methodical experience, it's also a devastating one. She is someone who is a mix of being a victim of her upbringing (ironic, considering she works in the victims unit of the firm) and an unfortunate outcast who has been repeatedly rejected from various situations all throughout her life. It's actually far harder to sympathize with Dan, a man with less of a reason, justified or not, to do the things that he does. Aside from not securing his promotion, he doesn't seem to have any hardships or obstacles to overcome, which one can definitely not say is the case for Alex. It's quite remarkable how Caplan's performance manages to be both calculated and jarring all at the same time.
Another force in this series adaptation is Alyssa Jirrels, who plays the adult version of Dan and Beth's daughter, Ellen, in the present. Unlike her costars, Jirrels doesn't have the luxury of being in both timelines, but she manages to impress regardless. It's almost like her character is in her own world in her own show, speaking with her therapist and professor somewhat vaguely about her past and trying to make sense of her dad's recent attempts to be involved in her life again. Peet also delivers a very strong performance as the wife and mother trying to make sense of the many curveballs thrown her way in both past and present. In the hands of another actress, the role of Beth could easily dip into melodrama, but Peet keeps a firm grip on reality. She's burdened with most of the crying, emotional scenes, but handles them with such a realistic and restrained balance of sadness, anger, and humiliation.
Even though the knee-jerk reaction to hearing about a Fatal Attraction series was probably a massive eye roll, this modern reimagining proves to be a worthy watch for a number of reasons. Similar to the way that Episode 3 changes your perception of Alex, Fatal Attraction's season finale features twists and turns that are genuinely incredibly difficult to predict. So much of what the series tries to carefully plot out over the eight episodes is undone in the final hour of the season. Even though the initial fatal attraction's story that secured you in the first place might be complete by the finale, a major storyline is tipped off that leaves the (elevator) door wide open for a Season 2. Sure, the pacing is a bit uneven episode to episode and some smaller storylines feel slightly rushed. However, the daring narrative choices and arresting performances led by Caplan make this series a psychological adventure that is more than worthy of your undivided attention.
Rating: B
Fatal Attraction premieres with its first three episodes on Sunday, April 30, exclusively on Paramount+, with subsequent episodes premiering weekly thereafter.
Source: https://dominioncinemas.net
Category: REVIEWS