"You don't support women." Fans of The Real Housewives of New York will remember that this sentiment was thrown at business mogul and ex-Housewive, Bethenny Frankel, by her co-star Ramona Singer. Frankel was constantly under fire from a handful of the ladies on her show when – quite frankly – their jealousy would seep out. Over the years, the broad Real Housewives franchises have brought us many successful women. From Frankel, whose net worth is somewhere around $85 million — to restaurateur, Lisa Vanderpump who — despite two of her businesses closing within the last three years – still finds her name among the top-grossing wives. There's also Kyle Richards, who between her movie career and her husband, Mauricio Umansky's uber-successful real estate business, The Agency, has deposited plenty of money into the bank. While many of these ladies may have the dollar signs, they're easily beaten out in terms of success by The Real Housewives of Atlanta star, Kandi Burruss.
Staying strong as a dedicated series regular since the franchise's second season, Burruss is the arguably most lucrative housewife of any franchise, with Andy Cohen even referring to the XSCAPE member as the "most business-savvy." And, unlike some of her peers who've been accused of not giving support on the reality series, she's always been there to lend a hand to the surrounding women to help pull them up to her level. Unfortunately, like Frankel, the years have put a rift between Burruss and the women that she sought to help, with many of them getting what they want from her before kicking her to the curb and berating her with nasty accusations of being a bad friend. Still, time after time, Burruss has continued to take other women (and even her own husband) under her wing to see them live up to their fullest potential.
Burruss' Success Began Long Before 'RHOA'
Unlike her cast mates and essentially the rest of the women across all franchises, Burruss was already a star before she crossed the t's and dotted the i's on her The Real Housewives of Atlanta contract. Prior to her time on the show, Burruss showed off her vocal skills as the lead singer of the early '90s girl group, Xscape, which would ultimately launch her toward a solo career. Many of us millennials will remember the absolute jam that was "Don't Think I'm Not" – a Burruss original. Beyond her on-stage achievements, Burruss also nabbed a Grammy in 2000 for her work on the TLC bop, "No Scrubs." On top of that, she also holds credits working with artists including Destiny's Child, Mariah Carey, Pink, *NSYNC, Ed Sheeran, and Ariana Grande.
In more recent years, Burruss added the title of the winner of The Masked Singer to her trophy wall, becoming the first woman to do so. She also nabbed a recurring role on the Showtime series, The Chi, which she's held since the drama's third season. Dipping into the world of production, Burruss may soon make space on her mantle for a Tony Award for her work behind the revival of August Wilson's play, The Piano Lesson. Just days ago, it was revealed that Burruss and her husband, Todd Tucker, would make the magic come back to Broadway all over again by joining the production team of The Wiz revival, which is heading for the bright stages later this year.
While you may think that all of this success, fame, and fortune would go to someone's head, that just isn't the case for Burruss. Through it all, she's stayed grounded, and we've watched her happily raise a family alongside Tucker while also taking a stab at other business pursuits including dining, adult toys, cosmetics, and clothing. When it comes to what she can tackle, there's nothing too big for Burruss to take on.
Burruss Gets Out of Tune with Kim Zolciak on 'RHOA'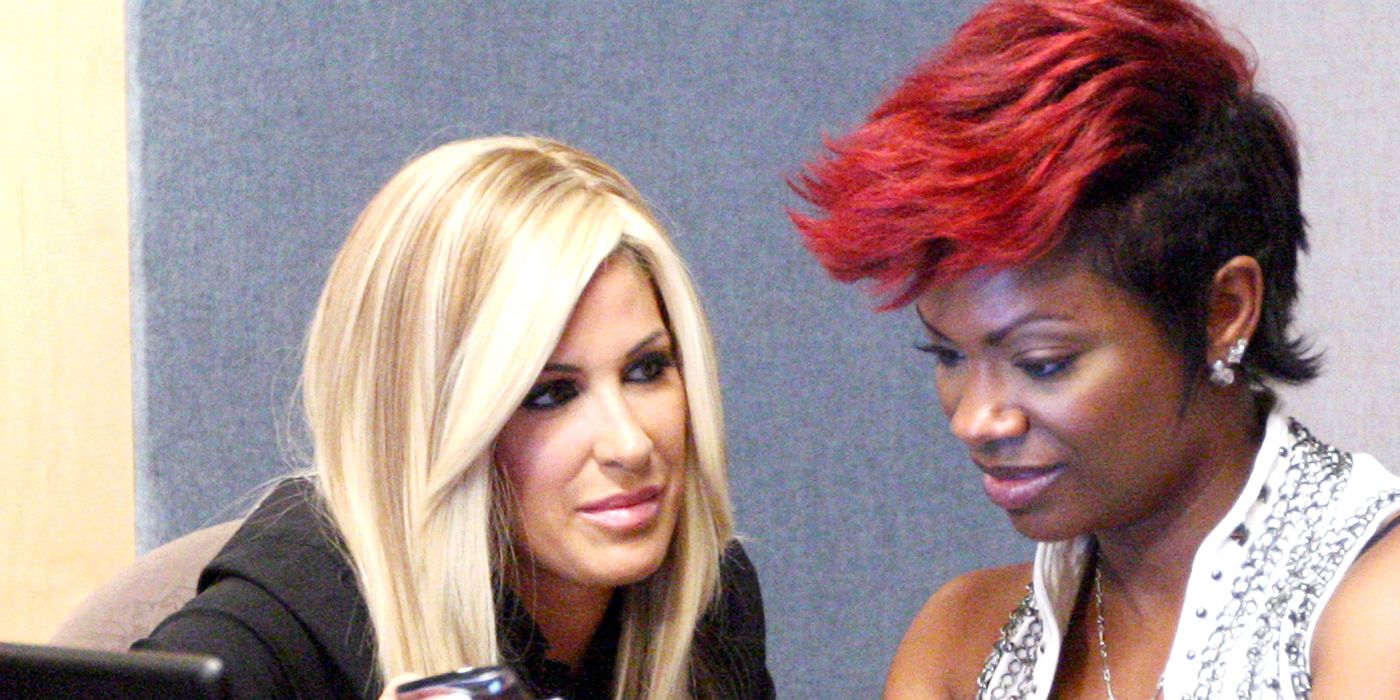 Over the years, we've seen The Real Housewives of Atlanta star extend an open arm to her fellow peach-holders to help them expand their worlds beyond the hit Bravo reality series. Just months before The Real Housewives of New York star Luann de Lesseps launched her music career with "Money Can't Buy You Class," Burruss aided her fellow housewife, Kim Zolciak in producing "Tardy for the Party." As it did for de Lesseps and other Bravo stars-turned-singers (except for The Real Housewives of Potomac's Ashley Darby), the catchy pop song gave Zolciak a new platform and allowed her to perform around the country at a variety of gigs.
Despite essentially being handed stardom on a silver platter, Zolciak took Burruss' help for granted. Beyond smoking cigarettes before her performances and during recording sessions (who could forget those iconic moments?), she cared little about the opportunity that she was being given. This lackadaisical standpoint drove a wedge between the two reality stars which was only made worse when Burruss claimed in 2010 that she hadn't been paid for her production services. Audiences will no doubt remember this as it took up much of the storyline during both the third and fourth seasons of the show. Fellow cast member Phaedra Parks would also get pulled into the drama as she took on Burruss' case against Zolciak as her lawyer. The lawsuit was eventually dismissed, but their relationship never bounced back.
Managing Marlo is No Easy Feat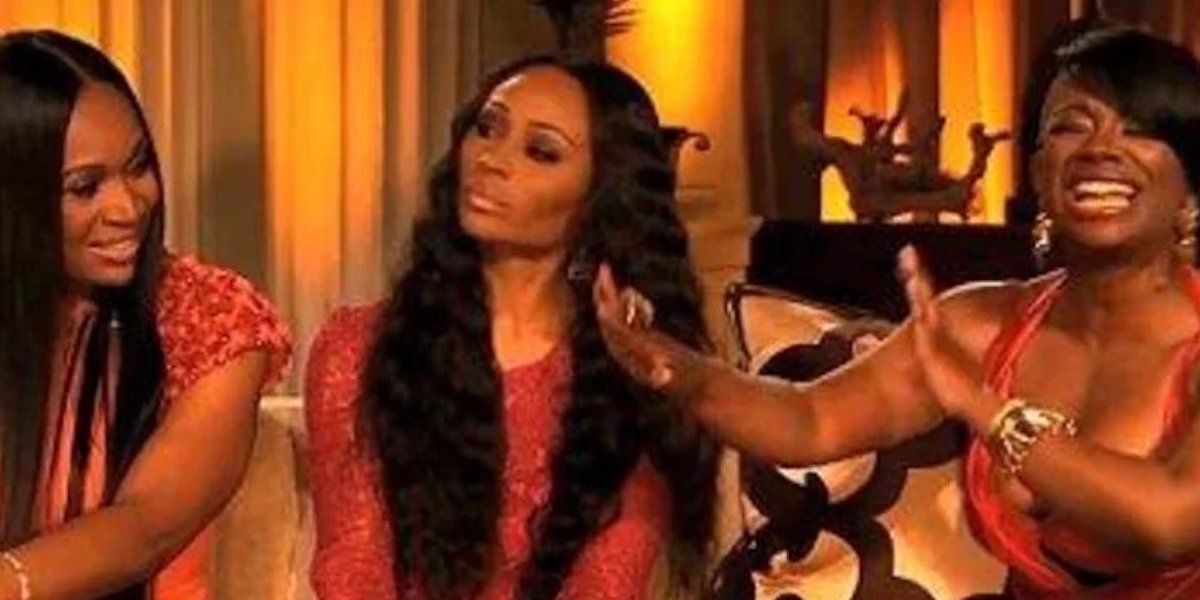 During the show's fourth season, audiences were introduced to the wild and wonderful Marlo Hampton. Hampton immediately took the role as adversary to Burruss, infamously accusing her of being a sugar mama and taking care of men. But Burruss always took the high road.
Appearing on and off as a friend and guest for the next several years, Burruss became Hampton's number one cheerleader, pushing for her to be brought on as a full-time member, something that finally came to fruition during the show's fourteenth season. Even through the ups and downs of petty drama that came between the ladies over the years, Burruss not only championed her friend but also jumped at the chance to help produce her spinoff series.
Back in 2018, a show titled Haute Lanta was announced with Hampton as one of the leading personalities. Audiences held their breath for updates, but it was gone almost as quickly as it arrived with Burruss placing the blame on her co-star's crazy antics. During an interview on Jenny McCarthy's Sirius XM radio show, Burruss revealed that filming hadn't even begun before the team called it quits. "I don't want to put the blame on anyone but basically, the talent was being a little difficult," she divulged, adding, "They weren't getting things done by the deadline, basically. The network got fed up and moved on." As it turns out, Hampton had outrageous salary demands and wanted other accommodations the network executives (We TV) weren't willing to give her.
Even at the lowest points in their friendship, Burruss still believed that Hampton would be a terrific choice to step out on her own and tell her complex and riveting story which is even more heartbreaking as the women's bond still hasn't been repaired.
Tiffing with Tamar is Never-Ending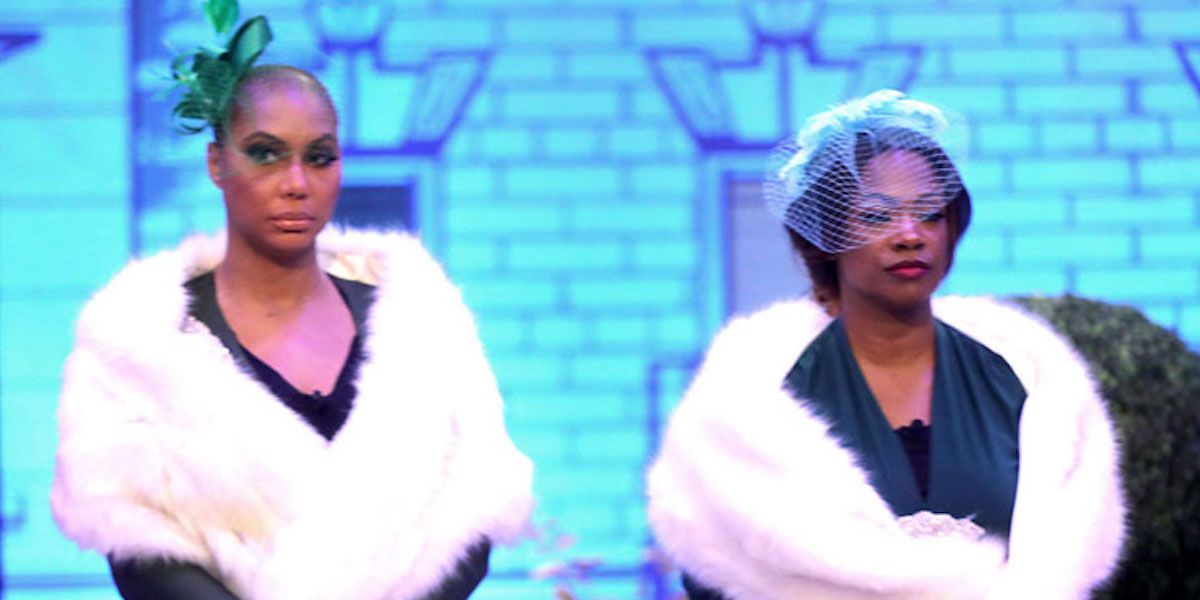 Finally, there's the ongoing drama between Burruss and fellow singer, Tamar Braxton. The duo goes decades back with Burruss' girl group, SCAPE, even touring with Braxton currently. Both ladies appeared on Season 2 of Celebrity Big Brother with Braxton winning and Burruss coming in fifth place. During their time on the reality competition series, the ex-pals made amends with Burruss inviting Braxton to be part of her Dungeon Tour lineup. But, everything came tumbling down at the tail end of 2022 when Burruss claimed that Carlos King, a former The Real Housewives of Atlanta producer, attempted to make an unlicensed biopic of her band, XSCAPE. While King has never confirmed nor denied these allegations, Braxton was quick to jump to his side, sharing her feelings that Burruss and her husband were out of line for putting King on blast.
The fight has only escalated in recent months as Braxton appeared on an episode of Andy Cohen's Watch What Happens Live where she confirmed that she was speaking about Burruss and Tucker in a December 2022 Instagram post that claimed that one of the show's stars had "threatened" her while answering a fan question. "It really did happen, I'm not lying," Braxton told the legendary face of Bravo, "Like, I'm not looking for attention or drama or anything like that, but that s–t really happened, it was not cute." When Cohen tried to guess the wife behind the alleged assault, Braxton wouldn't flat out say Burruss' name but did make a face and take a drink when her name was brought up.
In the end, Burruss has proven time and time again that she is, in fact, a woman who supports other women. Whether you have beef with her, she'll try to lift you up to the best of her abilities. Yet, each season she finds herself dealing with new enemies looking for clout and backstabbing ex-besties who have taken the love that she gives and drained her clean before tossing her aside.
Source: https://dominioncinemas.net
Category: REALITY TV