Star Trek: Strange New Worlds is back this week with bold new episodic storytelling that runs the full gamut of genres and themes. Set in the years leading up to the events of Star Trek: The Original Series, Strange New Worlds showcases the thrilling adventures of the U.S.S. Enterprise under the leadership of Captain Pike (Anson Mount). Season 2 sees James Kirk (Paul Wesley) play a much larger role than he did in Season 1, bringing the series closer to the events that Star Trek fans are very familiar with, while still presenting brand-new, fresh takes on the beloved crew of the Enterprise.
Ahead of the premiere of Season 2, Collider had the opportunity to chat with Strange New Worlds' showrunners Henry Alonso Myers and Akiva Goldsman to about where the series is headed with the Gorn threat, the highly anticipated Lower Decks crossover, what it was like to film in the middle of downtown Toronto, and what they have up their sleeves for Carol Kane's fascinating new character.
COLLIDER: So I really love the way that Strange New Worlds does the episodic handling of the ensemble, letting each character really shine in the episodes, and I think Season 2 really excels at what Season 1 already did really well. But in the premiere, we get this little tease of the Gorn War, and then it kind of takes a backseat for the rest of those first six episodes that we've seen. Is this something that audiences should be keeping in the back of their minds as they navigate through Season 2?
HENRY ALONSO MYERS: We will address the Gorn. That's all I'm gonna say.
Excellent. I absolutely love Paul Wesley as Kirk, I think that is exceptional casting, but I'm curious, what has it been like bringing this iteration of the character to life? Do you have a cardinal rule that you keep in mind as you're developing the character or little hallmarks that you want to make sure you meet as you bring this character into the story?
AKIVA GOLDSMAN: Well, first, I want to know why you have a Strange New Worlds tote bag that I don't have. [Laughs] It's our sort of interpolation game, right? We sort of know, as Henry said just last interview, where he ends up, and so what we do is we take some liberties with how he got there, and that, for us, is really fun. It's a very different kind of storytelling. The end for all our characters is written, you know? Now that's fascinating because endings are really hard, like when you're writing something, the worst part is the ending, right? Anybody can start anything, it's the ending that's hard, but it's also in the end that the piece has meaning. So it's a very complicated but interesting sort of hat, sort of a smoke and mirrors trick to try to create suspense and to create an open-ended character narrative when you actually know where it's going. So our hallmarks are where it ends and the little bits we know from canon that we can either take in or sort of body English around with.
When you're approaching canon, there's so much in the Star Trek canon, especially with the mixed media of comics and tie-in novels and all of these little things. Are you ever focused on trying to pull in from some of these other areas as you're building these characters, or is it more just focused on the original series, what we have from Discovery, and those aspects?
GOLDSMAN: I'm gonna let Henry answer, I'm just gonna say one thing; for the purposes of Star Trek as an institution, if that makes any sense, nothing that has not appeared on screen is canon. So the way it works is, for TOS, it's actually five seasons because it includes the animated show, but unless it's appeared on screen, it's technically not canon, it's secondary reference material.
MYERS: I mean, we discuss it internally, and it comes up, and we think about it, but I think it's important for our show that it's a show that people who love and know every aspect of Trek will enjoy it, and people who have never seen a single moment of it will enjoy it. We really don't want to alienate. And I think it's actually sort of an interesting idea because I think this focuses on how we approach character, which is to say, yes, we know where they're gonna go; yes, we have an idea because we've been told where they come from, but the characters don't know where they're gonna go, and so that's how we approach them. We approach them like they're real people who are experiencing actual emotional moments that we wanna see because we're also thinking very hard about, like, what are we gonna give Paul Wesley to do? What's the experience he's gonna have as an actor? We really want to do that because we don't wanna just have him in and do quotes from other series and then push him out, we want to have him be a character in the moment. And, you know, this is a younger Kirk, we get to show that.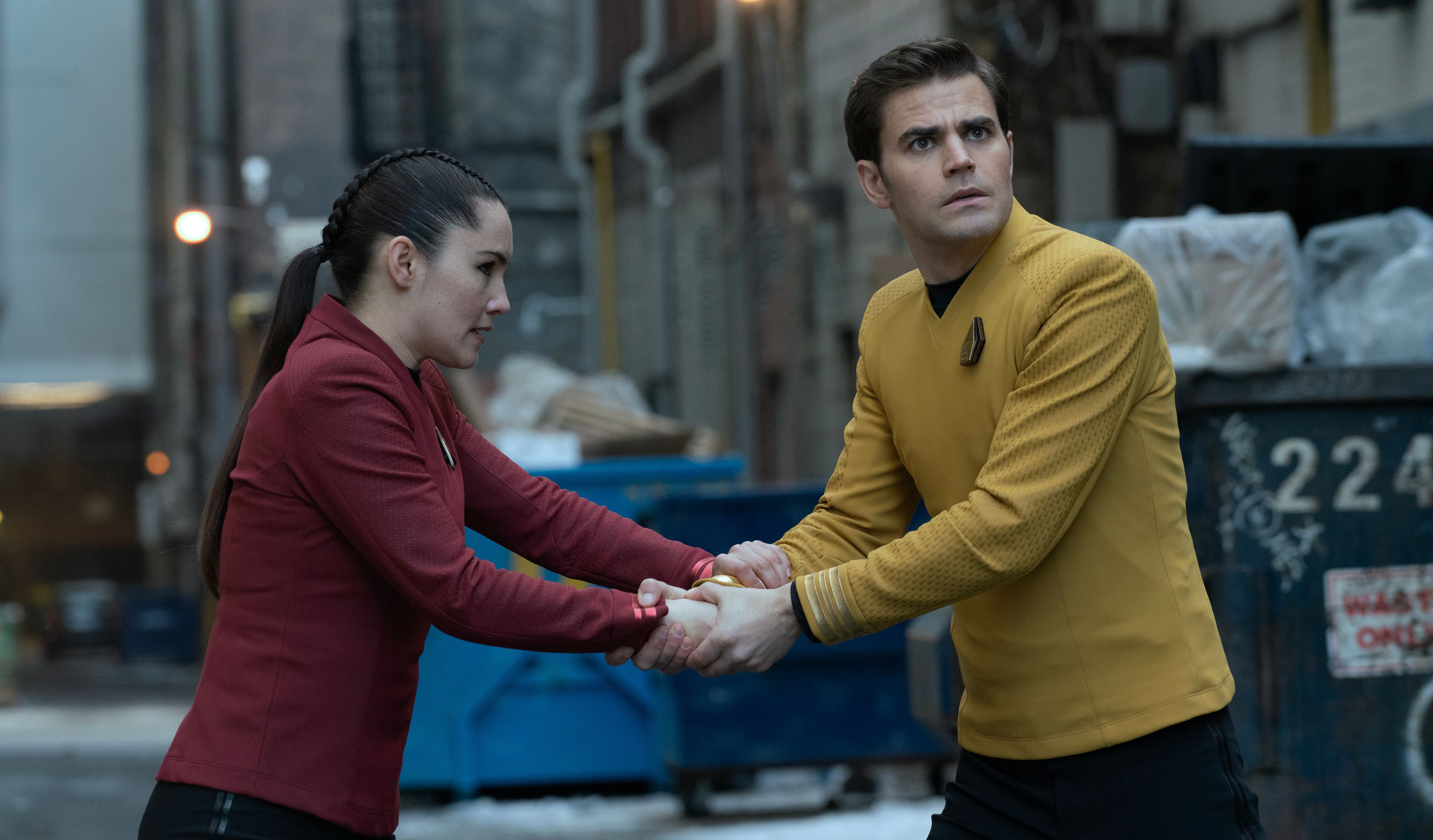 And it's a very fun Kirk. I have to say, that episode on Toronto is very fun, and I did want to ask about that episode specifically. I know that filming off-world scenes can have their own challenges, whether you're filming in-studio or on location, but what was it like filming Star Trek in the middle of downtown Toronto?
GOLDSMAN: I'll answer differently, which is, we didn't mean for it to be. We wrote it for New York, right? We were gonna do this giant spectacle and take the show to New York, and we quickly realized we could not afford it. So then we went through the process of doing that thing that everybody does, which is, well, how do we make Toronto look like New York? And then we sort of thought, "Huh, why don't we just let Toronto be Toronto?" And that was fun for us and probably lower impact on the city than you might imagine. So, you know, I don't think it was like trying to film Star Trek in Times Square.
MYERS: But it also became an interesting gift for our director, who came from Toronto and really knew it, and everyone who works on the show, who all know Toronto very deeply, and had a chance to kind of give it a look and a feel that made it feel a little bit different and more recognizable to people who knew that area of the world.
Oh yeah, it was so fun to see it when the first trailer dropped, and everyone was like, "Oh my gosh, those are Toronto businesses, those are Toronto restaurants!" You recognize these hallmarks, and I think it's fun because Toronto almost always plays for New York or DC or sometimes Los Angeles, and so to let the city be itself was a fun treat. I have a lot of friends who are fans of Star Trek who are in Toronto, so it was very fun for them to see their city as part of it.
MYERS: One of the only unique challenges we had, that we've never had literally in the VFX work that we do across the show, is there are sections of Toronto that we invent, and you wouldn't know that it's not real until you see it, you know what I mean? That was a unique challenge for that show that made it completely different from all the other ones.
Akiva, you mentioned the animated season of The Original Series, which makes me think about, you know, we're going to get this crossover with Lower Decks, which is an animated series. How did that come about? Were there any really unique challenges with bringing those characters into live-action?
GOLDSMAN: Oh, it was so insanely hard! It's hilarious how hard the episode was because it seemed like such a good, easy idea. What was really hard about it was tone, you know? It's not what you think is hard about. Like, what you think is hard is, "How are the animated people and the live-action people–?" That's not a problem. It turns out people have been doing that for a really long time. But how do you marry the canonical world of Lower Decks with the canonical world of Strange New Worlds? It was…holy–
MYERS: [Laughs] It was, yeah, it was. I mean, at the end of the day, it was fun. It was just more like trying to get all the pieces in place. It took a lot of doing, and there were so many people that we wanted to be happy with it and to try to bring into it. I mean, Jack [Quaid] and Tawny [Newsome], primarily because we wanted to show them in person, and so figuring that out was complicated, doing design work with them was complicated. Weirdly, doing the animation was not. He was totally right.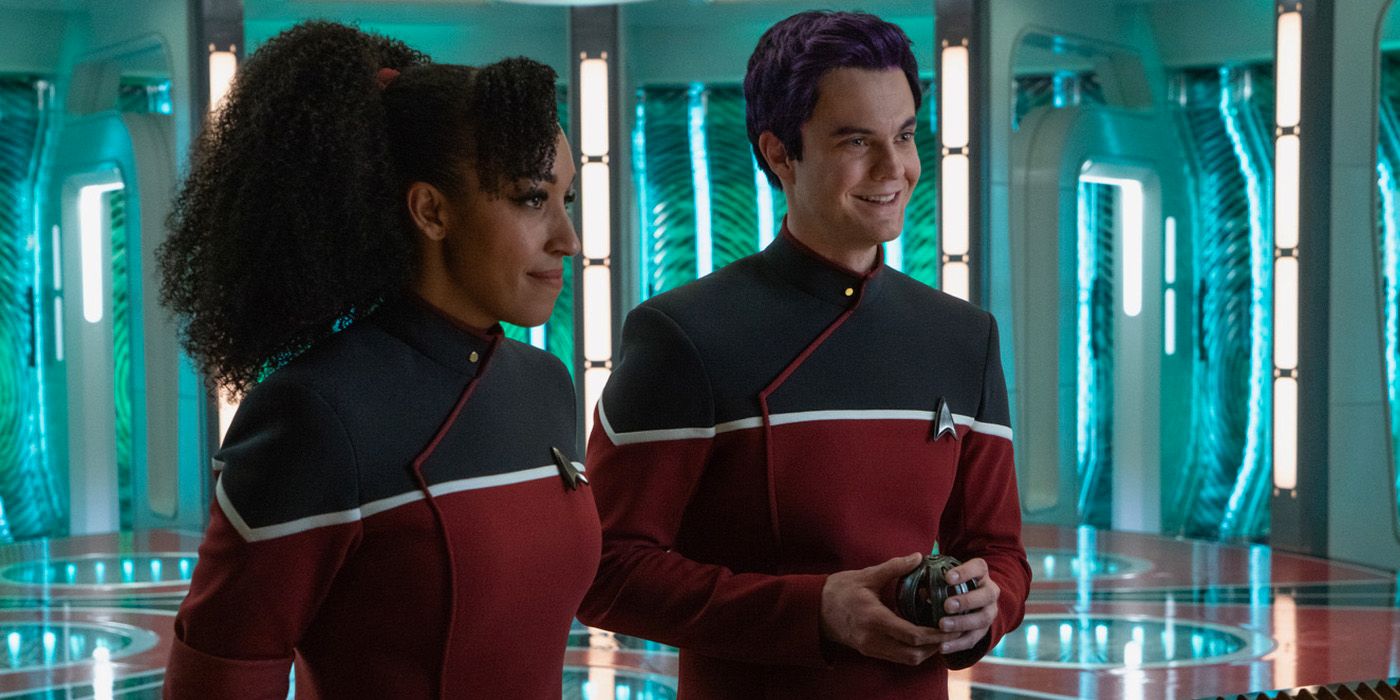 So going off of the question of tone, each episode kind of has its own essence, its own flavors, so can we expect more of a Lower Decks flavor from that episode in terms of tone?
GOLDSMAN: Well, I would say more of, but we're still our own show, you know what I mean? It's a Strange New Worlds episode, not a Lower Decks episode, which… maybe we should try it next season. [Laughs] But it's an episode with Lower Decks boarding.
MYERS: I mean, I would say the supplies, like we're talking about all the other characters, which is to say, if you've seen Lower Decks before, you will be delighted by all the stuff we put in it. If you haven't seen Lower Decks, you will think, "Oh, this is the fun, crazy animated episode where they connect with the different parts of our universe in a way that can be a total surprise to them."
I'm very excited for it! I think there should be more fun little crossovers like that between the shows. While I still have a little bit of time, I did want to ask about bringing Carol Kane in. I think her character is so fun, and the way she is used is so fun. Was that character designed for her, or did it evolve? What was the inception of that character because it's very fun?
MYERS: Well, we had an idea for the character. We wanted a character who just had a different look and feel from who that character has been in the past. And as we were sort of looking around for the right person, our casting people were like, "What about Carol Kane?" Then I think it was one of those ones where Akiva and I looked at each other, and we were like, "That seems like a great idea." She ended up being sort of perfect for it. I mean, she's amazing. I don't know what to say other than it's no big surprise that she's very good.
GOLDSMAN: It's like a gift for us. We were like, "Seriously?"
MYERS: "You wanna be in our space show? You wanna see things blow up?" [Laughs]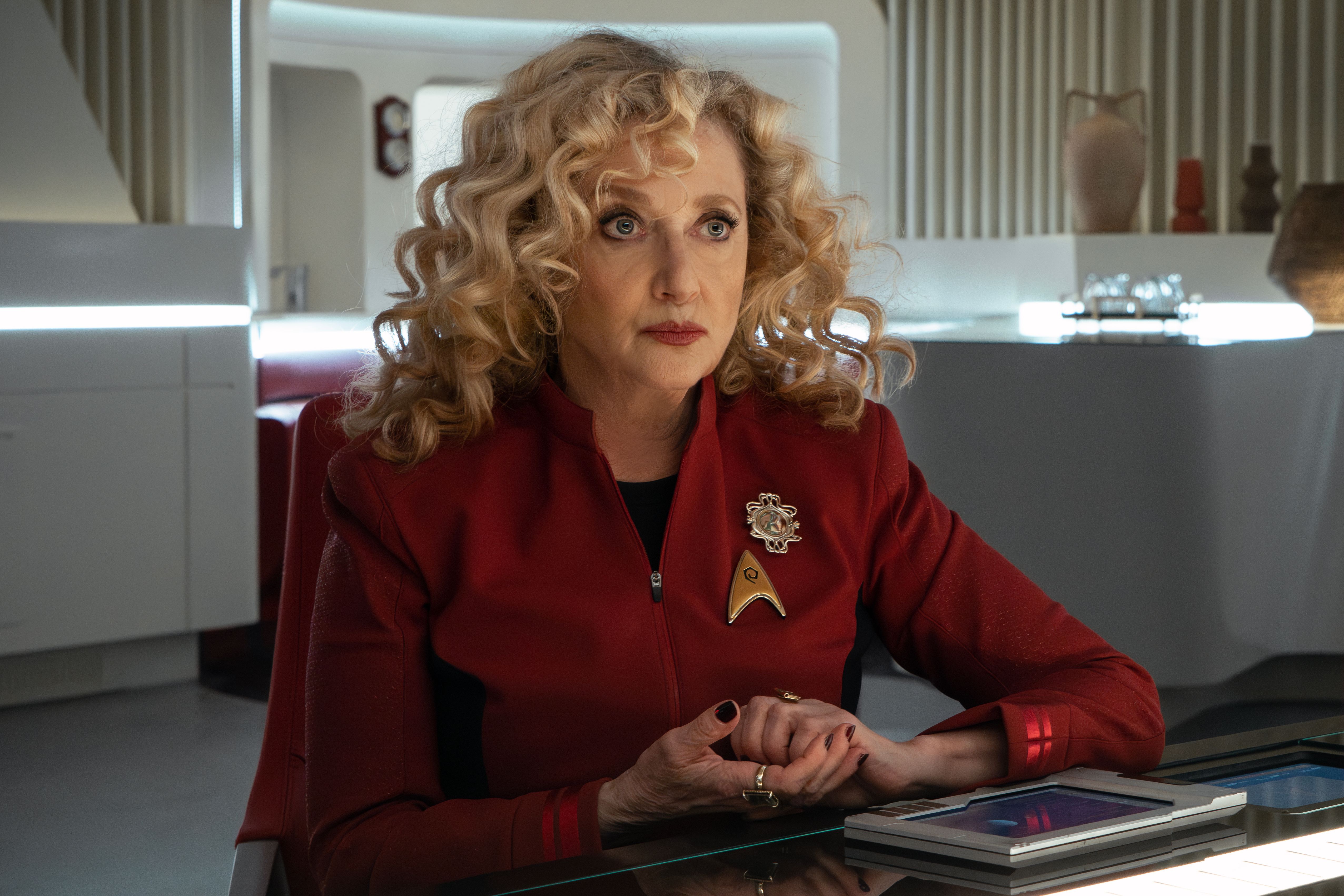 Can we expect her character to have her own episode, as well, or is she more to kind of back up to a lot of the other stories being played out?
MYERS: I mean, this season, she is a crucial member of the cast. She does have some connected stories. You know, I'm not gonna say any more about the future other than to say we will try to use Carol Kane many ways, and we hope you will enjoy it.
Star Trek: Strange New Worlds Season 2 beams down tomorrow, exclusively on Paramount+. Check out our interview with Anson Mount and Rebecca Romijn below:
Source: https://dominioncinemas.net
Category: INTERVIEWS