The final episode of Survivor did not disappoint in delivering a climatic, tense ending. Heading into the last episode of the 44th season of the reality competition series, there were five people remaining: Lauren Harpe, Carson Garrett, Carolyn Wiger, Heidi Lagares-Greenblatt, and Yam Yam Arocho. By the time the episode concluded, only one was left as the sole survivor. With two Immunity Challenges looming and a fire-making challenge to boot, there was always going to be an intense finale. What ended up transpiring was exactly that as Yam Yam navigated his way to victory without winning any of the three aforementioned challenges. Regardless, Yam Yam was the most deserving contestant to win on this season for a variety of reasons.
Yam Yam Knew How to Balance His Personality With His Strategy
As Yam Yam explained at the Final Tribal Council, he was never a physical threat. In total, he only picked up one individual win, which happened to be at a crucial turning point in the competition when Danny Massa saw his run on the show end. To make it as far as he did without ever having much power didn't hinder his game. That's because his power lied in the balance of his social game with his strategy. It's a dangerous line in the game of Survivor because usually an individual will get caught slipping at some point, whether in a lie or by showing their cards. Yam Yam, and the Tika Three as a unit, always managed to keep their cards close to their chest while always having a pulse on each vote.
see more : 'Secrets & Sisterhood' Stars React to Those Kardashian Comparisons and Merging Their Muslim Values With American Life
What made Yam Yam so dangerous in the game wasn't anything having to do with challenges. There were plenty of challenges won by Frannie Marin, but all those wins put a target on her back and eventually led to her demise. This turned out to be a season where social game trumped everything and no one did it better than Yam Yam. He was very astute, too. He knew when votes were going against him and quickly worked the room to ensure that that vote would never come his way again. Brandon Cottom, Kane Fritzler, and Josh Wilder all voted for him in the sixth Tribal Council. Those three then became three of the next four to be voted out, which wasn't a coincidence. As Yam Yam reminded us throughout the season and at the Final Tribal Council, when he felt any heat, he sought to dispatch it as quickly as he could. It's impressive that he was able to avoid having his name written down much after that near scare as he never popped up more than once between the eighth and 13th vote. All of this speaks to the level of care he took in his social game and the amount of work he was doing behind the scenes that put him in a position to win this game without ever really having power from an Immunity idol.
Yam Yam Stood Out The Most Among The Tika Three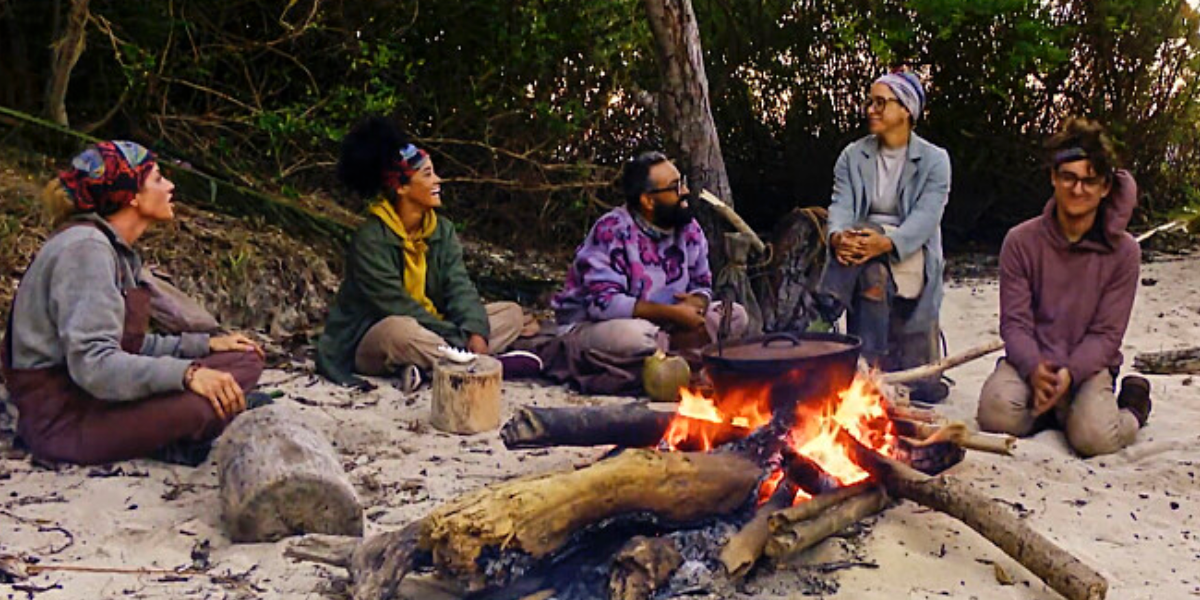 Survivor 44 had a lot that happened during its run, but one thing that will be remembered was the tight-knit bond that the last three members of the original Tika tribe had. Yam Yam, Carson, and Carolyn were the underdogs when the merger hit. Because of that, the Soka and Ratu tribes viewed them as nothing more than votes for their side and never a threat as they worked to get the other side out. Those three wound up working a ton of magic to avoid being off the others' radars while also picking the right side when it came time to vote. This is why it was always going to be tough when it came time to picking one of them to win in the end.
see more : 'Teen Mom': Amber Portwood's Custody Battle Could Jeopardize Her Standing on the Show
The case for Yam Yam certainly saw a boost when Carson was knocked out at the fire-making challenge at the hands of Heidi, who called her shot after winning the final Immunity Idol to knock out the person who had just won Immunity earlier in the episode. Without Carson, there was no question Yam Yam had the best case to be made. Even had Carson been sitting next to him at the Final Tribal Council, the case he had to make would have been too difficult to beat for anyone in the game. That's because he was able to play the perfect game the entire way. There was never a moment (at least one that saw much threat to his game) where Yam Yam's name was seriously brought up. However, there were points where Carolyn had her name mentioned and Carson was always someone who others perceived to be a danger the later the game went. Meanwhile, Yam Yam was never in that position which goes back to his ability to be "in" with everyone on the island but never to the point where anyone felt he had too much control as they did with Frannie or Danny.
There's a beauty in Survivor that other reality competition shows don't have. It's not always the most physical competitor or the one who has the most power throughout that wins in the end. Sometimes it doesn't even take a major move on the resume to secure a win. What Yam Yam did in the 44th season was simply be himself, and that's what ultimately earned him the $1 million. He positioned himself in a way where Carson was always going to be his shied. Likewise, Carolyn was always perceived by others as the one who used her personality to her advantage the most. In reality, Yam Yam was doing exactly that. Having gone through a finale night where he didn't win a single thing really shows how much good rapport he had built with everyone, who eventually saw at the Final Tribal Council just how involved in this game he really was. And for that, he walked away as the deserving winner.
Survivor and all of its seasons can be streamed on Paramount Plus.
Source: https://dominioncinemas.net
Category: REALITY TV